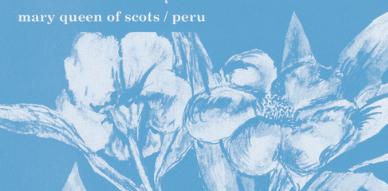 Thanks so much to Chris for the interview! A few weeks ago we talked about his first indiepop project, Pop City Arizona, and now it is time to talk about the band he is more known for, Mary Queen of Scots. The Birmingham band who released a split 7″ with the band Peru and participated in many compilations, is back now releasing new songs on their SoundCloud. We talk about the present, the future and the past, and we hope you enjoy it!
++ Thanks Chris for being up for a second interview, this time about Mary Queen of Scots, the band you formed after Pop City Arizona. Will there be a 3rd interview? Had you been involved in any other indiepop bands after Mary Queen of Scots?
I'm currently in another band called Fly Away Sorrow which is a folk-pop band along with my partner Kim who does most of the singing. We'd be happy to chat about that. Kim also does her Bliss/Aquamarine fanzine. It's not folk-folk if you get my drift but more taking folk songs and giving them a (slight) pop feel. We're certainly not proper folkies!
++ So at some point you left behind Pop City Arizona and you started to focus on Mary Queen of Scots. When was that moment? Who were in Mary Queen of Scots and how did you all know each other?
Around 1992 I found the sound I was looking for which was quite minimalist with a lot of reverb and a bit trebly. Some say it sounded like Brighter. I was also a fan of The Carousel who were doing the folky-pop-acoustic thing. Again it was mainly me in the band but around that time I met my friend Ruaraidh at uni who was very much like-minded and into the C86/Byrds scene and so we hung out. He also played and sang on "Climb Ev'ry Mountain" for the Sound Of Music LP/CD and contributed some songs, one of which I unearthed only recently. Alas I seem to have lost the others.
Soon after I met Fergus and Andrea who had a band called Lonely and a label called Garden Of Delights. They also lived in Birmingham and, though not part of my band, were very encouraging.
++ Of course something I've been curious for a long time is the name of the band, why did you name it Mary Queen of Scots?
I vaguely knew Jo (from riot grrrl band Huggy Bear) and she told me she knew Elizabeth Price and Amelia Fletcher and that they were doing some project called The Catherines of Arrogance. I misheard it as Catherine of Aragon and I thought hey that's kind of a nice name for a band, sort of historic and melancholy. Now if only I could find something similar…
++ At the time of Mary Queen of Scots what sort of music were you into? Who would you say were big influences in your sound?
I was into so much music at the time, most of which did not have a direct bearing for MQOS. I really liked a wide range of music, anything from Big Black, punk and grunge to the most obscure twee indie bands. Labels like 4AD, Blast First, Factory and Creation were on my radar. I also liked classical music. Naturally C86 and Sarah were the most obvious influences but, yes, Brighter, Another Sunny Day and The Carousel.
++ How was the creative process for the band?
Generally songs were written quickly, demoed and then possibly made into a proper recording. I didn't enjoy the recording process much, it was really quite tedious and frustrating. I don't consider myself a proper musician… I just play instruments… there's a difference. I'm more of a music-maker and songwriter. And a 4-track cassette recorder is quite constraining by virtue of only have 4 tracks.
++ I see on Discogs that the first release was a self-titled cassette with 10 songs. It has a photo of a detail of Westminster Abbey. What was this tape? A demo? How was it distributed if it was? Where was it recorded? And how many copies were made?
It's tape of ten songs which was self-released. I did copies as and when they sold, a bit like with the compilation CD today. I personally don't regard it as a demo as the songs on there were done and dusted as far as I was concerned. It was all recorded on my 4-track. As for sales, I really don't know, not more than 100 I would have thought.
++ Your only proper release was a split 7″ with the band Peru which I interviewed some years ago. How did this release happen? How did you get in touch with Bring on Bull?
Richard from Bring on Bull was interested in MQOS, he had mentioned the band in one of his fanzines. He then wrote and asked if I would do a single. At the time I was a huge fan of Peru and I thought it would be nice if we could do a split single. I also lent Peru my 4-track for their recordings. It all went remarkably well. Thinking back I'm really pleased with the outcome, not just my songs but also Peru's, their songs are great on it.
++ And how friendly were you with the band Peru? Did you ever meet them?
I discovered their music on the C92 tape, I think, and we started exchanging letters. I met Brian a few times. My brother was a fan too… I think he liked their songs on the single more than mine!
++ You had three songs on your side of the record, "Another Sunny Day", "Evensong" and "Dreaming". Would you mind telling me the story behind these songs?
There was a girl who lived downstairs from me and we planned a day out on the bus. But it never happened and so began an endless outpouring of sad songs. No, not really. But yes "Another Sunny Day" is vaguely about that. "Evensong" is about self-doubt and self-deceit. Some of my songs have religious overtones even though I'm not religious… religion fascinates me. And "Dreaming" is about hope, about being fed up of where you are and the people you're with… longing to be elsewhere.
++ And what do you remember of the recording session for these songs? Were there more recorded?
I don't remember much to be honest other than redoing lots of takes to get them right. I kept thinking this is for a single, I've got to make it perfect! The vocals were quite problematic as I was very fussy about them. Then the mixing went on for a while as I kept fiddling with EQ levels and so on. My friend Simon had some nice digital effects and the angel voice at the end of "Dreaming" was done at his house. I'm very pleased with how they turned out. There were only 3 songs planned for the single. I think 1000 were pressed and Richard kept half and I got a quarter along with Peru. Shortly after Richard wrote to say he had sold out and can he buy back my share. I believe he did the same with Peru.
++ You appeared on a few compilations, probably the most known one is the one on the Bring On Bull comp, "The Sound of Music", where you contributed "Climb Ev'ry Mountain". Why did you choose to cover that song?
The truth is all the good ones were already taken! So Ruaraidh and I decided on that, and I wasn't confident about tackling the vocals so he had a crack at it. He also played guitar and I did the keyboards. Apparently we were the only band whose song was done on a 4-track and Richard said it didn't sound like it… well not too much!
++ Then I see that you appeared on the Shiny Sunset compilation "Charming Trip in the World of Dreams". This label was from Italy! How did you end up there?
I'm afraid I don't remember much about that one. People wrote and asked and I would usually say yes.
++ There are also a few compilations I'm not very familiar with, like the C92 tape by Rainbow were you contributed "Wonderland" and "Only For You", the Polythene Star tape where you had "Ascension Day", the Meet Disco Girl! tape where ""Around the Sound" was included or the Green Oranges tape where you had "Around the Sun" and "Ascension Day". Who were the people behind these compilations and labels? Do you remember?
C92 was Gerard Mucci… I was only asking Kim about him the other day. That was a great tape. Simon Minter was behind Meet Disco Girl! whom we once invited to Birmingham for a rather boozy night. And the Green Oranges tape was on Kim's tape label. I can't recall anything about the Polythene Star tape, sorry.
++ There is also listed on Discogs a CDR compilation titled "Here Comes the End". When was it released? 1999? And from where are all the recordings that don't appear on the tape or the split 7″?
The CD came out in 1999 – the later songs on the CD after the single and "Climb Ev'ry Mountain" were really demos. I tried to get Richard interested in another single but it didn't happen. I toyed with the idea of a 10″ release. In hindsight I should have done at least another release even if self-financed, but that's easy to say now.
++ There are 24 songs on it, but I still wonder if there are any more unreleased tracks by the band?
Yes, there are but most are probably not fit for release unless tidied up. I will revisit my old tapes at some point.
++ And this year you came back with a new song on SoundCloud, "Lyle Lovett On The Radio". What made you come back and record again? Are there more songs coming up?
I had always wanted a banjo. As a teenager I listened to REM's "Wendell Gee" and I thought the banjo on it sounded great… sad and poignant. So having put it off for years I finally bought one in 2016. It's an openback banjo which has that mellow, ole-time feel. Kim and I sat around singing old folk tunes and Kim's voice just worked really well with those kind of songs. When she sang "Little Birdie" it was so moving. So we thought we had to have a go at recording some songs, just for fun if nothing else. One thing I knew for sure was that I did not want to go near my 4-track again, it would have to be recorded on the computer. So we finally got some folk songs out under the name of Fly Away Sorrow and I began to think the unthinkable… I still had an old song rattling round my head from 20 years ago. I had to record it, if only to get it out of my system. So "Lyle Lovett On The Radio" was the result and I feel a little more relaxed about life now.
Back in 1998 I did a demo of 8 new songs. One of those eight songs, "Edgbaston Rag", has already been recorded by Fly Away Sorrow. Another three, "Dateline International", "Grow Your Hair", "You Or Nothing" have just gone up on Soundcloud. There are plans next year to record another three together, and the remaining one may end up as a Pop City Arizona song. There are also tentative plans to bring out a CD (a proper, factory-pressed release) of the recent 4 songs plus some new ones plus some rarities next autumn 2018. It would be nice to find a label to do this otherwise we may bring it out ourselves.
++ Four new songs have appeared on Soundcloud this year, can you tell me about them?
I'm not entirely sure what "Lyle Lovett On The Radio" is about… perhaps loss or even death, or death of an emotional kind. Around the time I wrote that I was discovering country music, in particular Hank Williams and The Carter Family. If Hank Williams scanned better I would have used him rather than Lyle. There used to be a dating service called Dateline International. As well as being a love song it has some religious overtones. Perhaps it's a song about understanding what one's genuine needs are, be they emotional or spiritual. Again I'm not sure about "Grow Your Hair", the second verse and outro are a mystery to me… perhaps it's about being a hippy! I like the idea of writing abstract lyrics which create an atmosphere without actually saying anything specific. "You Or Nothing" is another love-gone-wrong song so I tried to make a nice pop song out of it. As for the title "Beachy Head Here I Come", it's just a gentle dig at myself and my songs, and not a comment on anything else.
++ And from all your songs by Mary Queen of Scots, which would be your favourite and why?
Wow, that's a good question. I like the 3 songs on the single a lot, and "Kimberley" is very personal. But I'm very fond of "Tomorrow Never Comes" which is a very old song that pre-dates MQOS so it's like an old friend, and has been recorded a few times, so I say that one.
++ Why weren't there more releases by the band? Was there any interest from any labels to release anything else by you?
After the single I should have tried harder to get something happening. But there wasn't a lot of interest and to be fair my mind was starting to drift elsewhere. After the compilation CD came out in 1999 I really thought it was the end… the desire to write and record was gone.
++ I suppose that with Mary Queen of Scots you did play live. Did you play many though?
No, MQOS never played live. It's not something that ever interested me much. And to be honest I don't think I would have had the nerve. Ruaraidh was playing live in other bands.
++ You told me Pop City Arizona didn't get much attention from the press or radio, but what about Mary Queen of Scots? And what about on fanzines?
I think MQOS certainly got interest from tape labels and fanzines. "Climb Ev'ry Mountain" was played on BBC local radio.
++ Speaking of fanzines, during those days there was an explosion of guitar pop bands, did you ever feel part of a scene at all?
Yes, most definitely, something very special was happening, and it was a huge part of my life at the time. Life revolved around Sarah releases! Apart from the songs I was inspired to write my own fanzine "Scholarship Is The Enemy Of Romance" which lasted three issues (the title is from a Billy Bragg song). Through that I met Kim who was busy starting her fanzine and label at the time.
++ When and why did you split?
There was no real split… it all petered out. I found the recording process with the 4-track difficult and tedious. Computer recording today is so much easier and productive. Now once you've recorded a track you can edit it in endless ways and combine it with other takes with no loss of sound quality. It's easy to double track and add effects, and correct mistakes. You're only limited by your imagination.
++ What would you say was the biggest highlights for the band?
The single and the "Sound Of Music" song. Bringing out the "Here Comes The End" CD was a big thing too, quite a lengthy project as all the songs were remixed from the 4-track tapes to computer rather than from the master tapes to improve sound quality. But I think "Lyle Lovett On The Radio" is a important step forward in the MQOS journey, a continuation of the past but created in a completely different way.
++ Has Birmingham changed much since those days? I've never been there, but wonder if I was to go, what would you suggest someone doing in your town? Maybe the sights not to be missed, the traditional food or drinks?
I arrived in the city in 1986 and I remember thinking it was all a bit grim… the old Bull Ring wasn't the greatest and all those underpasses everywhere. But it had great music venues as I mentioned in the previous interview. Today (as with most major cities) it's a completely different place, it's quite beautiful. The Symphony Hall, the new Bull Ring, the new New St train station, the new Central Library and the regeneration around Broad Street have all helped to make Birmingham a much nicer place.
I'm not sure if there are any must-sees in Brum… perhaps the rusty Iron:Man in Victoria Square… it's a sculpture by Antony Gormley who's better known for The Angel of the North. No, forget that… they've apparently moved it into storage to make way for a tramline. But there's always the Museum and Art Gallery (a place I used to frequent habitually) and the new Bull Ring shopping centre. As for traditional Brummie food and drink, well, there's groaty dick… washed down with a pint of mild. Kim suggests sheep's brain on toast, bostin!
++ Thanks for everything Chris! Anything else you'd like to add?
You're welcome. Thanks for the opportunity to chat about the past, it's been fun! There will be more stuff happening in 2018 so watch out 🙂
https://soundcloud.com/mary_queen_of_scots
https://www.facebook.com/mqosband
::::::::::::::::::::::::::::::::::::::::::::::::::::::::::::::::::::::::::::::::::::::::::::::