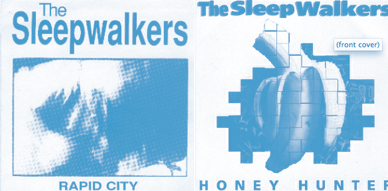 The latest Cloudberry release came out yesterday, April 15th, the Tripping the Light Fantastic 7″. Today I feel very happy. I went earlier to the post office and posted a bunch of records. Tomorrow will be the same story. And Thursday too. Also I just got an email saying that the new stock of Cloudberry t-shirts is on it's way to me. So everything's dandy around here. Next week  I should finally send the fanzine to print. And then I think I'm going to be up to date. I wasn't wrong when I said this was going the be the most productive year for the label.
Speaking of merch. A couple of weekends ago I had some friends visiting and were asking me if I would do mugs with the label logo or turntable slipmats. Anyone interested in that?
I've been having a bit of a flashback day today. Jalito found this scan of a Cookie Scene magazine (a music magazine from Japan) that Toshiko, from Apple Crumble, used to write. She had a column/page in the magazine called "Indiepop Around the World". I actually have one number where she talks about Cloudberry. And of course, that is really no surprise, as she was kind enough t send me a copy. This article in the other hand talks a bit about South American indiepop, mostly about Plastilina and it's run as the one and only true indiepop label in the continent. The surprise for me was to see my first band being named in this page, Demolición.
I've never been keen to talk about those days. It was great fun and we were so very young. We tried to make proper indiepop, like the Funday Mornings or the Tidy Ups, but we always sound punkier, less poppier, than our intentions. We weren't successful. So why talk about that? I've always avoided talking much about it on interviews when asked how come I don't make music. The truth is, I'm not very talented at that. Though if I could, I would try it again today. Anyways, what surprised me is how come Toshiko knew about Demolición. It's not like people knew us.
We did release a tape. And had a song on a compilation. I feel the compilation appearance was a bit of cheating as I curated it. It was for a magazine in Lima called Revista 69. I wasn't planning to include my song "Artes Marciales" but the editor of the magazine said I should, that it was great, and represented the new indiepop in Peru. That might have been true. We were the only ones at that time at least trying to make indiepop. The compilation name was "Es Pop, Mamá", taken from a song by Ella y los Neumáticos, a band that included Christina Rosenvinge who would become quite famous, even in the mainstream, Christina y los Subterráneos. This song was later covered by the super fantastic, my favourite band to sing in Spanish (and who you could say was my biggest influence in my short band experience), TCR.
This magazine had a lot of readers. And I've met many people back in Peru that do know this song. And I've seen it uploaded in Youtube even. Which is really scary. I sing awful. Even more bizarre some bands have covered it. Still, it was only inside the bubble of Peru, no one outside of it knew about it.
Perhaps that's not a 100% true. I guess through Soulseek people might have found it. There's the one and only case that I know of, Adriá from Papa Topo, found it. That was totally strange. Unexpected. We somehow had made it all the way to Mallorca. I felt very honoured and pleased with this odd change of events that I sent Adriá the last copy I had of our one and only proper release, "Laurita lee el Bushido" (Laurita reads the Bushido), a tape with our home recordings that was released by a small Peruvian label called Internerds Records back in 2005 or so (?), many years after we had split as a band.
That still doesn't explain how we ended up in an article of a Japanese magazine. I'm stoked. We were terrible. We barely knew how to play an instrument. We did have that amateur freshness, that drive and nerve that eighteen year old have when making music, but that was that. That was probably our only asset. I do think we wrote fun lyrics and that our melodies were fine. If we only had been a bit better, more proficient, we could have lasted longer. But perhaps not. Daniel left to Denver. José wasn't please with Guille's guitars. And so, things started to crumble. We tried later doing it again. I remember trying to record a song called "Tragaplanetas" at Arturo's place. I don't know what happened to those tracks, if there are any.
The good thing of all of this is that Daniel and José are still making music under Eva & John along with Chete (who I played briefly with in Los Rebeldes Walkie-Talkie) and who I'm putting out their first release, a flexi single in the next couple of weeks. It's smashing. It sounds 100 times better than what Demolición used to sound. Though I have to say, I have this little itch sometimes, after I see blog posts or little comments remembering us, that if this first flexi proves successful, I wouldn't mind releasing a Demolición flexi, with two of our songs. Just for fun.
————————————————————
Sleepwalking, also known as somnambulism or noctambulism, is a sleep disorder belonging to the parasomnia family. Sleepwalkers arise from the slow wave sleep stage in a state of low consciousness and perform activities that are usually performed during a state of full consciousness. These activities can be as benign as sitting up in bed, walking to the bathroom, and cleaning, or as hazardous as cooking, driving, violent gestures, grabbing at hallucinated objects, or even homicide.
The obscure band for this week is an Irish one. One from Galway. And they were called Sleepwalkers.
I've never been to Galway or know much about it, so I guess a little background information won't hurt:
Galway, or the City of Galway (Irish: Cathair na Gaillimhe), is a city in Ireland. It is in the West Region and the province of Connacht. Galway City Council is the local authority for the city. Galway lies on the River Corrib between Lough Corrib and Galway Bay and is surrounded by County Galway. It is the fourth most populous city in the state and the sixth most populous on the island of Ireland.
The city takes its name from the river Gaillimh (River Corrib) that formed the western boundary of the earliest settlement, which was called Dún Bhun na Gaillimhe ("Fort at the mouth of the Gaillimh"). The word Gaillimh means "stoney" as in "stoney river" (the mythical and alternative derivations are given in History of Galway). Historically, the name was Anglicised as Galliv, which is closer to the Irish pronunciation as is the city's name in Latin, Galvia.
It seems they have some medieval structures in town, so definitely my kind of place. I would really like to go to Ireland at some point. If only I had more vacations!
The information I could find from the band mostly comes from the Irish Rock Discography site. As in the case of Cuba Dares, we can't be 100% sure that the information on the site is accurate, but let's hope it is for our own sake.
There is no dates for when the band was active but there's; a lineup. That's a start!
John Crumlish – vocals
Declan Gibbons – guitar
Fergal Gallagher – bassAllan Flynn – drums
The drummer, Allan, had been involved before with the band "Too Much for the Whiteman". And it's said that Walter Feichter replaced Fergal Gallagher on bass for the band's second single.
There's a little interesting article here about John Crumlish who was the vocalist of the band and is now the Chief Executive of Galway Arts Festival. There's a little mention to Sleepwalkers here:
John had commitments to his job so he returned to teaching but lasted just another year before he packed it all in to move to Galway full-time. By this stage, himself and Declan had their own band, The Sleepwalkers, which he felt justified his move to the City of the Tribes – though others might have thought it was a foolish decision at the time, leaving a full-time teaching post to write songs and play in a band!
It seems that "Too Much for the Whiteman" was quite different to Sleepwalkers. It's said to have been a rock/reggae band that was around from 85 to 89. These dates make me assume that Sleepwalkers started as a band in the early 90s. I found a little video of the band rehearsing. I think it's from these days?
Don't know how successful they were, but I would say they were at least a bit. Releasing two 7″s has never been an easy task. Their first 7″ was released in 1991, on the label Solid Records (catalog ROK 742). This record has the sublime "Rapid City" on the A side and "Extreme" on the B side. The A side might be my favourite Sleepwalkers song. I wonder if they've ever been to Rapid City, South Dakota! You can listen to it on Youtube as that cuckoo Japanese Takashi has uploaded it. Not complete of course because he is so careful for people (especially me) not to "steal" an MP3. Oh well, indie fans and their quirks.
The second single came out a year later. Again on Solid Records. This time the catalog was ROK 756. The song I'm sharing with you comes from this one. The A side was "Honey Hunter" and the B side was "Danny (Is it Now?)".
On the back sleeve of the second single there's a bit extra information. We learn that "Honey Hunter" was produced by John Dunford and recorded at Bow Lane Studios in Dublin. The B side on the other hand was produced by the band and recorded at West One in Galway by Pat Neary.
And that's all I've been able to gather about this band. I wonder what happened to them. If any of them was an actual sleepwalker. If they had more songs. Who knows. Maybe someone out there knows and can fill in the blanks. If any one happens to have any spare copies of their record that'd be great too. Playing their songs on Youtube or on iTunes doesn't compare as playing them on your turntable! Let's see if we can solve the Sleepwalkers mystery.
::::::::::::::::::::::::::::::::::::::::::::::::::::::::::::::::::::::::::::::::::::::::::::::
Listen
Sleepwalkers – Honey Hunter