26
Feb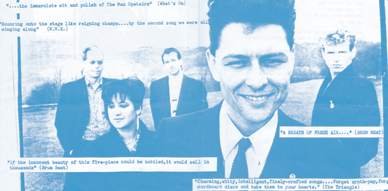 Last week of February. This year is going fast!
I've been trying to work on the new podcast this week but I haven't had the time. Seems it will be out sometime in mid-March now. So far we've got 955 plays in total. I'm pretty sure we'll reach the 1000 mark when we publish the next episode, so I'm very excited about this. I honestly didn't expect it. I thought at best by now we'd be having 100 plays! Now if only there were 1000 sales of records in 3 months, then we could be a very prolific label releasing all the bands you dream of haha.
I've been promised to get the last song that I'm missing for the CD that comes with the new fanzine this week. If this happens, as I really hope it does, the long delayed fanzine will start shipping next week. I hope the wait is worth for all of you that have started pre-ordering since two weeks ago. I think it will be. Even though it's taken forever to print this zine, I'm very proud of it, the interviews came out pretty good.
Aside from that I've started working on more releases that I'll be telling you about in the months to come. You'll get to know about them first on the blog and the podcast, so please keep an eye on us.
Next week NYC Popfest should be announcing their lineup. I'm really thrilled about it. I know already some bands that are playing and seems it's going to be a good one once again.
But the big news this week was the announcement, the first announcement, of some of the bands playing at Indietracks this year. I was very critical last year and because of that I said I wasn't going to be going this year. It's pretty expensive to travel in the summer to the UK these days and well, if you do, you want an ace lineup. This year, it seems, the lineup is already looking better than the previous edition. Definitely Cinerama is a great headliner for me, as a big Wedding Present fan, I haven't had the chance to see David's other band play live. So that would have been really cool. Then Desperate Journalist are a favourite band of mine for a long time now. I requested them last year, though I was told they didn't want to play. Now it's good that they are playing, more indiepopkids should know about them.
Then of course I'd LOVE to see The Catenary Wires. I saw that they were just touring Japan alongside the Primitives. How lucky are the Japanese to get to see Amelia and Rob playing their new songs! I cross my fingers that they will also come to NYC.
Though they are repeating, The School and The Fireworks, are two indiepop powerhouses. They have been releasing top quality records for some years now. I will be sad not to see them, especially my dear friend Matthew who didn't go last year to Indietracks but who I was lucky to see at The Chills gig (and also for some very strange veggie Indian buffet!). Both bands I've been lucky to see before so I don't feel much pain of missing them.
Buried among all these fancy names in the announcement are Los Bonsáis from Spain. This band is top class. You better catch them if you go. I saw them once at Madrid Popfest and they were super good. On top of that, their releases are delicious, starting from the great artwork that Helena comes up with, to the beautiful melodies Nel and her craft with pop wizardry. I still recall their Spanish version of the Vaselines "Son of a Gun", it was a true highlight of that Madrid Popfest!
Then The Tuts and Fire Island Pines are definitely worth checking out. I have followed both bands on and off and I would be very curious to check out their live set. Of course seeing Bunnygrunt on the bill makes me giggle, but then I remember that I love their early indiepop period, their rockier and garage-ier sound from these days is not really up my street. Still one can always hope that they play so many of their amazing songs like "Inanimate Objects" or  "I Am a Curious Partridge".
More bands will be announced and, even though I'll be absent as I said, I'll try to point to you which ones you should check. And if there's something or someone that I've missed let me know!
———————————————————
Today I want to go through a band that has always been of interest to the indiepop collectors: The Man Upstairs.
I've been looking for their records for a long time with no luck. So I'll start there, with their records.
1982. Their first release ever comes out on Clock House Records. The songs included in this 7″ were "Summa" and "Gospel According to Mark". The producer for this record was Cliff Bradbury. The cover by Graham Sharpe. This record is both listed on Discogs and Rateyourmusic. Strangely enough these songs are not mentioned in The Man Upstairs website.
1985. A new 7″. Discogs has it listed as Jazz, Rock / Soul-Jazz. There's a lot of jazz in this one definitely. I'm much more familiar with this record. The A side has "Sad in My Heart" and the B side has "Country Boy" Most indiepop collectors are crazy about the second song. Me too.
This record was released by Sideline Records. Catalog SIDE 1.
On the back sleeve of this record we learn about the lineup:
Nigel Sewell – lead vocals
Carolyn Bennett – vocals
Rupert Knowlden – percussion/vocals
Tim Simpson – bass/vocals
Alan Smyth – guitar/vocals
The photography and design for this record was courtesy of David Travis and Best Boy. I really like the design for this one, the blue/white/black combo works for me (very Cloudberry too!). The record was produced by the band.
1986. "Consumer EP" Their last release. This one also on Side Line Records, but now the catalog is WIDE 1. There's a 12″ and a 7″ version. Discogs doesn't have listed the 7″ one. On the 12″ we have the songs: "Consumer Song (American Club Mix)", "Shouldn't Try", "Country Boy", "Sad in My Heart (Russian Club Mix)", "I Bet They're Really Missing Me Downstairs". The 7″ has "Consumer Song" and "Shouldn't Try". On this record only three members are listed as part of the band: Carolyn, Rupert and newcomer Chris (guitars, bass, vocals). Production was in charge of Bruce Hart, Alice Marsh and the band.
There are some other credits, David Travis and Best Boy again on photo and design. Boy in Bath is Gerry Colvin and Special thanks to Alice Marsh for also playing bass and vocals on "Shouldn't Try".
That Gerry Colvin that's mentioned in the "Consumer EP", is Gerry from Terry and Gerry fame. Terry and Gerry was a British pop band, formed in the early 1980s by Terry Lilley and Gerry Colvin in Birmingham, UK. Unusually for the time the band was based on a skiffle sound making use of a washboard for percussion instead of a drum kit. Terry Lilley played double bass. Gerry Colvin sang lead vocals and played acoustic guitar.
Last stop on this search for more information about this really obscure band. Their website. Yes, they have a website. That's pretty strange isn't it? Though to be honest the website seems to be unfinished. I don't know when they started building it but it seems that halfway through they stopped adding information. There's no contact page even though there's a contact button. Also there are 4 "home" buttons. But going through we can find a full fledged Music section were you can listen so many songs like:
Early days 1982-83
– He's Got the Lot
– Summer
– Sorry Mate I Only Work Here
– No Idols (rehearsal)
– Into the Red (rehearsal)
– Hanoi (rehearsal)
– Consumer Song (demo)
– They Wanna Be Like You (demo)
– Cars (demo)
Demos 1984-87
– Cry Cry Baby (demo)
– One Kiss at Sunset (demo)
– Jack (demo)
– Ba Ba Ba Ba (demo)
– One Lump or Two? (demo)
– Country Boy (demo)
– When Jealousy Starts Again (demo)
– Ballroom Dancing (demo)
– Harlem Nocturne (demo)
– Housewife's Choice (demo)
– Sad in My Heart (demo)
– Consumer Song (demo)
Mini album 1985
– My Way
– Sad in My Heart
– Country Boy
– Barratt Homes
– Consumer Song
– Person in Front
– Cry Cry Baby
– I Bet They're Missing Me Downstairs
Album 1988
– No Smokes
– Cry Cry Baby
– I Can't Be Anything
– Desperate Dan
– Raging Fool
– Sad in My Heart
– Lipstick Shuffle
– Consumer Song
– Sixties Song
– Big Fish
– Country Boy
– Gerald Pulls it Off
– Shouldn't Try
So, a bunch of new songs to listen. Also would this mean that they had the intention to release these? And in these formats? And notice that the songs from that 1982 7″ are not listed. Maybe they were from another band? Can anyone shed some light about it?
Let's move now to the press section of the website. Here there are a bunch of cool clippings of the press. We know that the Birmingham band went through a major change in the line-up in mid 1983 which resulted in the band writing a completely new set of songs a selection of which could be heard on a tape they seem to have been sending to the different magazines and press outlets. They mention too that the band has played extensively all over the country both as headliners and opening for bands like The Smiths for example!
Then on another clipping  we notice that Nigel Sewell is the same Gerry Colvin from Gerry and Terry according to Music Week August 1985. Here it is mentioned that the mini-LP was to be released the same year as the "Sad in My Heart" 7″. On another clipping we learn that they supported The Chevalier Brothers in Bangor during Welcome Week. Also in this same section we find the designs for some of their demo tapes which are really cool, don't miss them.
I like this description by Phil Preece from the NME:
There are five of them. They sing and play. They smile while they do it. You will too. This is the music of the post angst period. Their whole set is a mix of washing machines and rhumbas. Blender-menders and scat. They take us on a trip to the land where the vacuum cleaner is king. Oh yes, and they're as trendy as hell. Book them.
That's more or less all I could dig about them. Maybe you can fill in the blanks?
::::::::::::::::::::::::::::::::::::::::::::::::::::::::::::::::::::::::::::::::::::::::::::::
Listen
Man Upstairs – Country Boy