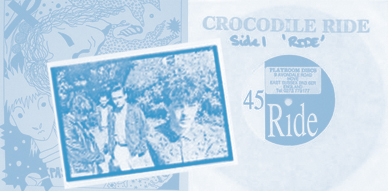 A bunch of news worth mentioning:
When Nalda Became Punk, our good friends from Spain, are promoting a new song: "Hanging Out with Imogen." This song sounds great and is taken from their forthcoming new mini-LP to be released on March 10th on Shelflife Records and Discos de Kirlian.
There's a compilation LP including three classic indiepop bands: The June Brides, Aberdeen and 14 Iced Bears. Each band contributes 4 songs on this "Three Wishes: Part Time Punks Sessions." All the songs are live recordings from 2011, when the three bands recorded live sets for Los Angeles' KXLU radio station.
Mid-march will also se the release of The Apple Moths' "Fred Astaire EP" as a 12″ on Firestation Records. This was originally released decades ago (and you can read more about this classic band on an interview here in the blog) as a 7″ and this re-release will have extra tracks. Looking forward to it!
Next week Eggstone, the fantastic band from Malmö who were around mainly in the 90s, will play Hamburg. I'm so very jealous of this event. So if you are in that beautiful city, a city that I love, don't miss out this 11th at 8pm at Nochtwache the comeback of "Swedish indie pop godfathers."
And the last interesting news comes from Elefant who are reissuing the "Teenager" and "Keep it Clean" CD-singles as 7″s.
That's it. That's all I've seen on social media this past week. I'm trying to keep tabs. I'm probably forgetting stuff. As always if you have any suggestions please let me know through the comment section.
On my end there is little news as well. It is time for waiting for the pressing plants. It takes time, two months usually. So this February is just a month of waiting. March might bring surprises. In the meantime I have started planning which should be the next band to be featured in the Cloudberry Cake Kitchen series. I've already contacted a band that I really like and they seem interested. I hope it works out. If you have any suggestion for that too, please let me know. I'm very happy and pleased with this collection of classic recordings.
There was something else this week, something that left me with a bitter taste to be honest. I don't want to go into it in detail, but what would you do if a much bigger label that has been unhelpful and uncaring in the past asks for help in tracking some bands?
And now onto re-discovering some obscure band from the 80s. That's my favourite exercise.
———————————————
Crocodiles (subfamily Crocodylinae) or true crocodiles are large aquatic reptiles that live throughout the tropics in Africa, Asia, the Americas and Australia. Crocodylinae, all of whose members are considered true crocodiles, is classified as a biological subfamily. A broader sense of the term crocodile, Crocodylidae that includes Tomistoma, is not used in this article. The term crocodile here applies only to the species within the subfamily of Crocodylinae. The term is sometimes used even more loosely to include all extant members of the order Crocodilia, which includes Tomistoma, the alligators and caimans (family Alligatoridae), the gharials (family Gavialidae), and all other living and fossil Crocodylomorpha.
A ride on a crocodile. A Crocodile Ride. I wonder about their name. Maybe it has some more meaning. Discogs immediately gives me the lineup:
Marc Johnson – vocals/guitar
Chris Gates – bass
Matthew Owen – guitar
Stuart Allcock – drums
Then we see three records listed. Let's start with the first one, released in 1987 on the Surfacer label, the "Ride" 7″ (catalog Surfacer 001). I start to feel this is a self-release. From what I see there was no proper sleeve for this record. Just a plain what sleeve, stamped with the name "Crocodile Ride" on red, and written with black marker the song belonging to each side. On the 7″ label I see a sticker for "Playroom Discs". Maybe they were distributing this 7″? If you remember Playroom Discs was a label based in Brighton, that was run by Gordon Kaye and released some great records like Whirl, The Morrisons or The Grooveyard.
There is an insert including in this record it seems. There's a scan on Discogs. It says that the release date for this record was on the 3rd October of 87. That they have already a hundred advanced orders based on their reputation as a live band in Brighton. That the lineup was completed three months before and that the core of the band was established in June 1987. During that time they had written over forty songs and that they have built their own rehearsal studios. Also it mentions that they won the Brigthon "Battle of the Bands" on their debut gig. They won five hundred pounds. With that they have financed this first single.
The songs on this first single were "Ride" and "Kiss and Tell."
In spring of 1989 they were going to be part of a split flexi with Whirl. While Whirl was to cover "Bizarre Love Triangle", Crocodile Ride was to contribute a song of their own, "Shimmer". This flexi came out on The Sound of Spasm label (catalog 2). I couldn't find what was the first reference on this label or any other information for this release. Maybe it came along some fanzine?
There last release was a split 7″, also in 1989. This time they were to share it with yet another Brighton band, 14 Iced Bears. In this record each band contributed 2 songs each. The A side was for 14 Iced Bears and they included "Falling Backwards" and "World I Love (Speed Mix)". The B side, for Crocodile Ride, had "Ex-Hipster" and "Satellite". This was released by the same Surfacer label as their first release (Surfacer 002) and there were only 1000 copies.
They participated in some compilations too. In 1988 they were to appear on the legendary "Hoopla" compilation that La-Di-Da (also from Brighton) released. For this one they contributed the song "Killers". So when in 2000 this compilation was re-released on vinyl by Accident Records, Crocodile Ride was to appear again with the same song.
They included their first single, "Ride" , on an 1989 tape called "The Unknown Seven" that was released by Rain Tapes (catalog R12). The only other band I'm familiar on this compilation is Big Red Bus. It seems that Rain Tapes was according to Discogs a long running underground cassette label and distribution in the late 1980's, run by Julian Smythe of Ruthin. Released a series of compilations called The Unknown, which ran at least up to Unknown 14 in Jan92. Also did a series of International compilations in early 90s.
Their last compilation appearance that is listed is that of the classic compilation "Alvin Lives (In Leeds)". This was a charity release in aid of the Anti-Poll Tax Campaign. Crocodile Ride was to cover Donna Summer's "I Feel Love"!
Let's keep looking for more info about Crocodile Ride. My last stop is Matt Owen's Soundcloud. What a find!
There is a set of Crocodile Ride recordings, many not included in the records. We find songs like "Dance With Me" or "Treasure" that weren't released as far as I know. There is also for you to stream "Helen" (which is "Shimmer" really), "Ex-Hipster", "I Feel Love", "Killers 1" and "Killers 2". All songs were uploaded 4 years ago. So I'm not sure if we can get in touch with Matt through there. Maybe I should try.
Where were these other songs from? I really love "Shimmer", sounds like timeless indiepop, should have been a classic!! I wonder how many more songs they recorded. They did say they had written over 40 songs by the time of their first single!  Would be interesting to find out.
I know many Brighton friends read the blog, maybe you remember them? Saw them play? Would love to know more about them. What happened to them after they split? From Soundcloud at least it seems Matt Owen continued making music, solo and also with bands called Fuck You Planet Earth, The Rock and Roll Wall of Death, Law and The Malchicks.
::::::::::::::::::::::::::::::::::::::::::::::::::::::::::::::::::::::::::::::::::::::::::::::
Listen
Crocodile Ride – Shimmer