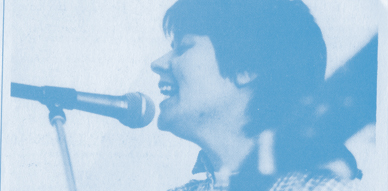 Thanks so much to Penny Priest for the interview! I wrote just some weeks ago about Penny because of her amazing song, "Sometimes", that was included in one of the best indiepop compilations, "Manchester North of England". It was the only song I knew existed from her and I was always so curious! So it was really cool to finally be in touch and learn her story!
++ Hi Penny! Thanks so much for getting in touch! I was always so curious about your song on the compilation "Manchester North of England", so I'm very glad to be able to talk to you! So let's start with the questionnaire!  So, what are you up to these days? Are you still based in Manchester?
I left Manchester 24 years ago! I was there as a student, doing a psychology degree at the university and then a teaching qualification. It seemed difficult to get teaching jobs in Manchester at the time, so I moved to the East End of London where I started my teaching career. It's a long story but I later re-trained as a clinical psychologist and now live and work in Shropshire, a county kind of sandwiched between Birmingham and the Welsh borders.
++ Are you originally from Manchester? And how has the city influenced you in your music? I mean, a city with so many amazing bands, especially in the 80s, it must have been amazing time to be there, no?
I'm not from Manchester. I was born in Frimley, Surrey (the south of England) and then moved north to Hull after my dad was left a house there in his aunt's will. My sister went to Salford University (next door to Manchester) and I liked the vibe when I visited there, so eventually ended up there myself. (My mum also went to Manchester University in the 50s, whilst she was a Catholic nun (!!!) and my son is about to start there this weekend!). It was great being in Manchester in the 80s, although I wouldn't say the city influenced my music. When I write songs, I'm probably more influenced by other artists and music I like, regardless where it's from. Having said that, I do feel an affinity with Irish music and Spanish music. There was plenty of Irish music in Manchester when I was there. A particularly good band at that time was Toss The Feathers.
++ And would you say the city has changed much? Back then what were the venues you used to go to? Or the pubs were you hanged with friend? Are they still around?
Well, it's hard for me to say whether it's changed much as I've hardly been back, although was there just last weekend to drop my son's stuff off at his halls of residence. For a while back then, I used to live in an area called Rusholme, which was full of great curry houses. That has really changed now; far less curry houses and more Turkish and Afghan places with lots of shisha lounges. Apart from curry houses, I used to enjoy going to the Irish club in Chorlton cum Hardy, where I also lived for a while. I spent quite a bit of time in the Beech pub on the green there, too. For gigs, we would go to the university unions, or the International, the Boardwalk, the Green Room and the Band on the Wall. I don't know if any of those are still there! I spent a fair bit of time in many of Manchester's great pubs, but it's hard to remember all the names and when I went up there the other weekend, at least one of those was no longer a pub.
++ When did you start making music? And did you always play under your name or were you also involved with bands?
I started making music probably when I was about four years old, sitting on a swing in my garden, singing tunes to myself. Once I learned to play the piano, I started writing tunes and even whole musicals. I also learned violin and wrote a string quartet at one point which actually got performed by myself and some friends! Around the age of 11 though, I began to feel restricted by the culture of competitiveness around classical music and I also began to think it was a bit uncool. So I gave up the violin and piano and a few years later picked up the guitar and just naturally started writing songs on there. I first performed at open mic nights near where I lived in Hull, which was not strictly legal at the age of 15, as a fair few pints of ale would also be involved! Probably the most important springboard for me was getting the opportunity to record a demo tape in my local BBC studio, BBC Radio Humberside. It was my big sister, Monica, I have to thank for this as she introduced me to her friend who was a sound engineer there. I sent that initial tape to John Slater, the journalist on City Life, who reviewed it and became my manager.
++ For the recording of your songs, did you have a proper band? Or how did that work?
Mostly I did gigs on my own, or paired up with one other friend. I longed to have a band behind me but it never really worked out at that time, although the song, Sometimes, was recorded with a band which included the former guitarist and bass player of the then-recently defunct indie band, Microdisney. It was Polygram Records who put us together.
++ And how did the creative process work for you? What inspired you? What came first lyrics or music?
Writing songs is/always was a very simple recipe for me; I would generally write songs when I was feeling miserable, although this didn't necessarily mean the songs sounded miserable. As I was pretty poor/unskilled on the guitar, I used to retune different strings to totally random tunings which would often make it easier to come up with different chords, which I'd then put together, and a tune would magically follow. With only one or two exceptions, the music would come first and then the lyrics. Once I had the tune nailed, I could relax and enjoy writing the lyrics!
++ How did you end up in the compilation"Manchester North of England"?
I had John Slater to thank for that. He worked hard and got me a lot of good gigs. He knew lots of people and had a good idea of what would go down well, and where. He also was very encouraging of me and I think genuinely liked my songs. It was the journalist, Sarah Champion, who put 'Manchester North of England' together. I'm not sure if she approached John about me, or vice versa. She did do a few positive reviews of some of my gigs.
++ And if you don't mind, what is the song that you contributed "Sometimes" about? What's the story behind it?
Haha! That song was about my boyfriend at the time. I fell totally in love with him when I met him at the age of about 14. Basically, he didn't love me like I loved him and the song was about how I would do anything for him but that wasn't appreciated…I've grown up since then! Fortunately not all my songs are similar subject matter, but they are mostly about people I encounter in my life.
++ I don't know of any other release of yours. Did you participate in any other compilations? Or perhaps you put any records out?
Well, once I left Manchester and moved down to London, I started teaching and got pregnant in a very short space of time, so life kind of intervened and I didn't do much in the way of music apart from with the children I was teaching. I'd write a song every so often but didn't pursue it any more actively than that. But slowly, once I'd left teaching, moved up to Shropshire and my two boys had grown a bit, I started to find more time for music again. I also met a wonderful musician here in Ludlow, where I live now, who was interested in meeting up and playing together. He nurtured my growing appreciation of folk music and it was wonderful to be making music again together with someone so talented and knowledgeable. We drank a lot of wine and smoked a lot of cigarettes and had a great laugh together too. We started recording stuff at a local studio and eventually found a fantastic bass player and drummer and produced a CD, Far Water. This coincided with my 40th birthday party where the band played, along with my then 18 year old son on backing guitar. We played at the Shrewsbury Folk Festival that same year, 2010, and sold a few CDs there. Life has moved on again though and I'm back in a bit of a musical slump now!
++ I know at least, because of a clipping I found online, that you used to sell your demos. So I wonder, how many demo tapes did you make and sell? And what were the tracks on them if you remember?
I didn't sell any demos, but think perhaps John Slater sold them. I think it was probably the 3 tracks that we recorded at Out of the Blue studios in Manchester, which included Sometimes, and two other songs, Ordinary Girl, and Better. This demo and studio time was paid for by Polygram records, who had showed some interest in signing me, but following the demo, they decided they didn't like my voice! I think maybe they didn't like the way I looked either…I was never the coolest of people!
++ Then I found another clipping when it says you played some women-only gigs at The Gallery. Do you remember about that? How important was at that time to be involved in all-women activities?
I did play at least one women-only gig, somewhere like Oldham, and I thoroughly enjoyed it. I remember there was a woman there who did a short show about witches, and how women used to get treated for stepping out of line, or not behaving as they were expected to. Apart from that, it's a bit hazy. I think during that time of doing music in Manchester, it felt like I was in a bit of an unreal world and that I just went along with doing what people told me to.
++ Was it very hard for women to find gigs, or get the same treatment then? Do you think it has changed much compared to today?
Well, as I said before, I didn't really ever pay much attention to that side of things, as John Slater would get the gigs and just tell me where and when I was playing and how much they were paying me. I really don't know what it's like these days, as I rarely do any gigs, and also I suspect it's quite different out here in the sticks to out there in the big city.
++ And what about other gigs? Did you play many? Perhaps outside of Manchester? What was the best or the worst gig you remember? Anecdotes you could share?
I guess the most amazing one has to be, without any shadow of a doubt, the time I supported Nina Simone at the Manchester Apollo! This was very much a last minute thing. I was working in a die-cast metal parts factory at the time (a summer job in university holidays). I got back from work one evening to take a phone call from John, who asked me what I was doing that evening. He promptly told me to cancel my plans as I was supporting Nina Simone at the Manchester Apollo! God knows how I survived that! I remember I wore a long white dress and drank a fair bit of white wine before I went on. I got to meet Nina Simone afterwards. It's a shame but maybe actually a good thing that back then I was so ignorant about so much music that I really didn't appreciate how truly great she was. I think I would have refused to do the gig if I had realised! Second only to that experience, was one of the 'Five Go To Play Guitar' gigs. You mentioned these on your blog; five separate guitar acts, with myself, Johnny Dangerously (John Bramwell from I Am Kloot), George Borowski, Bob Dillinger and Kevin Seisay. I never really thought the idea worked that well as I didn't really think people going to see comedy (Kevin and Bob), would be the sort of people who wanted to hear my stuff. At any rate, one of those gigs in the Green Room was compered by Steve Coogan, before he became a world famour comedian and actor. He bought me a drink in the bar at the break and if I'd been more savvy, maybe I would have taken that as some sort of invitation. I was only just 18 and way too innocent to realise what was going on!
++ You seem to have played with a bunch of cool bands, so I wonder what was your favourite band you played with?
Haha! I'm not sure which bands you're referring to here, as I really haven't. But I have to say my favourite collaboration has been with my friends here in Shropshire who produced the Far Water CD with me. Not only are they all great musicians, but they're probably the most hilarious bunch of guys I've had the pleasure of spending time with. Really, it was always a laugh a minute and a miss those times! Happy memories though!
++ How was the press and the fanzine people with Penny Priest? How was your relationship with them?
Again, John Slater handled all that, so I wasn't really aware of most of it. That was probably a good thing! One welcome bit of attention was from a fan, who bought me a drink at the bar about an hour after Steve Coogan had. I had just split up with the guy from the Sometimes song, so it was nice to have the attention. I ended up going out with this guy for the next couple of years!
++ During those late 80s there was an explosion of guitar pop bands in the UK. Did you feel part of a scene? And why do you think that during that particular time there were so many like minded bands like, perhaps, never before?
I didn't really feel part of that. I was more influenced by women like Suzanne Vega, Tracy Thorn (from Everything But The Girl), Michelle Shocked, Natalie Merchant (10,000 Maniacs), Irish music and other stuff. Looking back, to me it seems the whole musical backdrop was very diverse and the Manchester scene was just one important part of that.
++ Did you continue making music during the 90s? Or did you stop?
Well as I said before, it's been feast and famine with me over the years. Although I'm in a slump now, there will probably be another great creative period just around the corner. That seems to be the way it usually works. With my boys grown and no longer at home, I imagine there will time again for more music.
++ Are there any up and coming news, maybe gigs, for Penny Priest?
Watch this space, I guess!
++ These days, do you still pick up your guitar? What other hobbies aside from music do you have?
Ah well, this is part of the problem. When we moved to Shropshire I got into fell running. When arthritis in my knees put a stop to that, I got into cycling and cycling is a very time-intensive sport! I did an Ironman in Nice (France) in 2013, despite the arthritis and the fact that I can't swim freestyle. I've recently done the Haute Route seven day cycling stage race in the Swiss Alps and Dolomites, so you can perhaps begin to understand how the music has taken a back seat!
++ What would you say has been your biggest highlight as a musician?
In some respects it would be easy to say the Nina Simone experience, but actually, and I'm not sure this is a highlight, but for me the most amazing thing is playing with a few other musicians and having unrehearsed moments where everything comes together and the music is so sublime it gives shivers down the spine…just that experience of making music is always a wonderful and priceless thing!
++ Last time I was in Manchester it was for such short time, but I really liked the city. You as a local, what are your favourite sights or places that no one should miss?
Well, I'm no longer there and I'm sure so much has changed. I'd like to go back to Chorlton Green for a pint outside the Beech on a sunny afternoon, though…
++ I'm just a bit curious, are you a Man United or City fan?
Liverpool. It's a family thing.
++ Let's wrap it here, thanks a lot for everything. Anything else you'd like to add?
Thanks for showing an interest. I hope you like the Far Water CD!
::::::::::::::::::::::::::::::::::::::::::::::::::::::::::::::::::::::::::::::::::::::::::::::
Listen
Penny Priest – Sometimes