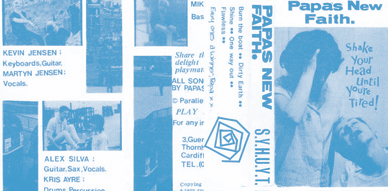 It's already May. The month of NYC Popfest. And what's new in the P!O!P! world?
Well, Silver Screen is going to be playing Popfest. This has been a late announcement and I'm very happy about it. I love Cris Miller's project and was lucky to work with him on a 3″ Cloudberry single back in the day and later on his second album on Plastilina Records. That album is truly a masterpiece and it was no surprise that Fastcut Records has reissued it on vinyl. Can't be missed.
On other news Linda Guilala, Vigo, Spain's favourites, has just released a new video for "Cosas Nuevas". This song is their latest single and will also appear on their new album "Pisconáutica" to be released on Elefant on June 10th. I suggest turning up the volume as it's the best way to enjoy all the layers of sounds and Eva's vocals.
Firestation have 6 new releases coming out May 13th. That's quite a lot! So we have:
– Start – Heute Nacht LP
– Big Gun – Heard About Love EP (this is not a 7″ like the original issue but a 12″ that includes 3 demos too)
– Yeah Jazz – 30 Years LP (maybe the most exciting release from them all. 19 song compilation!)
– Peppermint Parlour – Whatever Happend to Pop Songs (this is a 12″ reissue, same songs as the original. Now, "Pep Sounds" should be released some day!)
– Me and Dean Martin – Let's Romantisice Our Youth (I was talking earlier on with Me and Dean Martin about doing this release in the Cloudberry Kitchen, but they found another home it seems. Always a bit disappointed when things like this happen of course, but in the end what matters is that the songs get released anyways! 13 songs and I can't wait for this! So many favourite songs in here!)
– Endless Bob Brown – S/T (17 songs!! Wow. Not to be missed, classic jangle pop!)
Shelflife had some news too, the single "Mi Amor" by Red Sleeping Beauty will be released on March 25th! Such a fantastic song, it is becoming hard to wait and wait for the new album Red Sleeping Beauty will be releasing later this year.
Djustin is the collaboration by Johan Angergård from Acid House Kings, Club 8, etc etc, and our friend Rose Suau from the amazing Shoestrings and Invisible Twin. They've been unveiling songs every couple of weeks on Soundcloud and I'm really enjoying them. It's not exactly indiepop, but synthpop with indiepop spirit if that makes any sense! Their EP is to be released this month too!
Maybe I'm missing something? What else is coming out that deserves our attention?
————————————
Such a long time since I visited Cardiff in Wales, but it wasn't that long ago on the blog that I wrote about Bomb and Dagger, a Cardiff band, and I said:
The other listing Discogs has is that from them appearing on the compilation "0222 A Compilation of Cardiff Bands" that was released by Popdy (catalog Popdy 101). In this compilation also appears the band Papas New Faith that I should definitely cover as they are truly great! Anyhow, the song that Bomb and Dagger contributed in this LP was "Strike". I like that Discogs mentions on the notes that 2 of the bands on it went to form Super Furry Animals and Catatonia. Funny, I guess some care about those bands!
So today I thought covering Papas New Faith. Back when I wrote that I only knew that one song that appears on that compilation. That song was "This House" and it's a brilliant one. It's pure jangle pop from the mid 80s, but the rest of the songs I've been listening online are quite different. Much rockier!
They had two proper releases, both in 1988.  The compilation with "This House" dates from 1989. Maybe they were becoming poppier in their later years?
The same titled 12″, released on Garage Records (GAR 001) included three songs, on the A side the song "Shine", and o the B side we find "All the Same To Me" and "Parallel View".
Their second release was another 12" with 3 songs. Again on Garage Records (GAR 002) this one had "Through the Roof" on the A side and "Mystery Train" and "Every Trip" on the B side.
As I've found the songs on Youtube I've linked them for you. They are all on the same account, from one comment I read I deducted he was a friend and a fan of the band.
What's even greater on this account is that they have uploaded demo tracks from the band. We can find: "Dirty Earth", "Shine" and "Burn the Boat", the three coming from their first demo tape titled "Shake Your Head Until You're Tired!". Other songs included in this demo were "One Way Out" and "Flawless".
There are also two recordings from the Janice Long show on Radio One. There's "Bring You" and "Gather Up".
But those are not all the goodies in this account. Two live TV appearances are available: the band performing "One Way Out" on the Juice programme in 1987, and "Dirty Earth" at the same show.
Luckily the band members are also listed on these youtube clips:
Martyn Jensen – vocals
Kevin Jensen – keyboards, guitars
Alex Silva – guitars, sax
Mike Ormsby – bass
Kris Ayre – drums
Mike Ormsby, 5 years ago, commented on one of the videos saying he was living long term in Transylvania in Romania, but at the moment he was in Azerbaijan, by way of Chad in Africa. Wonder what he does for a living!
I keep digging and I found an interview to Dave Owens on We Are Cardiff. Dave Owens seems to be a true Cardiff music connoisseur, as the intro to this interview says, he is at every decent Cardiff gig wearing his coat and holding a pint. When asked about the bands he remembers from his youth he mentions Papas New Faith. He recalls the Chapter Arts Center who promoted live music most nights of the week in the original Chapter Bar. He says of Papas New Faith the following: …fantastic should-have-beens such as Papa's New Faith (featuring Alex Silva – now in house engineer at Hansa Studios in Berlin, but better known as the producer of The Manics' Futurology and The Holy Bible).
This same Alex Silva seems to have been working on a bunch of big movies and all. This is his website it seems. Got there through an All Wales forum. A chap called Simon says: "yeah he was with papas new faith with Jamie from the hope they were the last ever band to play on the old grey whistle test. knew him well and his brother Naz, his mum Suzanna owned the chippy we all hung out in caerphilly but lost touch nearly 30 years ago. looking at his website and the people his producing i should imagine he is a multi millionaire by now".
From there I learn that Alex Silva was in another band called Street 66 "Alex Silva was the lead singer/ guitarist with Street 66, saw them many times supporting Steve Marriott at the new Ocean club and the Colours and other bands at a few places as well. He's gone on to be quite successful in the music business, producing and stuff."
What about the other members? What happened to them? Were they involved with other bands? And was this all their recorded output? The compilation song, plus the two singles plus the demo tape? I wonder if they had more songs sounding like "This House", that song is such a gem!!
Anyone remember them?
::::::::::::::::::::::::::::::::::::::::::::::::::::::::::::::::::::::::::::::::::::::::::::::
Listen
Papas New Faith – This House