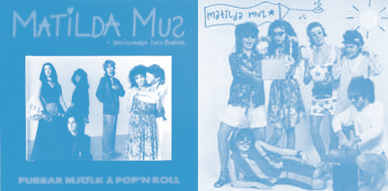 Thanks so much to Ulf Cronheim for this interview! I wrote a bit about Matilda Mus some months ago trying to find more information about this fab Swedish band from the 80s. Happily Ulf was up for answering some questions and telling the story of the band! After listening their songs you'll be wondering, how haven't I heard them before?!
++ Hi Ulf! Thanks so much for being up for the interview! How are you? How is the holiday season shaping in Varberg?
Everything is just great. It's been a fantastic summer on the west coast. Now I'm spending my days with my girlfriend Sofia and our 3 kids: Adèle, Harriet and Sixten. We live in Södermalm in Stockholm, 500 km from Varberg.
++ I must say you are the only band I've ever heard to come from Varberg. Are there any other bands from your town that are worth checking out?
No.
++ Was Matilda Mus your first ever band? And since when had you been playing bass?
I started playing the bass 1980 at the age of 16. My friend had a Rickenbacker that I could use until I bought my first Hagström. I played in a couple of bands before Matilda Mus, mostly punk rock, but also pop. 1983 I joined some friends in Boston to play in a band called New Tarbideon. I spent 6 months in the US trying to make it as a musician. We got to know Ric Ocasek of the Cars and his producer Ian Taylor, and they helped us out. We weren't that great though, and eventually the band split up. I managed to get a job selling unicorn t-shirts and stickers from a pushcart in Downtown Crossing to save some money for the trip back home.
++ How was the recruiting process in the band? And who came up with the nicknames for each member of the band?
I started the band together with Pär Mantéus who had also played guitar in New Tarbideon. We persuaded my ex-girlfriend AnnaMaja to learn how to play the drums, and then I asked my girlfriend at the time to play the keyboards. She had two friends that liked to sing, so they became the choir. The nicknames were mostly my idea. Zadie Mc Zymbal came from the Beatles song Sexy Sadie.
++ The name of the band comes from the children books, right? Do you own any of them?
No. I think we formed the band before the books started to come out. The name was inspired by two new wave groups from Stockholm, Ebba Grön and Dag Vag. Our six year old daughter Harriet has one of the Matilda Mouse books, and I tried reading it with her a while back. We both found it a bit boring.
++ And who would you say were the influences of the band music-wise?
None of us actually listened to the kind of pop music we played in the band. I was a huge fan of Specials, Cure, Buzzcocks, Police and a lot of other more obscure new wave bands. Whenever I tried singing in English it sounded like a poor imitation of Terry Hall or Robert Smith, and after the US Disaster Trip, I needed to do something completely different. The others were also into the alternative scene, but the girls were more into goth.
++ Something that strikes me is your DIY approach, self-releasing your record and doing the artwork yourselves. So I wonder about two things. Was there any interest from bigger labels from you?
We were never contacted by any record labels at all. I once happened to run into the Swedish pop star Per Gessle. He is the singer of the Swedish band Gyllene Tider (Golden times), and he later went on to form Roxette. He had bought our first album, and he liked the songs but not the production. He offered to help us out, but I never took him up on his offer.
++ And second, how important for you were the DIY ideals and aesthetics and why did you decide to go down that route?
They were and still are very important. I really love the whole DIY thing. I try to do almost everything my own way, it's often more important than success. I don't like it when other people make decisions for me, and I want to have full control over everything I do.
++ I love the boy/girl vocals and the structure of the songs, so I wonder how was the creative process for you? Who wrote the songs? What came first, lyrics or music?
I wrote both the lyrics and the music, and I also showed all the members what and how to play. It was only Pär the guitarist that really knew how to handle an instrument. Most of the time It started with a catchy chorus and developed from that.
++ Your first release was a 7″ EP with the cracker song "På Sommaren" opening, and closing the melancholic and catchy "Intill Min Död". If you don't mind, would you care telling the story behind about these two songs that are among my favourites?!
They are both about teenage love. The lyrics of "På Sommaren" (In the Summertime) tells the story of two young people falling in love on the beach. The EP was released in the early summer of 1985, and the song was a local hit. I can't recall the lyrics of "Intill Min Död" (Until Death Do Us Part). I don't have the record here in Stockholm, but I'll try to listen to it when I go down to work at Majas the next time.
++ Your sleeve covers came in different colours, but the artwork also caught my attention. Who was in charge of doing the sleeves?
The whole band took part in the artwork of the first EP, but I guess I did most of the work with that and just about everything else.
++ And doing things on your own, I wonder, was it easy to finance your first vinyl record?
When we started recording the first EP, we took part in a local music competition. We were quite successful so we managed to book a lot of shows. All the money went into the making of the record. Then we actually won the competition just in time for the release of the record. Quite good timing.
++ Your second release was a 7″ with a Christmas theme. It's Christmas eve now that I'm writing these questions. Is this your favourite holiday? What's that that you love the most about "Jul"?
In the end of 1986 we had about 200 members of our fan club, and they all received that single as Christmas gift. The lyrics for the song "Nu e de jul" is all about the stress everybody feels before Christmas. Nowadays I spend Christmas with at least 8-10 small children. It's totally crazy! My favorite holiday is the traditional Swedish "Midsummer Eve", a fertility rite were you gather all your friends to eat pickled herring, drink aquavit and dance around a pole.
++ Since this release you started recording your music in Halmstad. Why was that? And what did this Out of Control studio offered you that you stuck to it?
I started playing with a band from Halmstad called Dead Flowerz. We rehearsed in their studio that was somewhat out of anybodies control. Very nice people, easy to work with. They ended up playing and singing in the band.
++ In 1986 you release your only album "Pussar Mjölk å Pop'n Roll". For this release some more people joined the band. What did they bring to the table that was unique about them? And also, what about that first track, "Sagan Om Matilda Mus"? Where does that recording comes from? A radio?
The first track is called "The Story of Matilda Mus", and it was performed by the Swedish actor Jojje Jönsson that had a character called "Ivan Boring" on the radio. The only new member was the guitarist Johan that replaced Pär. He had more of a rock 'n roll background, but we managed to keep most of that out of the record. He remember that liked guitar solos and that he was into Neil Young. Not really our style…
++ In 1987 you released your last record as Matilda Mus, "Sodapopkid". It was another 7″ and in it you covered The Archies, well, a Swedish version of it. Did you play any other covers perhaps in your live set?
No. During our first concerts we could only play the 4 songs from the EP. We used to play them two times and then we asked the audience which one they wanted to hear a third time. It must have been quite a strange experience when you think of it! We asked the publishing company if we could make a Swedish cover of "Sugar, Sugar". They said no, so we released the song as our own. Nothing happened. I still think it it's a great version and it works good in Swedish.
++ Talking about playing live, what were your favourite gigs as Matilda Mus? Any anecdotes you could share?
We had a memorable gig supporting the Swedish singer Ulf Lundell. There were 8000 people in the crowd and I remember I started the show by saying "Hi, here I am. It's me, Ulf". The crowd weren't very amused. The Ulf they were waiting for was lying totally wasted behind the stage, and his performance was delayed by two hours. Meanwhile we did our thing and played all our songs two times and our major hit a third time. We sold almost 100 copies of the EP after the show, mostly because the sales were carried out by 3 young beautiful Swedish bunny girls. There is a video recording of the whole show, but the camera woman forgot to connect the sound cable, so it's mute.
++ So then what happened? Why did the band split?
I don't think we ever did split up. We just didn't have any gigs, so there were no need to rehearse. We had planned to throw a big party for our friends, with a british band called Pop Will Eat Itself. The day before the gig there was a boat strike in England, and the band missed their ferry. We managed to book another band for the party, but the crowd thought they were rubbish. It was a cult band called Union Carbide Productions. I think they were great, but they were drunk and they played a bit too loud. We rescheduled the show with PWEI to the day after the party but hardly any people showed up. We had to sell our van to cover the loss, and after that some of the members were a bit tired of the whole music scene. I met the singer of PWEI some years later in Copenhagen, and the first thing he said was "Hey, Ulf! Did you ever get your van back?".
++ After the band you formed De Nissan Badpojkar. Care to tell me a bit more about this band? Was it much different to Matilda Mus?
It was my friend Peter Wahlbeck and I that recorded a song called "Sommardag". It has a Swenglish translation on the flip side called "Summer Day". I played all the instruments except the guitar that was added by the Matilda Mus guitarist Thomas "Svarta Faran" Klint. I like the song, but we had some problems with labels so all the records came back crooked from the printing. We managed to get new copies, but by then the summer had passed and we actually never released the record. We gave some copies to our friends but the remaining 500 are still stashed away in my garage with some of the Matilda Mus gear. It could easily have been recorded by Matilda Mus.
++ These days you run a cafe in Varberg called Majas Strandcafé. I hear many indie bands have played there. So far, what would you say have been the top five gigs at your place? And how do you like running the cafe?
We changed the name to "Majas vid Havet" (Majas by the sea). The old name translates into Majas Beach Café, and I thought it sounded too much like My Ass Bitch Café when foreigners said it. It's hard to pick only five gigs. We've had just about the whole Swedish indie scene performing during the 20 years since we started. Håkan Hellström, Bob Hund, The Soundtrack of Our Lives, Veronica Maggio, Miss Li maybe? Hmm… that's six. Majas of today is a pretty decent organic restaurant and it's only open in the summertime. It's great fun!
++ Do you still play music by the way? And aside from it, and running the cafe, what other hobbies do you enjoy doing?
I play ska, rocksteady and reggae in a band called "Good Staff". We only play at Majas. That's one of the best things about owning your own venue. You get to decide the line up. Otherwise I spend all my time either with my family or planning and working with our organic farm at Tången, just outside Varberg. We have sheep, chicken, pigs and a duck. A lot of work of course, but fun…
++ Are you still in touch with the rest of Matilda Mus? What are they up to these days?
Pär plays the guitar in Good Staff and he´s also a silver smith. I sometimes meet Zadie the drummer and Paula Purple. Zadie is a reporter on Swedish television and Paula is a music teacher. Johan, Thomas and Jackie are cover musicians. I don't know if the others are still doing music.
++ Alright let's wrap it here Ulf. Thanks so much! Anything else you'd like to add?
Thanks. It has been fun thinking about what we did and how we did it. I tried playing some of the songs for our kids but they told me to shut up as they went on watching Monster High on their computers. The times they are a changing…
::::::::::::::::::::::::::::::::::::::::::::::::::::::::::::::::::::::::::::::::::::::::::::::
Listen
Matilda Mus – Nu E De Jul