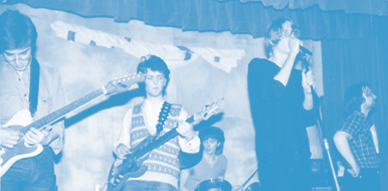 Popfest week has started. Some friends are already in town and more will be arriving in the next hours, days. This should be one of the best weekends this year for sure. Can't wait to see Even as We Speak, The Trash Can Sinatras, The Chesterf!elds and more. Who are you looking forward to see?
Indietracks announced some more bands last week. Aside from Haiku Salut, Bearsuit and Frankie Machine I wasn't familiar with them so I had a listen. Sadly none of them I liked. I don't want to be overly critical with the festival but bands like Gavin Osborn, Alimony Hustle, Sonic the Comic, Honey Joy, Robyn Johnson, DIRTYGIRL or Robberie, have nothing to do in an indiepop festival. The band Deerful surprised me with a fantastic tune on their bandcamp called "Moon Maps", but I didn't fall for the rest of their discography.
I know how many people get annoyed when one points a band and says: "That's not indiepop". They call you the indiepop police and other nonsense. But seriously, who could argue for a garage or a folk band being indiepop? I can understand when people call for example Red Shoe Diaries indiepop. I'm not fan of this band whatsoever, but I can understand why people think they are part of the scene. But come on, Sonic the Comic?
In a way I'm glad I'm skipping this year though it hurts a lot to miss PO!, one of my top ten bands ever. With rumours saying that NYC Popfest may fold after this year, I wonder if I'll ever see Ruth Miller's band. I guess that would be my biggest Indietracks regret (as well as missing the first three editions that were really catered to indiepop fans). I will try to go again next year though, book a hotel and wait to see if the bands are amazing once again. I love that festival, the atmosphere, the place, the town, the friends, and I even miss the warm beer. It's just now the word Indietracks gives me so many mixed feelings, I'm not so happy about their direction the past 3 years. But who knows, maybe indiepop becomes a bit more fashionable next year and we can expect more indiepop bands being booked? Crossing fingers.
And crossing fingers that this won't be the last NYC Popfest. If any festival has consistently booked great indiepop bands around the world that is NYC Popfest. I know this weekend is going to be fantastic. Of course you know I don't agree with the Fortuna Pop night kind of thing, but if that's the way I will get to see Chorusgirl for the first time, I will be ok with that.
Don't get me wrong, I do understand that repeating bands is something that can't be avoided. There are so many bands that can actually cross the ocean and come play. And there are many new fans coming to Popfest who have never seen many of these bands before. So that's understandable. It's just that for "me" it's a bit different, for me as the indiepop fan that I am, and not thinking as a festival organizer or a label person or a band person, I wish I'd see new bands all the time! New sounds, new songs!
Anyhow, I'll see you at Le Poisson Rouge on Thursday, for the Popfest opening! And if you are in town a day early, at Cake Shop to see Alpaca Sports' return to New York!
—————————————————————
A couple of weeks ago a friend on Facebook asked me if knew about Greenfield Leisure. I was honest, at that moment it didn't ring a bell at all, and said no. Who were they? I heard this one song on Youtube called "Leisure" and thought, this sounds really good actually. It sounded familiar though. How come?
At night at home, after returning from work, I searched my computer for this band. I found the "Leisure" mp3 in a folder that I had named Shelflife blog. Of course, Ed had already written a bit about them back in November 2008! I always come late to the party. Always impressed by the discoveries people like Ed, Jessel, Joel or Uwe make!
Ed says that he kept the compilation "East of Croydon" in his collection just because of the strength of the song "Leisure". I don't know much about this compilation, the bands on it (The Flips, Calling Hearts, A Circle Charmed, and more) are totally unknown to me. This compilation came out in the early days of the 80s, in 1981. Released by a label called Nothing Shaking Records (SHAK 1) it included a booklet with 16 pages dedicated to the bands, though it's said not much information appears about them. This same label would also release 7″s by two bands that appeared on the comp, for The Heartbeats and The Big Combo.
Croydon is a large town in south London, England, the principal settlement of the London Borough of Croydon. It is located 9.5 miles (15.3 km) south of Charing Cross. It is one of the largest commercial districts outside of Central London, bearing one of the largest shopping districts and a developed night-time economy. It is identified in the London Plan as one of 11 metropolitan centres in Greater London. It has a population of 52,104 in the 2011 census, comprising the Addiscombe, Broad Green and Fairfield wards.
East of Croydon, there's Beckenham, Bromley and Chislehurst among others. But where were these bands from? Croydon or one of the many towns east of it?
We do know that Greenfield Leisure came east of Croydon, they hailed from Orpington, Kent.
Orpington is a suburban town and electoral ward in the London Borough of Bromley in Greater London and lies at the south-eastern edge of London's urban sprawl. It is identified in the London Plan as one of 35 major centres in Greater London. Before the creation of Greater London in 1965 Orpington was in the county of Kent. Kent also remained the postal county for Orpington after this time.
They were around from 1981 to 1983 and were formed by:
Cliff Dowton – vocals
Simon Pritchard – vocals, cello
Rory Manchee – guitar
Simon Marchant – guitar
David Evans – bass
Cliff McLenehan – bass
Steve Goulding – drums
Nick Kenway – keyboards
Matthew Smith – vocals, violin, keyboards and bicycle frame
The Wiki page created by Kent Bands describe them as a post-punk collective who produced experimental DIY music, with songs formed out of improvised recordings.
They list one gig from 1981 at the Old Queens Head in Brixton and also list some related bands:
– Normil Hawaiians – who also appear on the East of Croydon compilation had Simon Pritchard, Simon Merchant and Cliff Dowton in it
– Jacob's Ladder – had Simon Merchant
– Mumbling Maracas – had Rory Manchee and Nick Kenway
On the Shelflife post, David Evans commented. From it we know that he wasn't a fan of the song "Leisure" but that he remembers recording it at the Mousehole Studio in Orpington.
Aside from this appearance they released two records. First a 7″ in their own Strange Orchestra Records (CAMP 1) with the songs "L' Orange", "Sally" and "Orange Cut". This came out in 1981 and was produced by Pete Leggert.
The second release by the band was a 12″ on the same label in 1982. The EP was called "Those Far Off Summers" (CAMP 2), included two songs by side. On the A side "Ever Ready (Mind)" and "Bat Baby" and on the B side "First Time" and "Too Fat to Frug". This record was recorded at Ariwa Sound Studio in Thorton Heath.
It's said that the lyrics for "Too Fat to Frug" were inspired by the novel "The Crying of Lot 49" by Thomas Pynchon. The record was mixed by Neil Frazer.
David Evans mentions on the Shelflife blog that they had started demoing for a third EP but their distributor went bankrupt before they could record in the studio. He says they were sounding a bit like pre-Madchester. I was able to track three songs from that studio rehearsal thanks to a blog called Die or DIY. The songs are "The Man with the Prehensile Nose", "The Old Man Cried" and "Yellow Socks". It seems this EP was going to be called "Candies EP".
This same blog has an extensive post about the band. From there you can download all their studio recordings as well as the live gig that was listed in the Kent bands Wiki. Also they link to a clip of John Peel introducing the song "Too Fat to Frug".
It seems Rory Manchee was in touch with this blog. He recalls the music they were listening at the time an influencing their sound, how they ended up on Illuminated Records, and a bit about Kevin Armstrong (who appears on the East of Croydon comp) becoming a celebrity of sorts in Orpington as he ended up playing on records by Prefab Sprout and playing with Bowie and Iggy Pop. But I guess the important bit on this blog post is why the Candies EP wasn't released. It's said that the band split, that there were some musical differences already and they all started either to study or to work or even to start families.
As mentioned earlier, some of the band members joined the Normil Hawaiians. Simon Pritchard self-released some cassette albums with the names "Handle Had a Candle" and "Dog-Like Jeans". Nick and Rory played in various bands along Richard Fromby (who had played with the Jazz Butcher) and Alaric Neville (from the Bridewell Taxis and the Ukrainians).
These days Rory makes music under the name Wharf99, it's electronic music though, very different to Greenfield Leisure, and it seems he is living in Australia.
What else do any of you remember by them? Are the other members making music too (I found some info for Simon Marchant, based now in Faversham, and seems that he is still making music under the name Zinta and the Zoots)? What other gigs did they play? Difficult to pinpoint this post-punk band, but at their finest moments they were making amazing proto-indiepop music!
::::::::::::::::::::::::::::::::::::::::::::::::::::::::::::::::::::::::::::::::::::::::::::::
Listen
Greenfield Leisure – Leisure