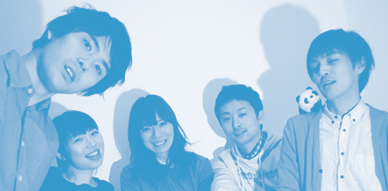 Thanks so much to Civic for the interview, and also to Yugo from Happy Prince for the translation! Civic will be releasing very soon their debut album on the Happy Prince label, and for the past weeks I've been enjoying it a lot. Noisy, fun, poppy, this record is one of the surprises of 2012! Please enjoy, and you can visit their website here. And order from Happy Prince here.
++ This September your new album will be out! Must be really exciting! I've been listening to it non-stop and I have to say it's a great one. What expectations you have with it?
We are all glad to hear you have listened to our album, Thank you! Regarding our album, it is so lucky for us, a cheap and odd band, to be able to release the album. I would like to go back to the time when we had started the band and told us at that time "you will be able to release the album! It should be surprising!" if we can trip the time by a time machine.
++ Let's go back in time, how did Civic start? What year was it and how did you all knew each other?
I am not sure, but we started the band around 2004. We started the band with very close friends. We were all just beginners at musical instruments. I let my younger sister Tomoko play the drums, it was full of trial and errors. But lots of fun.
++ Have there been many lineup changes during your run?
We just added one more guitarist. When Marikko (bass) got pregnant, Ouji joined the band as a support bassist. And when Marriko get back to the band, Ouji replaced his instrument to the guitar because of his interest. Now we have triple guitarists.
++ What about playing in other bands? Have you been involved with other music projects?
We are doing not so many. Sometimes we supported the friends' bands. Kodai is playing at his another band called Electric Brand as a vocal/guitarist.
++ Why the name Civic? Do you like Honda Civic? 😉
Because we had lived in very close places, so we started our practice at a studio in the ward office. To reserve the studio, we have to tell a band name, so we named after the ward office's name 'Civic Center'. Now we do not have a car, so if we would be able to sell many CDs, we will buy a Civic.
++ What would you say your influences are? And are there any Japanese bands that you'd like to recommend?
I guess we were affected by Galaxie 500, Daniel Johnston and Beat Happening. We liked them because they all have a very warm human energy. But when we started playing the guitars, we got to like to play loud with much distorted sound. Then we liked The Jesus And Mary Chain and Dinosaurs Jr.
As for the Japanese bands, Caucus and Shinda-Boku-no-Kanojo (My Dead Girlfriend) are what we cannot do so and great bands. NAISHO (who will release their debut album on November by happy prince), Shojo-Skip, Herajika are very twisted and I love them. I have loved Hartfield, Love Love Straw and Dog Hair Dressers for so long time.
++ So the new album is out thanks to Happy Prince Records. Care to tell me how did you get to know Yugo? And how important is his label to you guys?
A few years ago, Yugo called us to join the Apple Light release party. That is the first time we met. We are not so energetic and not so accurate to create something, so we were very helped by his adding the sense to create and manufacture the CD.
++ From this fantastic album, what would you say are your favourite songs and why?
The first track "toilet monster" is rush and we feel good when we play this song at the show. The 6th track "koi no uta" has a good latter part. The 3rd track "innocent" has good guitar riffs and odd groove. The 7th track "tensai", tensai is a 'genius' in Japanese, I like this song because I am not a genius, but sometimes I like to be a genius.
++ The song titles are in English, but you sing in Japanese. Have you ever considered singing in English?
We would like to sing in English, but we are not good English speakers, so sing in Japanese. We just made the track tiles in English.
++ And why the name "Toilet Monster" for the album name?
The 1st track and the 2nd track were "toilet paper" and "monster", so we fused them to "toilet monster". I often go to the toilet, so I like the toilet.
++ How was the recording of the album? Any anecdotes you could share?
Gathering together, we recorded about in two days. I thought some kind of groove can be recorded when we do it in a short time. Eating snacks, playing the games, the recording was proceeded well. It should be good for us in a relaxed mood. We always make a practice at Kodai's house.
++  This is your debut album and before you've appeared on compilations right? Care to tell me about these compilation albums?
We joined a split album called "Anorak Shoegazer" with Boyfriend Dead, who we like. The title is not determined by us, but I like it. The compilation album "Happy Gift For The Pop Kids" is joined by many foreign bands and colorful pop song compilation. It is always good for us to be asked to join the compilation. We are willing to do it. We have many many songs, almost songs for three albums, When we get the opportunity, we are ready to try!
++ So after the album what comes next for Civic?
Playing some shows, we are expecting to release the next album sooner. In fact we are considering the songs for the next album these days. We hope we would be able to release the next album in the next year.
++ What about gigs? Do you play many? What has your favourite gig been so far?
We are all lazy ones, so we do not play at shows so many times. But it is fun to play in front of many audiences. When we play at the show first time, the audiences are less than members, but it was also fun. I remember it even now.
++ You are from Tokyo, right? What are your favourite places in town to hang out? And if I was a tourist, which sights would you recommend not missing?
I like clouded towns such as Shinjuku and Akihabara. There is not so many historical places in Tokyo, so you should enjoy many and many of people clouded.
++ What about Japanese food? What are your favourite dishes? And Japanese beer?
Maybe it is not a pure Japanese food, but I like ramen (the Chinese noodles very Japanized) . I guess Japanese beers are also good. Highball is also fine.
++ Let's wrap it here. Anything else you'd like to add?
Thank you for your interview. To keep our activity in a good way, we will keep our good life, sleeping well and eating much. Please sleep well all the people. If you listen to our album, play it loud!!
::::::::::::::::::::::::::::::::::::::::::::::::::::::::::::::::::::::::::::::::::::::::::::::
Listen
Civic – Toilet Paper