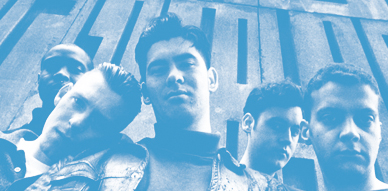 Just a couple of weeks ago I was lucky to see The Brilliant Corners perform at Indietracks. It was the gig of the year for me. It was just amazing!!! I thought it was a good idea to see what The Brilliant Corners are up to these days and Davey was kind enough to answer a bunch of my questions. But first and foremost I will point you to Wearitwell Records were you can buy a CD of a live performance of The Brilliant Corners called "From Bristol to Berlin" and also the latest of Davey's other band (who are still going by the way!), that is the Experimental Pop Band's latest album "Vertigo".
Very jealous of those who will see them at Berlin Popfest soon, but I'm here crossing fingers I'm lucky enough to see them play next year, somewhere close or far away from me. Catch them if you can!
++ Hi Davey! It was so great to meet you at Indietracks. And very happy that you are up for an interview. I have thousands of questions but I'll try to make it not too long. But first things first, how was your experience at Indietracks? What was the best thing about it? And how come you didn't prepare an encore?! 🙂
I liked the intimacy of the event, there was a feeling that a lot of people were meeting old/new friends. People playing acoustic in the merch tent was cool, doing something like that is a bit scary but also a really exciting thing to do. I would be happy to do it next year!
The best thing has to be the wonderful reception the band got. Yes I should have kept a number back for an encore, think I was too excited and just played all the songs on the set list with out thinking ahead!
++ You are playing Berlin Popfest very soon too. With what kind of expectations are you traveling to Germany? And I wonder if you are planning to keep playing with The Brilliant Corners some more gigs after this gig?
Well I don't think the BCs have been to Germany since 1989! I have toured Germany with The Experimental Pop Band quite a few times over the years as we were on City Slang Records ( Berlin label) for a few years. Used to get a lot of people coming to gigs saying they were fans of the BCs and did I remember the Fanzine interview I did with them. Most times I did remember. I think there is a real possibility that we might play a few more dates In Germany in 2014. I have a friend in Hannover, Jens, who really wants to put us on and record a session for his radio show. Our only other date this year is in our hometown Bristol on The 2nd November. We will continue to do reunion dates until June 2014 then our year of fun and joy is over.
++ Was it thanks to the Scared to Get Happy shows in London that you decided to reform? Or have this been in the pipeline for some time? How was that gig? Were you a fan of the other bands that played back in the 80s? I read Amelia Fletcher joined you on stage! Would have loved to see that!
No STGH had nothing to do with it. Bob ( our drummer) has periodically asked me to think about doing a one off gig for old times. I always said no as I don't really like the idea of bands reforming as they usually sound crap! I am so pleased we don't sound crap! Last xmas Bob and Steve ( road manager) got me drunk and pestered me for a whole night to do a gig. I told them about the BCs album Cherry Red were putting out. John Reid who put the project together and Richard who had a lot of the live recordings were also asking if there was any chance that the band could play live. I had already told them no. However during the course of listening to the songs for the 'Hearts on your Sleeve' album and really enjoying those songs and knowing that I had no commitments with The Experimental Pop band ( we had an album out in 2012) for the first time in decades I pondered the possibility. I was also quite drunk. Between Jan and March this year me Bob and bass player Boo met up and I have to say it was a joyful experience working out those old songs and even with just the three of us playing I knew it could be good. It was a kind of now or never moment.
STGH was great , on so many levels it was great. There was no warm up gig prior to it but we played and all the old magic was in the air, the audience were wonderful. I had not seen Amelia for a long time but got in touch with her and she was really up for doing the gig, she like me was uncertain how it would go but we really enjoyed it. Amelia played a lot of gigs with us in the 80s. I remember buying the Wolfhounds debut album, great album, so it was wonderful to see them live for the first time!
++ In the last couple of years there has been a bunch of Brilliant Corners CD reissues by Cherry Red Records. How did this partnership start? And are there any more releases coming up?
Think Cherry Red asked me for the rights to the back catalogue some 5 years ago or more. I agreed as I was often being told that people could not get hold of the old stuff and I also saw that some people were paying crazy prices for vinyl on ebay. I also thought a new generation of kids might be into what we were doing so it should be available to them and I did not have the time to do it myself.
The idea was that Cherry Red would put out stuff chronologically. It was not until the recent release that I got really involved mainly due to John and Richards enthusiasm for the project. They still have 'Hooked' ( not our best LP but some good songs on it) and History of White Trash ( our final album and a bit of an overlooked gem, lots of good pop songs on it.) Not heard if they intend to release these. You can get a limited Live CD of a gig the BCs did in Berlin on my label Wearitwell records.
++ Let's go back in time. Were you involved in any other bands prior of The Brilliant Corners?
Prior to the Corner's me and Chris were in a band called The Hybrids we started out sounding like The Jam and Kinks and ended up sounding like Echo and the Bunnymen and Joy Division!
++ What are your first musical memories you have as a kid? When and how did you get your first guitar?
I got my first guitar pretty late in life. I was 16 and it was right in the middle of the whole new wave, punk scene and that inspired me to write songs. My mothers side of the family were very musical, mainly country music and 50s and 60s pop , so I grew up with uncles and cousins who were in bands. I don't know why I did not take guitar up at an earlier age, I was buying records with what little money I had so I was already hooked. My earliest musical memory is having my plastic Beatles guitar flung on the fire ( 1964), mum got mad with me for making a racket so she threw it on the fire, I think Paul McCartney's face melted last. Ah so I was traumatised by this experience and that's why I got a guitar so late in life!
++ How did The Brilliant Corners start? What was the recruiting process? And was it an easy choice to name the band with the Thelonious Monk album name?
Me and Chris met Dan ( trumpet) and we would go to his house and jam and sometimes I would bring songs I had written. I met Bob when I was working as a lab technician and he was the test tube washer. He looked like a punk and said he played drums. So we now had a drummer. Bob had a friend called Winston who would turn up and bang on stuff. They both had a friend called Steve who would show up and say we were great and we should play in a pub. So we did and that was out first live experience. Dan owned the Monk album can't remember if it was me Chris or Dan who took the song title as the bands name.
Later Winston bought a guitar. Dan left to go to university and we put our first singles out. Dan came back from university, rejoined the band, we then became quite well known. Winston broke his arm prior to a German tour and Phil had a week to learn all his parts! Phil then left the band when Winston came back in but rejoined us when I broke my arm and he learned all my parts! When Winston and Dan left. Phil joined the band for a while. Phil then Joined Cowboy and Spingirl and Paul Sandrone played guitar in the final line up.
++ That you named your band after that always made me wonder. You must have such a wide and broad specter of influences. But I wonder if there are any indiepop bands that you would think influenced your band?
I have really diverse tastes and that shows from the BCs development through to everything I have done since. Also not many people realise that me and Dan played in an avant guard Jazz band called Spaceways in the late 8o's when he had left the band and I was still in the band. So my ears were really open to stuff. I don't think indiepop bands did influence what we did but bands of that time that did were certainly Orange Juice, Josef K and the The Go Betweens. Infact a song on Hooked 'Hemingways Back' could be the Go Betweens!
++ Trumpets. I love that you have trumpets. How did trumpets become a big part of The Brilliant Corners sound?
Dan played trumpet! Bearing in mind I have already said that my first band metamorphosed into Echo and the Bunnymen meets Joy Division, only a nutcase would add trumpet to that! but we did. It has to be said that a lot of our first gigs were primal , noisy Jams, the songs came later. I also think those 60s records I was exposed to with lush orchestral backing was knocking around in my mind..
++ On the liner notes of the last Cherry Red cd I love that you mention how important were haircuts and how to dress back in the 80s. Though I'm sure you were the coolest kids in Bristol, I wonder how was your town back then? Has it changed a lot? What were your favourite places to hang out? And which other bands did you like hanging out with?
Gosh, Bristol was a really difficult place to grow up in the 70s and 80s, if you were a bit of an outsider/ oddball like me, one was always getting beaten up or picked on. Later after punk had happened I noticed that there were more oddballs around and I could hang out with a few people. These people seemed to go to the gigs I went to. Getting involved in music made me feel special and not too much of a freak.
In the early 80s there was only the Dugout Club which we could go to. You could hear all kinds of music there. Revolver Records and Tony's was the place to get vinyl. The Student Union bar had local art school type bands on. You could hear 60s R &B at The Western Star Domino Club. We played some gigs there too. By the mid 80s there was more of an alternative scene. I was living in a part of Bristol Called Stokes Croft, ( The area is now considered very Bohemian) it was very low life but the pubs were good, the Tropic Club was around the corner from where I lived and every indie band worth mentioning played there. By now Sarah Records and Subway were happening. Bands I hung out with? We did lots of gigs with The Chesterfields, Mark Barber from the band is still a good friend and The Flatmates, in fact I grew up a few streets away from Deb Haynes, we just thought it was a fucking joke the two of us in an indie band! No one from where we grew would have a clue about being in a band! I've run into Rocker quite a lot recently he's a good guy. (If you want more details about stuff like this I have written Blogs about it that you can access via wearitwell records) I remember some mad nights in Belgium with The Dentists- great band.
++ Another thing that I often think about is although you have a vast discography, I'm sure there are still many unreleased recordings by The Brilliant Corners. Am I wrong? And if not, any chance they will ever get released?
There are many unreleased songs, I used some on the recent album and some were used on the Berlin live CD too. You never know some of this stuff might see the light of day but I would have to think carefully about this. The live CD works really well as it is a whole gig in its entirety with the mistakes, out of tunesss and me yapping in between. All this captures the mood of that time. Cherry Red have an option to put the bands last 2 albums out.
++ To what extent would you say your songs are autobiographical? I ask because there's many many times where I've felt these songs very dear to me, experiences that anyone could have been through, especially songs like "Oh!", "Teenage", and the like. You know, those of boy meet girl.
Well I think there is always going to be elements of autobiography in some songs. Part of the charm of song writng for me is that sometimes it comes from the heart and at other times I don't know where the hell the words have come from but they come and it happens and rather magically it means something to me and hopefully can mean something to others. I think you can say an awful lot of things in boy meets girl songs, a lot people underestimate this. Its a genre that I continue to enjoy using. The songs you mention are mainly autobiographical.
++ And if I would make you choose the one song that you like the most of your repertoire, the one that has to be played at every gig, which one would you choose and why?
Strangely that is not too difficult a question. I would always want to play 'Meet Me on Tuesdays' and 'Growing up Absurd' I don't really know why though!
++ Tell me a bit about the video of "Why Do You Have to Go Out With Him?". How did it come about? Any funny anecdotes while filming it?
I don't really remember too much about making that video. Think at the time we had got into a habit of choosing a song for a single and then begging someone to film us in return for beer money or sex , which to our surprise seemed to work. Seem to recollect that it was made after we had done a UK and German tour so we were buzzing and tired at the same time.
++ During the 80s you mostly do everything by yourselves. You released your own records, did your own videos, probably even found your own gigs. It seems you had this energy most bands during those years lacked, that after the one record they would split up. I wonder what it was that kept you going? It mustn't have been that easy right?
ou are absolutely right that we did most of these things ourselves but we also ran into a few people who would also find us witty and charming and would do a few things for us. One example being a guy Called Andy Franks, at the time he was Depeche Modes tour Manager. He had remembred us from the early days in Bristol when he sometimes did the door at The Western Star Domino Club. Andy came to one of our our London gigs and we got drunk and had a laugh and before you knew it he got us a tour set up in Germany. So it was not entirely down to all our own endevours. Chris delt with most of that side of things, the money and planning and he was very good at it. We both spent a lot of attention to the look of the sleeves. I really liked that creative side of it, how things looked, our haircuts were very important too!
The longer we were together it actually got more difficult to do as the indie bands who were considered our contempoararies did become more professional and were on big labels that we would never be able to compete with. Also for whatever reasons we did not conform to what the 'indie scene' became so in an odd way we were outsiders again as we had not released one classic disc and dissapeared! Back then we could continue to put out stuff becuase we were so fucking obsessed by it. We just about earned enough money to keep doing it and most important of all we had time to do it as we had avoided getting anyone pregnant!
++ Many questions already. Perhaps we should do a second part if you are up for it! I still have so many questions! But before we stop, why did The Brilliant Corners split? And what would you consider was the biggest highlight of the band?
It's hard to specify a single reason or incident that lead to the band folding but in many ways it was due to some of the above. The more the buisiness side of things had to be thought about the less one could play a gig with an open heart. I think with in the band there was a creeping sensation that we had to 'have made it' and what ever made it was, we had not made it. I remember on our last tour getting the feeling that the band was going through the motions a bit and that was a horrible feeling to have. I don't think one can underestimate the power of the written word too. The BCS had always polarised opinions but some of the press and comments we were getting was pretty vicious. I remember Dan reading a live review we had and him almost in tears, not long after he left saying he could not play live anymore.
Biggest highlight was hearing the band on John Peels show but in a strange way here and now, playing these reunion dates is, because I know we are doing the songs justice, I know we are playing with joy and verve and I never thought that would have been possible. To have this short opportunity to do this again, is perhaps the best highlight.
++ Thanks again Davey!
:::::::::::::::::::::::::::::::::::::::::::::::::::::::::::::::::::::::::::::::::::::::::::::