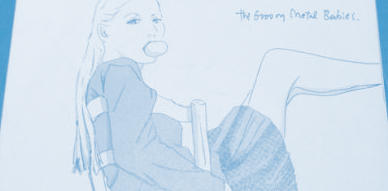 I know, I know. I said I was going to write about NYC Popfest this week. It's Friday, and to be honest I thought about skipping this week and not posting at all. I have been feeling sick since Monday, and only today I feel a bit better. So no, definitely not in the mood. I've been listening to music to a much lower volume than I'm used to. That must mean something, I think.
I guess I could resume my Thursday Popfest experience in this post. In due honesty I didn't see any bands the first day of Popfest. I wanted to see the first two, Souvenir Stand and Roman a Clef. Sadly there was some breaking news, I had to do some locator map just before my shift was about to end, and well, I ended up arriving when the second band was finishing their set. The rest of the bands on Thursday weren't really my cup of tea so I mostly mingled with friends in the first floor of the Cake Shop. In a way that was a reasonable thing to do. People in the know are aware that the Cake Shop becomes a sauna when it's packed.
Perhaps the biggest highlight of Thursday Popfest was going for some pastrami sandwiches with Aitor and Toni to Katz Deli. Aitor was really into having pastrami. He had the last time he was in NYC with his other band, Univers, and was craving for a proper sandwich. Katz being around the corner of the Cake Shop, and even though it's overpriced and kind of a tourist trap, offers really good pastrami sandwiches, among the best in the city perhaps. So it was no surprise that he loved it. And Toni, who wasn't planning on ordering anything, ate a whole sandwich as well. It was delicious.
Another big highlight of Thursday was meeting at last with the great Wallflower from Japan. They were so great to hang out with during the whole Popfest. But it was here at Cake Shop that we met and had some beers and planned on meeting for lunch on Friday.
Then of course seeing friends again one more time. It was so cool to see both Horowitz, Pete and Ian, back in NYC. And also meeting Heinz from Germany, in his first time ever in America! That was super cool! Also Amanda from Sweden, who I saw last time at Indietracks like two years ago, and José from Chicago, that comes every single year just for the indiepop!
It was mostly chatting and catching up. And drinking Genessee, cheap $4 beer. Actually the bar tender thought I was someone else. She insisted that I worked as a bar tender somewhere else. I insisted that it wasn't me. But she was incredulous. It's odd, at first I thought she was remembering me because I've been so many times at Cake Shop, but then it was clear that she really thought she had met me before somewhere else and I had been a bar tender at some bar in Brooklyn. Damn. I can't even mix a drink!!
So that was my Thursday at Popfest. Not very eventful, but I really enjoyed it. As it always happens to me at Indietracks first day, Friday, I ended up using this day to catch up with old and new friends. So sorry to disappoint you if you expected me to tell you how amazing some of these bands sounded!! BUT! I will promise to go over the Friday show next week!
——————————————-
"If You Found Some "Distorted Space" On This Records. Please Don't Mind. Your Ears Working Normal!! "
That's the message on the one and only 7″ the Groovy Metal Babies released back in 1995. The Japanese band put this record out on the German label Little Teddy Recordings (LiTe730) and included 4 fantastic raw but cute fuzzy pop songs. On the A side we find "She Does Not" and "My Secondhand Sweetheart" and on the B side we find "Never" and "In No Time". Curious enough the 7″ is titled after the B side. It's called the Never EP.
You are in luck, I just checked Discogs, and you can find for very good prices this record!
Anyhow, there are some credits to Seiko Ishiguro and Tsuyoshi, as well as vocals for Ayako for the song "In No Time".
The sound of the band is a mix between Shonen Knife and the bands of the great Yoshino Momoko. It's very "anorak" sounding!
Online it seems the band is mostly known as a pre-Jenka band. I know, we Westerners don't know much about Jenka, but this girl has released a bunch of records! According to Last.fm:
JENKA is a female singer-songwriter from Japan who writes pop songs with a variety of influences from other genres. She sings primarily in English. Jenka debuted in 1995 with the album "Sweet Grape Sugar Beats", which gained considerable positive attention both in Japan and abroad. She soon joined with a Swedish producer to create further albums. Her most recent was released in 2001 and titled Home Is Where The Heart Is.
Well, that is the Seiko from the credits. And she was part of Groovy Metal Babies. But it's under Jenka that she got to release a bunch of records. 3 albums and at least 3 EPs according to Discogs. I found one of the songs on Youtube called "Muddy Muddy Murmur" and it's really nice. It has that Swedish sound of the mid nineties.
A change of style indeed, but totally understandable. This is indiepop as well! But anyhow, today we are covering the Groovy Metal Babies. Oh! I like the band name quite a lot too!
On a Japanese website it says that the Groovy Metal Babies were just active for about only three months before Jenka. Very short stint, perhaps they only did these 4 songs, recorded them and call it a day. Perhaps it was just a fun project between two friends. I don't know. I wonder though if they recorded any other songs. And also what happened to Tsuyoshi? If he still continued making music?
Does anyone know anything about this cool sounding band?
::::::::::::::::::::::::::::::::::::::::::::::::::::::::::::::::::::::::::::::::::::::::::::::