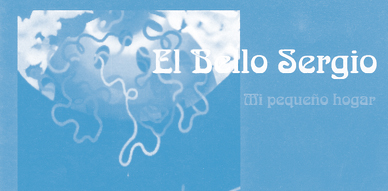 Today I have finished mailing all pre-orders of The Color Waves 7″s. Hopefully your copy will arrive shortly. I want to thank everyone that has placed an order in the past months. By the end of the week I'll be adding a pre-order button for Don't Cry Shopgirl's 7″, hope you can keep supporting the label as we want to continue putting out quality indiepop from bands that deserve it!
I've been busy at work with a big project that finally was published today. Now things may get a bit better and I should have some spare time to answer emails and fix my house for example! It's been so hectic! Some days I would even go sleep very early. That's not me. It was a big project about disappeared people in Mexico. A big interactive that already has started receiving some praise. Feels good.  But damn, it was so much work!
My friend Daniel in Peru asks me to make a flyer for him for Lima Popfest. They are celebrating a Spring edition on the 26th of this month. This year he decided to make two editions, it seems it works better this way in Lima. To be honest the only bands I was familiar with were Moon Over Soho and Dan Dan Dero. Moon Over Soho was a band from the early, mid 2000s. Now it seems they are back. They had a bunch of good songs and most importantly, I remember talking to them, they had good music taste. It's been a while though. I read they are preparing a new EP to be released soon. Dan Dan Dero on the other hand, I discovered not so long ago. I mentioned them when I did a recap of Peruvian bands here on the blog. I think they might be my favourite band from the whole lineup this year.
The international bands come from Chile and Argentina this time. From Chile there's Cristóbal Briceño, the leader of the band Ases Falsos, and from Argentina there's Facu Tobogán, who plays solo but also is leader of the band Tobogán Andaluz. Seems Tobogán Andaluz is a very popular band in Peru as I've seen lots of people asking to book them on Facebook.
The other two bands on the bill are Invernal and Led Feder. Invernal is a band I discovered some time ago, but kind of forgot about them on my recap! I remember telling Daniel to book them for the first Lima Popfest. They are really good and I definitely recommend them. Proper indiepop with bright electric guitars and female vocals. Strange to say for me, but I actually like the Peruvian bands, the local bands, better this time around! This says a lot I think, it seems it's a good time for guitar pop in Peru, and I look forward to any up and coming bands from there. Still a bit far from what I saw in Indonesia, especially in Bandung, where there was such an explosion of bands some years ago, but I feel that is what Lima is shaping up to be. I cross my fingers this exciting trend continues!
The event will happen again at the Discoteca Embassy in downtown Lima and the tickets cost 45  soles, something like 14 dollars. Cheap for a good night of music.
————————————————-
Le Beau Serge is a French film directed by Claude Chabrol, released in 1958. It has been cited as the first product of the Nouvelle Vague, or "French New Wave," film movement. The film is often compared with Chabrol's subsequent film Les Cousins, which also features Jean-Claude Brialy and Gérard Blain.
Translate it to Spanish and we have El Bello Sergio. But I'm not going to talk about the film today, but about a band from Málaga, Spain, who released 5 songs as a demo back in 1999. And since then they've been forgotten.
Well, not 100% forgotten. Some people still remember. I was talking to Cristóbal from The Royal Landscaping Society the other day, that I was hoping to dig some information about some of the bands that just left a demo or two back in the early 2000s, or even in the late 90s. That was a very prolific time when it came to indiepop in Spain. Throwing names, he mentioned El Bello Sergio. And I thought, that would be interesting, what happened to them?
I remember downloading their demo on Soulseek, more than a decade ago. I actually had a good collection of demos from Spanish bands. They mostly released them on CDR so it was easy to rip them to MP3 and be shared around. I lost that nice collection of MP3s, and that's perhaps the day I learned that MP3s are worth nothing really, when my hard drive got fried. Since then I kind of forgot the names of the bands, and their songs.
But there was someone else who still remembered them, and in 2010 blogged about them. That was Rubén from Área 51 del Corazón blog (and also label). He actually posted about them and gave us a couple of interesting facts. We learn that the driving force for this project was Manolo Castro and that this demo included 5 songs: "Seguro que Vendrán", "Mi Pequeño Hogar", "Todos Duermen", "La Noche de San Juan" and "Volverás". The second song, "Mi Pequeño Hogar", also gives name to the EP. My favourite, and it seems everyone's too, was the last one, "Volverás".
Rubén on his blog describes them as a band that has a sound close to La Buena Vida or Family and with vocals that reminds one of Fernando Alfaro from Surfin' Bichos. On the comment section of the blog we find out that Manolo, after his stint with the band, worked as a producer (working with Lemon Fly) and also as a record label (called Sunday Morning Records and releasing the band Dos Mil Locos). He has also been involved with other bands like Model Monroe and Robby Robot.
So I check out these projects. To my surprise I find that Robby Robot has actually covered "Volverás"  as a techno pop song. It's quite interesting to see it reworked like this. Seems he is still based in Malaga, in the South of Spain, and now keeps playing with this band along Daphne. It's just a duo. They have put out a bunch of songs on their bandcamp and they are quite fun.
Aside from that, I barely know anything about El Bello Sergio. I can't find information online really. Did they participate in those demo contests that were so popular in Spain back then? Did they play live a lot? Was it a full band or just Manolo recording at home? So many questions, that would be nice to see answered some time. In the meantime, enjoy this beauty called "Volverás"!
::::::::::::::::::::::::::::::::::::::::::::::::::::::::::::::::::::::::::::::::::::::::::::::
Listen
El Bello Sergio – Volverás