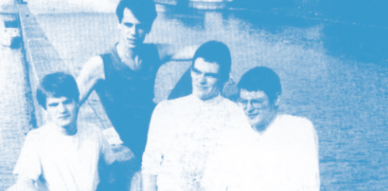 So when next Sunday comes around I won't be waking up in Astoria, NYC, but in Mansfield, in the English midlands. Hopefully the weather is beautiful, something around 18 degrees, unlike here where I've been toasting myself feeling as if I was in Miami all over again. I'll be thinking of the previous day, and I'll be sad that this will be my last day at Indietracks. I'll make up my mind and convince myself that I have to get the best out of this day, even if the warm beer and the greasy hamburgers try to prove me wrong. I'll have a good shave, have a nice breakfast at the hotel's restaurant and wait for people to gather at the front door in hopes of sharing a cab. The ride to Indietracks will be slow, discussing again which bands were our favourites the previous day and which we are looking forward the most for today. Sunday. Po! got it wrong. Sunday always comes around. And too soon.
My early Sunday was perfect until the other day. The good news was The Spook School were added to the lineup. Echo Lake wasn't going to participate of the festival anymore due to the loss of one of it's member. It's sad news, but was happy to get to see The Spook School who will be part of the Cloudberry family very soon with a wonderful 7″. The terrible part was they were scheduled at a very delicate time when my beloved Electrophonvintage are playing. How to split myself in two? Electrophonvintage starts a bit earlier, at 13:20, at the church. That's 20 minutes earlier than The Spook School. To start, I'll be there. Sadly won't be able to sit at the front row as I may need to leave before they are done with their set. And that annoys me for two reasons, one is that I want to see they play their whole set and second I would love to grab their setlist. If anyone can grab it for me? I will probablyy have to stay until 13:45, 13:50 if I can stress the time. And then leave the church stage and hastily head to the outdoor stage. Hopefully The Spook School has been slow at setting their stuff up, taking forever  to start, and I won't have missed much. Their gig starts at 13:40. Hopefully I won't have missed the tracks that will appear on the 7″, I would love to record them on video.
With The Spook School finishing by 14:20 it already clashes with another band I wanted to see, The Sunbathers on the train. And as you know, the train leaves and you can't catch up with the gig if you didn't board the train at the scheduled time. So no more Sunbathers for me. And I feel really disappointed. Stupid clashes. I do hope that The Sunbathers, as many of the train bands, play an impromptu  gig at the merch tent. That's what's been happening the previous years, and I would be very happy if they did. I don't want to miss them. At least I want to hear a couple of their beautiful songs.
As this is the case, at 14:20 I'll go to see some French flair, some gorgeous indiepop courtesy of Doggy. A couple of weeks ago I was listening non-stop a burned CD Fabien from Anorak Records handed me in Madrid. It was a demo by Doggy, with songs from his last album. It was a total surprise. The songs are fresh, catchy, and exude indiepoptasticness. If I had the song names, I'd write them here, and I would try to peek on the band's setlist while they are playing to check if they will perform these songs. I'm curious to see how many English people would come and see something that they don't understand, how open minded they are, and how much of a good taste they have. Because, if you didn't hop on the train for The Sunbathers, you MUST be at Doggy at the church stage.
At 15:00 I head for a warm beer, to the indoor stage. From the bar I'll see Toniee's long hair on stage. It's not The Parallelograms, but one of my most beloved bands. One of those little bands I liked so much back in the early 2000s when I had just discovered indiepop, Velodrome 2000. To be honest, I don't know how popular they are, but I do hope I'm not the only one singing along to "Bobby Gillespie is a Virgin", "Charity Shopping" or "Sindy Sex Aid". They must be somewhat known, they, afterall, recorded a Peel Session. But you never know, this is an unfair world. I never thought I was going to see them live. I feel lucky enough to be here, and I feel grateful to whoever asked them to play.
Now there's a little break. And I notice I haven't had any lunch. It's a bit late for lunch. But perhaps this is the best time to grab a bite. Or maybe not. I know there is going to be a huge line to get in to the church. The Hobbes Fanclub are playing and since releasing the split 3″ on Cloudberry, they've become way more popular. So probably the church will be packed. So I better be early, on time, and get a good sit. In my book, I still can't picture The Hobbes Fanclub as a live band, you have to understand that when I worked with them, it was Leon and Fabi, both of them living thousand of miles away and working their songs through the internet. Now Fabi is not part of the band anymore and the band is a three-piece based in Bradford. In any case, in my book they are also one of the bands that I think will be one of the festival surprises.
Big break now. Big, in Indietracks terms, means something around an hour. 18:20 everyone heads to the church, or at least everyone that knows what GREAT indiepop is, and get to see the lush Love Dance. How many years since they released their album? Or how many years since they put out that 7″ that bowled us all over. So many, more than five definitely. And even though we thought they were no more, that they had split, they are playing at Indietracks. And who knows how, why, or any other question you want to ask, but I don't care. This might be one of the most special gigs at the festival. It does feel by this time that I have spent an awful lot of time at the church. Perhaps it's my subconscious too, that wants me to sit and not get tired, at least not yet.
When Love Dance are almost done, hastily I have to go see Language of Flowers. I was saying in my previous post that there were two bands that convinced me that I had to go to Indietracks this year. One was Liechtenstein. The second was Language of Flowers. The previous years I've seen a couple of times Help Stamp Out Loneliness and been systematically asking Colm about the unreleased Language of Flowers songs (there are 3 as far as I know, and they are GREAT), and when they were reforming. Half-jokingly I would instigate. But never thought this was actually going to happen. Why would it? They released just one album, a perfect album, a cult album if you ask me. It was the best indiepop record in a long time and everyone loved it. I think it's just the cherry on the top of the cake this gig at Indietracks. They are closing the circle, and this might as well be the best gig at the whole Indietracks, even though Colm probably say they were shit. "Songs About You" or "Botanic Gardens", I do hope they are allowed to play an encore. And I want that setlist.
Sadly, if you notice I have missed The June Brides. And this hurts a lot. They are a favourite band of mine, a big favourite. But they clash, and they clash with other favourites. And I'm only skipping them because I've saw them before. True, sans the trumpets, as Phil pointed me out. But I can't do much. The trumpets are what make The Junies one of the most amazing bands of indiepop history. They are glorious, they can make Jericho fall. But with regret, I have to skip. I hope Phil forgives me.
After Language of Flowers things should run smoothly for all of us festival goers. You get Monochrome Set and then The Vaselines. Seems very straight-forward from now on. Who would choose any other band playing at that same time?
Then at the marquee, getting our shoes dusty and trying not to trip with the big boulders that pop up from the ground, we will dance to our Spanish friends Jorge and Miguelink. Just one request, not too much 60s Jorge!!
Some guy will shout "last train". We will be heart-broken. Drunk too. We'll give hugs to the right, to the left, everywhere. We say goodbye. Until next time, whenever that is. Good friends this is farewell. Maybe some of you I will see next week in London. Most probably I won't see the rest for a long time. But it was great to see you. It was a fabulous weekend. And with that memory we head back to Mansfield. For the last night in the Midlands. Next day we have to leave early to Cardiff. For our vacations of castles, sheep, and botanic gardens.
————————————————————————
The Golden String is a sequence of 0's and 1's that is very closely related to the Fibonacci Numbers. Other names for it are The Fibonacci Rabbit sequence or The infinite Fibonacci word. I'm not sure what the point of it is, but math scholars salivate when seeing it. But this time I'm heading all the way to the Netherlands for our obscure band of the week. To Maastricht to be precise.
Maastrich is located in the southern part of the Dutch province of Limburg, of which it is the capital. It is widely known as a city of history, culture, local folklore, education. Furthermore, it has become known, by way of the Maastricht Treaty, as the birthplace of the European Union, European citizenship, and the single European currency, the euro. The name Maastricht is derived from Latin Trajectum ad Mosam (or Mosae Trajectum), meaning 'crossing at the Meuse', and referring to the bridge built by the Romans. The Latin name first appears in medieval documents and it is not known whether this was Maastricht's official name during Roman times.
As far as I know the Golden Strings were active since 1981. Releasing their first record in 1983, a 12″ called "Budweiser Shuffle" on the Deng Deng Deng record label (catalog ES 46.782 M). The songs included were "Make Me Believe", "Some Kind of Woman", "Forward", "She", "Everybody Else" and "Budweiser Shuffle". Their sound at this point wasn't as poppy and fantastic as their later release. But still worth a listen. I think it's easier to find this record than the other ones and it's the only one I own. So keep an eye. This 12″ was recorded at Eurosound Studio's Harveld. On Youtube the drummer Serge Van Dalsen's sister has uploaded a couple of these if you want to have a listen.
The next release is a fantastic split 7″, shared with Buy Off the Bar (who were dutch as well), that includes two songs by the Golden Strings. The first one is a cracker and i's called "My Life Is Like A Stanley Knife (Cut, Cut, Cut)". It's SO catchy, and it has this fabulous trumpets. I'm thinking of bands like Big Gun or How Many Beans Make Five while listening to them. The other song they contribute to this record is "Walked Out of That Door". On the other hand, Buy Off the Bar participates with "February 6th" and "Silence". This record was released on our favourite year, 1986, as a joint release by Deng Deng Deng records (catalog DENG 002) and Bang Bang Bang records (catalog BILLY 1). I'm guessing here that the first label belonged to The Golden Strings whilst the latter to Buy Off the Bar. The songs by The Golden Strings were recorded in Amsterdam at Oktopus Studio and again there are no band credits, so we don't get to know the band members names.
The only other interesting fact on this record, that included a black and white 35×25 cm poster full of photos, are the running grooves etchings: on the Buy Off the Bar side it says "Bring Back The Buzzcocks" and on The Golden Strings side:  "We're All Jump Boys". Clearly big fans of the Undertones too. I'm looking for a copy of this one!
And last, but not least, my favourite song of theirs: "Tongue's Too Big". This track is a favourite of mine on Youtube, as I haven't had the chance to find a copy of this record!, especially because of their trumpets, their glorious trumpets. Trumpets that do remind me of The Junies. Ah! Now I feel more terrible to miss them at Indietracks!! But yes, when you listen to this song you'll understand. It sounds like a lost gem from C86 days in London, a song that should have been a single, a cult classic, but no, it ended up buried in a compilation record. Can you believe it? A song this good not having it's own proper release? Life is never fair indeed.
"Tongue's Too Big" appeared on the "13 Great Bands From The Low Lands ",  the second Noet Lachten records compilation.The album was financed by all the bands together; It included music from all over Holland except The Voners, who are Belgian guests. The catalog was NOET 4. The 12″ artwork is very strange, very artsy collage with two mouths half open, with the teeth showing. It looks a bit like a monster. Among the bands included in the compilation the only ones I'm familiar with are Buy Off the Bar and The Melting Eskimos who had a 7" on Meller Welle Produkte from Germany. This compilation was released in 1987.
And that's about all I've been able to gather about this fantastic band. I believe they started as a new wave / punk pop band and as years went by their sound got more C86-ish. Their songs are fun and catchy, and also have that ramshackle element that I love. If you have any other information about Maastricht's best, or if you happen to have extra copies of their records. Please get in touch! If you were in the band, please do too, it'd be fun to do an interview and learn more about you. I wonder if they had more songs. I'm sure they did.
::::::::::::::::::::::::::::::::::::::::::::::::::::::::::::::::::::::::::::::::::::::::::::::