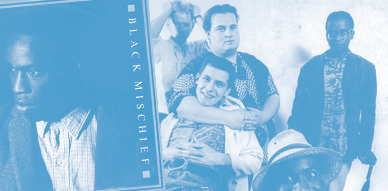 Back from Chicago and then a short work week. Can't complain. Yesterday Peru beat Mexico in Copa America and that made this week even better. Now I'll rest and take care of the pile of stuff I have to finish before leaving to the UK on the 21st. Also been thinking of flying to Seattle for Labour Day weekend, not sure if I can afford it, but I feel I should try to get the best out of each long weekend now that I'm kind of young. You only live once they say. Anyhow, train tickets are booked for UK and I'll be joining Very Truly Yours at their gigs in Glasgow on the 25th and Manchester on the 26th. There are also some great gigs to attend while in London like the free show at ROTA on the 23rd where I'll finally see Amor de Días and then later that same day the return of The Jasmine Minks with their original lineup! Isn't that fabulous? Next day, the 24th, it's time to see Comet Gain!! It's going to be a very busy week in UK, I can see it already!
On Cloudberry side of things, the artwork for Youngfuck is finished (you can preview it on our Facebook page) and we are just missing some guitar re-recordings for the "Black Tulips" track, then we are set and off to the pressing plant. After it, if everything goes right the Nixon 7″ will be out finally! And yeah, next Friday the new fanzine will be out! You can't miss it! This weekend I've been cutting and pasting together the CD sleeves for the "There's Peace on the Surging Prow" EP that comes with it. Also got the inserts for the Very Truly Yours single, this week I must finish cutting and hand-numbering them. So lots of work, not many news. But wait until next month, I'm sure August will bring lots!
So what did I listen this week on CD?
1. Nixon – Anorak Christmas (Anorak Records)
2. Various Artists – Spring 2011 Sampler (Pebble Records)
3. Sambassadeur – Final Say (Labrador)
4. The Wild Swans – The Coldest Winter for a Hundred Years (Occultation)
5. The Wild Swans – Tracks in Snow (Occultation)
Now onto our obscure band of the week. Let's go all the way to the Sound of Young Scotland. Kidding. Let's go to 1985 actually, but this band may as well have been part of that Glasgow scene of the early 80s. Maybe I'm trying to give the credit Edwyn Collins deserves in inspiring bands with a fresh sound during the 80s, I want to be excited of his gig at Indietracks. I'm not really looking forward to it though, not that I dislike him, I like Orange Juice a lot, but I'm a bit doubtful of what kind of show he can put at the main stage. Friends have told me he is excellent. I really hope so. I'm skeptical. Anyhow, let's get back into track. 1985, and I guess Northampton. That's when and where Rumpo Records released the one and only 12″ by Love Ambassadeux (catalog 12002).
A black and white sleeve that doesn't say much but it's very elegant welcomes us. The sleeve was designed by Simon Andrews. I have never seen it in real life mind you, it's one of those records that are impossible to find. It seems it showed up once on eBay according to Popsike, and went for over 100 bucks. If anyone have an spare copy and wants to give it to me, I won't say no. Of course not! Anyhow, how come this record is so rare? How many copies had been pressed? God knows. Rumpo Records released  a couple of records, at least two 12″ compilations and a 12″ by a band called This Parade. The three of them are quite expensive on Discogs. Are they all guitar pop? I wonder…
The Love Ambassadeux were Roger "Carlos" Nisbett on guitar, Steve Harshaw on bass, Steve Beswick on drums, Dave Howard on keyboards, Russ Cooper on percussion, and Bruce Marcus on vocals. Trisha Wiktorska did backing vocals and the engineer for this record was Alec Price. Among other details on the back cover of the sleeve we see that the front photograph was taken by Jon Barnes, and the producer was no other than The Jazz Butcher!! Isn't that cool? Wonder if they were his protegés.
Some other details are found on the etchings. on the A side it says "YOU HAVE AN ALMIGHTY HAND – USE IT" and on the B side "I LOVE THE SMELL OF NAPALM IN THE MORNING".
The first time I heard about them was through my friend Jessels great mixes that he used to post on Myspace. I remember he wrote that the drummer Steve Beswick was playing for The Wild Swans. Checking on my new Wild Swans album, for which I paid 30 dollars including postage (ouch!), I can confirm this is true! Wonder if The Love Ambassadeux opened for the Wild Swans at some gig during the 80s…
The 12″ included 3 songs: "Black Mischief", "Driftwood" and "Oyster Syndrome". "Black Mischief" on the sleeve is dedicated to the band's mothers. Not sure why. I do find that "Black Mischief" was Evelyn Waugh's third novel, published in 1932. The novel chronicles the efforts of the English-educated Emperor Seth, assisted by a fellow Oxford graduate, Basil Seal, to modernize his Empire, the fictional African island of Azania, located in the Indian Ocean off of the eastern coast of Africa. This has been understood as a reference to Abyssinia and Haile Selassie, though the author himself denied the connection. Do you see any mother connection there?
I find curious the name of the B side song "Oyster Syndrome". From what I gather:
Writers of all descriptions and levels of experience, sooner or later, develop what can be called "The Oyster Syndrome." Writers, bloggers included, are always trying to improve their work. Constantly honing their craft, expert and novice alike, tolerate in themselves a measure of "artistic dissatisfaction" that drives them to modify, edit and endlessly revise whatever they are working on. This is "The Oyster Syndrome": A creative compulsion leading to the relentless pursuit of perfection, which, like the oyster's reaction to an irritating, sharp grain of sand, produces—a pearl; in the writer's case (hopefully) a polished "pearl" of prose good enough to enlighten the curious, inspire the discouraged, entertain the bored, and amuse the life-hardened cynic.
Searching around I found also a very interesting article that appeared on The Northampton Chronicle on Monday 20 September 2004. I'll copy/paste the most interesting parts here:
A RECORD made by a Northampton rock band nearly 20 years ago has cropped up on the most-wanted list of a music website…in Croatia Love Ambassadeux, who were a regular fixture on the Northamptonshire live music scene in the early 1980s, are listed for their 12-inch vinyl EP Black Mischief.
The five-piece were made up of music fans in the Northampton area but according to guitarist Roger Nisbett, from Kingsthorpe, there is little chance of a reunion despite the renewed interest in their music. He said: "I couldn't believe it when I stumbled across this website and saw us listed on there. "It is amazing to think that someone in Croatia knows about us, 20 years after we called it a day, and is trying to get their hands on Black Mischief. "I know a couple of the lads still live in the town and one has moved down to London but I don't think we will be getting back together."
The band was assisted by the Northampton Music Collective, which helped to promote local bands and release records. Roger, 43, who works as a computer systems analyst in Milton Keynes, added that he wasn't tempted to send one of his copies off to Zagreb. "The memories are much more important than the cash so I'll be keeping the box of records where they are," he said. "We had a good few years in the band playing at pubs and places like The Roadmender but unfortunately it was not to be." The group split up in 1985 shortly after Black Mischief was released.
And that's about all the information there is about this fantastic and sadly forgotten band. If anyone out there knows anything else about them, if they recorded more songs (they must have!), if they are still music, or just if you have any memories of a gig you attended, please share. I'd love to learn more about this band and their one fantastic record.
::::::::::::::::::::::::::::::::::::::::::::::::::::::::::::::::::::::::::::::::::::::::::::::