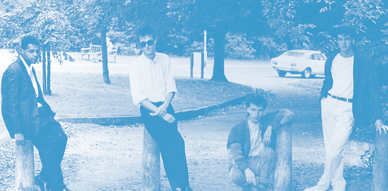 Thanks a thousand to Matt Price for the interview!
++ Where you really known as "The Smiths on acid"? Why do you think people called you like that? Were you fans of them at all?
I think the phrase was coined by a journalist reporting one of our gigs. We did like the Smiths, they were certainly one of the best post-punk indie bands, but there was no conscious effort to be like them. We had our own sound, but like any band's music, the mixture of influences necessarily shows through in places – which is a positive thing. That's how new music maintains a link with the whole whilst progressing in itself.
++ How did the band come together? How did you all knew each other? and what was the main reason to start Harrison?
We'd all gone to the same school and were friends and we always wanted to be in a band. The first band we were in together was a school prog rock band age 15. But it wasn't until after coming back from Uni, where I'd studied Philosophy, that I got together with Mick Adams (guitarist) in 1983 and things started to get more interesting. Under the name 'Strange Acquaintance' we arranged and recorded a number of my songs and went to London with a demo, going round record companies trying to get some attention. In Jan 1984 the duo expanded to include school friend Andy Hill on drums and another guy from our home town, Nige Shephard, on bass guitar. The new line up was then renamed HARRISON.
++ Why did you choose "Harrison" as the name of the band?
No reason really. But at the time "Raiders of the Lost Ark" was a big screen success and we all kind of liked Harrison Ford's cool adventurous character.
++ What happened with CBS? Why didn't you get signed to them?
Strange isn't it? – What were they thinking? There was also Chrysallis Records who paid for us to make a 3-song demo with a view to giving us a contract. But ultimately they weren't able to 'get it' either.
++ Let's talk about the fantastic single you released! What do you remember from the recording sessions? How did the creative process worked for you all?
It was recorded at a studio in Birmingham (England). Both the songs went down well at gigs so that's why they were picked. The backing track was more or less recorded 'live' with additional material and lead vocal added afterwards. We took to task very seriously, but managed to have great fun at the same time. In general, the way the creative process worked was, I'd write the songs (words, melody, basic chords) and then we'd fully arrange them as a band working together.
++ Tell me about the front cover, who is that girl? Which came first, the photo or the Skipping Rope name for the label?
I don't know who the girl is. It was a photo taken by an art student friend. We all liked the shot; it seemed to sum up the general style language of the day – innocence, low budget, street, slightly nostalgic, you know. The idea for the 'Skipping Rope' label came directly from the picture, as I recall.
++ How many copies were pressed? It seems it's so rare, nowhere to find it!
Can't remember. Not enough anyhow!
++ There are at least 6 other songs from Harrison that I've heard, they come from a couple of demos I believe. Do you remember the name of the songs and if there were more songs recorded by you?
There were about 25-30 songs at the time. All our demos and some studio master tapes still exist to this day, and I'm really proud of them all.
++ You gigged quite a lot, which gigs are the ones you remember the most and why?
We played loads of gigs all over the UK. Several stand out. London: in front of an invited A&R audience. Aberystwyth (Wales): we supported a band called 'King' who were enjoying chart success at the time. Warwick: we blew people's minds – a massive ego trip. Wherever we went we travelled in our 'Harrivan' – an early 70s camper van with fabulously tasteless interior trim.
++ I don't know many bands that have 'managers', was that quite common back then? How was the relationship between manager and band?
I thought all bands had managers. We went through at least 2 of them. To be honest, I never really engaged with that side of things as much as the other members did. I was maybe a bit aloof, in a sort of creative dreamworld, just wanting to write and play good songs. I never really thought about it in a hard-nosed commercial way.
++ Biggest highlight of Harrison?
All of it really. Being in the band, making great music, playing gigs, turning people on.
++ Do you still live in Hinckley? Honestly, I haven't heard much about that town, so what are the best things to do or visit there? Has it changed much? What do you miss from the days of Harrison?
Let's just say Hinckley's not really the sort of place to attract much attention. None of us lives there any more, but there'll always be a little place in my heart for the town. I've got some good memories of growing up there. The nearest city is Leicester where we played quite a few memorable gigs to a largely home crowd.
++ Why did you call it a day? What did the members of Harrison do after? Maybe started new bands?
Some members got fed up not having much money and went off to get jobs. I carried on writing songs and working sometimes with guitarist Mick Adams, recording new demos under my own name. There were a few more gigs with a backing band and further flirtations with A&R bosses and the whiff of a possible recording deal – but once again it never quite happened. Story of my life it seems. After a couple of years the band was reformed, this time with bass guitarist Pete Bryden. We got a brand new set together and even released a really good 4-song 7″ EP as 'High & Dry' (essentially Harrison in all but name). But due to personal commitments, the band couldn't stay together, alas.
++ Are you still in touch with the bandmembers? What are you doing nowadays?
Yes, all of them, apart from bass guitarist Nige – don't know where he's gone. I'd love to contact him again though. Mick now lives and works in the USA and Andy has got a big job and lives near London. I run my own small publishing company, but have never stopped the music. I'm still writing songs and recording CDs under my own name to this day, working with good friend and sound engineer/producer Dale Robins.
++ Anything else you'd like to add?
Definitely. There's an imminent limited release of 2 separate CDs containing nearly all the Harrison material, remastered and with full liner notes with pictures of the band etc. – due out June 2009 at budget price. Anyone interested in getting the CDs should contact me via email at matt@riverhead.co.uk and I'll keep them posted with the release. For more Harrison info, pictures and song samples see: www.MySpace.com/harrisonuk1984 or www.MySpace.com/mattpricesongs
::::::::::::::::::::::::::::::::::::::::::::::::::::::::::::::::::::::::::::::::::::::::::::::