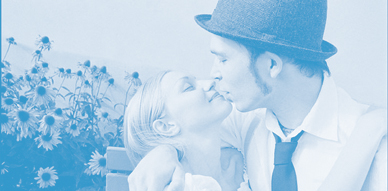 Thanks so much to Katie Bergström for the interview. These days Katie has been releasing records under her latest band Katie Goes to Tokyo but before that, earlier this century, she had a band called The Wilson Hospital that I really like! And even before that she was involved with Backfish who released in the great Swedish label West Side Fabrication. But this time we talk about The Wilson Hospital who only released one album, but what an album that was!
++ Hi Katie, thanks so much for the interview. I hear you are in Toronto these days? What are you up there?
Hi Roque, nice to be interviewed by you! I was staying in Toronto for a couple of months to write songs for my new album. Now I am in LA, doing the same thing.
++ Hopefully we can do a second part interview for Katie Goes to Tokyo, but this time let's go back in time, The Wilson Hospital wasn't your first band, right? It was Backfish who released an album on West Side Fabrication. Who were Backfish? What do you remember from those days?
Backfish was my first band and it will always have a special place in my heart. Backfish (German word for a young girl that moves to a new town) was put together by some friends of mine, and I was hired as their keyboard player at first, but then I advanced to be the singer/songwriter of the band. Our first record was produced by Ken Stringfellow (the Posies). I have so many good memories from my time with Backfish and I was so sad when we finally decided to split.
++ How cool was it to release a record on a quite important independent label of Sweden like West Side Fabrication, home of so many fantastic bands?
I don't know, pretty cool I guess 🙂 Backfish actually got an offer from another record label as well called NONS, but West Side was located in our hometown and all our music friends were tied to that label one way or the other. I guess we just wanted to be a part of "the big family". I think we were shocked to get a record contract so soon. I can see now that West side has made a huge impact as a indie label- they're a hardworking company and great at finding new great bands.
++ And then what happened? When did you start The Wilson Hospital? Was immediately after the demise of Backfish? How did you know Mårten?
I actually met Mårten before we quit Backfish. He played drums in a band that supported Backfish in Linköping. After the gig Mårten asked me if I wanted to sing on some of his songs. I thought he was just flirting with me at first, but then we got together and he played me his demos. His songs were amazing! I always wanted to do the 60'es pop thing but couldn't really get Backfish to go in that direction. So Mårten and I started writing some songs together. At the same time Backfish started to fall apart. It wasn't because of my new band. It started long before that and I think we just finally realized that it was time to let go.
++ Who came up with the name The Wilson Hospital? And what's the story behind it?
The Wilson Hospital was actually the name of my fathers old rock-band from the 60'es. Mårten heard the name and loved it (he is a big fan of Brian Wilson and the Beach Boys). The "Hospital"-part you will understand if you know your Brian Wilson.
++ Did you play many gigs? If so, any anecdotes you could share?
We played a couple of gigs. Something that hit me pretty early on was that every time we were about to play somewhere, someone in the band got sick. We always had 3 or 4 musicians with us and it was always the same thing. It was almost like a curse. And after a while there was so much pressure building up to a gig that I stared to get stage fright, because I just knew that something would go wrong. I remember one time, we were playing at a festival that was a 6 hour drive away. I was so nervous and anxious that I couldn't eat anything the whole day. I was hungry, but the second I smelled food I just couldn't eat. It was just a very weird situation. I had never felt that way before. Immediately after the gig I felt normal again. Then it took me a couple of gigs to get over the stage fright.
++ What would you say were the main musical influences of The Wilson Hospital?  Were there any Swedish bands from the time that you really liked?
I guess we mainly listened to American and British bands at the time. Mårten listened to the Beach Boys and I listened to the Beatles.
++ Tell me about Morphine Lane Records. Who were they? And how did you end up signing with them?
Morphine lane records was funded by the drummer in This Perfect Day- Johan Nilsson – and the keyboardist in Atomic Swing- Micke Lohse. Backfish had toured with This Perfect Day so I knew Johan from before. We heard Johan and Micke were starting a record label together and so we gave them our demo. They loved our music and we loved them for that and that's how we all got to work together.
++ With them you released your only release, the fantastic album "Medication for a Lost Generation". What's the meaning of the title? And which is your favourite song of the record and why?
Haha thank you! It was Mårten that came up with the title. He pictured that our music would be like medication for tired and clueless souls out there, the lost generation, our generation. "The lost generation" is a phrase from Hemingway's "The sun also rises".
"Call Me A.S.A.P" is Mårtens favorite song. I love that one too. But I guess "Don't be late" is my favorite song to play live.
++ Mine might be "Call Me A.S.A.P." though my choice changes all the time. But if you don't mind, I'd love to know the story behind this song!
Mårten got the idea to call me A.S.A.P when he was in the subway, waiting for the train. I think for the part "I need to see you baby" he was thinking of me :). Call me A.S.A.P was actually aired a lot on Swedish radio, and we go a lot of attention because of it.
++ And how did the creative process work for you being a duo? Was it much different compared to Backfish?
The creative process was very different from Backfish. With Backfish I wrote most of the songs, so naturally I always got it my way. But when I started working with Mårten, he wrote at least as many songs as I did, maybe more, and on top of that he wanted to change my songs so that they had less chords! It was a struggle. Suddenly I had to compromise and it was just a horrible experience for me. What I learned from that is that I really hate compromising. But we finally made it through I guess.
++ The artwork of the CD is really lovely, all in sepia, like reminding us of a bygone era. Who came up with that idea and why?
Mårten gave me a book with photos from the 30'es – 60'es for my birthday. I love photography and was doing a bit of that myself for a while. There were a lot of pictures of different airplanes in the book and that's where I got the idea to use the wooden-planes you can see on the cover. I also wanted to have that old photo look to our pictures so that's why we chose sepia. We had the chance to work with a very talented photographer – Carina Gran.
++ I read you were already recording or were preparing to record a second album, what happened?
Yes, we started recording some new songs, and at first we were really excited to make another record. One of the major labels in Sweden were interested in working with us and to be able to do that they had to buy us from Morphine lane. However Morphine Lane wanted a much higher price to let us go than they were willing to pay, so in the end nothing came out of that. We were really disappointed and didn't really feel that we could find the energy to start over. It just felt like we were fighting with everybody and when that happens it's just no fun to write music anymore. So we decided that we would take a break and do other things for a while.
++ And when and why did you split?
Did we split? I think we're just on a break…still working together in other projects though.
++ What would you say was the biggest highlight for The Wilson Hospital?
I think it was when we released our album and Call me a.s.a.p was all over Swedish radio. We released the album in Japan as well, but we never got to go there.
++ You were based in Stockholm at that time, right? I'm actually traveling there in less than a month. I'm wondering if you could give me some tips of your favourite bars and restaurants? Perhaps even record stores? 🙂
Oh, cool! Well, Stockholm is a really nice and beautiful town. There are not so many record stores left but I would check out Pet Sounds. It's on Södermalm. There are a few stores and bars on the same street – Bondegatan (Petsounds record store and Pet Sounds bar and some other nice bars). I would also check if there are any concerts at Debaser (Slussen) or Debaser Medis (Medborgarplatsen). You could also go to hotel Rival at Mariatorget – Benny Anderson from ABBA owns the place and I think he plays in the hotel bar with his jazz-band sometimes. Where to eat….hard to say. My favorite places to eat used to be Jimmy's steakhouse and Tezukuri Sushi in Hammarby Sjöstad) but I'm a vegetarian now…. I haven't been in Stockholm for almost 1 year, but I imagine everything's the same as when I left 🙂
++ What about Skellefteå? That's where you are originally from, right? Do you miss the city at all? I've never been there, but I'm wondering, if I ever go, what are the sights that I shouldn't miss?
When I think about "home" it's always Skellefteå that comes to mind, not Stockholm though I've lived there for a long time. My parents and my little sister still live in Skellefteå. I love the bright summer nights because the sun barely goes down at night and I miss the winters because they are dark and cold and you get the time to just crawl up in the couch and enjoy a cup of hot chocolate and watch a good movie. Any good sights not to miss…well if you go in the summer I would recommend a boat trip on Skellefteälven, and then go and see the Dragrace in Fällfors outside of Skellefteå. My sisters husband builds drag racing cars and hot rods, maybe he could take you for a ride :=) Let me know if you're going, I might be home! I could show you around.
++ And as you are Swedish, forgive me if this is silly, but, do you like Abba? And if so, which are your favourite songs?
Haha, yes I love ABBA! My favorite song is Bang-A-Boomerang. I listened to them so much when I grew up so I got a bit too ABBA'd for a while.
++ One last question, aside from music, what other hobbies do you have? What do you like to do in your spare time?
I found a new passion – yoga – a couple of months ago. I love going to class everyday and just take a break from the outside world for a while. It makes me feel really good inside. I think it's really important to have something in your life that is not connected to performance anxiety, self criticism, being judged by others and everything else that comes with being in the music industry. But apart from all that, writing music is my greatest love.
++ Thanks a lot Katie, can I count you in for a second interview, this time for Katie Goes to Tokyo?
Yes, absolutely. I'll be here 😉 Thanks Roque!
++ Anything else you'd like to add?
It's settled now – I AM going to Korea and Japan in May-June!!!!
::::::::::::::::::::::::::::::::::::::::::::::::::::::::::::::::::::::::::::::::::::::::::::::