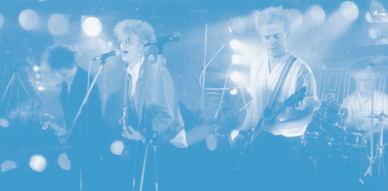 After the good two weeks of releases, Pale Spectres 7″ and The Potting Sheds CD, there's a little calm now at Cloudberry. But that doesn't mean the excitement disappears. There's a new 7″ ready to go to press and it will be announced later this week through our Facebook page. That's not all, we are already talking to a band we love for a retrospective CD, to be the 10th Cloudberry Cake Kitchen release. But wait, there's even more. Just got four songs to be mastered by a new Swedish band. Yes, that will be yet another 7″, as we start getting closer to the 50th 7″ release on the label. Here at Cloudberry we don't stop loving our indiepop!
This week I have even more indiepop news, some a bit older now, but maybe you've missed them. So let's start!
Teenage Superstars is a new documentary that was just screened at the Edinburgh International Film Festival. The film is directed by Grant McPhee, same person behind the Big Gold Dream documentary we all bought DVDs not so long ago! On this documentary Grant covers the time after Big Gold Dream, the time of bands like The Pastels, BMX Bandits, Soup Dragons, The Vaselines and more. I can't wait for it to be released on DVD or screened somewhere in NYC.  There's a Facebook page for the film.
Desperate Journalist, a band I've raved and championed many times in the blog, have a new video out for the song "Why Are You So Boring?". This is the 4th single taken from their second album, "Grow Up" and I'm very happy about it as it is one of my favourite songs in there. The video is a collage of the band at different gigs and other snippets of videos, and it includes the lyrics for singing along. Great stuff!
Andreas Dorau is releasing his 10th studio album "Die Liebe und der Ärger der Anderen" on July 7th. To promote the record (which comes in either double CD, double vinyl, as a box set including the album and a flexi disc and tape), Dorau has put together a video for the song "Ossi mit Schwan". Now, how to get myself a copy on this side of the Atlantic? I'm sure it won't be easily found here…
Peruvian band Almirante Ackbar also has new videos. They are promoting their new album "Sonidos Ultrasónicos y Audibles Para Callar al Perro del Vecino" which will be out on July 14th. In the past three weeks two videos have appeared on their Facebook. The first one was for the song "Fiebre de la Amplitud", a song I actually played on my podcast a long time ago. The second song was just published today and it is called "Alquimia Espiritual" and sounds ace. Hope the album gets released in physical format!
Jetstream Pony is the new project of Shaun Charman from The Fireworks (and previously Wedding Present and The Popguns) and Beth Arzy fr0m The Fireworks/Luxembourg Signal/Trembling Blue Stars. They have so far 2 demo songs on their Soundcloud, "Out of Reach" and "Not the One", and as you can expect by the people involved, they sound brilliant. The Croydon/Brighton band is preparing alongside the fantastic Augsburg label Kleine Untergrund Schallplatten a 7″ that will include two other songs, "Like You Less" and "Had Enough". This is very promising, hopefully the band keeps the songs coming!
Lastly a band I discovered before I traveled to Finland. I was looking for any gigs while I was going to be there and well, couldn't find any. But I found a poppy band that I thought sounded quite nice, The New Tigers. It seems they've been going for some years now and have a couple of releases. Their latest, the "Vindications EP", dating from 2016. You can check them out on Bandcamp of course. The band hails from Turku, a town I actually visited for a day and really enjoyed the vibe alongside the river, and the castle of course. To my surprise Ville, who I met once upon a time in NYC when he was playing with Cats on Fire, is the drummer of this band! I didn't know this connection, I really liked all the music he was involved with, and at some point we talked about some project he was making with his then girlfriend. I think some recordings were made, but I never got to listen to them. I'm sure I would have loved them. But it is good to see that he continues making music with the New Tigers but also solo with his new project Verandan. Soliti, their label, has a song available for streaming "Gold in the Hills" and sounds classic. Loving it!
—————————————————————
This week post comes courtesy of the Fanning Sessions blog really. Last week he sent me a message saying that a reader was compiling a radio show and asked him if he wanted to request any songs. He picked "Road of the Lonely" by Bam Bam and the Calling,  and then he shared it with me.
I had no clue who they were. First time I heard their long name. The song sounded good. The quality and the style told me it was from the 80s. They were definitely Irish, Fanning Sessions only deals with the Irish. But what else? My first instinct was to check out Discogs.
There I would find immediately a small biography and thanks to that I was going to get some perspective:
From Derry, Northern Ireland, Bam Bam and The Calling were formed in 1983 by Paul McCartney, ex of late 70s punk band Graffiti, with Tom Doherty. They are best known now for That Petrol Emotion taking their name from the title of one of their songs. The band split sometime towards the end of the 1980s, although they reformed in September 2000 for a one-off charity gig in aid of Derry City Football Club.
Paul P J McCartney: Vocals & Guitar
John McCloskey: Guitar
Joe Brown: Bass
Thomas Doherty: Drums
Three releases being listed. The first one from 1987 is a single that came out on both 7″ and 12″ format. It was released by Great Records (catalog GREAT 01) and included the songs "Scraping Off the Shine" and "Colum McKeever Sings". The 12" also included on the B side another song, "Presley". The producer for this record was Sean O'Neil from That Petrol Emotion. David Ros was the engineer. The record was recorded at Greenhouse Studios in London.
In 1988 the band was to release another single, again in both formats. The same label, Great Records (catalog GREAT 02), released it. The songs on the 7″ were "Neck Tattoo" and "Cautious Navigations". The 12″ added on the B side the song "Glory".
The other release listed is a split flexi shared with the band Man Ray. The song Bam Bam and the Calling contributed was "New Surroundings". It seems this flexi came along the Helden Magazine (catalog HL03).
My next stop ends up being the great website Irish Rock. On it there are some cool old photos and flyers. They have an extended biography there, one that says that That Petrol Emotion took their name from a song of Bam Bam and the Calling. There was a link, an early lineup of Bam Bam had Raymond Gorman who was to join That Petrol Emotion. When this happened Bam Bam split for a while. That was around 1983 or 84. Only in 1985 the band reconviened.
The band appeared on "Channel One" on BBC NI in 1986 performing two songs, "New Surroundings" and "Talking Aloud" live at The Venue in Derry.
It seems there was a live tape recorded at the Gweedore Bar in 1986 that was probably sold at gigs or as a bootleg.
The band split just before 1990. Paul McCartney at this time briefly joined Rare, the post That Petrol Emotion band as he is credited in the 1990 single "Set Me On Fire". Afterwards Paul formed The Deadly Engines and released records with Setanta.
Here also there's a little more info about their reunion gig in 2000. They opened for The Moondogs and The Undertones. Since then the band has performed occasionally.
Irish Rock also includes some extra discography. For example a dateless demo tape that included the songs "Scraping Off the Shine", "Secret Meeting", "Presley", "Neck Tattoo", "Talking Aloud" and "Day 15". Also a Radio Foyle session from February 1986 with the songs "Bad Getting Bigger", "Give the Wings Back to Bird", "I Call To You" and "Kitchen Dogs".
Next up I stumble upon an old Myspace. There are a bunch of songs but the only one I can seem to stream is a demo version of "Talking Aloud". The only other song I haven't mentioned before is "Fencewire (live)".
Then a sort of Wiki. Here I find that Paul had also been involved with a band called The Rural Felini where he was joined by his brothers Gavin and Rio as well as David Doherty. Also that John McCloskey, the guitarist from Bam Bam, was involved in the establishment of The Nerve Centre in Derry and in his guise as writer, director animator was nominated for a BAFTA award in 2008. Wow.
I found out too that Joe Brown is now involved in a band called The Gatefolds.
Well well, Fanning Sessions have a lot of information on Bam Bam and the Calling. The first post they did was in 2009. Then four songs were posted from the demo, "Talking Aloud", "Scraping Off the Shine" and "Neck Tattoo". Then there are a bunch of posts promoting gigs for the band, from 2011 and 2012. But the last post on the blog about them is one dating from 2013 and it is a Fanning Session from 1987! The songs here are "Road of The Lonely", "Only Sing" and "Scraping Off the Shine".
My last stop is Facebook. Yes, I could find a Facebook page for the band. Perhaps I should have started there, sent them a message, see if they could tell me the story. But maybe this way works too. Maybe they can fill in the blanks left by this post. Not much information or songs on their Facebook, but it does promote their gigs and the band seem to share videos of their influences. From it I stumbled upon a Soundcloud page with recordings of different bands the band members have been involved with.
Which is the song then that That Petrol Emotion took their name from? Were there any recordings from that first lienup of the band? Why didn't they get to record more songs? Did they play in England perhaps? Many questions still to be asked. Does anyone remember them?
::::::::::::::::::::::::::::::::::::::::::::::::::::::::::::::::::::::::::::::::::::::::::::::
Listen
Bam Bam and the Calling – Road of the Lonely