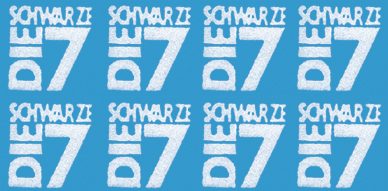 A German label called "The Black 7″, who only released black vinyl 7″s, and only released 7 records in their run. Their most known band was She Splinters Mortar, so yes, this label was quite obscure, but at the same time, it had such great songs in their catalogue! I was lucky to get in touch with Stefan Lutterbuese and ask him many questions to unveil the mystery of Die Schwarze Sieben!
++ Hi Stefan! So you, and your friend Volker, were behind a short lived German label called Die Schwarze 7 back in the 80s. Why did you start the label? What was the main reason behind this?
The reason why we started the label was quite simple: She Splinters Mortar wanted to put a record out, and so Volker and I said: OK, you guys pay the studio, we pay the rest. But if you want to release a record, you need a record company. So we invented one, and we called it Die Schwarze Sieben. A friend of us was a graphic designer, so he developed the label logo; another friend of mine was a photographer, so he shot the cover photo; I was good in writing promo sheets, so I did the press work; Donna, who ran a small indie record shop in the heart of the city, sold the first hundred copies. And Laiky, a weird Greek music lover, hosted some live music shows where She Splinters Mortar did the support job. What I want to say is: we didn't really think about it, we just did it: we wanted to support some good friends who were trying to be a real pop band.
++ So where does the name comes from?
I've had always a fan for the seven inch format. Two songs on one single seems to be quite perfect. Die Schwarze Sieben means exactly that: the black seven. That's all.
++ Also, I wonder, where in Germany were you based? And how did the "Die Schwarze 7″ office looked like?
We came from Wiesbaden, a very nice and sleepy city nearby Frankfurt. We had one bigger concert hall (The Wartburg), and one small venue named Zickzack (which was also the name of a famous German indie record label from Hamburg), which brought us acts like These Immortal Souls, Spacemen 3 and others. It was a very small indie scene with a gothic touch, but it was quite vivid because Wiesbaden was/is part of the Rhein-Main-area, The most cute club for us was the Batschkapp in Frankfurt, where we saw all the important bands in the early 80's like Echo and the Bunnymen, The Fall, Go-Betweens and many others.
Our office? That was my flat. And it's the place where Volker still lives.
++ You only released 7 records in total. The name of the label is of course Die Schwarze 7. Was it always planned to release 7 records and then call it a day? Or was it just a happy coincidence?
There was no master plan. As I said before, we just wanted to support Harald and the band. But two things happened: the record sold very well, and She Splinters Mortar did a very impressive support gig for One Thousand Violins, a British jangle pop band. The Violins' British record label was Daniel Tracy's Dreamworld Records, but in Germany they became part of the Constrictor artist rooster, a label hosted by Philipp Boa. So one of the concert's consequences was the contact to Constrictor (later on topped by a publishing contract), the other one was Sebastian Zabel, a writer for SPEX, the most updated German music paper. One year ago the NME invented the class of 86, so SPEX did the same for the German music scene, asking for new bands, new attitudes, new music. The funny point was: The man who asked for was Sebastian, and he did that by praising SSM's "Straight from her Heart"-EP. From that day on the local heroes SSM regard a little bit nationwide attention, and we guys from the label got lot of cassettes from hopefully bands from all around the country. The problem was, that we didn't have any ambition to do a real record label job. So we wrote nice excusing letters to the bands, and later on we went out for a beer. We made only three exceptions we are still proud of: Shampoo Tears, Noises from the Pearly Gates and Dead Adair. After Releasing six records we decided to do a last one: a kind of farewell compilation, That was in 1991, and it was the year SSM disbanded, and so we did the same.
++ Were you inspired by any other labels? What kind of music were you into during those days?
Definitively Rough Trade Records, the most adventurous label of all times; in 1983/84 we started to hear music from Whaam Records!, In Tape, Cherry Red and most of all Creation Records – great before they discovered Oasis. Volker and I had a post punk background, which means we liked all the indie stuff except punk – from Joy Division to The Smiths.
++ So how did you know the She Splinters Mortar gang? Did you go to see their gigs often?
We had only a small music scene, so we met at the same record shop, visited the same concerts, played football together. We shared the same music taste, so it seems to be natural that we started all together.
++ What was the style back then in Germany when signing bands? Was it like with contracts or it was just trusting each other, having a beer together and saying, let's do it?
The second way seems to be more interesting … No legals, no contracts, just a clear announcement: the band paid the studio, we paid the rest. This was typical for most of the do-it-yourself labels which released records these days. Their was only one point in our history where the things might have been changed: as we got a distribution deal for the "Jaguar"- LP; but poor sales and an inactive band (no concerts for personal reasons) cleared the situation very soon, so we kept the things going on on a very healthy level.
++ I have friends that always tell me how fantastic the Shampoo Tears were. I have never heard anything by them, do you care telling me a bit about them and how did they end up in your label?
Shampoo Tears came from Mainz (the other side of the river Rhein), and they were a real band, which means that they rehearsed intensely and followed a clear plan: they wanted to play as often as possible. While She Splinters Mortar liked to pose a little bit, Shampoo Tears took the game more seriously. As we released the first She Splinters Mortar-Singles the Tears asked us to put our logo on their first EP, because we knew each other (I was studying at the Mainz University at that time) very well. Later on Shampoo Tears-singer/guitarist Jörg Heiser replaced She Splinters Mortar-bass player Christian Lorenz, who left the band in 1988. Two years later the Tears changed their name in SVEVO (Jörg likes the author very much), donated us a very fine song for our last compilation record ("Tapeworm") and released two more CDs on the Peace 95-label. Starting as a classic guitar pop outfit, SVEVO came under massive influence of SST-groups (musically) and the textures of Hamburger Schule bands (Blumfeld, Die Sterne etc). I think they finished the chapter in the 90's when Jörg went to Berlin as the German chief editor of an art magazine. But the story continues: Some weeks ago I saw a photography of a Berlin band called La Stampa releasing their first record. And one of the forty somethings was … Jörg Heiser.
++ Also you released a couple of bands I've never heard: Dead Adair and the Noises from the Pearly Gates. Care to tell me a bit about them and how they ended up releasing with you?
Dead Adair were a very fine quartet from Frankfurt/Offenbach. They had a charismatic singer (Charly Reichelt), wrote very good moody songs and sounded a little old school – which is meant as a compliment. I think, they contacted us because they liked our guitar pop philosophy. Noises from the Pearly Gates were just very good friends of us: fantastic live band, nice blokes. And definitely no guitar pop …
++ How much of a DIY attitude and ethics were on the label? You did tell me you were non-profit…
I think we were only realists. Our ambition was truly professional: good music, good covers, good atmosphere. But we started as a fan project and our only chance reaching the next step was the success of She Splinters Mortar. But as it started to happen, the band failed. Not musically, but as four individuals, who couldn't get it together as a band. The recording session of "Jaguar" was hard work, and soon after the release date guitarist Walter Muscholl left the band, Jörg has it's own Shampoo Tears/Svevo plans, and the hope for support by the constrictor publishing deal crushed very soon.
++ Were you in a band maybe?
No, never. My favorite instrument is my Thorens TD 160 MK II record player – still busy after all these years.
++ Which other bands from Germany from those days would you like to have signed to your label?
39 Clocks, Fehlfarben, Holger Hiller.
++ After calling it a day with the label, were you involved with music?
Yes. As a fan buying records until now and as a professionell writer for a bad german record company in the 90's.
++ Now, looking back, how do you feel about what you did as a label? What was the biggest highlight for you?
It was only an episode, but a very intensive one, especially in the years 1996-1998. Lot of concerts, lot of enthusiasm and that incredible feeling hearing a new song from She Splinters Mortar, always better and bigger than all the stuff before. As we left the scene in 1991 we had no bad feelings (and no debts), and we started to finish other things. Ten years after the release of the "Straight from the Heart"-EP I talked to the very young Wiesbaden Band Rekord, and it was a very special moment for me when they confessed that they liked Die Schwarze Sieben and She Splinters Mortar. The other electrifying moment was that Ebay auction in 2003, watching a She Splinters Mortar Single sold for 45 Euros to Japan.
++ Thanks again for doing this interview, and for all your help! Anything else you'd like to add?
No. Greetings from Volker who is very busy at the moment.
I'm always pleased to hear from people.
::::::::::::::::::::::::::::::::::::::::::::::::::::::::::::::::::::::::::::::::::::::::::::::