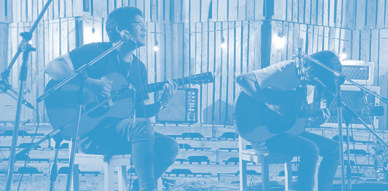 A new week and it is already November. I always think of the classic Desert Wolves song, "November", when the month starts. I guess that would be an interesting exercise to do next month or next year when our indiepop world tour ends. Try to feature a band that had a song for the corresponding month. Could be fun and interesting for our indiepop archaeology. What do you think? Good or silly idea?
There have been some new indiepop finds in the last few days, so I share with you, maybe there's something you fancy!
Makeout Point: I got an email from this very young Swedish band promoting their fuzzy and upbeat indiepop. They shared with me a bunch of songs and I can see a lot of potential here. They remind me a bit of Joanna Gruesome in a way, they are poppy but also rough in the edges. You can check the video for the songs "Indie Girlfriend" and "My Name is Blank" too. The band is formed by Shiva, Simon, Theo, Alma and Andreas.
Submarino: I recommended the Lima, Peru, band Submarino some time ago when they released their latest EP "Transatlántico" in May. The 4 song EP had as its closing song the very fine "Dominique Crenn". And now, the song named after Dominique Crenn, a French chef best known for gaining two Michelin stars for her restaurant, Atelier Crenn, in San Francisco, California, has a cool video to promote the record that was released by Faro Discos.
Glass Arcades: always recommended on the blog, Glass Arcades from Cardiff have three new songs on their Bandcamp. Naturally they are great! The one-man band by Anton Salmine has "Underachievement", "The View From Your Rooftop" and "Home (Videos)" available for streaming now!
Wanpaku Graffiti: there is barely any information about this American band. There is a Bandcamp with two very fun songs and that's about it. I like the artwork they've created for this digital single, with different toys and especially the opening track, "Shake your Ghost". The other song is the fuzzier "Devil World!!!".
Girlatones: it is becoming very common to feature Melbourne bands in my new discoveries. There are so many! It is a good thing that they like pop music and that they keep creating really fun music. The Girlatones continue that tradition and have released their first album on Zenith Records on November 3rd. The 9 song album is titled "Fitting in Well" and it was recorded on a 4-track cassette. The band is formed by Jesse Williams, Leah Senior, Tam Matlakowski and Jacob Booty.
Cheap Fantasy: lastly in this review of new cool discoveries here is a band from Minneapolis that mixes boy and girl vocals. That always wins me. More synthy than our usual guitar pop fare, but nonetheless very recommendable and enjoyable. Their latest release was a tape EP titled "Life of Glass". It includes 5 songs, "Life of Glass", "Chain in the Night", "Glisten", "Ain't Hard" and "Out of Phase". The band seem to have been around for a bit lomger, their first release on Bandcamp dates from 2016. But who are they? Are they a boy/girl duo? Or a full-fledged band? Bands should have more information available in their sites!
————————————————————–
When I think of Thailand I think of Smallroom Records. Why? Because that's how I got introduced to pop music made there. How? It was thanks to a compilation released by Apricot Records from Germany in 2002 called "The Sweets of Siam: A Bangkok Pop Compilation". Yes. that's going to be our 35th country and band in our world indiepop review!
Yes, it was through that CD that had a beautiful look thanks to él Design I found out about many Thai bands from the time like Penguin Villa, Groovy Airline or Armchair. One of the bands that I liked the best on it was Death of a Salesman who appeared on this compilation with the song "Spin".
I was not going to find their songs in Latin script anymore after this hit. Only Thai. And they don't even have a presence on Discogs. But I do know, thanks to Youtube, that they released one album. I will need to find out more. I do know it was released by Smallroom. But did they release anything else? Perhaps other compilations?
I find on Last.fm a small biography and also an article from the Bangkok Post dating from May 7th, 2003. The bio says: A synthpop duo from Thailand, consisting of Krachai Chattalada (vocals,guitar, lyrics) and Prinn Amornsupasiri (guitar, lyrics). These two young guys have been producing their own songs since they were in high school.
While from the article titled "Till Death Do Us Start" and penned by Yingyong Un-Anongrak gives a lot of details about the band:
First it gives us the real name of Krachai, it is Chaturavidh. Also that the duo won the indie "Best Newcomer" award from the Channel V Music Video Awards. That both of them know each other since kindergarten but that their friendship only happened when they began university. It was a perfect match.
At the start they were a five piece, but for some reason that is not explained they ended up being a duo. Krachai is a master degree student in England but that doesn't mean they took their name from Arthur Miller's play. Well they did, but it wasn't their idea. They hadn't read it at the time. A friend just suggested it. Then at some point they heard Smallroom:001, the first compilation on the most known Thai indie label, Smallroom. When they did, they got inspired, and excited, they wanted to be on the label, so they made sure the label got their demo. The label loved it, and they offered a release.
My next stop happens to be Wikipedia, but the Thai version. Here I could find the tracklist for their self-titled album, and yes it is all written in Thai. There are 9 songs on it and they were: "เรือชูชีพ", "สปิน", "มีฉันมีเธอ", "เพียงแค่หนึ่งวัน", "ไปในดาว", "เหม่อ", "วันใหม่",  "มอเตอร์ไซค์" and "รักในสิ่ง".
I found also another article from the Bangkok Post on the web dating from 2006. On it they write about an October 8th, 2006, show called "Another Sound in the Room", a concert where many Smallroom acts were to be featured like Death of a Salesman, Goose or Lemon Soup. The writer compares the sound to Swedish pop or twee.
Another link I find is from LAMPtv. They have a video on Youtube of a Death of a Salesman reunion from December 2014 at the Moose venue in Bangkok. The cool thing is that there is English subtitles and we see the duo talking about the band, mentioning that their album was to be remastered for vinyl. Was it released on vinyl then?
I would have liked to find that album when I was in Thailand a year ago. I didn't even visit a record store in Bangkok. I guess I was just having such a nice vacation that record shopping didn't cross my mind?! What a shame. But now I'm rediscovering the music of the bands from Smallroom Records and there are a few worth purchasing.
I especially like the song I share here in this post. It translates to "vacant". I do find some Youtube videos by the band, promo videos. There's video for "สุขใจ" and "เรือชูชีพ".
That's not all, there is a clip from a gig at the Keep On the Grass Music Festival 3 uploaded to Youtube. This happened on January 31st of 2015. Here is another clip from that same gig. There are some more goodies from the same channel. I see the band playing at a train station the song I like "เหม่อ".  There is a second part for this video where they play the song "มีฉันมีเธอ".
Then I see a listing on Tower Records from Japan a Smallroom compilation which I can't figure out the title. On it I know Death of a Salesman had the song "Sook Jai".
It ends up being very hard to find any more information. Everything is in Thai and even with Google Translate I can't figure things out. I wonder about if their album was rereleased for vinyl as they intended. If they are still playing. If there are any unreleased songs. I really like when they go poppy and jangly, they can craft very fine songs. On which compilations did they appear? And where can I find a proper Smallroom Records discography?!
::::::::::::::::::::::::::::::::::::::::::::::::::::::::::::::::::::::::::::::::::::::::::::::
Listen
Death of a Salesman – เหม่อ