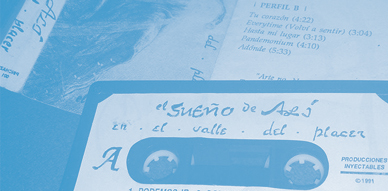 Just came back from a week in Peru. And I'm quite tired to be frank. I got to go to work straight from the red eye flight. That's how it is. In any case, it was all worth it. I really had a good time.
The day I arrived I was already on top form, attending a gig in the bohemian district of Barranco. It was an early afternoon show where a Spanish band called Beach Beach were headlining. I mainly went to see the two opening bands: Almirante Ackbar and Dan Dan Dero. Sadly I only could catch the last two songs by Almirante. They sounded great, but I was left hoping to hear more by them. Then Dan Dan Dero was on stage in this small venue called Bar Victoria. My old time friend Erik had joined the band months ago as a guitar player and I was very curious about it. I had heard the songs on Bandcamp and liked them. They didn't disappoint. They have a proper hit in the song called "La chica que gusta de chicas que no gustan de chicas", and another one in a yet unnamed and unrecorded song. Typical I thought when today I wanted to listen to that song.
Soon I was traveling to Puno, south of Peru, very high in the Andes and on the coast of Lake Titicaca. I wanted a side trip, some sense of adventure, and I've always been fascinated by this area of Peru. I wasn't affected by altitude sickness but ended with a bad sunstroke. I didn't think about how much the sun burns you in high altitude! I should have bought a hat or some protection.
That first day there I visited the floating islands of the Uros with my friend Jal, the guy who is mainly behind Plastilina Records these days. We learned about their culture and were fascinated by the architecture of their houses, all made out of reed, the crunchy feel of the reed island, their ducks, cats, and their souvenirs for sale. We were shown their kitchens and their rooms. They also owned very cool modern solar panels for electricity. And at the end they gave us a ride on one of their reed boats. It was such a different experience.
Next day we decided to cross the border and go to Bolivia to visit the Tiwanaku ruins. Since school I was always curious about this pre-Incan culture that was such a big influence to all the Andean region. This ended up being quite an adventure as that day there were protests all over Puno, with roads closed with rocks and broken glass. It took us perhaps double the time to get to the border, to a town called Desaguadero that feels so much like the wild west. After doing all the documentation needed to cross to Bolivia, we took another car all the way to the ruins.
It does show that Bolivia is much more of a third world country sadly, the infrastructure for their most famous pre-Columbian ruins are not the best really. It seemed like they cared not too much about their heritage, so different to places of the same importance in Peru. Anyhow, the place had so much beauty that I forgot that it costs 8 times more for a tourist that for a Bolivian (high way robbery!) and enjoyed the amazing Kalasasaya temple, and the super famous "Puerta del Sol". Then the Bennett Monolith that I wasn't allowed to take photos of was of such beauty that I was kind of speechless. I didn't know about the existence of this big slab of carved rock. It was a great surprise. And among alpacas roaming the fields we left the area, all the way back to Puno on a highway that surrounds the Titicaca Lake.
The last day, after traditional guinea pig meals, and after visiting the impressive cathedral, we went to Sillustani. This peninsula on the lake Umayo has such great geographical beauty, something I wasn't prepared to see. I was loving it. And on top of the hill, surrounded by water, the chullpas awaited for us. Beautiful cylindrical funerary buildings of perfect stone masonry that predate the Inca. Tall and imposing. One felt little next to them. This was definitely my favourite moment, you could just not understand why or how these were built. And the landscape was out-worldly. I totally recommend visiting Sillustani.
And that was that. I wanted to visit many other cool places in the area but time played against us. Maybe one day I return. I hope so. I'm happy now that every time I go visit my family I can allow myself a side trip. On top of it all the dollar is really good in Peru at the moment, and that helps a lot.
I got to DJ a bit last Friday too. I played a selection of Spanish pop from the 80s to today. But that wasn't important. Seeing friends was the best. And also to see bands place. I saw Dan Dan Dero again and they were ace again, and the Chilean band Planeta No (which I accept they sound ok but they say nothing to me about my life). I had a really good time with the opening band Fiebre Aviar. Their lyrics were great, they sang about football and my favourite game ever, Pro Evolution Soccer (or Winning Eleven as it's known back home). Fun pop punk that reminded me the days when I had a similar band. And closing the night were Eva & John, my favourite Peruvian band. They only played four songs because the venue decided that it was too late or something and disconnected all the equipment!! So bad. But the four songs they played were received by the crowd with pogo and sing alongs. It was amazing. They were tight and they were having so much fun. Manuel, Muriel, Daniel and Erik were the stars of the night.
The rest of my trip was hanging out with friends, drinking, eating amazing seafood. But now back to reality, back to work in NYC.
But also back to blogging, to listening to music, finding out about new songs, old bands and more. So let's do that.
—————————————–
And as I'm all into Peru today, I want to show you a band that I was all very curious about for years. More than a decade: El Sueño de Alí.
It all started when me and my then roommate Jose, while living in Miami, had a band. I had some songs that we wanted to record and so our friend Arturo offered to help. Thing is we went to his house a couple of times but we didn't record anything. We weren't that good playing our instruments and it took forever. But the good part of it all was that he showed us many songs by unheard, obscure, Peruvian bands from the late 80s and early 90s. Bands that recorded some demos and that was that.
One of these bands he showed us, because he knew we loved pop music, was El Sueño de Alí. I recall that he told us that in this band were two important people in Peru, Pelo Madueño (who had been in so many bands, two very representative like the punk band Narcosis and the more mainstream pop band La Liga del Sueño) and Johanna San Miguel (who was mostly known for being an actress on TV and on stage). That was a surprise. But even more surprising was how beautiful, how incredible, was the song "Podemos Ir". I was thrilled.
I wasn't going to hear this song again for more than 10 years after.
In the meantime, in the Myspace days I remember writing to Pelo Madueño on the social network, asking about this band of his. I remember he was kind to answer and told me that when he returns to Lima he was going to try and find the songs and digitise them. I believe at the time he was living in Spain. I wanted to release this song on Plastilina Records. I told Jal about it and he started his search too.
Years passed. And then this song appears on Youtube. I see the 80s pop aficionado Diego, alias Rockas Vivas, has been also asking around about this band. There is some interest around. Jal finally talks seriously with Pelo and perhaps one day, crossing fingers, the songs by El Sueño de Alí will be released on a CD for a wider audience. I think that'd be a dream come true.
What we know though about this band is very little. So I think if a release of some sort ever happens has to have a good biography of the band. Put it in perspective. They released one tape with 10 songs. The tape was called "En el Valle del Placer" and it's a lo-fi beauty of guitar and techno pop beats.
The band was formed by Jorge "Pelo" Madueño (guitars, keyboard, programming, lyrics and vocals), Félix Torrealva (keyboards, programming, and vocals) and Johanna (vocals). The tape had on the cover the art of Jean Delville, the Belgian painter. They chose perhaps his most notable work, "Tristan et Yseult". Arthurian fans perhaps like me?
The record was recorded and mixed in 1990, in the "El Perfil" studio with a Tascam 244, a TR-505 Roland and a 3000 Casio. The songs were written between 1988 and 1989.
The ten songs were:
01. Podemos Ir
02. Sólo una Vez
03. Volando
04. Una Negrita de Buen Corazón
05. Nos Iremos
06. Tu Corazón
07. Everytime (Volví a Sentir)
08. Hasta Mi Lugar
09. Pandemonium
10. Adónde
That's really all I know. I wasn't around really in the Peruvian scene back then. I was too young. But I wonder though if they recorded anything else. I also wonder about gigs, if they played any. How many tapes were released by themselves under the label name "Producciones Inyectables". And why did they break up? I wonder what were they listening at the time, I mean, it's very different music compared to any Peruvian band of the time. So many questions that I hope one day get answered. And even better, that these songs get re-released.
:::::::::::::::::::::::::::::::::::::::::::::::::::::::::::::::::::::::::::::::::::::::::::::
Listen
El Sueño de Alí – Podemos Ir