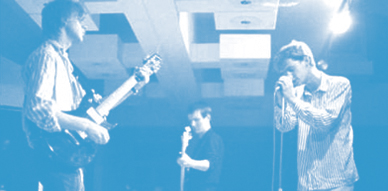 I have been out of the loop for the past few days. I haven't had the time to find out new music, and even less time to listen to the records that I've bought and keep piling by my computer. Now I go to work earlier, around 3 hours earlier. The mornings are not to my disposal anymore and so I need to readapt, reorganize myself. And I think that takes time. I need to find time a comfortable time to play music at time, I can't do it too early or too late. I could try to play CDs while I work, that's an idea. Sadly the computers at work don't have a CD drive. I may need to bring a USB one and install Last.fm, as I like keeping track of what I've listened. Many new things, routines that are no more and routines that will be created in the next few months.
I guess the only piece of news that caught my attention was the announcement the Chickfactor fanzine made on their website and social networks. Chickfactor is celebrating their 25th anniversary with events in Portland (sometime in late October), in New York (sometime in early November) and in London (the only one confirmed, for the 11th and the 12th of November at The Lexington).
The party starts early, there's an all-ages shindig at 12:30 pm on Saturday 11th at The Lexington. This seems to be co-organized with the always classy Hangover Lounge. There are two bands playing this smaller event: Wait What and The Numberz. On the website it says more young bands will be added and also some special guests. On the WeGotTickets website, where you can buy tickets for the event another band is listed, Ivy & Friends.  I couldn't find a Bandcamp or Soundcloud for either The Numberz or Ivy & Friends. I remember that The Numberz played Indietracks some years ago when both of the members were 10 years each! So young! For Wait What I couldn't find any of those music sites but there is a video for their song "Tune Me Up" on Youtube. On that same account they have more lo-fi videos. It is nice acoustic pop and they are really young as well!
Later that day, doors opening at 7:30, there are 4 bands to play the same venue. There's The Pastels, Lois, Kicking Giant and Kites at Night. I'm not familiar with the last two, so I did a little investigation. So Kicking Giant are Tae Won Yu & Rachel Carns from New York. I've never seen them before. I don't think I was ever aware of this band in NY. Maybe they don't play live much? This Chickfactor show will be their first in the UK and this year they will get a reissue LP for their early work. This LP is coming out on Drawing Room Records and it is titled "Ballad of Kicking Giant, Halo: NYC/Olympia 1989-1993". So I check their Bandcamp and I notice they used to be on K Records. The first song that plays is "Alien I.D." and I'm not a fan because it is noisy and shouty, so I decide to play the next song, and it is in the same vein. OK, perhaps this band is not for me.
Kites at Night are Rose Melberg and Jon Manning. For this show Jen Sbragia (the other half of The Softies) will join them on bass. Rose and Jon had been involved with another band called Imaginary Pants. I actually have their 2013 self-titled 7″ that has a cool bear illustration on the cover. It is a very good record I think. On this same Bandcamp account they have the Kites at Night sole release to date, a cassette with 5 songs. The first edition sold out, nowadays the band is selling a second edition clear red cassette tape with hand stamped labels. This EP was actually released in 2014! Where was I then? Why is it now the first time I hear these beautiful songs. Shame it is only available on tape, I'm not a fan as you know.  But this Lost Sound Tapes release sounds fantastic to my ears.
The next day, November 12th, with the same schedule, doors at 7:30 and show at 8:00pm, 4 more bands will play The Lexington: The Softies, Stevie Jackson, The Would-Be-Goods and The Catenary Wires. Here there are no surprises, I'm familiar with all the acts. In this case I must say I'm jealous of all of you attending and seeing The Would-Be-Goods. They are among my favourite bands. To this day I've only seen them once, at the previous Chickfactor show in London. Yeah, I'm not going to be able to attend this. I've already asked for vacations for Thanksgiving week, at the end of November, so I can go to Portugal. So no indiepop festivals for me this year. Hopefully the next? I wonder if Chickfactor had announced earlier these shows I could have attended. I plan everything way in advance!
Both nights at The Lexington will feature MC Gaylord Fields (from WFMU). I remember him at the New York shows some years ago introducing the bands with fun anecdotes. I liked that. There will be Hangover Lounge DJs on the first floor of the venue. I wonder though if there will be any afterparties? Any dancing? That'd be nice. At least on Saturday. Hope something like that is announced. The ticket prices seem reasonable, 18 pounds for each night or 32 pounds for the two nights.
—————————————————————–
Crawley is a town and borough in West Sussex, England. It is 28 miles (45 km) south of Charing Cross (London), 18 miles (29 km) north of Brighton and Hove, and 32 miles (51 km) north-east of the county town of Chichester. Crawley covers an area of 17.36 square miles (44.96 km2) and had a population of 106,597 at the time of the 2011 Census. Gatwick Airport, nowadays one of Britain's busiest international airports, opened on the edge of the town in the 1940s, encouraging commercial and industrial growth.
An all-time favourite 7″ of mine is the "Arkansas" 7″ by The Friendly Fires that was released in 1986. I pulled it out the other day and got me thinking, why weren't they more famous? Their songs are fantastic. How come a band with the same name became mainstream, famous and all? Were they aware of the "real Friendly Fires? Were they aware that their music wasn't as good as the Crawley band from the 80s? Probably not. But then I didn't know much about The Friendly Fires. So it was time to do some research.
Discogs immediately answers a few of my questions. There's a small bio there that reads:
1980s indie band from Crawley, West Sussex, England. They ran their own label Deadbug Records releasing their own material as well as other local bands including Bobby Scarlet. The band consisted of Kieron Huston (guitar), Brian Hope (keyboards and vocal) and Paul Sloots (bass).
Indeed the two releases The Friendly Fires put together came out on Deabug Records. The first one, which is "Arkansas" for me, but a self-titled 7″ for Discogs, was catalogued as Deadbug Records 002. Discogs doesn't list the 001 of the label's catalog. I wonder what it is? The 7″ was recorded in August of 1986 and included three songs. "Arkansas" was the sole one on the A side while the B side had "Everything" and "Looks like Rain".
Their second release was a 12″. This was Deadbug 005. A curious cat black and white photograph was on the cover. 5 songs came on this record, on the A said there's "I Said to Him" and "Tide Temper" while on the B side there was "Happier Than Thou", "All Too Soon" and "Come Alive".
No other releases nor compilation appearances are listed on Discogs.
My next stop is an article on the Crawley Observer. On it they talk a lot about Robert Smith and The Cure but there are mentions to The Friendly Fires. But my first question comes immediately, is David Hope from the band Ever related to Brian Hope from The Friendly Fires? I feel it might be the same person? Well, on the Crawley article it says: "In 1986, Charles Cold changed their name to The Friendly Fires and released their first three-track 7-inch single, Arkansas, on singer Brian Hope's Deadbug label. "
But then it is confusing, on another paragraph when they talk about Ever it says: "Ever, led by ex-Thomas Bennett kids David Hope, Peter Whittick and Colin Ray, were for a while THE band to make it, closely followed by The Milk Sisters, Charles Cold, All The Daughters and Swing the Heartache."
So was there a David and a Brian Hope then?
Okay then, let's follow the clues we have so far, before The Friendly Fires there was Charles Cold. It seems Charles Cold only put together demos, no proper releases.
Then another Friendly Fires mention on the article: "Friendly Fires and Bobby Scarlet found themselves supporting many established independent bands of the day at venues around the south east, but, unfortunately by 1988 both groups had spilt." 
It is worth mentioning that this article was written in 2012 and it was for a good cause. Many of the 80s bands that were around in Crawley then were going to make an appearance and there was going to be even an 80s Jiveball disco. The bands that were going to play were Spitfire, All the Daughters, The Milk Sisters, Bobby Scarlet, Orange and of course The Friendly Fires. I wonder how that gig go. It must have been great to attend their reunion.
But there is another good resource for The Friendly Fires, one I have been using a lot every time I wanted to hear their fab songs, and that is Youtube. On the BobbyScarlet account (I know, probably this band also deserves a post on the blog) there is a plethora of songs by Crawley bands, probably all related to The Friendly Fires.
Aside from the recordings from the released records by The Friendly Fires, there are Charles Cold versions, meaning earlier versions, of the songs the band was to release. For example there is a very early "Arkansas" demo tape, dating from 1985. There are also demos of "Looks Like Rain Again", "All Too Soon", "Everything" and "I Said To Him" from 1986. But the BIGGEST discovery is another Friendly Fires release, another song. The Friendly Fires released a flexi with just the one song, "Neville", in 1986. It was Deadbug Records 004. Sadly I couldn't find any more information about it. But I know I want it, it sounds classic!
I keep investigating but I can't find much more about The Friendly Fires. Most of the times I get information on the XXL band. I notice that Ed from Shelflife recommended them when he used to write his blog. I do find that Paul Sloots, their bassist, now plays in a band called Strange Tales. But that's about it. I wonder what Brian Hope and Kieron Huston are up to now.
A bunch of questions remain unanswered. Definitely the flexi release is on top of my list. Was it released properly? Maybe it came along a fanzine? What about unreleased songs? What happened to the members after The Friendly Fires. I notice a lot of indiepop fans love their songs, but there is very little presence of the band on the web. I wonder if any of you remember them? Maybe they played a gig in your town?
::::::::::::::::::::::::::::::::::::::::::::::::::::::::::::::::::::::::::::::::::::::::::::::
Listen
The Friendly Fires – Arkansas