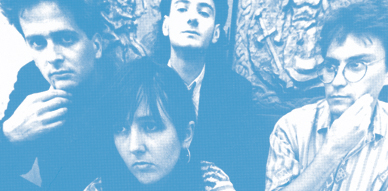 Thanks so much again to Andrea Croft for this interview! I wrote about Catherine Wheel many many years ago on the blog, I think it was one of the first bands I featured. Then I got in touch with Andrea and we did an interview about her previous band, The Honeys, which no one should miss. Now it is time to talk about Catherine Wheel, a brilliant Sydney band that released 2 7″s and one CD EP in the 90s. Try to track these releases down, they are fantastic!
++ Thanks again Andrea for being up to answer a bunch of my questions, this time about Catherine Wheel! I must say I know much less about Catherine Wheel than The Honeys even though I do have the three releases. I do know that the band started after The Honeys split. But how did the band start as such? You already knew Grant from The Honeys of course, but what about Brett and Biff? Had they been in other bands?
Grant and Brett were both members of the Honeys and Biff came on board as lead guitarist. Biff had played before yes, not sure which bands though..
++ Was there a different sort of music direction in Catherine Wheel compared to The Honeys? Or would you say it was more of a continuation of the sound of The Honeys?
It was more pop based than the country rock sound of the Honeys. Bruce's songwriting style gave the Honeys its country flavour.
++ And you were still in Sydney, right? Still living at the house in Chippendale? Where did you rehearse?
We were still in Sydney, yes. We'd moved on to different homes by then and mainly rehearsed in a rehearsal studio. Too loud for lounge rooms!
++ Was the creative process similar to the one in The Honeys or not?
A bit different in as much as Grant and I would present songs that were pretty complete, lyrically and melodically. Of course suggestions and tweaks were made during rehearsals and we'd all flesh out the song until it became something we all liked.
++ What's the story behind the name of the band? And were you aware of the UK band with the same name?
We just came up with it among other suggestions and only learned of the UK band after our first release from memory. Didn't really affect us in Australia but would of course have limited UK releases of our songs.
++ Your first release was the "Blue Avenue" 7″ and it was released by Big Wheel Records. Who were Big Wheel Records? Was it your own label perhaps?
Wow, testing my memory now…I think they may have been affiliated with the publishing company Grant was signed to at the time. Don't quote me on that though and interestingly, there's a label of the same name these days that seem to specialise in Hip Hop so there you go! Thanks google.
++ Something that surprised me was that "Blue Avenue" had a saxophone in it. How was the recording process for this single? Any anecdotes you could share?
Yep, I dabbled in a bit of saxophone for awhile there. Not the most complex sax line but something different. The only anecdote I can share which is more of a suggestion…Don't ever try to play the saxophone or harmonica for that matter after it's been sitting in full sun at a lunch time Uni gig. Unless of course, the sound you're going for is a strangled goose. In mating season…not a comforting sound.
++ I love the song "Last Explanation" and was wondering if you could tell me the story behind it?
Glad you like it. I wrote that one on a road trip, bumping along on a gravel road in the back of the panel van. I had been listening to Falling Joys on my Sony Walkman (remember those? Back in the Stone Age!) and felt inspired to write it. It may or may not have been about someone I knew, ok it was!
++ And where was the back cover photo of the band taken?
Tony Mott took that pic, again testing my memory but I'm pretty sure that one was taken outside a Church as the door was cool.
++ Speaking of photos, I always wondered who is the kid on the front cover of your second single "Almost Blind"?
Well I had a bit of a thing for op shops, charity stores and I still do. I found a bunch of old photos at one of these shops one day and a few featured on the inside sleeve of the Honeys Goddess album. I thought it a bit sad and unkind that these images of people were discarded like that and I was drawn to buy them as they were so old and black and white. Very stark images therefore.  I wondered who these people were. The cover of Almost Blind may have been one of those photos.
++ On this single you there are thank yous on the back, to Look at Her, Falling Joys, Wedding Parties Anything, Joe Breen at Sound Level Drums and the men from Waterfront. I know you had a good relationship with The Falling Joys, another fantastic band, and I suppose you got some help from the Waterfront label for this release? But who were the other people? bands?
Weddings Parties Anything were a band we played with heaps. Lovely lads and a great live band.
Joe Breen assisted in production I think.
++ Something that struck me as well is that the songs are credited to you and also to Warner Chappell. How did that happen?
Well Grant was signed to that publishing company for a while there so they are credited as such. 

++ "Self-Portraits" was your last release, a 5 song CD EP. From what I gather it was released in 1992. I thought you split in 1991. Am I right with the dates? And it was released by Shock, quite an important label in Australia. How did that happen?
Don't ask me, time lines aren't my forte! Sorry, been a long time since. Some of our mates in other bands were affiliated with Shock so we went with them too.
++ On this CD EP there were some changes in the band, Matt Handley replaced Biff Smith. How did you recruit Matt? Had he been in other bands?
Let me begin by saying that both Biff and Matt were and are extraordinary guitarists. Terrific vocalists too. Matt was already very gifted on the guitar so he had had some experience, yes.
++ This EP has a fab song, "Reach". I wonder what inspired you to write this song?
Well thank you, as a non prolific song writer, this one came to me in a rush. Chords, lyrics, the lot. I never really worked hard at songwriting and good songwriters will tell you it is work. And discipline. Something I lack, but with this song, I got lucky and had that inspiration from nowhere and there it was. To be honest, it was mostly about me and challenging myself to 'Reach'. I loved singing it live, it's different when you sing songs you've penned yourself. Like you're sharing something personal. It's nice.
++ There were only two songs as far as I know where Grant sings, "Blackest World" and "Blue Avenue". Why did he sing so little?
think Grant would agree when I say he was happy playing and singing harmonies and the odd song…personally though, I loved it when I could take a breather and watch him sing. He's so energetic onstage and Blackest World was always a big hit live. People would yell it out after our set as a desired encore. It's such a great song and he writes amazingly well constructed melodies. Gone Away is one such song, it's just perfect!
++ How come there were no more releases, no album?
We just broke up, it was a great thing for a while, then it wasn't. That's bands for you..
++ Are there any unreleased songs? Any other recordings? Perhaps demo tapes?
Not that I'm aware of. Perhaps Grant has some bootlegs hidden away?
++ And how were gigs for Catherine Wheel? Did you play many? Someone commented on my blog about a gig at Lansdowne Hotel. Do you remember it?
The gigs were so much fun. We played quite a lot actually. We were lucky enough to score a few tours including a Hoodoo Gurus one and a Crowded House tour in Queensland. The Hoodoos guys were lovely and the boys from Crowded House? Well, we didn't get to meet them but still, a great opportunity to play in front of a big crowd. The Landsdowne, ahhh I loved that venue. Both Catherine Wheel and Honeys played there several times. It's probably a car park now, bring back the smelly, beer soaked carpet pubs!
++ Did Catherine Wheel get more or less attention from the music press and radio compared to The Honeys?
I think a bit more music press and about the same support from radio. Radio supported and played new bands back then, harder now to be selected on a playlist.
++ How come there were no promo videos of Catherine Wheel songs?
It wasn't something that was a focus for us at the time. Playing was and that's what we did.
++ When and why did the band split?
When? A lonnnng time ago. Why? Oh y'know, that old line…artistic differences. Sorry, a fuzzy time understandably.
++ Have there ever been a reunion gig? Or have you ever considered it?
Never has been, and I never say never! Would be cool.
++ When it comes to Catherine Wheel, what were your highlights being part of the band?
Playing guitar was fun, I could've done it in the Honeys more but we had it covered so playing an instrument was fun. Also, the Almost Blind single. I was really proud of that. I thought then and still do that it's a great pop song. Touring in big vans with boys I loved, that was a highlight. Laughing and listening to dodgy mixed tapes, yes tapes were still a thing wayyyy back then in the Pliocene. Driving to the next gig and singing along to very dodgy music, that stuff is what I think of when I'm asked about highlights. Happy faces in a crowd singing along, that's a highlight for sure.
++ And if you were to choose your favourite Catherine Wheel song, which one would it be and why?
I'd choose Reach simply because I wrote it and I was going through some growing up stuff at the time. Close second, and I mean super close is Almost Blind because it's chorus is killer. Try not to sing along! I dare ya!
++ One last question, you told me that Perth has a very limited music scene these days, and that's a shame. But I would love to visit one day still, wonder what would you suggest one should check out in your city? What are the sights not to be missed? Or any traditional food from town?
There are some good venues still Roque, the Rosemount Hotel hosts many live bands and is really supportive of local music. Little Creatures pub in Fremantle have a few bands on as does several other venues in Fremantle. Northbridge is an inner city suburb in Perth and some live music pops up there too. Food wise? I have several suggestions that I shall PM you when you're in town. 
::::::::::::::::::::::::::::::::::::::::::::::::::::::::::::::::::::::::::::::::::::::::::::::