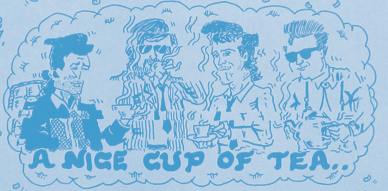 As I promised last week, I was going to recommend some new bands, mostly from the download compilation the Facebook page Latin American Twee put together like a couple of weeks ago. You can check out the tracklist by clicking here. There's also a download link there if you want to get the whole thing. As I've mentioned before, Latin American Twee, is a cool Facebook page run by Impermeable Records' (the ones who released CD16 late last year) Joel. He hails from Peru and seems to be on a crusade with the serious intention of documenting, revitalizing and promoting indiepop made south of Rio Grande.
Some of the bands on the compilation have already been mentioned on the blog, so let's find out ones that I've never heard before.
I think that's the best I could pick from the compilation. There were other bands on it like Winter Waves, Jóvenes Adultos, Gaax or The Friendship that really didn't do much for me. But maybe they are up your alley. You should check the comp out, there are great tracks from other bands I've raved here like Dan Dan Dero, Patio Solar or Medio Hermano.
————————————————–
I'm a happy person, thanks to Carrick, last Saturday I got some amazing indiepop records at the WFMU record fair in Brooklyn. But of course the quest for all the holy grails of indiepop (in my book that is), continues. Can't stop looking for bands and records that I'm still missing. Today I hope some of you could find me with 2 records, by the same band, A Better Mousetrap.
A mousetrap is a type of animal trap designed primarily to catch mice; however, it may also, accidentally or not, trap other small animals. Mousetraps are usually set somewhere indoors where there is a suspected infestation of rodents. The trap that is credited as the first patented lethal mousetrap was a set of spring-loaded, cast-iron jaws dubbed "Royal No. 1". It was patented on November 4, 1879, by James M. A historical reference is found in the Alciati, Emblemata from 1534. Other mouse traps in art from: Gerrit Dou The mouse trap 1650, Nicolas de Larmessin, Rowlandson 1799, Francis Wheatley 1790s, Edmund Bristow 1787-1876 and more can be seen in a blog post by Patricia Bixler Reber. The conventional mousetrap with a spring-loaded snap mechanism resting on a block of wood first appeared in 1884, and to this day is still considered to be one of the most inexpensive and effective mousetraps.
There is very little on the web about A Better Mousetrap. We know they released one 7″ and one 12″, both in 1987, and that was it. So we'll go investigate these releases first. See what sort of hints they can give us.
The 7″ had 2 songs, "The Road to Kingdom Come" on the A side and "We Are All Going To Die" on the B side, and was released by Cuddly Records (catalog CUD 001). Of course, this was the only release on this label. Is it safe to assume it was a self-release? The artwork is a black and white cartoon, you can tell there was sense of humour in this band.  I haven't heard both songs, I've only had the chance to listen to the B side "We Are All Going To Die",  but could it be "The Road to Kingdom Come" lyrics printed on the back sleeve? It looks that way. On the back sleeve we get to know the band lineup:
– Silas Sibbring on vocals
– Les Watkins on guitars, harmonica and vocals
– Gerry McGowan on bass and vocals
– Carl D'Inal on drums
This 7″ was recorded at Neosound Studios in Tottenham. It was produced and engineered by Mike Neophytou and the band. The art was by Mike Mitchell.
So Tottenham. Where they Londoners then?
The "A Nice Cup of Tea" EP was the 12″. This was their second release. This one was released by Tuff! Enuff (TUFFER 001). There is another release on the label by a band called Jeremy Gluck & Friends according to Discogs but I feel this is a mistake, an error. Both have catalog 001, so it must just be that there was another label with the same name. Meaning this was also a self-release?
On the EP there are 5 songs. On the A side we find "Goodbye Cruel World" and "Beautiful Place". On the B side there are "Pigs Will Fly", "The World is Mad" and "A Nice Cup of Tea". The song I have heard from this EP is the opening one, "Goodbye Cruel World". The songs, this time, were recorded at Airwave Studios on Kilburn High Road, London, "at the bottom of a narrowish staircase" on August 1987. They must have been Londoners!
The record was produced and engineered by Barry Lane and A Better Mousetrap with "much hilarity and little fuss" according to the back sleeve. Again we see the sense of humour all over the back sleeve, especially where the band members are listed! Like it says that Gerry McGowan makes spaghetti or Carl makes a teacup.
There was one other appearance by the band. With the song "A Road to Kingdom Come", they would participate in a compilation in 1988. The compilation was titled "Vinyl Virgins" and was released by Mighty Sheffield Records (catalog CM 001). You would guess that by the name these were bands that haven't been on vinyl before, but clearly A Better Mousetrap had been already.
A Better Mousetrap opens the compilation, they have the first song. Other bands on it are The Warhols, The Things, The Australians, The Gallery and more. It seems it was a mix of genres on it. Seems there was some punk and hard rock on it.
Then how to find more information? I wonder if those were their real names. Carl D'inal, sounds like cardinal, might have been a joke? What about the rest? I couldn't find anything online about them.
I have no clue. Couldn't find any information about gigs, or anything at all. Maybe some of you remember them? Maybe someone has some spare copies to trade with me? What about other recordings? Where there more? I'd love to hear both releases in their entirety as well. Anyhow, whatever help in this indiepop archaeology project is much appreciated!
::::::::::::::::::::::::::::::::::::::::::::::::::::::::::::::::::::::::::::::::::::::::::::::