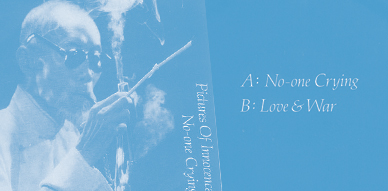 Cristóbal sends me a message, "have you seen the Twee.net results?". It's last Monday and I'm waiting for a friend to have early lunch. Korea Town. 12pm. Just an hour before work. I haven't seen the poll results. I don't expect any blatant cheating as Series Two did many years ago, but I expect some dubious labels to show up. It's part of the game. Anyways, it's never more than 30 or so people that bother to vote. But my reasoning being that these are the 30 people that are really into indiepop, that do care to express their mind.
Upon devouring my soup with noodles and sliced ribeye, and having a nice time with my friend who just moved to New York from Miami to work at the NY Times, I walked the 5 long blocks that separate the K-Town and it's fun karaokes and AP's building in a non-descriptive street. First thing to do when waking up the computer, check the Twee.net poll.
I admit I wasn't surprised to see Cloudberry getting just the exhilarating amount of 2 votes. If one was by Cristóbal, then there is one more fan in the whole world. Many thanks to that one person who voted for me. Matinée won the category with 8 votes.
The blog did win, or to be exact, tied with three other blogs on the first place on the category Best Blog about Indiepop. We got three votes as A Layer of Chips, Indefinitely Blue and Frigopop also did. Cheers for that. Quite an accomplishment. If I remember correctly the blog also did very well in the 2012 poll.
On the best band category it was lovely to see Alpaca Sports on the 3rd place with 5 votes. Alpaca Sports is our next release. And actually the sleeves for the upcoming 7″ single arrived this weekend. Now just waiting for the vinyls! Another Cloudberry-related band, The Garlands, came in 7th place. The winner of this category was no other than Allo Darlin.
For "Best Song", it was great to see "Helen of Troy" by Pale Spectres on 4th place. Twig also had a song called "Helen of Troy" on the 3″ mini CD. Pale Spectres, who appeared on the CD of our last fanzine, will appear in an interview on the next fanzine now. And we are planning a 7″ release for this year. Crossing fingers. Again Allo Darlin wins this category.
The Garlands snatched a third place as "Best Album". I would have loved to release this album of course. I voted for it as well. Once again Allo Darlin wins this category.
In "Best New Band", Alpaca Sports win with flying colors. A well deserved first place with 8 votes. Pale Spectres, with 5 votes, came 4th. The surprise is Charlie Big Time, who are by no means a new band, as we released a 3″ CD in 2007, and later another song on the second Cloudberry fanzine in 2008. But this time they appear in this category as the 5th place.
"Best gig"? Allo Darlin keeps on winning. But second place is the Close Lobsters and their Madrid Popfest gig. I don't understand how this gig didn't win first place as it was so special. It was just legendary. Sorry Allo Darlin, you might have more fans willing to vote than The Close Lobsters, but their gig deserved first place. And the second place, if we are just fair and square, should have been The Aislers Set at the Chickfactor show in New York. Sadly it seems it was just me who thought this way as that gig only got one vote.
"Best Indiepop site" goes to Frigopop. I wonder what's the difference between indiepop blog and indiepop site as these days it seems they are both the same.
"Best paper fanzine". Oh here I'm actually so disappointed. The fanzine I make with so much love didn't get even a single vote. Oddly enough the last fanzine sold out in just weeks. In previous years we always won this category. It was our stronghold. This year, no votes. But our fanzines sell faster. Go figure.
"Best mailorder" goes to Pebble Records. Second place for Jigsaw and third place, and please don't get scared by this answer, "Bandcamp". Yes you read that right. BANDCAMP. I can only ask, what is wrong with people??
Something I do miss from previous years of the Twee.net poll is the ability to check individual votes. That's no longer the case, and now all votes are secret.
What does this all mean for Cloudberry, most probably it states the fact that we are not very well known. That even though we can be very productive our lack of "big bands" leaves us in the outskirts of the indiepop scene. That may raise the question, do we even want to be a bigger label? Certainly the answer is no, we are happy with how we work and what we do. I like the pace of Cloudberry. Will it be possible to keep doing the same and at some point gain more recognition? That's something, entering in 2013 to our 6th year, I'd like to see. Perhaps the next Twee.net poll will answer those questions.
———————————————————
Today I have a very obscure band. One that there's almost zero information about online. It is true that they have a discogs entry and their two songs are on Youtube, but any sort of descriptive information about them is non-existent on the web. I heard about them, just by the name, from Stephan, a friend and a follower of the blog (who I owe some MP3 rips. Will do this week! Promise!). I eventually found the 7″ for cheap on eBay. Like for 3 dollars if I remember correctly, plus shipping. So I assume it's easy to find for all of you treasure hunters.
picture (n.)  "drawing, painting," from Latin pictura "painting," from pictus, pp. of pingere "to make pictures, to paint, to embroider,"
innocence (n.) "freedom from guilt," from O.Fr. inocence "innocence, purity, chastity" (12c.), from L. innocentia, from innocens "harmless, blameless" (see innocent). Meaning "lacking in guile or artifice" is from late 14c.
Two words from latin origin put together, Pictures of Innocence is the obscure band of the week.
The blue monotone cover sleeve has a picture of what I would guess a Chinese man, an elder man, smoking some sort of pipe. He is wearing shades. His hands are bony. And there's smoke all around. On the right bottom corner the name of the band and the name of the A-side, "No-one Crying".
This A-side is the best song of the 7″. A mix of synths and electric guitars, very much the style of pre-indiepop times. This is from 1983 and you can already sense where jangly pop was heading towards to in the British isles. The pop sensibilities of later C86 bands are here, but of course, it's a bit different. It's a different period altogether. But it's great too as any pop lover would attest.
The record was released by Little Prince records, this release being the first reference of the catalog. This makes me deduce that this was a self-released record and the band ran the label. On one of the 7″ labels, you know the center part of the record, there's a drawing of the Little Prince, who I assume most of the readers of the blog have read?
The B-side is "Love & War". This song is a bit more synth-pop driven, more early 80s sound, with what I guess is a saxophone (?) too. It's not as catchy as the A-side, but still it's quite enjoyable. On this track the vocals are very late 80s indiepop I think. I'm brainstorming right now, thinking which band the vocals reminds me of, but I can't just figure out, though I feel I have the name of the band on the tip of my tongue.
But as I said, about the band there's nothing at all to uncover. We don't know the band members' names. Or if they had any releases. Or where in the UK were they from. And that's if they are from the UK! If they played any gigs? If they were part of any scene? If they recorded any more songs? If they were involved with other bands? All questions are unanswered but hopefully not for long. Maybe some of you can help?
::::::::::::::::::::::::::::::::::::::::::::::::::::::::::::::::::::::::::::::::::::::::::::::