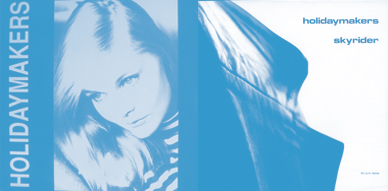 Thanks so much to Richard for the interview! I wrote about The Holidaymakers some time ago on the blog and was very lucky that the band got in touch and were up to answer my questions! The Holidaymakers were a very fine fine band of jangly guitars that released a 7″ and a 12″ during their time. But aside from that there wasn't much I knew about them, until now!
++ I know a bit about The Holidaymakers, thanks to doing some research on the web, but of course, there's little information about you. I guess I want to start from the beginning. Like what sort of music you listened when growing up? What was your first instrument?
I know Adrian was fond of Josef K, Orange Juice, Fire Engines, Postcard-type stuff. We were all listening to the usual stuff: The Smiths, Sonic Youth, Joy Division, New Order, Husker Du, The Byrds.
++ And was The Holidaymakers your first band? Or there were other bands before?
First serious band for all involved, I initially met Adrian through work (a mind-numbing office position).
++ Who came up with the band's name and what's the story behind it?
Don't even remember how we came up with the name, sorry.
++ How was your hometown back then? Were there like-minded bands? Good places to play? Where would you usually hang out?
Edinburgh's Onion Cellar and The Venue – so many good gigs – Sonic Youth, Television Personalities, Stone Roses, BMX Bandits, Mudhoney, Primal Scream, Spacemen 3.
++ Your first release was the Woosh flexi with the song "Everyday". It was the start of your relationship with Stephen Joyce from Woosh. How did you end up signing with him? Did you play at his legendary club in Newcastle?
I think we played there first and then he offered to put out some sounds. Played there with The Nivens and My Bloody Valentine if I remember correctly.
++ The single was shared with The Nivens. Were they friends of yours? Did you ever play with them?
Our connection with The Nivens came about as label-mates, think we played together a few times. Actually talk to them now more than we ever did back in 1988 (thanks to Facebook).
++ The next release is possibly the one most people know, the "Cincinnati" 7″ on Woosh. I know it is kind of silly to ask, but I have to, have you ever been to Cincinnati?
Not me, although I live in Canada these days and am about as close as I'll ever get. Maybe one day.
++ Your sound is classic indiepop, jangly goodness. What bands would you say influenced your sound? And how did the creative process work for the band?
Adrian and Neil were the songwriters, the bassist and drummer just followed their lead (as it should be with the best bands).
++ This record was produced by Angus McPake and engineered by Bob Heatlie. How was working with them? What do you remember from the recording sessions for this single?
Angus was, of course, known to us through his many musical endeavours in Edinburgh (Jesse Garon, Fizzbombs). He was very easy to work with. He also had great hair.
++ You were to come back in 1989 with a new release on a different label, The Gay Cowboy Recording Organisation. Was this a self-release? Why did you leave Woosh? Was there any other labels interested in your music at the time?
Gay Cowboy was our own label. Whoosh was always a one-record deal. The irony of Cherry Red putting out a track on a compilation 25 years later is not lost on us – we'd have sold our mothers to get a deal with them back in 1988.
++ This release was the "Skyrider" 12″. On this record I notice a change in the sound of the band. Less poppier I'd say. What happened? Why the change? Was it because of the times?
Just progressed to a heavier sound I guess. I always thought Skyrider was closest to how I wanted the band to sound.
++ That was your last release. Why didn't you get to release any other records? Did you leave any unreleased recordings?
The Holidaymakers entire catalogue is out there, nothing else was recorded.
++ From that period I only know that you contributed "Seventh Valley Girl" to the legendary tape compilation "Everlasting". Do you remember anything on how did you ended up there?
I believe they just put it on there. Not sure permission was asked or even granted. Although it was certainly welcome.
++ What about the press? Did you get much attention? What about the radio?
We'd scour the NME, Melody Maker for a single or live review but I don't remember anyone knocking down the door to talk to us at the time. John Peel played our first single a few times and Skyrider once (apparently he didn't like it that much, oh well).
++ What about gigs? Did you play many? What are your favourite gigs that you remember and why? Where was the farthest you played from home?
We played some great gigs with My Bloody Valentine (really nice people), House of Love (again really nice), Ride and Spacemen 3 (not very friendly at all). London was the furthest we played.
++ And then what happened? When and why did you split?
We kind of fizzled out when we moved to London. No big drama and we're still all in touch. Adrian is still in London and plays with many different bands (Beatpack, The Mirage Men). Mark is a tech wizard and teacher living in Edinburgh. Neil lives in Scotland and builds musical instruments with his own company, Soundtree Harps. I live in Ontario, Canada and am an Advanced Care Paramedic.
++ Looking back, what would you say was the biggest highlight for The Holidaymakers?
For me, first John Peel radio play and supporting The House of Love at The Falcon in London (1988?).
::::::::::::::::::::::::::::::::::::::::::::::::::::::::::::::::::::::::::::::::::::::::::::::