26
Jul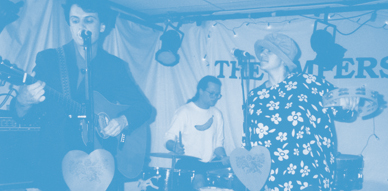 Thanks so much to Darren O'Shanassy for the great interview. The Ampersands was a great Melbourne band from the early 90s that had two 7″s on Harriet Records. Surprisingly enough, I found out, not so long ago, that they had recorded two albums too. And then Darren got in touch, and kindly agreed in answering questions for the blog. So sit down, and enjoy!
++ Hi Darren! Thanks for being up for this interview. The first thing that strikes me is that you have two unreleased albums, not one, but two. How come? Why weren't these released back in the day?
Hey, Roque.  I guess the two albums reflect the two major recording projects the band undertook… and these simply documented the band's repertoire at the time.  Having three songwriters in the early stages of their respective musical careers meant that we had lots of material.
We consciously wanted to record an album's worth of music; I'd say in part, this was to do something a little different than what was considered the usual path of releasing singles.  In hindsight it might not have been the best decision but, oh well, it was a fulfilling experience and most of it was fun.
They were never released in album format basically because no one was interested.  We canvassed a couple of 'most likely' labels in our hometown Melbourne but there were no bites.  We didn't play enough shows to build any real supporter base.
Andrew Withycombe was our bass player and he met up with Tim Alborn on a trip to the US.  Tim offered to release a single on his label Harriet and we had no hesitation in offering songs off the first 'album'.  When it came to a follow-up single, I pressed for the second 'album' to be released as a whole whereas Tim preferred another 7".  My pig-headedness in not accepting Tim's generous later offer of an abbreviated album in slimline-CD format is a decision I rue to this day.
++ And why have you decided, in 2012, to put them up online for grabs? Why not release them in physical form?
I honestly cannot envisage anyone wanting to release any of these 20-year-old recordings.  I have neither the funds nor the drive to make this happen.  Some years ago I knocked up a cover for each and distributed a handful of CD-R copies to close friends and family but that's about it.  If anyone out there is interested in releasing two albums of quirk-pop then speak up!
There are a couple of motivators for uploading the albums onto SoundCloud and making them available to anyone:
Firstly, I'm aware there are two current bands called 'The Ampersands', one from New York and the other from Liverpool (this one even uses the same font!).  I was not keen for our legacy to become lost should either of these have wider success or renown (although I wish them both well) so it made sense to document some of our history and music on the web.
Moreover, I find myself with some time available to reconnect with some special people from that manic period of my life, and also to meet new friends who have stumbled upon the small discography of The Ampersands and have shown an interest.  The creative essence of the band and many of our peers was being part of the 'community' of do-it-yourself heroes.  Whilst life can take you on a different path for a while, that spirit is never doused.  I would wager that most people who bought a record by The Ampersands – and still have it – were in bands themselves.  I would love to be personally in touch with them and share the music they created too.
So a blatant promotion: anyone should feel free to check out both albums using the links found on The Ampersands' Facebook page.  I also have my own compilation available as well, although several of the tracks overlap (you'll find the later Ampersands recordings on the latter).
++ Let's go back in time. When did The Ampersands form? Who were the members and how did you know each other?
At this point I should make reference to an obscure Australian radio station called 3MFM.  It was a community funded enterprise and a natural magnet for anyone with slightly 'alternative' musical tastes who lived in a small rural area approximately 100 miles south-east of Melbourne in 1988.  The station studio was at the base of the transmission tower on a god-forsaken windswept hill known as Mount Misery.  The studio itself was – literally – a converted cow-milking shed.
The 3MFM community included myself, Bart Cummings (an old school friend), Andrew Withycombe and – importantly for me – Stan Emmerson.  Stan introduced me to the delights of Toytown International, the famed cassette label run by the great Wayne Davidson.  Wayne, in turn, introduced all of us to The Cannanes.
There could be no greater inspiration or timelier gathering for creating our own DIY 'production' hub.  Together with Stan, Bart and my partner Maria, I ran a fanzine (Zeeeeen!) and released cassettes of our friends' music under the moniker 'You're Standing On My Hula Hoop Productions'.  Along the way the collective grew to include Andrew Withycombe, 'Dr Jim' Glaspole and many others.  We generally championed the DIY cause.
A natural progression was to start playing our own music.  Bart and I had unsuccessfully tried to form a band in high school but now several years later sufficiently organised ourselves enough to play complete songs.  Maria was brave enough to sing them.
So that's how The Ampersands evolved out of a dinky three-piece pop band that Maria Poletti and I were part of.  After working on a set of songs for a few months, we performed as a two-piece using the name for the first time on 10 August 1991 (according to an old gig-flyer I have where we are listed as a support for The Sugargliders and Girl Of The World).  Andrew Withycombe joined us on acoustic guitar for a few songs that night.
A couple of hours later, over a game of pool, Kim Lester agreed to join as our drummer.  Kim was briefly the drummer in the Hanshalf Trio, an earthy yet urbane musical collective and the brainchild of Michael Nichols (who I'd met through the fanzine).
++ What about the name The Ampersands, where did it come from?
Editing a 'zine introduced us to a whole raft of great new punctuation nomenclature.  'Ampersand' was one that I particularly liked to use, even in the wrong context, just because of the sound of it.  It was also fitting that the first syllable suggests sound.
++ Were The Ampersands your first band? Were you involved with other bands?
Other than the pared-down precursor to The Ampersands – as I described earlier – it really was my first band.  To be honest, besides a handful of months recording with Dean Catoggio (Andrew's successor as bass player) and Julia Caluzzi under the name of Vivid Ultramarine, it has been my only band.
I should add – only because I still find it amusing – that the original 'dinky three-piece' I referred to earlier was known as 'Brer Rabbit's A Rascal' derived from the Enid Blyton children's book of the same name and selected by Bart and I in a wayward Grade 10 Geography class wherein a hapless substitute teacher by the name of 'Cuttings' lost control of twenty-five students.
++ Correct me if I'm wrong but your first release was the rare tape album "Half Folklore, Half Lies". Who put this out? And why on tape? Also, as I've never had a chance to listen to it, how different does it sound to your later recordings and how many copies were made?
Hmm, this has had me stumped for some time.  'Half Folklore, Half Lies' was the first album I referred to earlier.  I vaguely recall dubbing a handful of copies to cassette probably to canvas prospective record labels.  Someone has enigmatically felt a need to append this to our 'Discogs' entry.  Coincidentally, this person lists their name as "t_a".
So it is by no means a 'release'.
++ Then you had a string of 7″ releases. Three singles to be exact. Let's start with the one in the German label Meller Welle Produkte. How did this one come about? How did Jörg contact you? And what about the cover drawing?
The Meller Welle single was actually our last release and hastily arranged at a time when the future of the band was unclear.  I believe Andrew was in contact with Jörg and handed over the communication to Maria when he left the band.  The four songs it contained were from the 'Half Folklore, Half Lies' sessions – we had newer stuff available at the time but were still hopeful of securing a release as an album so we opted for the older stuff.
The artwork was done by Kim using a 'life drawing' style.  Somehow our font got switched so it looks a little different to the earlier releases.
By the time it was released the band had effectively folded.  I don't own a copy of it to this day and only sighted it for the first time in about 1998 when visiting Stan Emmerson's house, where one resides near the front of a small box of 7" vinyl.
++ Then you released two 7″s for the great Harriet Records, one of the best indiepop labels. Two questions come to mind. First, how come you never released for an Australian label? And second, how important was Harriet Records for The Ampersands?
Like I said, we were just too small for any Australian label to be interested.  The only option here was to fund a release ourselves – which we could have done – but then we would have had the problem of distribution, airplay and so on.  Having an American label release it was the only sensible option and happily this kind of just fell into place thanks to Andrew's visit to Boston and a meeting with Tim.
I cannot emphasis how important Tim Alborn was to The Ampersands.  He generously supported an unknown band from the other side of the world and allowed us what I considered to be a reasonable amount of input into the final product.
I confess I was pretty excited when a box of 'Postcards' 7" pressings arrived in the mail.  To make that upgrade from cassette to vinyl seemed to make you a 'proper' musician.
++ My favourite single of yours must be "Annabel Bleach". It's fantastic, even the B-sides are great. But let me ask you, who is Annabel Bleach? And what about the sailor song kind of influence?
I've never thought about this song as having a 'sailor influence' but now that you mention it I guess there is a sea shanty somewhere in there.
The song just missed out being recorded as part of the 'Half Folklore, Half Lies' sessions (it was still a little too raw and we already had plenty of songs).  Eventually we recorded it during the sessions for the next album, specifically for use as a B-side in the event that someone was willing to release another single.  I was stunned when Tim Alborn nominated this for our second Harriet release.
So I have had to live with my most referred-to song being something I wrote as a novelty song.
Annabel Bleach is an old friend of David Nichols and the broader Cannanes community.  She was their first singer.  I met her once briefly a very long time ago – at a time when the song was recorded but not yet released.  The song is therefore about an iconic past member of a revered band rather than Annabel the person who I do not know.
It's always been inferred to me that Annabel despises the song.  Should this be the case then right here is an appropriate forum to unreservedly apologise for the embarrassment and annoyance I have caused her over the years.
I should have listened to Michael Nichols who at the time strongly suggested that I slightly change the name (his hypothetical alternatives included 'Annabel Peach').
++ Talking about influences, what were your favourite bands at this point? Were you fans of other Australian bands by the way?
Bands that we knew – some mentioned here such as The Cannanes, The Sugargliders, Girl Of The World – had a special inspiration to us.  There were also people like Wayne Davidson (Stinky Fire Engine) and Michael Nichols (Crabstick) who admirably waved the DIY flag.
It's hard for me to speak on behalf of 'the band' because we all had very different tastes and influences.  Probably we shared a passion for the stuff coming from New Zealand at this time – the wave of Flying Nun releases and especially much of the Xpressway bands and performers.  Also, K Records were much loved; I recall that Maria and I were both into Mecca Normal in particular.
A popular pastime was scouring the independent record stores for home-label compilation cassettes, the more obscure the better.
++ And this 7″ had a beautiful B-Side "Tell Me What Can I Do" which it was penned by the great Bart Cummings. How did this collaboration come about? Have you collaborated with other Australian musicians in The Ampersands?
'Tell Me What I Can Do' was written by Bart in 1990 (or possibly earlier) and performed by Brer Rabbit's A Rascal.  There is a long lost recording of it with Bart singing, possibly on a cassette tape in an ominous-looking cardboard box in my shed.  No doubt Bart would hope it stays lost indefinitely.
Somewhere along the line I must have decided to sing it at a rehearsal because Maria and I performed it at our first gig as The Ampersands.  I remember Bart being pleasantly surprised.
The cheesy organ on the recorded version was played by Wayne Davidson.  A handful of other 'special guests' appear on various tracks; full details will be listed as comments on the SoundCloud page hopefully by the time this interview is made public.
I should particularly mention the contribution Simon Grounds made to the recordings.  Simon has been something of a Melbourne musical icon since the early 1980s, most notably as a music producer and earlier as the founder of Shower Scene From Psycho.  We met him after Girl Of The World had worked with him at his private studio and had sung his praises.  Our bond with Simon was instant and strong.  He soon became our regular sound mixer for live shows (Maria said she would refuse to perform unless Simon was mixing) as well as the producer of both our albums.  It is he playing the madcap organ on 'Annabel Bleach'.
++ But this record was your last, 1995. Before that you had released on Harriet too another fantastic 7″, "Postcards". Tell me a bit about this record. What is the song "Postcards" about?
'Postcards' was written by Maria using lines from actual postcards people had sent to us.  She dryly observes how they all contained the same corny lines but nonetheless carry "lots of love".
I wrongfully get co-authorship because of the music; it's not really honourable to claim for only two chords.
'Postcards' was a crowd favourite, more than 'Annabel Bleach' was I think, and was the closing selection for almost all of our live performances.
There is an earlier recorded version that is slightly more manic but was properly mixed by Andrew Withycombe at the time.  It will be uploaded to SoundCloud when I get the chance.
I must say that during the lifespan of The Ampersands and for many years after I felt somewhat ambivalent about the song.  Twenty years later, if I truly let my guard down, I know that it holds a special place and I cherish it very much.
++ You made a video for "Cicchitti Pipeline", how was that experience? Why not make more videos?
The video was hastily put together when David Harris from Season Records asked for a contribution to his forthcoming video compilation (eventually released as 'Munch').  This was not a straightforward task in the pre-digital days.
Maria took charge of the production and borrowed a video camera from her work.  The hotch-potch of video snippets was taken over the next couple of weekends.  There was no story-board, no script, no planning to speak of – just click 'record' wherever we were going (hence Bart makes a very brief cameo appearance at one point).
Editing all this together was difficult.  For example, we tried to switch scenes on the first beat of various sections of the song but it just simply didn't work out.  The result makes me cringe.  Some meddling sod has uploaded it to youtube and thus provided my daughter with a forum to post "hey, that's my Dad" which she thinks is funny.
For me, the song is one of the most enduring of The Ampersands' repertoire.  Our friend Stuart Mathieson played a neat flute part and the minor chords kind of epitomise the bands' sound (my whole guitar track is played with the index finger unmoved at B-String, fret 1).
It was intended as the opening track of our first album but, as well-documented here, it was never to be.  It was a relief to have it made public in some format and even better when Jörg included it on the 'Dart' EP some time later.  The song title steals the surname of a girl I worked with at ANZ Bank and the 'Pipeline' part pays homage to Guthegga Pipeline, an early band of Stephen O'Neil from The Cannanes.
I've recently uploaded a slide-show onto youtube featuring my song 'Ford Cortina' performed by Vivid Ultramarine, the recording project I worked on with Dean Catoggio and Julia Caluzzi in 2001.  Naturally, your readers should check this out!
++ You always used the same fonts for all your releases' artwork, also for the video. It was sort of your trademark. Was there somehow a concept behind this?
This is a very astute observation.  There was not the wide variety of fonts that are readily available today.  The font itself is simply called 'Bookman' (even pre-dating 'Bookman Old Style') and was standard with the original Apple Macintosh (which we used to publish Zeeeeen!).
I liked the way the upper case 'A' joined itself to the next capital letter, something that was lost with Bookman Old Style.  The ampersand symbol was also quite strong-looking in Bookman although we rarely used it.
I can't actually remember the font appearing in the video – and please don't oblige me to check it! – except that it was brandished across our banner which may have appeared.  By the way, our banner was made by Maria and although simple (black paint on calico with Christmas lights around the perimeter) its size was startlingly effective.
++ What about gigs? Did you play many? Any particular ones that you still remember, favourite of yours?
There is no definitive account of how many times the band played.  I would guess 20 times but certainly not many more.  I know this seems a ridiculously small number but it wasn't easy to organise.  There were only a handful of venues willing to host a ramshackle band like The Ampersands and all of us worked full-time so it was hard, for example, to be at The Punters Club Hotel at 4:00 p.m. on a Tuesday when the guy who booked bands wanted to meet with anyone looking for gigs.
It's hard to pick out a 'favourite' gig, although I remember packing my guitar away one night after a gig at the Empress Of India and thinking that it was the best we'd ever played.  It was probably in 1993 but it's likely the gig is not documented.  I do remember supporting The Cannanes at the Richmond Club Hotel three days before we started recording the second album; we played very tight and I remember spying Stephen O'Neil in the crowd and reading a look of wonder and surprise in his expression.  There are a couple of photos of it located on The Ampersands' Facebook page (with me wearing a somewhat tacky but strikingly vivid waistcoat I'd bought at Camden Lock Market).
There were, of course, other memorable incidents not directly relating to the music.  At our first gig as a four-piece, the boys from Crabstick donned an elephant suit and languidly swayed through the crowd, trunk swinging.  I'm not sure who was the back half of the elephant.
Another time, after Andrew had left the band and Dean Catoggio was playing bass for us, we were first up at the Empress and then relaxed with a beer to watch the next band – who we'd never seen nor met before.  "That guy's bass looks a bit like yours", I said to Dean.  He moved closer to the stage for a better look and came back saying something along the lines of "that is my fucking bass".  The guy had rifled through our stuff mid-set after one of his own strings broke.  We were annoyed because he didn't have the courtesy to ask and had clearly, unlocked, unbuckled, restrapped and assumed temporary ownership of a valuable piece of equipment.  There was nearly a fist fight as Dean, Kim and I confronted the guy.  Said he, "hey man, show some professionalism, we had to play on for our fans".  It was laughable.
By the way, all the venues I've mentioned are located in our hometown, Melbourne.  Sadly, we didn't ever play anywhere else.
++ When and why did you decided to split in 1994?
There is a long story or a short answer.  In the interests of discretion I'll simply say things weren't working out.
++ And then you came back in 1996 as a recording entity? Right? How did that work?
Tim Alborn contacted me some time after the band parted ways.  He was winding up Harriet and was putting together a final compilation CD featuring many of the bands he'd released.  He had asked to use two songs.
We had plenty of unreleased recorded material but I had written a song I was pretty excited about called 'Napier Jane'.  At this stage I was catching up with both Dean Catoggio and Kim Lester regularly and suggested we rehearse it to see how it sounded.  It must have seemed quite odd to them because I had a very clear idea of the end product which was to feature dual female backing vocals, violins and a long outro, none of which I could effectively articulate or demonstrate.
Soon after, I caught up with an old acquaintance Roger Russell, a long-time friend of Stan Emmerson and founding member of The Drought (a band whose final incarnation included Bart Cummings and Kerrie Bolton from Cats' Miaow and Hydroplane).  Roger had an early digital studio which he was yet to fully master, so I use the phrase "it was fun" with caution.  'Napier Jane' was recorded over several weeks in 1996 in at least three different studios and I was really happy with the result.  Tim generously included it, along with its B-side 'Affected' (a song written by Julia Caluzzi), on 'Friendly Society'.
Buoyed by the 'bigger' sound, I eventually cobbled together a band of good people – including original drummer Kim Lester and incumbent bass player Dean Catoggio – to record four more songs in 2000.  As well as myself, Kim and Dean, we were joined by Jessica Fry on violin, Ian Finlay on electric guitar, and my partner Leisal Florien helping with some backing vocals.  All of these people had played on 'Napier Jane' four years earlier.  The recordings made at Dean's private studio turned out to be the final productive venture of The Ampersands.
++ Are you all still in touch with the classic lineup? If so, what do you do these days? Do you have any hobbies other than music?
Sadly, no.  I'm still close friends with Dean and less frequently catch up with Kim.
During my time in The Ampersands I was holding down a full-time job in the finance industry, a career that only wound-up in 2011.  It was fun in the early days, an industry with much camaraderie and loyalty.  More recently… well, let's just say it no longer aligned to my values.
I am therefore currently the full-time carer of three school-aged offspring variously aged between 17 and 6.  My partner – and their mother – is a full-time student and lives away on campus during the week so it's an interesting role reversal.  I've had lots of time to begin archiving those heady days of the early 1990s.
I cannot say for sure whether my musical career is over.  I'd like to think not but who knows?
++ Thanks a lot Darren. One last question. In retrospective, what would you say were the biggest highlights of The Ampersands? And if you could, would you repeat The Ampersands experience all over again?
It's easy to say of course I would repeat The Ampersands' experience, but then just as easy to make sure I'd change bad decisions made along the way!
The overwhelming highlight has been the people associated with the band.  This encompasses close friends, many of whom have since lost contact, those who were critical to the performance, both live and recorded, and those who helped having our music heard.  I know this sounds just as corny as lines from a back of a postcard (refer above) but honestly that's what drives me.
It was particularly special to be able to work at something creative with my then-partner Maria.  I probably didn't value that as much as I should've at the time.
You didn't ask me about a 'lowlight'.  Naturally it would be that it all had to end sometime.  But then again, meeting people like you means that it really doesn't.
::::::::::::::::::::::::::::::::::::::::::::::::::::::::::::::::::::::::::::::::::::::::::::::