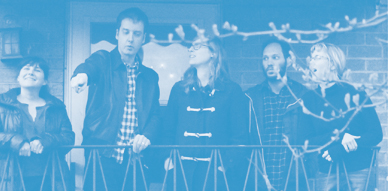 Thanks so much to Phil Sutton for the interview. Pale Lights is Phil's new band after being in Comet Gain, Kicker, The Soft City, and more. They are based in New York. And they are good. They play jangly pop. And they do it well. Recently they've released their debut 7″. And it's great. And even though you can download it from Bandcamp, I say you buy it. There are only 300 copies. And it's worth it.
++ Hi there! First of all congratulations on your debut 7″! I think it's GREAT. I'm really enjoying it. But let's go in order, when did Pale Lights start? And how did you all know each other? 
Thank you very much – I'm glad you like it! Pale Lights started October, 2011 with Lisa Goldstein and myself. Lisa had joined The Soft City on drums, and during that band's hiatus, we decided to try some songs out, roping in Maria, Lisa's friend, on bass along the way. Andy Adler, who had also played a couple of shows with The Soft City, joined shortly after. I met Lisa through friends of a friend, and we're both librarians, and indie-pop types, who kept bumping into each other. I met Andy a few years back, before I moved to New York, through a mutual friend, Comet Gain fan Kevin Pedersen, who runs the What's Your Rupture record label. It was at a Crystal Stilts gig, but before Andy was in that band.Our friend Brooke Watkins (another librarian) joined for the recording of the EP. We should really be called the Library Lights!
++ Where did the name Pale Lights came from?
We had to come up with a name, as we were due to play a show, at Otto's Shrunken Head, on 14th and 1st. I always liked Felt, and Under A Pale Light is one of my favorite songs, so I stole it for our name.
++ In which other bands are you all involved or have been involved in the past?
I  was the original drummer for Comet Gain (the Wiiija years), then Velocette for a couple of singles, and later, The Projects. The first of the bands I started was Kicker, who released a couple of LPs in the 2000s, and who broke up in 2005. I immigrated to the US in 2007, and started The Soft City with Dora Lubin, Jason Corace (A Boy named Thor), and Kyle Forester (Crystal Stilts, and Ladybug Transistor). Lisa drummed live for Knight School, and Andy plays bass for Crystal Stilts. Andy and I also play occasionally in Cinema Red and Blue, with various Crystal Stilts and Comet Gain types. Very incestuous.
 ++ Does Pale Lights mean that The Soft City split or you are just taking a break? What do you say are the main similarities and differences between both bands?
The core of the Soft City is Dora and I, and also Jason. The Soft City didn't break up. While we were recording the last EP, Jason got a job teaching in Baltimore, and then Dora went to Boston, to go to college, and after she graduated she got a job there. I've stayed in touch with both of them, and I hope we will record again at some point. I loved working with them, and miss them, so it would be great to do something more. We were never really able to play much, and I think the group was/is very much under the radar as a result. But I have songs for an EP ready. We'll get around to it.
In terms of a comparison between the two groups, well in The Soft City, Dora's vocals obviously, then there's Jason's songwriting. Also I played drums on those records, not guitar. I think Pale Lights is more scuffed up, and a bit looser maybe. Plus Andy's guitar playing is different to Jason (and in some instances, Kyle's), a bit more fee wheeling perhaps. The subject matter of the material is largely the same though. In fact She Won't Ever Calm Down is an angrier version of How Long? on the Soft City LP. The Pale Light's recordings have been described as denser. In fact, in terms of themes, Pale Lights are pretty much the same as the songs I wrote for Kicker, back in the UK. Pale Lights play a lot more shows. The Soft City played 6 shows in four years, compared to Pale Lights 12 in a year!
++ I remember you were going to have 7″s back in May and something terrible happened with them. I think Fedex or UPS lost them, right? Are the songs the same as in this new EP?
Oh that was funny. Or perhaps annoying. We pressed up a few dozen EPs for the New York Popfest, but they were lost in the post. They turned up the following Monday. It's exactly the same pressing as the new single, only hand stamped, with a silkscreen sleeve by Keegan Cooke.
++ From what I remember you have in repertoire more than 4 songs, so, how did you end up choosing these four songs for this 7″? And which one of them is your favourite?
They were the first we had! Ghosts of Youth is an old Soft City song, that we never got around to recording. And Boy of Your Dreams too I think. Waverly Place was the first song I wrote for Pale Lights, and She Won't Ever Calm Down is newer too. Ghosts of Youth is probably my favorite. Brooke Watkins (a friend and fellow librarian) plays a simple but I think pretty piano part, and it goes nicely with Andy's guitar. The words are based on a story by Sherwood Anderson, and hang together quite nicely. I like Waverly Place to, as it's quite sad, but bops along. SWECD is a whig out song, and Andy's guitar is great. They're all special – my babies! Though that's quite an abstract thing to say, as I don't listen to them.
++ I really enjoy "Boy of Your Dreams" myself, the guitar is really great. It reminds me of times of Mighty Mighty, Yeah Jazz, The Waltones, and you know, jangly bands from the heyday of indiepop! What would you say are your main influences for writing songs Phil?
In terms of writing, I'm very influenced by Felt, the Go-Betweens, The Chills, The Clean, Comet Gain (I know I was in them, but I was only the drummer, and they got better after I left), the Velvet Underground, John Cale, Orange Juice and the other Postcard bands, The Pastels, Monochrome Set, the first Belle and Sebastian LP, and the TVPs. I listen to a lot of Gene Clark, and for simple pop song arrangement, you can't beat Michel Polnareff's first LP. These are the song writing influences. I listen to much more. I love the Swell Maps, but I couldn't write like them! I'm a formalist, you see.
++ And would you mind telling me the story behind this song?
Boy of Your Dreams, in my head at least, is a scene from a blank kitchen sink drama, set in a town or city, rooted in nothing very much more than a girl going on a date she's not really bothered about. Metropolitan twenty-something ennui. I like prosaic themes – they leave it up to the listener to come up with the details. It's influenced by my love of Neo-realist films and books, and sixties Brit girl singers. Sort of Up the Junction meets Sheena Mackay's Music Upstairs, meets Girl Don't Come by Sandie Shaw. In my head, anyway. A Taste of Honey, still gets me, every time I read it or see it. It's perfect. I love music that makes me feel how I feel about these books and films.
The first songs I wrote were mostly for female voices – songs for Jill in Kicker, and Dora in The Soft City – and I found that very difficult, but fun. Trying to capture a female perspective, which I think, if you're a man, can be next to impossible. But, still, that's what I had to try and do.
++ Tell me about Calico Cat records. What's the setup for your own label? And would you at some point release bands other than yours? 
Calico Cat is my own label, and I wouldn't rule out releasing records by other people, but it's still early days. I don't feel qualified to make a mess of releasing other people's work, so I'm learning from my mistakes with my own music! I always wanted to press up and release records, especially 3 or 4 song 7" EPs, my favorite format, and I love the D.I.Y. aesthetic. The next release will probably be an LP or mini LP by Pale Lights, and then hopefully something by the Soft City. We'll see. A split EP would also be fun, but I don't know who with…
++ I do know there are only 300 copies, and I recommend everyone buying it! But also there is the fact that the songs are also available for full stream on Bandcamp. How do you feel about that? Do you think them being easily available like that help or hurt selling the 7″? 
Thanks! I made the songs available on Bandcamp as digital downloads. People can download them for free, or make a payment. It's up to them. I figure that's how it is regarding digital music. The last Soft City record sold more records than downloads, so I think the people that bought it prefer the physical object to the MP3. Though I think you should get a free digital copy when you buy a record. I do think people should pay for recorded music though. I lose so much money, even if I sell out our records, and I keep records very cheap ($5), so I need some money to come in, to help pay for recording. The groups are way to small to recoup by playing live, so every bit helps.
++ Who made the artwork for the record? Is there any meaning to that closed door?
I did the sleeve art for the record, and Maria put it together. It's from an image on the Library of Congress's website. If the EP has a theme, it's about interiors and exteriors, and how we navigate them. I sound like a literature graduate, but there is a lot of people looking out of windows, leaving houses, catching the subway, going into rooms, commenting on the décor, etc. I wanted to reflect that in the sleeve image. Also I liked the run down look of the room. It seems quite evocative of past lives. This is perhaps inevitable when you work in the history and genealogy division of a library! Plus, I like dark yellow. Is that a color?
++ You played New York Popfest, on the Saturday afternoon show, will we see you next year at later slot? Any plans of playing other festivals? 
Not at the moment. Maybe. I hope so! I'd love to play Popfest again. And Spain. Anywhere in Spain! Or Sweden. And London. I'd love to play Indietracks, not least because I like museums, and steam trains, and it would be an excuse to go back to the Old Country. And it looks like such fun, though it's probably gotten that we'd be too small a band. This is looking like a hint session! We could always go as punters and busk it. I'm a dab hand with tents and campfires. Lisa, Maria and I did talk about going to Britain to play though, in Stoke I think. Or was it Chipping Norton? Chippy. I can't remember why though…
 ++ What about gigs? You've played quite a bit. Which would you say have been your favourites? And why? Any anecdotes you can share?
We've played a fair bit in recent months, about a dozen shows in New York. I think that's why we're taking a wee break. I have to say Popfest was so much fun. So many friends – buddies from the UK, from Fortuna Pop and Comet Gain, mostly watching the European Cup of Soccer in the bar next door, and friends from New York, and playing with lovely bands. Then watching Comet Gain, and The Pooh Sticks, and some great new groups (I liked Pushy Parents) play later that night. Then nightcaps, gossip, and memories.
++ Phil, I always wonder, how different do you find the scene here in New York compared to the one in London?
Is there a scene? From the way I've described the group, it sounds like there is, but I'm not sure. I think Pale Lights, and The Soft City, didn't really fit in with the New York Scene (if there is one), perhaps because were not as sonically hard as a lot of groups here. There are some great bands (What Next?, Crystal Stilts, My Teenage Stride, Ladybug Transistor), but I'm out of the loop. I spend too much time listening to Francoise Hardy. There's probably a lot of indie-pop. Can you fill me in? Wherever the scene is, Maz and Clyde, and the gang at Mondo are probably at the epicenter of it though!
In London, although I left 5 years ago, I think there is definitely more of an indie-pop friendly scene, one that seems more inclusive, in terms of types of bands, and the people who perform and go to shows and clubs, all ages and genders. It feels a wee bit more cliquey here. Like, here's five bands who all went to college together, and play each other shows, etc. Which I don't think is actually such a bad thing. Family is good. London's pretty small I suppose, and there are venues that like-minded people can meet. Everyone gravitates towards London at some point. And indie kids always find each other, and congregate. It felt easier in London, with fewer hipsters, but that could be my hang-up. I don't know. I sound so ungrateful. I'm like the country boy in Manhattan Transfer. Still haven't found the center of things!
++ So what's coming up for Pale Lights? I hear you are going to go recording soon? 
We're recording a song, called Dearest Virginia, for an LP compilation on the Japanese label Violet and Claire, which were excited about. We're also recording slowly though the Fall (and probably Winter) for the long-playing record I mentioned earlier. It'll come out on Calico Cat. Unless we get a better offer! We'll play some shows too.
++ And what would you say has been the biggest highlight for Pale Lights? 
Popfest, definitely. Managing to make a record. Meeting some lovely bands (We Can't Enjoy Ourselves, Scott and Charlene's Wedding, Orca Team, Brown Recluse, were all lovely, and great groups too) I'd have to say, though, and this sounds a bit twee, but working with Lisa, Maria, and Andy was probably the highlight. When I was young, I loved The Monkees, and I still love the idea of being in a band, and making music, and having fun with nice people, who like similar things. I don't need any of that Who aggro!
++ Tell me, what do you guys do when you are not making music? Work? Any fun hobbies? 
I'm a Librarian, as is Lisa. I'm a married homebody. I love classic movies, reading pop history, researching bits, and meeting for drinks.
++ And do tell me your favourite restaurants, bars, or places to hang out in New York? Where would you take a visiting friend? 
Phil: Aqua Grill for food, Oscar's Shrunken Head / Kyle's Korner for karaoke, the Double Windsor or the Diamond, in Greenpoint, for beer and fun. I would (and do) take visiting friends up 30 Rock (better view than the Empire State Building), after a ride on the East River Ferry  – you get the vertical and horizontal in the space of a few hours. And then to New York Public Library, of course!
++ Thanks a lot again, anything else you'd like to add? 
The EP is for sale online at the Calico Cat shop – you get a free button badge too!
http://calicocat.bigcartel.com/product/pale-lights-ep
Thank you for talking to us Roque – you're the tops
::::::::::::::::::::::::::::::::::::::::::::::::::::::::::::::::::::::::::::::::::::::::::::::