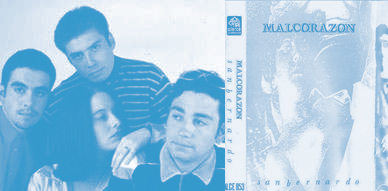 I only noticed today that it is actually the 9th anniversary of the Cloudberry blog. 9 years of writing about indiepop. 9 years of interviewing indiepop bands. Definitely the blog is one of the few resources these days to cover exhaustively the music we all love. At the time I started the blog there were many others, sadly Cloudberry Cake has outlived them.
The way we get our news has changed, that is true. Indiepop groups on Facebook are quite successful. Not totally, but they are a good resource. The only problem is that there is no curation and sometimes it can end up being a free for all situation. Another dynamic that has become quite fashionable is that of having indiepop being reviewed or debut the digital release on random hipster blogs. It is a way to get the message through. Maybe it works, maybe it gets a new audience. When I did that, debuting some videos on some website it didn't make any difference if I'm honest.
What will happen in the next year or two? Or the next five? How will we get to know what's new in indiepop? What are the next cool bands? The indiepop-list is almost dead. I have to be checking day and day again on Bandcamp and other sites for any uploads. I trust my friends who post on their own personal Facebook links to bands they've discovered. But Facebook also hides stories. I can't follow all the posts the bands I follow post as I don't see them. It really is a hustle. Because of all these problems I feel a blog is still a good way to present information for our case. All news are centralized and a good search function helps tracking and finding what you came looking for in the first place.
I continue ask myself when will I stop? I don't have a date. It is true I wish many of the articles, especially the interviews would be great on a book. I wish I could do that. If I had the time or money. Maybe there's a publisher interested, who knows. In any case I feel one more year of blogging won't be a problem. I have the energy for that. Not a problem.
Making it to 10 years would be a success. I still don't check how many readers I have, but the last year I feel I've had more comments. And that makes me terribly happy. Getting in touch with bands or getting to know about bands from people that saw them, that experienced them live or were friends with. I want to continue writing down for posterity what indiepop meant and means. This is history, and shouldn't just be forgotten.
After those words, just a couple of new discoveries for you to check, I didn't want to leave you empty-handed!
You can now order the latest 3 Shelflife releases, that is Pia Fraus, Airiel and The Luxembourg Signal albums. In the past weeks we could stream many of these records on different websites but The Luxembourg Signal's. Now it is available to stream on the Big Takeover website and you can listen to it if you want to check if this is up your street. The album is a co-release with Kleine Undergrund Schallplatten releasing the record for Europe. The band formed by Beth Arzy and Betsy Moyer on vocals, Johnny Joyner on guitars, Brian Espinosa on drums, Kelly Davis on guitars and Daniel Kumiega on bass and Ginny Pitchford on keyboards has just been touring Europe with people loving their shows. I still haven't seen them. When they played Indietracks in 2015, I didn't go. Tough luck. This record also comes with a surprise, it has guest vocals from Bobby Wratten on the song "Fall Feeling". Sounds like a very fine record, now I need to get a copy.
A recent discovery for me is California's The Molochs who have a few records. Their latest, "America's Velvet Glory" , was released this January on vinyl, CD and tape. The record has 11 guitar pop songs influenced by The Go-Betweens, Flying Nun Records and perhaps The Smiths? I hear some country sometimes too.  There are a few promo videos for some of the songs of the record, you can check "You and Me" and also "No More Cryin'". The Los Angeles band seem to have toured Europe quite well, even playing Primavera. They are formed by Lucas Fitzsimons, Ryan Foster, Cameron Gartung, Derek Cowart and Mateo Leonardo. The band releases their records on the Innovative Leisure label.
————————————————————
Ticking checkboxes, many countries have already been featured in this indiepop world tour. I hope you have discovered some new music from all around the world. Indiepop, guitar pop, are not exclusive to the British Isles. That's a fact. Definitely there's less quantity in other countries but by no means less quality. So far, when it comes to Latin America, I've featured Brazil, Argentina and Mexico. Too little. Maybe it is time to check out Chile, the country where the band who we are releasing next on our label, My Light Shines For You, hails from.
Of course, I'm not going to be talking about them now. We are here to rediscover lost, forgotten bands, not contemporary ones! I think my first sort of indiepop connection with Chile was through Soulseek too. It seems that story of Myspace and Soulseek seem to be a thread in my last posts. Well, that was my indiepop education in the early and mid 2000s. That's the time I made so many good friends from all over the world and discovered music from every corner. That's how I met Alejandra from Les Ondes Martenot. What a beautiful band. I thought at the time that they must be the only band making indiepop proper in South America. Probably they were. It was around 2003 or so. They sounded like a beautiful mix of La Buena Vida and Camera Obscura. But as I'm in touch with her still it doesn't make sense to dedicate an article, I feel it will be much better to do a proper interview. I should do that. I wonder why it's been almost 10 years on the blog and I haven't interviewed so many friends I've made through the years.
Chilean music was never unknown to me. Mainstream bands like Los Prisioneros were very important while I was growing up. I still like their music, they are classic. I even saw them live when they reunited and played in Miami. Other bands from the 90s like Los Tres or Lucybell were well known and you could hear them on the radio. The Chilean scene output wasn't as big as Argentina or Mexico but they managed to break through. I remember in the early 2000s underground fanzines in Lima were covering bands like Congelador or Panico. I wasn't a fan of them, they weren't pop, jangly, or neither of the things I like. But they were there. I always wondered if there had been any bands in the 90s that actually played pop. Only later, much later, maybe 10 years ago or so I discovered a band called Malcorazón which was heavily influenced by Lush and I became very curious about them. Why had I never heard them while I was living down in South America?
Malcorazón (sometimes spelled too as Mal Corazón) would roughly translate as "bad heart". According to Discogs, which as you know is my first stop when digging for information, they were a Chilean indie, indie pop, indie rock, shoegazing & pop band, formed 1989 in San Bernardo, Santiago. There seems to have been a bunch of lineup changes, so I'll just save myself sometime and copy/paste that information:
– Cathy Lean: lead vocals, guitar (1989 – •).
– Cristián López: guitar (1989 – 1994).
– Carlos González: bass (1989 – 1996).
– Rodrigo Norambuena: drums (1989 – 1997).
– Jorge Flores: guitar (1994 – 2004).
– Thomas Kalbhenn: bass (1996 – 1997).
– Sandra Neumann: keyboards (1996 – 1997).
– Cristián Córdova: drums (1997 – •)
– Giovanni Quezada: bass (2002 – 2004).
– Cristian Herrera: guitar (2011 – •).
– Maximiliano Parra: keyboards (2011 – •).
– Mauricio Horment: bass (2011 – •).
As you can see, lead vocalist Cathy Lean was the only one to be part of the band since day one. Listed on Discogs are two albums, "San Bernardo" from 1995 and "Abismo" from 2003. I definitely recommend the first one, which is really pretty, influenced by Lush or The Sundays.
San Bernardo is a city of Chile, part of the Greater Santiago conurbation. Administratively, it is a commune and the capital of the Maipo Province in the Santiago Metropolitan Region. It is the seat of the Roman Catholic Diocese of San Bernardo. The Chena hills, located in the basin of San Bernardo, are home to an Incan sacred site known as the Huaca of Chena or Chena's Pucará. Initially thought to be a fortress, the structure in the southern tip of the Chena hills has been denominated as a huaca a sacred place, a space of ritual use. The Chena's Pucará was observed to have a zoomorphic design, resembling a puma, which is a characteristic of Incan ceremonial and sacred structures. The word Chena means puma in oestrous cycle in the Quechuan language.
"San Bernardo" came out on the label Alerce (catalog ALCE 853) which is actually a folk label. So that was a strange choice. Perhaps there weren't many options at the time. It came out only on cassette, which is a shame. The album had 10 songs, all written by Cathy and music by Carlos González. The songs being: "Eternos Días de Invierno", "Promesas", "Noche en Espiral", "Maravilla de Piedra", "Vendrás", "Sin Fin", "Aguas Azules", "Tras la Faz", "Sin Piedad" and "10 de Agosto". The last song actually contains a fragment of Lush's "Lit Up". The artwork for this tape was done by Italo Miranda and the design by Carol Vieytes. The photos were taken by Pablo Borón. The band had help from Alejandro Gómez on guitars and Gabriel Vigliensoni on samplers. The songs were recorded, engineered and mixed by Iván Quiroz with the help of Luis Serrano, Claudio Hijerra and Roberto Espinoza. It was recorded in the Filmo Centro studio and mastered in the Ricardo García studio.
The second album, with a totally different lineup almost came out on La Oreja label. "Abismo" saw a departure of their sound, becoming a bit more electronic. It is also much more mainstream. I wonder if they had some success with it? There were ten songs on it, "Abismo", "Esperaré Por Ti", "Todo Peor", "Alma en Pena", "Es Sólo el Comienzo", "Carne Cruda", "Luz de Amanecer" and "Coma". There was a promo video for "Todo Peor" and the record was recorded, produced and mixed by Cristián Heyne. The album came out on CD format and the art was created by Javier Pañella, Paula Asensio and Carolina Maury. It was recorded at the Luna studio between April 2001 and March 2003. It was mastered at the Clio studio.
There is just one compilation appearance listed, one that is prior to the release of their album. On the 1994 CD compilation "Con el Corazón Aquí 2" released by Fondart, ATR – Asociación de Trabajadores del Rock, they contributed the song "La Muerte Atada".
I come back to the first album, which as I said before, is my favourite, I like the sound in it. I recommend checking out the promo video for the song "Eternos Días de Invierno" which is very The Sundays in a way, don't you think? I then find out the website MusicaPopular.cl where there is a biography of the band. Here I will learn a bunch of interesting facts. According to the MusicaPopular page the band was heavily influenced by The Sundays and The Smiths. They praise the guitar player Cristián López. What happened to him after leaving the band in 1994? I read he collaborated later with a mainstream band called Javiera y los Imposibles. It also mentions that in 1993 Cathy Lean became an actress in some TV series. I could find that she appeared at least in one that was called "Rojo y Miel". The story says that at that time, 1993, the band already had demos for an album but López left the band suddenly. What happened with these recordings? There's no mention. It only says that because of this situation the band lost the chance to sign to EMI and had to write new songs so they could finally release their first album. It is at this time they release the aforementioned promo vide which didn't get much press or support. The actress Malú Gatica, which is well-known in their country and who is, according to IMDB, the only Chilean actress to work in Hollywood, appears on the video.
After the album was released, a 2nd crisis, the bassist Carlos González, decided to leave the band. At this moment the new lineup decides to explore with electronic sounds. They changed their name to Rever and released a single and an album. After that period the band would change their name back to Malcorazón and released their second album. A curious fact is that their promo single, "Todo Peor", was covered  by the band Kudai on their 2003 album "Nadha".
It is also worth mentioning that Cathy released a solo single titled "Última Oportunidad" in 2006.
After that, there were more releases too. There is an EP that dates from 2011 that is called "Pásalo Bien" which I have just found on Bandcamp. 4 songs on it, well actually 3 and a remix: "Pásalo Bien", "Última Oportunidad", "Un Día Más" and "Pásalo Bien (Sokio remix)". I couldn't find if this was released in any format, though I did find the band playing it live on a TV show called "Sin Dios Ni Late". There was also a soundtrack appearance, with the song "Luz de Amanecer", from the "Los Debutantes" movie in 2003.
On Youtube I found another TV appearance by the band on the national television channel of Chile programme "Contigo en Verano" dating from 1997. On it the presenter even shows a clip from where Cathy and himself were part of the TV series "Rojo y Miel". On this appearance the band plays their arguably best song, "Eternos Días de Verano" and Cathy looks quite a bit like Rachel Goswell!
There are more TV appearances. A cool one from 1995 on the La Red TV channel playing "Eternos Días de Verano" and "Vendrás". Or a 1994 appearance on the show "Extra Jóvenes" playing the song "La Muerte Atada". And also there is a badly sounding Youtube video of the band playing the song "Noche en Espiral" at some place called Dinamo.
There are some interviews on the web but mostly about their later period. As I said I'm curious about their early days, the "San Bernardo" album and the 6 years before that release. Like I want to hear those demos recorded with Cristián López. On an interview Cathy says that those songs were so beautiful. I would love to hear them. Some song titles from that period were "Al Camino", "Azul" and two that actually got released, "La Muerte Atada" and "Maravilla de Piedra". I want to know how come no one in Chile has reissued that beautiful first album, "San Bernardo", in some other format other than tape. A CD would a booklet with nicely written liner notes would be great. Or a vinyl LP. I wonder about that period. I wonder why they didn't become more of a household name. I wonder how popular they were at the time? They did play in TV, but did they play much live? Where? Did they tour their country? Many questions, and not many answers, but a very nice first record full of chiming guitars that is worth rediscovering.
::::::::::::::::::::::::::::::::::::::::::::::::::::::::::::::::::::::::::::::::::::::::::::::