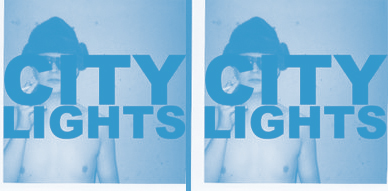 It's so hard to find time to blog when there's World Cup, as I was saying earlier to a friend, in this extreme case indiepop comes in second. And blogging at night is really not my thing, but let me try, hopefully my memory is sharp enough to remember perfectly what happened three weeks ago at New York Popfest.
Don't Cry Shopgirl had finished playing. I had grabbed their setlist, and kept close to the stage while chatting with John for a bit. Time for refilling my beer. There's no happy hour at Spike Hill and that of course annoys me. It's still early. Cheap beer time. I decide to stop socializing a bit and I go to check the merch table. I must say I haven't been checking much the merch since the festival started. It surprises me to see that the Gingerlys 7″ is available. Ed Shelflife told me some weeks before that there was a good chance that they would arrive on time but not to hold my breath. Luckily they were there and grabbed a copy. Naturally, Gingerlys were next on the bill.
I've meant to go to many of their shows for months. They are from New York and you would  have thought I've seen them before. But I hadn't. For a reason or another I never went to see them. Most likely because they were opening shows too early and that conflicted with my work hours. But now at last I was going to see them and judging from the recordings I had heard on Bandcamp they were definitely a band to keep an eye to. The vocalist sported shades and had an icy style on stage. Reminded me a bit of The Manhattan Love Suicides' vocalist. The music of course is much different: a sped-up and updated to shoegaze a bit Bouquet perhaps? A bit of Pia Fraus thrown in there as well? Something like that. Live they sounded a bit rockier compared to the their recordings. It was still enjoyable to see them, you can tell they have a lot of potential. And hearing live that immense song that is Summer Cramps was enough for me. That one did sound more faithful to the recordings I liked very much and kept my hope intact for this band. Definitely the best new band in the NYC (almost ghost-like) indiepop scene. And their 7″ is tops! Totally recommend it ("Jumprope" should be a classic song!).
Afterwards there was some time to burn before heading to Cameo and the evening shows. With Vicky, Diego, Juan Julio, Lisle and Kristine we went to the park overlooking Manhattan. On the shores of the East River we took some photos and rested a bit. Then we went for pizza. Suddenly it was already time to go to Cameo and to notice that the air conditioning wasn't working. Some fans were trying to solve the issue but as soon as the place was going to get packed we were going to feel like a sauna. Was it a trick to sell more beer? It's always suspicious.
I stayed at the front for the first two bands chatting with friends and catching up, reminiscing about the past two days of Popfest. I remember someone wanted to buy off from me my Veronica Falls t-shirt. Years ago in London the same had happened with a Cats on Fire t-shirt I was wearing. Also I had received from Jeremy a brand new The Haywains t-shirt, with the badger logo on the front and the tour dates on the back. I think it's the first t-shirt I own and wear that has the tour dates on the back. I kind of feel like a proper fan now.
Anyways it was time for the long awaited Garlands first ever gig in American soil. It's been years now since I've been talking to Christin to come and play here. Finally it was going to happen. The line-up had changed a bit since last time I saw them, Thomas was replacing Patrik on guitars and Gustaf replacing Robert on drums. Still around was Christin on vocals, Maria bass-extraordinaire, and Einar the guitar genius of the band. Rapidly all doubts one could have about the new members were long gone. The band sounded tight as ever. The only difference was that Christin was the one who had to tell the jokes now, though Maria joined and talked to the public and told us that her favourite thing about New York had been the food. I could only agree with her. That's the best in this city hands down. After playing all their hits, after me rooting for Christin (a classic thing in my book since the first time I saw The Garlands play ages ago in a London Popfest), the gig was over. It went so fast. I wanted more songs, but that was going to do it for now. Only one gig in New York and it was over. A shame. I hope they return one day. Definitely one of the best gigs of the Popfest, no other band can bring that thrilling fast and precious pop to the table these days.
Time to get some air. It was a sauna already. Cameo was way too warm. A small break because one of the bands I've been hoping to see for many years was going to perform in minutes. That was Spearmint. And the wait was worth it. They played almost all of their hits but not my favourite "The Flaming Lips". People knew many of their songs by heart and that was really exciting. This of course surprise me because I never thought they were a band that had this much following. I mean, I imagined it, but it's not a band people talk or discuss, at least my indiepop friends don't. Anyhow, it was fantastic. I noticed they had a new album, but I didn't buy it. They also had a book that looked like a graphic novel. I didn't buy it. What's wrong with me? I don't know, I should amend this at Indietracks. At this moment I thought this has been a great Saturday, this has been a powerful gig, started a bit slow with the new songs but ended in a high mark with songs like "We're Going Out" or "Sweeping the Nation".  Oh! Question for Maz, did you check out Said Liquidator? I always wondered if there was a connection between the two bands? Anyone know?
Then it was the turn for the dance party. I must have danced until 3am or something. I can't remember much. It's all hazy about this night. The only thing that I remember was that the crowd was very Mondo-like and not that much Popfest. I missed the bands and my international friends. They didn't stay for dancing. Were they too tired? Did they have jetlag? I wonder. They just missed a good time.
Sunday started with me trying to organize a box of Cloudberry releases to sell at the merch table at Littlefield. I had to leave pretty early eventually by pressure from the first band that had left their pedals and instruments at my house. How did the pedals ended at my place, who knows. So half prepared for the merch table, and carrying more bags and boxes than Santa Claus I left home just past noon and took the one hour or so ride from my place to Atlantic-Barclays station. Upon arriving to Littlefield, I guess because of all the things I was carrying, the doorman thought I was from a  band and just stamped me, no questions asked. I left all the stuff backstage. I started to set up my merch on the tables and Maz noticed there was going to be needed more tables. The three tables weren't going to be enough to all the merch that was going to be on display this Sunday. So we moved everything around and added more tables in the front room. Suddenly The Popguns are soundchecking and my heart skips a beat. I couldn't believe the beauty I was hearing, "Still a World Away"!!!
I saw Howard behind the DJ decks and said hello. He played a lot of top tunes in between bands. Then I decided I wasn't going to wait around for people, and decided to have some food at an Ethiopian restaurant around the venue. I knew this place and knew it's quite good, so I was going to treat myself to some tibs. With a happy stomach I returned to see Lost Tapes perform at Popfest. A pretty strong show as always with Poetry Dates as the highlight song and also closing song. Jangly and chiming the Spanish duo were pretty good though their pleas for a louder audience weren't answered. I think it was a bit too early for fans to go crazy or maybe they were just hangover and tired. Either or.
Dennis from Candy Twist was around at last. His first NYC Popfest gig. We had some Shiner Bock beer and talked a bit. Love when international friends just pop up all of a sudden at festivals and gigs. That's what makes this scene so exciting, how connected it is. The turn was for Marine Life, a California band that I knew nothing much about, but was really in love with the song that was included in the Popfest Mix. I hear they have a 7″ slated for release on Elefant and that's good news. This I would say is one of the bands to follow, one of the best new discoveries of the year. They also know their stuff, they made a sublime cover of Strawberry Switchblade "Since Yesterday".
Then it was time for the gig that many said made them cry. Bart and Pam on stage playing Cat's Miaow and Shapiro's song. It was a beautiful moment. It was close to everyone's heart. The time stood still for a bit and we were all enchanted, as if hypnotized, but Pam's beautiful voice, by Bart's guitar, by those lyrics of daily vignettes, of life represented.
Gold-Bears was next for me. By this time I had already got the LP and CD version of the album. Had to skip the tape version, I don't have a tape player. What can I say about the Atlanta-based band that you already know? I've seen them many many times now and they always have that explosive and catchy power. The new songs just continue the trend. The new album is remarkable, but a review perhaps belongs to another post. Another top performance for Jeremy and the gang.
Time for dinner. Went to a Korean chicken wings joint a couple of blocks away. Spicy. Delicious. Messy. Also the wings were huge. Lots of food for cheap. Now I caught Colour Me Wednesday. I have seen a bit of them a couple of years ago at Indietracks and wasn't hooked. This time around I bought the album and a t-shirt. There has been a big change in me? Or what? Anyways, they were pretty good and I enjoy very much, it makes me happy, even proud, that they are so into their politics and beliefs. I respect that even though I'm definitely not a vegan. Their attitude and the way the came across was very strong. I learned then that they were touring a whole bunch of US cities. Are they that big to even go play Kansas City and Madison? That was a true surprise. Do they play a lot in UK? I can imagine doing so, as their gig was tight and it shows so well that they know what they are doing. The three girl-one boy band was for me a surprise, and would love to hear more. Will need to investigate, bands that are brave enough to combine pop music with politics, are something I can only cherish.
And now I need to stop because again this is getting too long! It seems I will need a part 3!! Who would have thought!
——————————————————-
A bit of obscurity from Sweden this week. And not from ages ago, just a decade ago! This is Citylights!
Last.fm: A disbanded [1998-2006] dreampop band based out of Gothenburg, Sweden. Two former members now play under the name Boat Club.
Boat Club Facebook: Formed in 2006 by the remains of Citylights to please the jet-set crowd of Gothenburg, Sweden.
Those two members are of course Andreas Christakis and Magnus Wahlström. I was a fan of this band back in 2004, 2005. I had found them on Myspace. We all know the story of Boat Club. Or we do more or less. We love their few releases, they are classics already on my book. But Citylights have been forgotten. They didn't release anything so it kind of make sense, but I find pretty interesting that it was the seed that would later grow into the dreamy sound of Boat Club.
I had forgotten about them to be honest. It wasn't until two or three years ago that I remembered their songs. I started compiling the second volume of the Sound of Starke Adolf. First I thought I should include them in Volume 3, but later I decided that they were best suited for the second in the series. I contacted Magnus. He seemed keen though it seems the rest of the members weren't. Then I waited to see if they could be convinced I think. I waited. But then never heard back. A shame. Still the 2nd volume is waiting for a bunch of bands that should be included. It's still waiting to be released. First volume of course is long sold out. The last copy I had I gave to Silke now that she was visiting me.
Citylights as far as I know recorded seven songs. These were: "Have You Seen the Rooftops", "Leaves", "Memories", "Poor as You", "Reset", "Atmosphere" and "Citylights". But it seems there were dozen of demos according to another blog:
Magnus Wahlström and Andreas Christakis formed Boat Club in 2006. The duo's former project Citylights disbanded after the departure of drummer Hannes, and, although there was no 'official' release in their seven year existence, the DNA for Boat Club's sound was ever present. Combining the fuzzy naval gazing tones of peers The Radio Dept. with a more conventional approach to pop song structure, Citylights would record dozens of demos in vain. As the strains and impracticalities of converting the sonic ideas into a full band situation started to take their toll, Magnus and Andreas purged their efforts towards a more electronic direction and, Boat Club was born.
I've also read that some of these demos became the songs on the Boat Club release. Anyone know which ones are those?
It's also important to note that Magnus during the time he was in Citylights was also pretty active with Diktendo. Was Andreas in any other bands at the time?
I don't know much more about this project. Did they ever play live? Why weren't these fantastic songs released? Just listen how beautiful "Citylights" is. I can't believe this has been under the radar. Perfect pop!
::::::::::::::::::::::::::::::::::::::::::::::::::::::::::::::::::::::::::::::::::::::::::::::
Listen
Citylights – Citylights