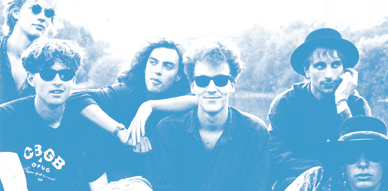 Thanks so much to Matthew Berry for the interview! I wrote a small piece about the obscure Hang David some time ago. Matt was kind enough to get in touch and also was up to tell the story about his band from the 80s. These days Matthew still makes music under the name of Melatone. You can listen to one of his new tracks, "If I Fall" here. But today we talk about his old band Hang David who made some lovely jangly songs that Melody Maker once said: "PRETTY, pretty, gently cruising and crooning towards a soft apex on each of four songs, Hang David have an attractive lustre to their guitar dominance as they sparkle, mingle and tingle like early Hurrah! with their mouth full of crisps".
++ Hi Matt! Thanks a lot for being up for this interview! How are you? Where are you based these days? And where was Hang David based back in the day?
My pleasure! It's great to know that someone is still interested in the band. I'm good thanks. I live in North London. Hang David were based in London as well – most of us were around West London
++ Was Hang David your first band?

It was my first serious band – I was in a band at school with Bob (the Keyboard player from Hang David). We were called Lost Cause ….which was asking for trouble!
++ I noticed that you are now in a band called Melatone and before that in a band called Duma. Care telling me a bit about these two bands and how different or similar they are to Hang David?

Duma was my first band after Hang David & the first band where I was the singer. We were quite different to Hang David – a 3 piece for one thing, and a bit darker & heavier. Melatone is maybe a blend of the two – some guitar pop and some stuff that is closer to post rock, with vocals (if that makes sense!). We do full band gigs, but I also do a lot of live looping gigs, which are a lot of fun.
++ When did Hang David start as a band? Who were the members and how was the recruiting process?
Hang David started in 87 or 88…not exactly sure. Myself, Bob Cook & Ben Durling (another school friend) got together and then found a drummer (Dave Frisby) and singer in the pub I think. I don't remember any auditioning at all, I think we just started rehearsing. The original singer was actually a guy called Dom Joly who is now quite a famous comedian in England. That didn't work out, so we advertised and got Nick Leese. We had a few different bass players.
++ Where does the name Hang David come from?

Hmmm, I should make up something interesting here – I think it was something to do with the drummer Dave messing something up at a rehearsal.…my recollection is a little vague!
++ Your first release, the "Another Day" 12″ came out in 1989. What were you listening at that time? Were you into other jangly guitar bands then?

It was actually a 12" 4 track ep. I had always been a big fan of The Cure, Joy Division etc, but also always loved The Beatles (especially the Revolver album). We were all big fans of Aussie band The Church (who were almost completely unknown in UK). They seemed to combine The Cure kind of thing with a more sixties Beatles sound. You can hear that on the single –there's lots of nice 12 string and Rickenbacker on there. I think we were also listening to The Stones Roses, maybe REM.
++ It was released on the Vacant label. Who were they?
That was our own label – Ben and me set it up.
++ What do you remember from the recording session for the 7″? Where was it recorded? Were the songs included the easy choices for the record?

We recorded the A side at a studio in Hackney, London. The other 3 tracks we recorded in various places. Another Day was always going to be the A side, I can't remember whether there were other tracks in contention, but I remember really liking another track called "Halfways". I can't remember why we didn't record that, but maybe we were thinking of that as a second single. I have a nice demo of that somewhere. There was also a track of Ben's called "Unwind", but that came later.
++ If it's not much to ask, what's the story behind the songs on this 7"

I'll do my best…
In terms of lyrics I wrote "Another Day" & "Here" & Nick wrote lyrics for "Ride" & "Where You Are". I wrote the music for the 4 songs, although there was generally quite a lot of band input. "Another Day" & "Here" were both songs about a breakup (aren't they all?!). Ben had a little 8 track set up and I remember demoing "Another Day" there with Dave McDonald (who produced the 12" and had been bass player in the band briefly). I might even have sung the demo – Dave helped quite a bit with the arrangement and I think he wrote the great lead guitar line (it definitely wasn't me). I can't remember much about the writing of the other songs, although I remember the "Here" demo being more electric and layered and us making it gentler and simpler. I really liked "Where You Are", which was me & Nick (and nice guitar riff from Ben). "Ride" was a bit of a Beatles pastiche.
++ And what about the sleeve? It seems like a child's drawing. Is it?

I did the sleeve – obviously to look like a child's drawing (although my hand writing is nearly that bad). We tried some other moodier/artier designs but wanted something simple and slightly naïve and also something that looked good in black and white, as that was all we had the money for!
++ You were telling me there are a lot of demos from this period. How many unreleased songs you think Hang David left behind?

There was probably 5 or 6 other good songs from this period & maybe 9 or 10 from later on (and a load of really iffy songs!). They are in my shed somewhere on cassette.
++ After this 7″ you released the Head 12″. On this record the band changed a bit their sound. Why was that?

Nick & Ben left the band. I think they just wanted to do their own thing – it was all very amicable and we stayed friends and I think we played some gigs with them. Anyway, we got a new singer (Jon Braman) who also played bass and a new guitarist (Dave Turner). As a result we changed quite a bit naturally with the new line up.
++ I read that during this time you also played in the US? Is that so?

Yes, we played at CBGBs and somewhere at New York University I think (Syracuse?) in 88, before "Another Day" came out. I played again solo a few years later at CBs Gallery & The Bitter End in NY. I loved it – especially CBGBS of course. We scrawled Hang David on the stage wall, as was the tradition!
++ And in general, when it comes to gigs, what were the best gigs you played? Any anecdotes you could share? Any favourite bands to play with?

CBGBs with Hang David was a highlight and Clem Burke was playing on the same night (not with Blondie), which was great. Later Duma played a festival in Germany which was fun. I can't remember any particular bands that stood out.
The anecdotes were mostly things that seemed like disasters at the time, but are funny now – driving all the way to Germany for a gig that hadn't been booked (the very nice local band who were actually booked let us play anyway), powercuts, drummers breaking bones just before a big gig.
I actually had a solo melatone gig where as I stepped on stage to start, the fire alarm went off and didn't stop all night. The venue cancelled the gig and refunded me all the cash that people had paid for their tickets (not just the usual band cut), which meant that the most I ever got paid for a gig, was for one I never did. I just took the audience to a nearby pub and used it to buy beer for everyone anyway!
We even did a Hang David reunion gig a couple of years ago (our first gig for 18 years) and Dave the drummer broke his finger 2 days before the gig, and we had to postpone.
++ For the song "Head" you filmed a promo video. How was that experience? What was the idea behind it and were you happy with the end result?

I don't remember much about the planning – I think I pretty much turned up and did what I was told. Jon the singer also worked as a video editor and was pretty much in charge of it. He got some mates together and we filmed it in the front room of a flat in Highgate, North London (very glamorous!) When they got the film back it was really dark and we were worried it was unusable, but I think it looks great in a moody kind of way. We actually shot a video for Another Day as well, but it never got finished.  I guess there's footage somewhere.
++ With the strength of these two releases, was there any interest from other labels to release you?

We never quite got enough momentum going – we did Another Day then changed singer, we did Head, then split up. We had interest from a couple of places, but nothing concrete – I remember getting lots of crazy, incomprehensible faxes from a company in Japan wanting to release us, but we couldn't understand what they were saying.
++ What about press, did you get any attention by the likes of the NME or Melody Maker perhaps? And what about radio?

Yes, we got a great review from Melody Maker for "Another Day" & the "Head" video was on MTV a few times which was great. Both singles got some radio play around the country.
++ Then what happened with Hang David? When and why did you call it a day?

We called it a day after Head, I think it was in 92 or 93. I think we kind of put all our effort into that and then didn't have the energy to follow it up properly. Everyone was at different stages – I just wanted to do music, but Jon's video editing was going really well, Bob was at University I think, so we just couldn't all commit.
++ What did the members of Hang David do afterwards?

I learned how to sing and formed Duma, and then melatone and I work at a music company in London. Jon carried on video editing, but also plays bass in melatone sometimes. Dave the drummer is also a video editor, Bob works in market research doing something clever, Dave Turner works in music and film industry. Ben works in A&R. Not sure what happened to Nick the Another Day singer, although I bumped into him at a gig a few years ago. And the "Head" line up did a reunion gig a couple of years ago, which was a lot of fun. We played Another Day of course.
++ What about today, do you still make music? What other hobbies do you enjoy doing?

Yes, I still play gigs and have a studio set up. Melatone had an album (100 Different Ways To Change Your Life) out a couple of years ago & a new album (It's The Hope That Kills You) is coming out this year. I have a couple of videos on you tube & vimeo & the album is on iTunes etc. I still love music, so I guess I will always find some way to do it.
++ Looking back in time, what would you say was the highlight of the band?
It was the obvious, simple things – actually seeing our first record and playing it, hearing it on the radio for the first time, seeing the Head video on MTV etc.
++ Thanks again Matt! It's been great to know a bit more about your band. Anything else you'd like to add?
Thanks for the interest. To be honest I had no idea that anyone apart from a few friends would even remember the band. It makes it that bit more worthwhile and it's nice to know that the music is still being enjoyed.
::::::::::::::::::::::::::::::::::::::::::::::::::::::::::::::::::::::::::::::::::::::::::::::
Listen
Hang David – Another Day