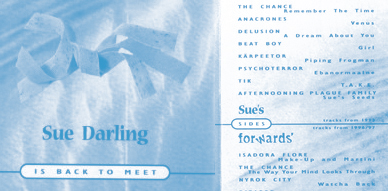 How to start this new week? Perhaps it is a good idea to do so by the Kickstarter campaign Julia Parnell has created so she can make a project everyone will love, "The Chills Film – A Theatrical Documentary". Wow! A documentary about one of the best bands ever. Of course this has to happen. All the information about this project, as well as a video teaser, are on the Kickstarter page. I hope this gets done and they raise the money. And hopefully too I get to see The Chills live once more. I can only boast saying I've seeing them twice, plus another time when Martin played solo at Rough Trade.
Gingerlys, the top New York band, for sure one of my favourites of this city, will be releasing finally their first album this November 17 on Babe City and Topshelf Records. It will be self-titled and will be released on 12″ vinyl limited to 300 copies, cassette and CD. So all formats covered. One can't complain. The album comes with some beautiful artwork it seems if the art that appears on the Bandcamp is the album cover. To promote their upcoming release they have unveiled a song from it and what a gem of a song it is. The song is called "Turtledoves" and contains all the ingredients the Gingerlys have made us used to. If the rest of the songs are as good as this one, this is definitely one record no one can miss!
Anida, Peter, Suki and Ages form the Jakarta, Indonesia, band Sugarsting. They started as a band in May 2006 and they have just published their first song on SoundCloud. It is a demo for the song "Chasing Pony" and I'm loving it. I especially love Anida's vocals, she has a tone I'm not that used to I guess, but that sounds really cool here. This is superb jangly and upbeat pop. I hope to hear more from them soon!!
Bodega Sisters are from Stockholm but they seem to really like NYC. First because of the name of the band, second because the only song they have on SoundCloud is titled "Btwn. 1st & A", and you know those are two avenues in Manhattan. Thirdly the lyrics are all about New York, from Tompkins Park to Duane Reade pharmacies and nods to the popular Bedford stop for the L train, and more. I don't know much more about this band, but definitely this song has left me with a big big smile on the face. I guess familiar names, familiar places, will do that to you, especially if the music is also fab!
The Osaka band Ether Feels has a new song on their SoundCloud and it is pretty good! The band, if you are not familiar with them, is a shoegaze project by Tomo, Yoko, Yoshino, Kita and Takuya, and were formed in 2015. I don't know if this song will be released in any other way, there is no information about that, but you should check "Moonshine" for sure. You will enjoy it!
Lastly the Brooklyn duo called No Kill have a very sweet new song streaming on their Bandcamp called "Eddie Vedder", but that's not all, they have actually made a a video for it. It is the first time I hear from this band even though we are in the same city. I wonder if they play live or are they a studio project. The band is formed by Jamie Cougar on guitar, drums and vocals, and Andrew Trouwborst on guitar and vocals. They have even more songs on their Bandcamp, so check them out.
——————————————————-
Before there was Pia Fraus and its label, Seksound, in the indie scene, Estonia wasn't a country anyone associated to indiepop music. That is very true. But that doesn't mean that there weren't pop bands before even if there were just a few.
I think the first band that I heard from Estonia was Bizarre. But I wanted to dig more, I wanted to find more bands. What I had heard wasn't enough. I was sure there had to be more songs I liked from Estonia. And happily I was going to stumble, thanks to a recommendation on the indiepop-list, with a tape compilation called "Sue Darling is Back to Meet Forwards".
I believe it was Alexander Bailey from the label Radio Khartoum one of the first to champion Eestipop, pop from Estonia. In fact, I'm sure I discovered Bizarre thanks to his recommendations. On the indiepop-list he was to recommend this tape compilation saying: "not as consistent as the Bizarre album, but there are a few tracks here which shouldn't be missed, and as I expect that the prices for both are quite low by Western standards, it's probably a good risk."  And when he describes Isadore Flore's song on the compilation, "Make Up & Martini", he says it is a " lovely pop song, not quite cocktail, but classy all the same."
I had to listen to this song. I was beyond curious. It was going to take many years for me to finally find the song, and it was going to happen through Kohviradio.com. Kohvi Radio, if you must know, is an online internet radio and mixtape download site based in Tallinn, Estonia. They have a big back catalogue of Estonian indie music and more, so it is definitely a good tool for exploring sounds from that country.
So I heard the song, and I loved it. It was sort of a Siesta Records, él Records, kind of sound. Classy. So now I wanted to know more about them. Who were they? I checked out the tape compilation on Discogs. I notice it was released in 1997 by Sally Cinnamon Music (catalog SAL006M.C.). Interesting, a label named after a Stone Roses song. The label was based in Tartu, Estonia, and was founded by Lauri Liivak. Laurii seems to have been a winner of 19 Estonian Music Awards. The label would later be renamed to Forwards. I check their catalog, I'm familiar with Bizarre, but there are other bands like Pedigree or Nyrok City. Will I like them? I also notice that there was a 1993 cassette compilation called "Sue Darling". So this was the first volume, and "Sue Darling is Back to Meet Forwards" was the second?
On Discogs a note kind of answers that last question: "A logical follow-up to the "Sue Darling" (released in 1993). At that time another bunch of Estonian unsigned bands were recorded for the "Sue Darling 2", but due to the financial problems Sally Cinnamon Music couldn't release it. "Sue Darling is back to meet Forwards" includes eight bands recorded in 1993 (Sue's Side) as well as eight bands recorded in 1996/97 in Forwards Studio (Forwards Side)."
Isadora Flore's song appear in the Forwards part. Might this "Forwards" also have helped the label to be renamed to that name? Possibly.
Then I head to Rateyourmusic where the tape is listed. Here I notice that they have two band members listed for the band, Lauri Tikerpe on vocals and Marek Talts on guitar. Lauri Tikerpe had done vocals for "Fantawine" a song of Bizarre's "Café de Flor" album. Also I could see listed some guest vocals on a single by Rainer Jancis in 2008 and lyrics credits for a Metro Luminal song. But no other band of his own it seems.
When it comes to Marek Talts there seems to be much more music involvement. He had been part of the band Ro:Toro which was a folk band that released an album in 2006 called "Estonian Bagpipe" . I see also credits for guitar playing inSitimaan, Tiit Born, InBoiler, Rull's Royce Orchestra, Hedvig Hanson, Liisi Koikson, Ootus and more. Very busy.
But still no information about Isadora Flore. Why? Perhaps because they didn't release anything. But this song, "Make-Up and Martini", where did it come from? Didn't they record a demo perhaps? There have to be more songs from the same recording session or not?
I was to find some more details on Facebook, and again thanks to Khovi Radio. They had a small post where they were publicizing the Isadora Flore song, that they have streaming for free. What does it say? "To begin with, we dust off the track Make up and Martini (1997) by the 1990s indie-band Isadora Flore from Tartu. The song, created in the spirit of the ROMO movement started by the Melody Maker magazine, features vocals by Lauri Tikerpe who is currently known as the nightingale of the band Väljasõit Rohelisse. The band featured Karl "Monodire" Kermes on drums, Indrek Sooniste on bass and Marek Talts on guitars. The latter is also the author of the song. The track was recorded at the Tartu Päikeseraadio (Tartu Sun Radio) for the indietape Sue Darling. "
Finally, the whole band lineup. And we know now they were from Tartu.
Tartu is the second largest city of Estonia, after Estonia's political and financial capital Tallinn. Tartu is often considered the intellectual centre of the country, especially since it is home to the nation's oldest and most renowned university, the University of Tartu. The city also houses the Supreme Court of Estonia, the Ministry of Education and Research and the new impressive building of the Estonian National Museum opened to public on October 2016. It is also the birthplace of Estonian Song Festivals. Situated 186 kilometres southeast of Tallinn and 245 kilometres northeast of Riga, Tartu lies on the Emajõgi ("Mother river"), which connects the two largest lakes of Estonia.
The only Estonian city I've visited is Tallinn, and I thought it was beautiful. Been twice there. Not Tartu, not yet. Would love to visit.
I couldn't find any information for the two other members, Karl and Indrek, on Discogs. I did find that Väljasõit Rohelisse, Lauri's band, released a 10″ in 2012. Probably not indiepop.
Not much more information on Isadora Flore. I keep asking myself about the band name. Who is Isadora? And why are there no other known songs by the band? Or no releases at all? A true mystery of Eestipop in the 90s.
::::::::::::::::::::::::::::::::::::::::::::::::::::::::::::::::::::::::::::::::::::::::::::::