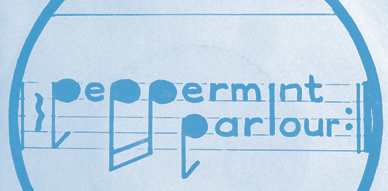 Peppermint is a hybrid mint, a cross between watermint and spearmint. The plant, indigenous to Europe, is now widespread in cultivation throughout all regions of the world. It is found wild occasionally with its parent species.
Just a couple of days until I travel once again to the UK. Second time this year. My sixth time overall.
A couple of things.
– I bought a Lonely Planet guide to London and been reading it before going to bed. Why now? I don't know. On top of it all, I will barely have any time in London this time to do any sort of sightseeing. So what's the point of me getting this book? I don't know.
– Also after coming back from London last July, I bought a book about the names of the tube stations of the Undeground. I had seen one of these books for sale at the British Library and caught my curiosity. I stopped myself from buying it there as I assumed (correctly) that it was overpriced. Upon returning to NY, I ordered it online. Quite interesting. Now I could probably tell a story or two to those tourists that ask me, another tourist, for directions.
– I'm going to my second Chickfactor gigs this year. First was here in New York and was during weekdays. Now in London during a weekend. I'll see for the first time The Pastels and Would-Be-Goods. Would-Be-Goods being one of my favourite bands ever. I admit the only time I've chickened out of asking to take a photo with a band member, was with Jessica Griffin who happened to be next to me and my friends outside the 100 Club. To be a success, this time I must get their setlist. At least.
– I'll see Amor de Dias for the third time. I'll see Pipas for the third time as well. Can't have enough of Lupe's bands.
– Second time for the Aislers Set and the Legendary Jim Ruiz Group. Two favourite bands. And fifth time seeing Tender Trap. I clearly go to many gigs, or what?
– Talking of the Aislers Set the other day I saw Linton walking down Bleecker St. with a brown paper bag. Thought saying hi, but then I noticed I was wearing my green t-shirt that has her name printed on it and thought, that was much of a fanboy already.
– I have grand plans of record shopping during this trip. The question is, how will I carry all my records back to the US if I'm planning to just take a carry on. Mind you, I already bought some records and they are waiting for me at my dear friend's place.
– I will visit a Peruvian restaurant in London. Been terribly curious about them after they opened this year. I've been meaning to invite friends while I was there years ago, introduce them to our rich cuisine, but the restaurants were non-existant. Now there are two by Tottenham Court Rd. Are we the new thai as some Peruvian officials love saying? Not yet, not quite. Someday perhaps.
– Then will take a train to Edinburgh. Spend some hours record shopping, hopefully have haggis for lunch. I have haggis craving. Hearty haggis.
– Next stop Glasgow. For third time lucky Aislers Set. At Mono. Will see Stephen Pastel there for the second time. This time he'll be DJing, won't be selling me records. And Camera Obscura will DJ as well. I saw them once playing though. Just once. It seems I only see big bands once, and the smaller bands I see millions of times.
– Taking a bus to Inverness. What to do there? The word Inverness sounds to me like "invierno", winter in Spanish. I feel just by the name that I will freeze. It's up north. From there we'll take a bus to Loch Ness. Fulfill a childhood dream. Visit Nessy's den. See castle Urquhart. Send some postcards from there.
– A trip for me with no castles is not a trip. So we'll be heading to Arundel castle. It looks glorious. Everyone has told me it's beautiful. I hope it is! I just really hope it doesn't rain, like that time  I went to Tintern Abbey and the weather was miserable. The most "romantic ruins" in Wales had become the most dreary ruins in Wales all of a sudden. So better behave you famous English rain.
– Note to self. My grandma doesn't want chocolate like last time. Suddenly she figured out that it wasn't Cadbury powder Hot Chocolate what she wanted but Cadbury Cocoa! She also insists that I have to buy me a sweater at some famous "sweater town" close to London that she visited two decades ago. "It will do you good in the NY winter".
– There's also the gig at the Buffalo Bar where Flowers are playing on Thursday. Will go to that. Definitely. Time to see one of my new favourite bands play live after touring with The Pains of Being Pure at Heart. Hopefully we can sort out the 7″ soon!
– And speaking of my carry-on bag, I feel half of it's weight is going to be gifts, from mac n' cheese to records, to friends. I so look forward to see my transatlantic friends. I miss them. Can't wait to catch up!
———————————————————————————
Parlour (or parlor) is a name used for a variety of different reception rooms and public spaces in different historical periods. Parlour derives from the Old French word parloir or parler ("to speak"), and entered English around the turn of the 13th century In its original usage it denoted a place set aside for speaking with someone, an "audience chamber".
A band from Wales. That Wales I really liked and had a great time in July. That Wales I won't be visiting this time, but that I do have strong plans to revisit next time I go to Indietracks. The band was Peppermint Parlour and they had one 7″ single but many more songs recorded.
Uncommon to most obscure bands, I could actually find an extensive bio about the band online:
Peppermint Parlour was the brain child of founder Alan Thompson along with his school friend, Clive Widdison. The two met at Llanederyn High School in Cardiff at the beginning of the 1980s. Alan Thompson is an extremely talented songwriter and was soon penning many songs. His musical influences coming through in an intelligent mix of The Beatles, Squeeze, 10cc, The Jam and The Beach Boys.
Peppermint Parlour came together in the autumn of 1984 with the line-up of Alan Thompson, vocals and rhythm guitar, Clive Widdison, bass guitar and backing vocals, Mark Haggart, lead guitar and backing vocals backed up by the newest addition of Simon Davies on drums. St. Martin's Church Hall on Crwys Road, Cardiff became their rehearsal venue every Monday night. Alan's friend from childhood, Rhys John used to help out with rehearsals, adding keyboards and some excellent guitar pieces in between him finishing off his degree at the University of East Anglia.
Months of practice, practice and more practice, Peppermint Parlour finally got their first gig at the Joint Students Union, Cardiff University on the 25th May 1985. The group added Rhys John to the line up and by the end of 1985, Mark Haggart left The Peps and Rhys took over the duties of lead guitar. The band were finally on their way. The band developed their extremely tight sound from hundreds of gigs across Cardiff and in London. Several record companies were alerted to them with particular attention being paid by MCA Records, who even came to see them in rehearsals at Simon's fathers factory in Cardiff and EMI Records.
Being a Cardiff based band and with the capital's rather stereotyped view of Wales made it hard for The Peps to get to see the right people. It is generally considered that they paved the way for less talented Welsh bands to come into prominence, like the Manic Street Preachers, Sterophonics and Catatonia. Peppermint Parlour made the "hard yards" and the others felt the benefit. The band eventually were pestered to release a best of CD in 2002, called Pet Sounds. Within that CD are 19 musical gems.
Is it really "Pet Sounds" the name of the CD? I have never seen it, and somewhere I've seen it mentioned it as "Pep Sounds". But still no luck. I would definitely LOVE to hear these 19 songs. At least since 2009 when I first heard about this band, I've often revisited and listened to a bunch of their songs thanks to Last.fm.. If you head there you can find 7 songs to listen fully: "Gary Sobers Up", "Playhouse", " It's Wonderful",  "Evermore", "Whole Damn World", "You Are The Drug" and "You're Gonna Crash".
What can I say about these songs? They are fantastic! If you like catchy pop, jangly guitars, and smart lyrics, you'll like this lot. This is a band that I would have loved to release definitely. They remind me a bit to Feverfew and The Chesterf!elds on their more upbeat songs, while in their more "classic" c86 songs you can think of Bob or Reserve. So yes. Pretty good. Pretty amazing stuff.
By the way, did you know that Alan Thompson from Peppermint Parlour is a UK radio broadcaster, presenting on BBC Radio Wales? I just found out.
Here is a little interview I found where he is asked about Peppermint Parlour:
As the popular presenter of the Radio Wales evening show, Alan Thompson has acquired a reputation as a man who enjoys revisiting the '80s classics.
Haircut 100, Simple Minds, Wham! and Duran Duran have all cropped up on his playlists.
But there's one nugget from the decade that taste forgot that he won't play – his own.
In the mid-'80s, Alan was the frontman of Peppermint Parlour, a Cardiff powerpop four-piece which, over their seven-year lifespan, managed to garner a hardcore of devoted fans thanks to tireless gigging around South Wales and one fondly remembered single, Whatever Happened to Pop Songs.
He's too modest to admit it, and far too modest to actually play it on his show, but there are many who would herald it as a little indie pop classic.
And in Japan – where they'll always find a place in their hearts for such things – it's something of a collector's item.
Alan, 49, remembers his days in the band with nothing but fondness. "We'd first got into a band at school in Llanedeyrn," he said, "a mod outfit called The Standards – terrible name – with Clive Widdison, who played bass."
After school, he and Clive formed Peppermint Parlour in 1984 , gigging mainly in Chapter and other venues in South Wales but also as far afield as London.
"The Pepps were a good band," said Alan. "We were compared to the Housemartins but I thought we were more like Squeeze, melodic pop with a bit of edge."
Like countless other bands, when real success proved elusive, the Pepps petered out. By 1991 Alan had started work at the BBC and with A&R men loathe to head over the Severn Bridge (this was long before Cool Cymru) they called it a day.
Happily, Alan retains his enthusiasm for music, as his listeners will readily attest, and he continues to write and record in the little studio he has set up at home.
But if his reluctance to play Whatever… is any guide, we can't expect to hear his songs any time soon.
1984. They were ahead of their time. I can't believe. Maybe that's why they are so obscure. Because their songs should have been HITS. It's always so unfair to read or hear stories like this.
But let's go back to their one and only 7″. One that I'm still tracking down and I suppose will be impossible for me to ever get my hands on because the Japanese will always have a bigger wallet than mine!
The 7″ included two songs. On the A side "Whatever Happened to Pop Songs" and on the B side "Awkward Girls". It was released on Apex Records and was the first reference on their catalog. Both songs are credited to Alan Thompson and were produced by Peppermint Parlour and Len Davies. Len Davies seems to have been involved in many releases of the Apex Label. Maybe it was his own label?
The songs were recorded at Apex Recording Studio in Cardiff. The engineers were Davies again and Matthew Butler.
Peppermint Parlour were:
Alan Thompson – lead vocals/guitar
Rhys John –  lead guitar / keyboards / vocals
Clive Widdison – bass guitar / vocals
Simon Davies – drums
On the back cover it's also written:
Special thanks to Gary Price of "Red Dragon Radio" for his belief and support. He truly is the Hippy King of Mintsville!
The record is dedicated to Johnny L. and to Julie B. And also to all you Pep Cats everywhere.
As a curious cat I went to look for Red Dragon Radio and found out that it changed it name years ago to Capital South Wales and that is a radio station broadcasting from Cardiff Bay. I get flashes of walking down the promenade, next to the sea, in Cardiff Bay. Walking towards that Turkish restaurant on the pier which we didn't like the prices.
And that's about all I could find about Peppermint Parlour. It's more than the usual I find though. So that makes me happy. But I would really love to listen to the rest of their songs. Track that "Pep Sounds" CD is possible. And if anyone has a box full of spare copies that is willing to give a new home, a lovely home, please let me know! And yes, if you happen to have any memories, anecdotes, or know the whereabouts of any of the band members let me know! Their songs deserve to be much more known than they are already!
Edit: I just noticed they have a Facebook page!
::::::::::::::::::::::::::::::::::::::::::::::::::::::::::::::::::::::::::::::::::::::::::::::