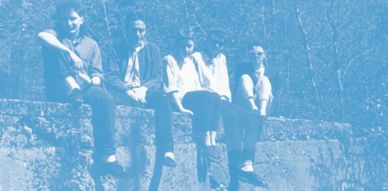 I've been getting some good feedback after reviewing "newer" bands on the blog. People have told me that these days it is very difficult to find new bands on the web, that there's not a good filter to find them.
So I'll recommend some new discoveries today. Before that though I want to give a big thanks to Wally from The Beautiful Music who has sent me some of his releases, Dot Dash, Armstrong, Roy Moller and more, because I've been enjoying them lots this weekend. Also huge thanks to Ronny because this past weekend The BV's debut album arrived home. It is a gem. Get it before it sells out!
In the coming days there will be another 10th anniversary offer. This time around we'll have the "Paul Towler pack", which includes two 7″s where he has been involved, The Westfield Mining Disaster and The Haywains ones. For domestic orders you can get both 7″s for $12 including postage, while for those abroad the price will be $20. That offer should be up on the website tomorrow and it will be available until May 15th.
So here are some new recommendations for you all.
Medio Hermano: It translates to half brother. This is the last band that was added last week to the Lima Popfest lineup which I already covered on a past blog post. The band hails from Chile and their last release is the album "Lucha Libre" (2016). This record has 9 songs and it says it was released by Sudamerican Records, though I'm not sure if there are physical copies for it or if it is a digital-only release. Would be good to know as I'm liking what I hear. The band is formed by Juan Fernando Rubilar, Ricardo Herrera, Leo Saavedra and Luis Herrera. The Santiago band have more releases on their Bandcamp and I look forward to explore them. For the time being I'm enjoying the cool guitar pop of their last record! Lucky those at Lima Popfest, wish I could be there!
Un Verano en Portugal: I feel a lot of the bands I recommend today will be from Latin American countries, and that is thanks to the Facebook page "Latin American Twee" that my friend Joel runs. Now and then he puts together MP3 compilations of bands he discovers. I downloaded the latest one, his fifth volume, and found some good bands that I will recommend. The first one is this one whose names translates to "a summer in Portugal". I believe their name is taken from a 2013 movie of the same name. The band seems to be the solo project of Jesús who is also part of the great band Pure Morning whose album I was sad to miss and now seems sold out. Anyhow there are a bunch of wonderful P!O!P! tunes on their Soundcloud. Glorious.
Verano del 83: More summer bands. This one with nostalgia for the summer of 1983, a time when the band members weren't probably not even around! I could only find a Facebook for the band, and several songs uploaded to Youtube. No Bandcamp or Soundcloud. The band seems to hail from Trujillo, in the north of Peru. The song that caught my attention was "Llévame a Casa" which seems will also be the name of their debut album which they are working on at the moment. Their last song to be available on the web is called "Friends" and sounds good too. The band's sound sounds a lot like Vacaciones from Murcia, Spain. And that's always a good thing!
1994: I thought I had recommended this Tamperley, Argentina, band before. I couldn't find myself mentioning them on my blog through the search function. Who knows. I went back thanks to Joel's compilation to their self-titled release from 2015 on Bancamp. There there are 5 songs of lo-fi upbeat indiepop. The songs are pure gold, they are naive and fun. They also have punk influences clearly, they make me think of Vancouver's finests Cub. The song "Historias de Mentirita" is a hit! The band is formed by Diego Medina, Guido Pasciucco and Valentina Schwarz.
María: last band for this week, María from Buenos Aires, Argentina, is not to be confused by the fab Maria from Oxnard, California, that released some 7″ singles almost 10 years ago! This María sing in Spanish and have a four song EP that was released by Compacta Discos on tape. Oh yes, more tapes. Tapes, I'm not a fan of yours. Shame. Because the 4 songs on this EP are superb. The band is formed by Germán Kresser on guitars, Leandro Pancotti on bass, Florencia Agra on vocals, Jorge García on drums and Boris Domínguez on guitars and synths. A fantastic debut indeed that I hope a lot more people start paying attention. The EP is titled "Breve Cielo" and if you are only going to listen to one song to get a taster, try "¿Qué es el otoño?" which may be or not be inspired by the 1976 Argentinean Oscar-winning movie of the same name.
————————————————————
Seems like I've been on a streak of Irish bands on the blog. Today won't be an exception, I'll continue the trend, trying to find out more about long forgotten bands, obscure recordings, and most importantly GREAT pop music that deserves to be heard.
So then, have you ever heard of Cliff Edge Panic?
Usually in cases like this, when there's an Irish band involved, we go directly to Irishrock.org. Last time it didn't work out with the band Red Circus. This time it does. There's an entry for the band. Firstly we learn they were from Dublin and that they were active around 1986. A good year to be around, no?
We also get to know that the band was formed by:
Ken Corbett – vocals
John Prendergast – guitar
Ger Corbett – rhythm guitar
Mark Willis – bass
Dave Burke – drums
There is just a very short bio on the website where we get just a few interesting bits of information. It says that the band played many gigs in 1986, including the Comet All-Day Festival in August of that year. They split in 1987. That was before their one and only appearance on a physical record. I'll get onto that soon.
We also know that two members, John Prendergast and Mark Willis went to form The Train Walkers afterwards and Dave Burke to the Slowest Clock. The Train Walkers were around a bit longer, around 3 years and released some records. Slowest Clock the same, released a bunch of records up to 1994. Would be interesting to investigate these two bands, never heard them!
Back to Cliff Edge Panic. Their one appearance on vinyl, right? Indeed. That was on a compilation titled "Comet EP One" released by Comet Records in 1986 according to Discogs (1987 according to Irish Rock). On the compilation there are 3 songs on each side, and we see Cypress Mine!, a favourite band of mine, on the B side. Also Slowest Clock, the band Dave Burke was to join afterwards appears on this compilation on the A side. Cliff Edge Panic appears last on the B side with the wonderful song "Girl on the Bridge". Other bands on the compilation are The Experiment, The Summerhouse and Baby Sex Priest.
I find a ReverbNation page for the band. Sadly there's no music for the band but an interesting bio which I'm copying here:
Originally known as Fractured Fairy Tales, Dublin rock band Cliff Edge Panic were an enigmatic five-piece that brightened up that city's live scene during 1986. Strong song writing from three members of the band – John Prendergast (guitar), and brothers, Ken (vocals) and Ger Corbett (rhythm guitar) – made for an impressive set. Mark Wills (bass), and Dave Burke (drums), who replaced original drummer, Geri, completed the line-up. Legendary Hot Press writer Bill Graham chose Cliff Edge Panic as the highlight of the all-day Comet Festival in August '86, and was a regular at the band's gigs in Dublin's Underground. Their only release was 'Girl On The Bridge' which featured on the first Comet EP, in early '87. However, the increased interest the band received, thanks to generous airplay and favourable press, was offset by the fact that they'd split up just before the record was released. Members of the band later resurfaced in The Train Walkers, The Slowest Clock, and Feargal Is The Applejack! In 2001, a limited edition, Cliff Edge Panic retrospective CD was released. The CD will be reissued in early 2011, to coincide with the band's 25th anniversary live shows.
Interesting! There was a CD released!! And I didn't know once again. Will I be able to find out now? And also someone in the band was in Feargal is the Applejack. Who was it?
Then I find the same bio on an Archive.org page. And what's even better I find another song by the band which I've never heard before, "Flower". You can check that here!
Later, a Myspace, where no songs stream sadly. At least I get to know some more song titles, "Secret Conversations", "Children (live)", "Soldier of Misfortune (live)" and "One Night in a Million (live)".
My next stop is the Irish Nuggets blog. There they put together a compilation on Spotify (the evil!) and Cliff Edge Panic is included. The cool thing is that a blurb was written for each track. Thanks to that we get to know a bit more about the Comet EP release, it says:
After relocating his record shop to the Temple Bar area of Dublin, Gorehound Brian O'Kelly did his bit for up and coming bands by releasing a series of various artists compilations. Named after the new record shop, Comet Records released a six track EP and a 14 track LP in 1987. 'Everything I Ever Wanted' by The Summerhouse and 'Girl On The Bridge' by Cliff Edge Panic featured alongside tracks by The Slowest Clock, and Cypress Mine on EP1, while 'There's A Mountain' by Backwards Into Paradise and 'Barbarous' by Cork band The 3355409s were highlights of LP2.
My last stop is a Facebook page for the band. Seems it was created last year, 2016, but it seems not to be maintained. Only one post of "Girl on the Bridge" is up on the page.  At least I got the pleasure to click on the Like button.
Back to the Feargal is the Applejack connection. I like this band a lot and I've meant to write about them on the blog. Maybe next week could be a good opportunity if no one gets in touch about Cliff Edge Panic, no? Anyhow, who was in both bands? I can't figure it out just yet.
The other mystery to be solved is that of the CD. The only information I could find was that John Prendergast issued the CD. I read that he also did a compilation CD for his other band Train Walkers as part of a degree course in media production. Both CDs were sold through his website but it doesn't exist anymore. What a shame.
This is where I hit a wall. I can't find out more about them. I figure that the compilation CD included all their recordings. I want to listen to that! Maybe someone can help with that? In the meantime I'll explore the other bands they were in. Could be fun!
::::::::::::::::::::::::::::::::::::::::::::::::::::::::::::::::::::::::::::::::::::::::::::::