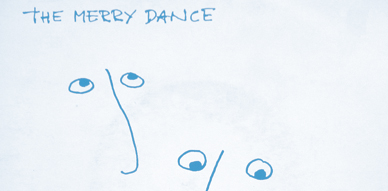 And I thought we were enjoying some days of spring here in New York. Today the temperature dropped to 6 degrees Celsius. Go figure. In any case it was a fresh morning to pass by the print shop and pick up the sleeves for the compilation "Envoys from Alexandria" that's coming out in a week or two. This compilation of course is bundled with a ink and paper fanzine, like the good old days. The new Cloudberry fanzine, printed in orange, containing 28 pages of pure indiepop, is the eighth issue and I'm very happy and proud of it.
The new fanzine includes interviews to many of my new favourite bands, bands that have been part or will be part of the Cloudberry family. Included in our catalog number 408 are interviews to Flowers, Tiny Fireflies, Pale Spectres, Je Suis Animal and Tripping the Light Fantastic.
And this is the 3″ CD tracklist:
a1. Hiro – Crystal Days
a2. Homecomings – You Never Kiss
a3. Je Suis Animal – Tale From the Sea
b1. Tiny Fireflies – If It's True
b2. Souvenir Stand – Wherever You Go
b3. Flowers – Hide and Seek
Pretty international compilation. France, Norway, Japan, the UK and the US are all well represented. As always, like previous fanzine releases, included are Cloudberry favourites and up and coming bands. I'm all for introducing you all the new bands I'm enjoying at the moment! I hope you like them too 🙂
If you are familiar with previous Cloudberry releases you'll find the usual sections, my editorial, the recommended listening column, the recommended fanzines and websites and the Cloudberry catalog. Not trying to re-invent the wheel here. Just a humble fanzine with the important things in indiepop! The things that matter!
Something that I feel important to mention is that the fanzine is not an extension of this blog. Some people might think that because it includes interviews. But the interviews in the fanzine are very different to the ones here. Whereas here, in the blog, I try to reconstruct the band's story, on the fanzine I try to find out the soul of the band, their ideas, their future plans, the small details that make them different to other bands out there. Does that make sense? Also of course you can't compare the format. Flipping pages is something else. And I don't print it in copy paper, just saying. But on a pretty fine quality paper.
I remember when I started drafting my first zine. It was around the last months of 2007. It was a time when there were a couple of people writing some. Mostly black and white photocopy zines. I thought I should do one, mostly as a vehicle to promote the Cloudberry bands in a format that is tightly associated to indiepop. As a record collector I have of course ended up collecting fanzines too. Especially those of the late 80s. And I said to myself, if I was going to make a zine, it should try to recapture that feel, the aesthetic, of the Woosh, the Turn!, This Almighty Pop!, or The Fine Art of Shoplifting, among others.
Did I happen to be successful at this? I want to think that I have. Up to a point at least. Of course the printing industry has changed. Doing offset printing these days is really not an option. So you have to go on and print color. Even if it's just one color as my fanzine is. That means it's going to be a bit pricey. Unless I print it in black ink (which I did once, on 405). The idea is to have a rainbow of fanzines, each to have it's different feel. So a blue fanzine came first, a red one second, a light green third, a purple fourth, a black fifth, a pink sixth, a dark green seventh and now an orange eighth.
The important thing in the end was to make something with quality, a design and aesthetic quality, which is something I really am very picky with. There's nothing more important for me than the packaging of all our releases. Because I can't understand those that having beautiful music decide to dress it in the most cheap-looking, and eye-appalling, packages. How could anyone for example put a gorgeous indiepop jingle jangle pop band in a slim jewel case? Is it laziness? Indolence? A lack of taste? I don't know. The scary part is of course that many times bands put it with it.
In any case it doesn't matter. The Cloudberry fanzine happily has been a success, all copies selling out pretty fast. It makes me terribly happy that people have been very supportive. Especially when fanzines feel like a dead medium sometimes. When blogs and websites are supposed to take over their print counterpart. But it's clear there are romantics out there that appreciate the feel of paper in their hands. To those people I promise to keep up doing fanzines and I hope, and I'm very positive, that there will be a new fanzine, the 9th, later this year.
————————————————-
It's been a while since I visited and covered an obscure band from Sweden. So let's do that now. It's one of my favourite places after all. I would move there in a blink if I could. Be with all the good friends I happen to have there.
Let's go back then to 1986. That's the year The Merry Dance released their one and only release. A private release with catalog AIM-001 that seems very obscure these days. As far as I know there were only 500 copies pressed.
The sound is very Felt-esque. It's quite brilliant. It's jangly, it has an organ, and the Japanese fans would definitely file this record under that broad term they have that is neo-aco.
The A side of this single is "It's Passed, it is Gone" and the B side is "You will See the Light". The artwork of the record is pretty minimalistic and a bit mysterious. Two pair of eyes, two noses. Two mouthless faces. Wonder if these drawings have any meaning.
Both songs were penned by Peter Rosén who also played the 12 and 6 string guitars, bass and vocals. Nicko Rölke played the Spanish solo guitar and did backing vocals. Henrik Af Ugglas played drums, hammond organ and backing vocals. And last but not least James Flach did backing vocals too. Because of this setup I tend to guess that they were more of a studio band and not much a live band.
This fine slab of 7″ vinyl was produced by both Rosén and Ugglas (who also engineered the record).
I have a wild guess that this might be the same Henrik Af Ugglas of The Merry Dance on Discogs. Clicking on the myspace link it confirms that he lives in Stockholm as well, and also on Discogs he has a release with the band Baby Snakes from 1987, meaning he was making music since the late 80s. So, are my suspicions in the right track?
The last bit of information to be found is that both songs were recorded in Stockholm in Spring of 1986.
Everything else about them seems a mystery. There's absolutely no other information about them online. so, if anyone out there has any other information about The Merry Dance, their whereabouts, what did they do after, if they had more songs, if anyone have any spare copies of this 7″, and so on, I'd love to know. Even if anyone has the B-side and would be kind to share it with me. I would love to hear it. I really enjoy this "It's Passed, it is Gone song".
See you next week!
::::::::::::::::::::::::::::::::::::::::::::::::::::::::::::::::::::::::::::::::::::::::::::::
Listen
Sleepwalkers – Honey Hunter