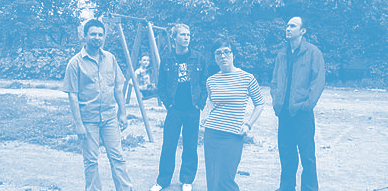 Okay popkids, 4 more days and the My Light Shines for You 7″ is out. Copies have already started shipping to everyone who pre-ordered it though. So if you want a happy Christmas why don't you order some Cloudberry Records this season?
This 7″ is the last for this year but worry not, there are a few surprises for the year to come. At the moment I'm working on one Cloudberry Cake retrospective by a Manchester band and three other 7″s which I will be announcing as soon as we have the art and the songs ready to be shared. So just wait a bit and you'll see what we have in store, it is very special!
Also I have to mention that from the 23rd of December to January 1st I'll be in Mexico. If there are any Mexican fans who would like some records please let me know and we can save in shipping by me bringing them to your beautiful country.
So what's new today?
The Perfect English Weather: Matinée has a new surprise for the end of the year. The Brighton duo of Simon and Wendy Pickles (from The Popguns) are releasing their second CD and it is titled "English Winter". It is a 4 song EP where the band changes a bit their style, less guitar-driven to a more electronic one, think Saint Etienne. The songs on the record are "Still", "Christmas in Suburbia", "Cold Out" and the Go-Betweens cover of "Dusty in Here". I could listen two of the songs on SoundCloud, "Still" and "Christmas in Suburbia", and they are gorgeous. Can't wait to have this at home on repeat. James Matinée, I need this!
Bradford: I mentioned some posts ago that the classic band Bradford were getting a reissue. Now I can finally share a link to that fantastic story. The German label A Turntable Friend who resurrected last year is putting "Thirty Years of Shouting Quietly" on both vinyl and CD. There are all in all 30 songs in total on the double CD, not sure how many on the vinyl (this one already is almost sold out, only 90 remaining as I write this post). Of course I'll choose the CD when it comes out on February 9th, 2018. The records come with a booklet with lyrics and also liner notes by Fergal Kinney from Louder Than War. It is fantastic to see this classic record being re-released!!
Pale Lights: the band who are releasing their second album very soon (Dec. 15) on the German label Kleine Untergrund Schallplatten has a 3 song taster EP titled "Jean, Bring the Flowers" on Bandcamp. And what can you expect? Well, beautiful guitars, timeless melodies, and classy lyrics. The New York (or is it fair to say the Brooklyn?) band keeps showing they are one of the few worthy bands in the area. The three songs on the EP are "Jean, Bring the Flowers" (which has a video), "Streamlined" and "The Soft City". This last song actually released many years ago on Cloudberry by The Soft City, Phil Sutton's previous band. I hope now that this EP gets a release, even if it is on limited edition CDR or something. I want my Calico Cat Records collection complete.
Dianas: a new discovery for me. A tape titled "Leave Love" by 2 girls from Melbourne, Australia. Nathalie Pavlovic and Caitlin Moloney. Now a 2nd pressing of 50 copies. 6 songs in total, "Intro", "Leave Love", "Heart of Me", "Somebody Else", "For All I Know" and "Priorities". The songs are dreamy, with surf textures and fine melodies. Don't know much about them but I see they have more releases other than this tape, the oldest dating to 2012. Well, I got late to the party. I should check them out.
Vacations: more from Aussie. This time from Newcastle. Again a new discovery for me. The band latest track uploaded to Bandcamp, titled "Moving Out", is a lovely jingle jangly track. Vacations are Campbell Burns, Jake Johnson, Nate Delizzotti and Joseph Van Lier. I had a very quick listen to their backcatalogue and I feel this might be their best track so far.
————————————————————-
I remember back in the early 2000s when there was this sort of rumour that Fotomoto were going to release on Elefant. I wasn't surprised by it. Their sound fitted perfectly with the Spanish label then. That never happened and the Ukrainian band didn't get to be a household name for indiepop fans.
I lost sight of them too. Only know that I'm being a revisionist, featuring bands from all corners of the world that they came to mind. And to my surprise they've kept busy in all these years. It is true that they are not exactly a guitar pop band, they are more of an electro-pop band, but when I hear songs as beautiful as "Lune" or "Chat", songs with a fantastic pop sensibility, I know Ukraine had to had an entry on my blog.
My first stop this time is not going to be Discogs, I will check that later, but the John Peel Wiki. Yes, the band did indeed record a Peel Session. But let's start from the beginning.
The group formed in 1999 in the city of Zaporozhye as a duo with Sergey Sergeyev and Anton Sigurov playing all sorts of instruments.
Zaporizhia is a city in southeastern Ukraine, situated on the banks of the Dnieper River. It is the administrative center of the Zaporizhia Oblast. Administratively, it is incorporated as a city of oblast significance and serves as an administrative center of Zaporizhia Raion, though it does not belong to the raion. Until 1921 the city carried the name of Aleksandrovsk after the name of a fortress that was part of the Dnieper Defense Line. After the establishment of the Soviet regime in Ukraine, in 1921 the name was changed to Zaporizhia (Zaporozhye), after the historical region Zaporizhia. Itself Zaporizhia literally means Trans-Rapids or beyond the rapids, alluding to the rapids which used to exist on the Dnieper River  at the time, before the construction of the Dnieper Hydroelectric Station in 1932. Currently the city is the sixth largest in Ukraine.
Ah! Would love to visit Ukraine one day! Anyways, the band would become a trio when Olya Volodina was to join on vocals, and then a quartet when Alexander Ivanov joined in 2002 to do midi and drum programming. Olya was to bring something special to the band aside from her vocals, Fotomoto's signature French lyrics. Why did she choose to sing in this language instead of Ukrainian? That'd be a good question to ask.
So how did they end up meeting Peel. Here the story says that a Mike Eardley, brother of a Rich Eardley from a band called Melys (which I've never heard), sent John Peel a demo of Fotomoto in the year 2000. Mike was distributing records by the Russian label Snegiri. This label had actually released Fotomoto's second album "Suranov, A?". Peel must have liked it as he played the song "Je Suis Fotomoto" on December 14th of 2000. In 2004 he would invite the band to record a Peel Session. The band took a 70-hour bus from Ukraine to the UK. Peel didn't get to meet them, but on his June 24, 2000, show  Peel said that he just missed meeting the group when they performed their session. However, he thanked them for their gift of a bottle of wine – "Tonight it's going to prove fabulously useful." (England had been knocked out of the Euro 2004 tournament that evening.)
So, what was their first album? According to Discogs it was a self-titled CD released by the Russian label Taiga Sounds (TS002) in 2002. The album had 13 songs which were "Sever", "Le Sport, La Musique", "Bogunskaya", "Le Passage", "Une Planete de Gopak", "La Lune", "Je Suis Fotomoto", "Bela", "Couquillage", "Ballado", "Le Melange", "Dino Zaor" and "Ma Faute A Moi".
That same year they were to release a split 7″ with the band The Workhouse. This limited edition record came out on the Jonathon Whiskey label  Hershel Whiskey 43). This label was actually under the operation of Norman Records, the Leeds record store that still is around to this day. Fotomoto was to contribute the song "Le Sport, La Musique" while The Workhouse had the song "Nancy".
Their second album came just a year after, in 2003 they put out "Suranov, A?" on the Лёгкие (Snegiri) label. Catalog was LG-035-2. This album had 10 songs in total, "Dances Et Popuski", "Saccharine", "Dolya", "Le Blat Ska", "L'Amour Africaine", "Hydrocomfort", "Goran Philips", "El L", "Uran Defense" and "Anonyme Infini".
In 2005 the Danish label CPH-Sound was to release what seems a compilation of 13 Fotomoto's songs under the title "Model". This CD had songs that had appeared on both their previous releases as well as some exclusive recordings. The tracklist included "Le Coquillage", "Passage", "Nord", "Lune", "Ma Faute", "Morozzzko", "Mélange", "Monster & Belle", "L.S.L.M.", "Zaor", "Planete de Gopak", "Vyuga" and "Les Nuits Géorgiennes".
They also had a bunch of compilation appearances. The song "Le Sport, La Music" was to appear on a few. It appeared on the 2001 CD comp "Лёгкая Осень" released by Лёгкая and on the 2002 "Лёгкие 2001 – MP3 Коллекция " CD-Rom compilation with MP3s on the same label. On this same compilation they had another song, "Morozko 333".
There is another CD-ROM MP3 compilation listed by the same label, "Лёгкие 2003". On this one the band had 9 songs! These were "Dances et Popuski", "Saccharine", "Dolya", "Le Blat Ska", "L'Amour Africain", "Hydrocomfort", "Goran Philips", "El L", "Uran Defense" and "Anonyme Infini".
This same format seem to have been popular for this label. They band was to contribute the songs "Sever" and "Edmund" to the CD-ROM MP3 compilation "Легкие Представляют: "Сезонная Серия" 2002″ released in 2003, and contribute the songs "Sever" and "Morozko 333" "Счастливая Электроника Легкая_Зима" released in 2007.
The song "Sever" also appears on the 2002 CD compilation "Легкая Зима 02" released by the same Russian label whereas "Morozko 333" appears on the CD comp "ElkaElka" released by them too in 2001.
They were to have some flirt with an indiepop label on 2001. The Italian tape label Best Kept Secret included one of their songs, "Monster & Belle", on a compilation cassette titled "We Are Not Alone Songs for the Lo-Fi Generation Volume 5".
The last compilation appearance I see is the one on the compilation "Вечное Лето" released by the Ukrainian label Stereo & Video (S&V 076) in 2004. Here they appear with the song "Le Blat Ska".
I look at any other credits the band members might have. I see only Olya has any other than Fotomoto. It seems she has writing credits for a Russian pop singer called Натали (Natali).
Youtube ends up being a trove of Fotomoto goodies. I find a video from 2009 for the song "Denis", the official 2009 video for the song "Chat" and them playing the song "Chat" at Duma Club in Moscow in 2008, playing the song "La Lune" at the "Harper's Bazaar" journal party on December of 2009, playing Ukrainian Fashion Week, and more and more.
There are a bunch of clips of them at the Shuzz venue in Odessa. I find videos for "Le Blat Ska", "Aligote", "Sever", "Une Planete de Gopak", "Kukushka" at the Shuzz venue in Odessa on May 2010,
There seems to be clips from another gig at Buddy Guy in Kiev too. I find clips for the songs "Bella", "Ballado", "Ma Faute" and "Edmund".
What else? Well there is even an article on The Guardian written by Matthew Collin in 2005 titled "Curious Orange". On the article Collinn ends up describing their sound quite right, he mentions that in their sound there are hints of Stereolab, St Etienne, Depeche Mode and Serge Gainsbourg. That there is a certain elegant charm and a quality of innocence. it is definitely a great article, worth taking the time to read it. It is not just about the band but also about the Ukraine.
Finally I find the tracklist of the BBC Session, "BBC Inc", "Be One", "Park Bun" and "Denis". Took some time. I also found out that the band were in Huw Stephens BBC show doing a session in 2006.
I also find a very old looking website being hosted at Mike Eardley's domain. Here is the link. There is a cool gallery of the band in London, visiting places like Rough Trade. Here I find too that the band played the Progress Festival in Ghent in 2005 as well as London's Spitz venue that December.
A 2007 blog titled "Filles Sourires" mentions that the band had made covers of songs like "Joe Le Taxi" and "Voyage Voyage". I want to listen to them!
But the there is not much more info about them. As they say, they weren't popular in Ukraine, that no one knew them in their home city, so it was going to be difficult to write many people championing their sound all over the world. I remember them fondly, I remember playing their quirky songs fifteen years ago. I lost touch and now I'm only rediscovering them. Whatever happened to them? The last date I found was that gig at Shuzz in 2010. What are they up to now? Anyone remember them? I should also try to get their records, maybe the Danish compilation is the best way to start? And was it true that they were going to release on Elefant??
::::::::::::::::::::::::::::::::::::::::::::::::::::::::::::::::::::::::::::::::::::::::::::::
Listen
Fotomoto – Chat