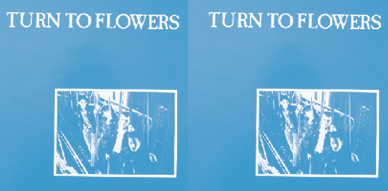 Thanks so much to Dave Jones and Matt Bolter for this fantastic interview! I wrote about Turn to Flowers a long time ago and they were kind to get in touch and tell me the story of the band! Now sit back and enjoy, it's never to late to discover a great band!
++ Hi Dave and Matt! Thanks so much for getting in touch and being up for an interview! You were telling me that you all are still around in different guises, so yeah, what are these guises? In which bands or projects are you involved these days?
Well, Matt is now a father and still very active in music – performing with his original songs band called Statedancer and a covers band called the Robbers. He writes and records regularly in his home studio. (music available on itunes – search for statedancer)
Dave is a now a doctor but is also still involved in music and theatre. He writes his own songs in his home studio and tends to get onstage acting, singing etc at any available opportunity!
Steve – sadly we've lost touch in all but Facebook – don't know what he's up to currently.
Paul – lives locally and works in multimedia. He did a couple of stand in stints drumming for us.
++ Let's go back in time. When did Turn To Flowers start as a band? And had you been in bands previously? Or was this your first incursion into music?
When did Turn To Flowers start as a band? Formed about 1983. We'd all been in a couple of School bands and there was one early incarnation with Matt, Steve and Paul called the Misistry. We were all self taught except Dave who had learned the piano from an earlier age.
++ What inspired you all to have bands, play music? What are the first "music" memories you have?
Matt: I always wanted to get up there and "do that" – especially if I heard something that was crap and I thought "we could do that better".
Dave: The desire to get up and perform really. Loved the vibe of playing live.
Matt: Let it Be (Beatles), Trex, Slade, the Sweet.
Dave: My brother (completely a-musical) taught me a healthy love for heavy rock – ACDC, Rush, Deep Purple, however being  younger was a child of the 80's – so was brought up on a healthy dose of 80's cheese – new romantics and indie etc.
Although these were earliest memories our influences were taken from Beatles, 60's psychedelic, funk, Jazz, Punk, Blues, some classical.
++ So how did the band come together, how did you all know each other?
Matt met Steve and Paul at college and they were looking for a keyboard player. Matts girlfriend at the time (Sue Lees – the sort of "Janine" in the relationship) knew Dave and introduced them. The band started rehearsing in a old (derelict) village hall in Partington, Cheshire – it barely had floorboards. We started doing small gigs around Manchester (The Boardwalk, Jilly's, Middleton Civic (often playing with the Mock Turtles), the Green Room, Band on the Wall, PJ Bells, The Roadhouse and other smaller venues).
++ What about the name of the band? Where does Turn to Flowers comes from?
Turn to Flowers comes from the fact that we were about to give a tape to someone, and we didn't have a name. The song "she turns to flowers" by The Salvation army who later became the Three O'clock was playing – so it was just plucked from that. Crazy.
++ Tell me about Manchester. It must have been fantastic living there in the 80s with the amazing amount of great bands in town. Plus you had the Hacienda of course. How did you like it there? What were your favourite local bands? and where did you usually hang out?
Yes it was fun time and there was so much music going on – it's a bit weird that when you're there, you don't quite realise the significance of the emerging bands and the emerging Manchester scene. Later on, the Stone Roses emerged and we were big fans of them. Ian Browns brother used to play tambourine in TTF for a while – he was like our "Bez" character. Apparently Ian used to think that we'd get signed before the Stone Roses – but we now know they were signed and became massive.
++ And compared to these days, would you say that Manchester has changed for better or for worst?
Definitely the worse. The music scene is nowhere near as vibrant as it once was – there are precious few live music venues these days. There are lots of big club nights but many of the band venues have ceased to be.
++ You only released the one EP on Imaginary Records. How did you end up signing with them? Were there other labels interested?
We basically did the old thing of sending tapes to record companies and got picked up by Imaginary. They had a few bands on the books including the Mock Turtles who also released EP's at the same time. We also recorded a version of the Kinks "Village Green Preservation Society" which was released as a Tribute to the Kinks (Shangri La) on Imaginary. We felt proud of our version! Sadly we don't have a copy of this anymore. If you get one – let us have a listen!!
++ Tell me about this EP. Care telling me a little about each of the songs on the record? And which one is your favourite?
People Change like the weather: Probably our most popular song. It's about a relationship breakup – like many songs.
On Her Own: This is a song about the same person but was originally written for a college play. There was a theme about dolls marching – therefore the marked riff. We would have loved to do this with a real cello/orchestration.
Listen to the deadman: "Pure gobbledygook" (Matt's words). Written like they're meant to mean something – but they don't!
++ And you were also telling me that there are many more Turn to Flowers songs. Will they ever be released? And why weren't these songs released back in the day?
Well we were due to release another EP – but for one reason or another with the record company (mainly money), we never got the chance. Maybe we should think about putting the others on itunes – better that than letting the tapes just degrade.
++ What do you remember from the recording sessions of the EP at Suite 16 in Rochdale? How was that experience?
That was a great and fun time. We had an engineer called CJ who was great fun. I (Dave) personally remember laughing a lot, but also caught up in the excitement of our first proper recording sessions – we wanted to make a really good record – but we have a damn good laugh along the way. Suite 16 had been used by lots of major bands (New Order, Joy Division, A Certain Ratio, Happy Mondays, Railway Children) so it felt pretty exciting to be in such esteemed company. We had access to New Orders "Emulator" (a true vintage keyboard) – which they had used to record "Blue Monday" on there. We used their cello samples for On Her Own and also used some guitars from the Chameleons – particularly their 12-string.
++ Maybe there were no more Turn to Flowers releases, but perhaps you appeared in compilations? Do you remember if you ever participated in any? Maybe in those 80s tapes that were given away with fanzines?
See above about "Shangri La" – tribute to the Kinks. We'd love to get hold of a cop of that! Our first CD.
++ And talking about fanzines, how did you like that culture in the late 80s?
We really didn't go into the fanzines. It wasn't a big thing for us at the time. We paid some lip service to the NME and Melody maker – but their reviews just tended to annoy (often being overtly negative – and reports written by non-musicians).  At least the fanzines would tend to have an enthusiastic and positive viewpoint in stark contrast to the music press.
++ And what about a scene. Did you ever feel part of one?
Not especially – although we did feel an allegiance with the other Imaginary records signings. Especially the Mock Turtles – as we did so many gigs with them.
 ++ Let's talk about gigs. Which were your favourite and why? Any anecdotes you could share?
Dave: one of the best ones was when we were in the ascendancy and we were asked to headline a gig (at the Green Room) and the Mock Turtles supported us! Martin Coogan wasn't happy about that – he always felt they were the better band. Other great gigs were at Manchester Uni (when we were supported by the comedian Steve Coogan (now a film and TV star) – who is Martin Coogans (Mock Turtles) brother. It was brilliant to think weve been on the same bill as Steve Coogan!!
Probably the highlight was supporting the Stone Roses at the Powerhaus in London (Islington). This was just as the Stone Roses were breaking through and a time when we were really starting to motor ourselves. It was an exciting time.
++ And then what happened to you guys? When and why did you split?
Gets a bit complicated. We had another guitarist involved (Mike Anderton) who took lead and we continued for approx 1-2 years without any further signings or record deals. There were a few "musical differences" emerging but the band had probably just run its course. Rather than splitting, we sort of ground to a halt!
++ After Turn to Flowers you were involved in Black Fat Cat and The New Originals. Care telling me a bit about these bands?
Yes – Dave had gone off and formed a band called The Elysian Fields. The line up was Sean (vox), Paul Lockett (guitar), Andy Treacy (Drums – he now plays with Faithless) and Colin Robb (bass). After this, Dave and Colin teamed back up with Matt to form Fat Black Cat. We auditioned for a drummer and a female singer and soon enough we were joined by Helen Garner (drums) and Alison Donohue (vox). We probably had a lot more success in terms of big gigs with FBC. We had two UK tours with the Australian Doors Show which took us to all the major venues around the UK from Aberdeen to the London Shepherds Bush Empire. Although we released our own EP with FBC, we were never formally signed. The New Originals was a band we formed as a covers outfit to fund our touring costs. It worked really well and actually outlived FBC by many years. We only really stopped playing with the New Originals in 2011 – when our dear friend and band member Colin died at the age of 47 from Oesophageal cancer. We have done one or two "special" gigs since then but it was very difficult to carry on after losing Colin. Matt has since formed a new covers band called The Robbers (in memory of Colin) and as mentioned above is still actively writing and playing with Statedancer.
++ These days, aside from music, what other hobbies do you have?
Dave is doing more and more with the theatre and loving it. Matt has a new love for eating salad and exercising – something very alien to him when we were playing in Turn To Flowers!
++ So, are you a United or a City fan? Who were your favourite players ever in your team?
Dave: United. All the way. About to win our 20th league title. I'm a season ticket holder. We have had SO many brilliant players – my personal favourites are Cantona, Roy Keane and Andre Kanchelskis. We have a very rosy future – but our inspiration manager Sir Alex Ferguson can't go on forever. It's going to be a terrifying time when Fergie finally goes. Matt hates "dull ball"!
++ One last question, what would you say was the biggest highlight for Turn to Flowers?
Well it has to be the first time we saw our record in print and supporting the Stone Roses In London. Definitely!
::::::::::::::::::::::::::::::::::::::::::::::::::::::::::::::::::::::::::::::::::::::::::::::
Listen
Turn to Flowers – People Change Like the Weather