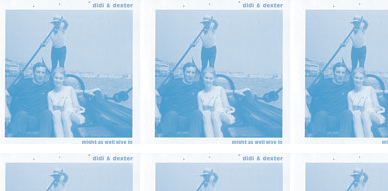 This weekend the 3rd Lima Popfest will happen at the Peruvian capital. This year they have expanded the countries represented and along Peruvian, Chilean and Argentine bands, this year they will be hosting bands from Mexico and Uruguay as well. As I'm not that familiar with many of these bands let's do a small review about each of them!
Let's do it in order then, as there are two nights, Friday and Saturday, let's start on Friday the 29th.
Indiependencia – shame this band has such a terrible name. This trio from Lima is formed by Jessica, Paolo and German. The first song I hear from them on Soundcloud is a cover of La Bien Querida, a favourite of mine, so they win points immediately. Now I want to hear their own songs. Luckily there's a lot of them online, and even though I don't enjoy them as much as their very good cover, they are really enjoyable, especially their upbeat songs. I feel it's a good choice to have this band opening the festival, they should start setting the tone for a good party.
Las Tetris – this band I have already reviewed in the past in the blog, so I'm quite familiar. I highly recommend them as I think they are the best indiepop girl group in Peru at the moment.
Blind Dancers – not exactly indiepop but more of a synthpop band from Lima. It seems it's the project of just one man that goes by the name Lu Falen. They have an EP called "Parallel Time" released on Hype Records (great label name too, not). I'm not much of a fan of this sort of music though, so instead of complaining, I'll move to the next band in the Friday lineup.
Eva & John – well, my favourite Peruvian band for the last 4 or so years. I've talked extensively about them on the blog so many of you might be familiar with them. I've seen them twice and they are a treat to look and listen. Hoping that they will release something new soon. A true favorite and not to be missed.
Buried Under Stars – a well known indie band from Mexico City formed by Mauricio, Gabriel, Hector and Linda. Sometimes indiepop, sometimes powerpop, sometimes very lofi, but most of the times I'd categorize them as an indierock band. They have released an album last year called "Soup is Food" and that's what I'm listening right now. I'm not sold though.
Nubes en Mi Casa – a beauty of a band that comes from Buenos Aires, Argentina. Their last album, "Me Suelto y Vuelvo" was at heavy rotation at my place a couple of years ago. And not just because I did the artwork for the Peruvian/Worldwide edition that was released for Plastilina Records. It was because of the strength of their songs, their music, their lyrics. A charming record, pure pop class. Hoping for a new release this year. Peruvians are lucky to be able to see them at their turf. I guess I will never see them living in NYC. Great GREAT band to close the first night of Popfest.
Now onto Saturday then.
Psilosis – I hear this is a kind of a new band from Lima. I only found two songs on their bandcamp. And they are quite a nice surprise. I like the boy/girl vocals on their first song "Hey Chica". It's not exactly Los Lagos de Hinault, but it reminds me a bit to them. I don't know much about them but the two songs sound good. Good opening band for Saturday then.
Astronaut Project – an odd name for a pop band I think. This is the solo project of Peruvian Alberto Zegarra and he dives into the dreamy side of pop with electronic beats. It's nice and soothing. He sings in English. And last year he released a 7 track album which you can listen to entirely on Bandcamp. I expected something I wouldn't like because of the band name, but I'm really liking the music!
AtaquepolariS – a band from the border city of Arica in Chile. Never heard them before so I head to their soundcloud. The band is formed by Seba, Diego, Piero and Luis. I'm definitely curious, as I've only heard bands from Santiago, the capital city. But then, the vocalist comes and I get disappointed. He is too shouty for my taste! Music is alright though. but the vocalist. I can't. I can't.
Fútbol en la Escuela – another Lima band, formed by Sayo, Edgar, Blanca, Ricardo and Carlos. They are rapidly becoming one of Lima's favourite indie bands. I find them alright, I'm not head over heels. I think my problem with them are their influences. I feel they listen too many Chilean and Argentine bands. And not the ones I'm a fan of!
Julen y la Gente Sola – a band from Montevideo, Uruguay. I'm not familiar at all with the scene from that country. So it's a total surprise to find myself listening to their bandcamp. I'm streaming their eponymous album released in 2014. Bedroom pop, sometimes a bit folky, sometimes more indiepop. And now I actually do like the vocalist. A nice surprise this band, never heard them and they sound fresh and exciting, with "Trotsky Vengarán" as my favourite track.
Patio Solar – the band that will close the festival comes from La Florida in Chile. They seem very popular as I was looking at the Popfest event page and people were really excited about them when they were announced. So I'm listening to their latest effort, dating from 2015 and called "Temporada". The guitars are definitely the best part of their songs. Chiming and luminous. Catchy tunes, boy/girl vocals, so of course, I'm enjoying this. A good discovery by the Popfest people.
And that's it. Two nights of pop music in Lima. I won't be attending, but I'm glad I got to discover a bunch of new music through them. All of you attending, have fun!
————————————————–
Dexter's Laboratory (commonly abbreviated as Dexter's Lab) is an American comic science fiction animated television series created by Genndy Tartakovsky for Cartoon Network, and the first of the network's Cartoon Cartoons. The series follows Dexter, a boy-genius and inventor with a secret laboratory, who constantly battles his sister Dee Dee in an attempt to keep her out of the lab. He also engages in a bitter rivalry with his neighbor and fellow-genius Mandark. The first two seasons contained additional segments: Dial M for Monkey, which focuses on Dexter's pet lab-monkey/superhero, and The Justice Friends, about a trio of superheroes who share an apartment.
So Dexter and Dee Dee. I'm sure many remember the cartoon. But does anyone remember a Swedish band from Malmö that went by the name Didi & Dexter?
I had totally forgotten about them until late yesterday night while I was arranging some loose Mp3s on the computer. I saw the song "Amy Song" and played it. And I was like, wait a moment, who are they? this sounds really good! Suddenly some memories starting coming back and I'm pretty sure it was my Serbian friend Nikola who introduced them to me.
I went online to try to find any information about them and of course, there was so little. Last.fm has 15 songs by them listed. They are: "Love Hurts (But Not that Much)", "Dress Rehearsal", "Amy Song", "Fell From a Bridge", "Feel New Flavor", "Walking Out on Love", "Hand in Hand", "Holly would", "Youth Stop", "Morning Love Summer Ends", "I May Hate You Sometimes", Heading Home", "Dream City Motel", "17/17 Friends" and "Aranda de Duero".
These songs come from two albums, one called "Might as Well Give in" and "Starting Over".
The song "Love Hurts (But Not That Much)" is the one that has been listened to the most. Something that would explain this is that this song was also on the compilation "Blackbean and Placenta CD Compilation #4, Autumn 2000". On this compilation, on the US label Blackbean and Placenta (catalog BBPTC 144), this song is the 10th song on the tracklist. Other names that appear and that we are familiar with are Girlboy Girl, Rabbit in Red, River, Lunchbox, Nixon and Boyish Charms.
I found out too that Indiepop.it had this same Didi & Dexter song on their free download compilation on 2004. I found also a mention to them on the 2003 Twee.net Poll. Just one. But still.
Then after some more Sherlock Holmes investigation I hit some important facts.
Popkfakta.se will tell me more about their first release, a demo CD. That one is "Might as Well Give In" I mentioned earlier. A photo of a couple on a gondola in Venice is the cover for it. The tracklist for it is:
1. Feel New Flavor
2. Love Hurts (But Not That Much)
3. Holly Would
4. Dress Rehearsal
5. Amy Song
We also find the band members names: Andreas Tursell, Maria Lindgren, Sebastian Fonzéus and Tobias Johansson.
The mixing and production credits go to both Andreas and Sebastian.
Then Discogs will give me more information after typing Didi "AND" Dexter isntead of Didi & Dexter, their original name. We find that in 2003 they released a 7″. That one is the "Starting Over"that Last.fm had listed.
4 songs in it, "Walking Out on Love", "Hand in Hand", "Morning Love Summer Ends" and "Fell From a Bridge". Here we notice that Maria has left the band and has been replaced by Ulrica Kristhammar. The rest of the band is the same. The year was 2003 and it was released on a label called Jetboy Recordings (catalog JR004).
This same label had released before a 7″ by a band called Les Royales de Kiefers and a CDR compilation called "19 Ways to Get Back Home".  Some familiar names on this comp, like Rabbit in Red, The Maulies, Brittle Stars, Laura Watling, and more. How come I've never heard of Jetboy Recordings before?
As Andreas and Sebastian seem to have been a working team, I look up for both of them. I find they had been during the past decade on a Malmö band called The Bells. There are a bunch of songs uploaded on Youtube.
Now I feel I really want both their releases. Where can I find them? I've only heard two songs by them so far, "Love Hurts (But Not So Much)" and the one Im sharing with you, "Amy Song". Both being so good! Does anyone can share with me the rest? And does anyone remember the band at all? Did they play live a lot? Did they tour Sweden or other countries? What are the band members doing now? Would be cool to find out!
::::::::::::::::::::::::::::::::::::::::::::::::::::::::::::::::::::::::::::::::::::::::::::::
Listen
Didi & Dexter – Amy Song