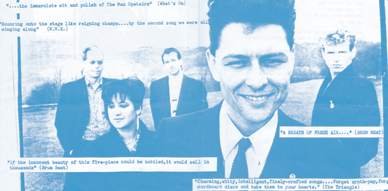 I wrote some months ago about The Man Upstairs on the blog. I love this band and I was terribly happy when Nigel got in touch with me! Immediately I asked if I could interview him and learn more about the band as there isn't that much written about them online. He agreed and here we are! Looking forward definitely to that retrospective album that The Man Upstairs are working on!
++ Hello Nigel! Thanks a lot for getting in touch and for the interview! It's so cool that The Man Upstairs have a website with so many goodies, especially all those songs available for listening. Thanks so much for that! Since when has it been up and who maintains it?
It is a fabulous site but I have no idea who put it together or who maintains it. It must be a secret!!! I would love to be involved.
++ There are so many questions about The Man Upstairs, but first I want to ask you about a 7″ single that Discogs lists as yours with the songs "Summa" and "Gospel According to Mark". This record doesn't appear on your website. What is this about?
This 7 inch single appeared on the now defunct Clockhouse Records in 1982 and was recorded at Keele, Staffordshire. Side one featured a Cure inspired track written by Rodney Blake: he named the song after his girlfriend 'Summa'. It was Rod who originally formed the band with bass player Graham Sharp. Side two is a song written by myself and Rod about a local guy, Mark, who was obsessed with fashion and posing!! We screen printed the covers ourselves and sold out in a few weeks. This led to a deal with Birmingham based company Graduate Records who also signed UB40 and The Chameleons. Although we recorded several tracks for Graduate the company folded before any were released.
++ So let's start from the beginning. What are your first musical memories from when you were a kid? Who or what influenced you to be a musician?
My first musical memories are from school in Kent when I used to make up lyrics and tunes about my mates. My parents listened to Frank Sinatra, Johnny Cash and had a Dansette record player. I remember my Dad coming home with a Kinks record and my mum hating it: I loved it!! The first single I bought was Rocking Robin by Michael Jackson and first album was Fog on the Tyne by Lindisfarne…work that one out!! I always wanted to be a singer-songwriter and finally got the opportunity at university when I met Rod and Graham. It was Punk and New Wave that inspired us most. I remember hearing The Sex Pistols and was blown away and when I heard Joe Jackson's Sunday Papers and his brilliant lyrics I finally knew that songs didn't have to be about love etc…you could really say something and get it off your chest. Song writing is the best therapy!!
++ And who was first Terry and Gerry or The Man Upstairs? Just trying to get the chronology right. And had you been involved in any other bands at the time already?
The Man Upstairs was first but the bands overlapped for a few years. My first band was a punk outfit called Private Public formed in 1977. We came last in a Stoke on Trent band competition, but got 10 out of 10 for star quality!! The other groups were all prog' rock or AOR.
++ How did The Man Upstairs start as a band? Who were the members and how did you all know each other?
I was playing a gig with Private Public at Keele University and Rod and Graham were there. They were looking for a singer for their new band The Man Upstairs and I jumped at the chance. We were all students and had the same taste in music. We loved the Cure, XTC etc and wanted to do something different from the bands around the Midlands at that time. Rupert Knowlden was recruited on drums and the line-up was complete. We had a keyboard player for the first concert but he didn't fit in. We played all over the country and moved to Birmingham in 1983. When Graduate Records folded Rod and Graham left the band: myself and Rupert took a new direction with the help of co-lead singer Carolyn Bennett, Tim Simpson on bass and Alan Smyth on guitar (Smitty later produced The Arctic Monkeys). We stripped the sound down, added a jazz tinge and sweeter harmonies. Once again it was a change inspired by dissatisfaction with the bands around at the time and our collective musical interest.
++ Why the name The Man Upstairs? Where does it come from?
Graham Sharp came up with the name. It is a nickname for God!! He even wore a dog collar on stage as a punk metaphor!!
++ You were based in Birmingham. How was your town then? Were there any like-minded bands? What were the good venues were you used to hang out?
It was a fantastic place in the 80's and still is now. There were some fabulous bands such as The Mighty Lemon Drops, Mighty Mighty, Ruby Turner and the venues were vibrant and packed. The best ones were Peacocks, The Click Club, Holy City Zoo, Barbarellas. There was a great music paper Brumbeat which fuelled the new music of the time and promoters like Dave Travis (later Oasis's Midlands promoter) who were essential to the scene. The radio stations were brave enough to give airplay to local and underground bands…wish that was true now!! We all hung out in the pubs in Moseley, Gas Street and mainly at the Click Club. I met my wife there when she was being chatted up by Edwyn Collins (previously from Orange Juice)!! I am very lucky to have been in Brum at that time.
++ In 1985 you released the "Sad In My Heart" 7″ on Sideline Records. Who were they and how did you ended up in this label?
Sideline Records were part of the Cartel, along with Cherry Red, Rough Trade, Intape and a bunch of other brilliant indie labels. They also had a connection with Red Rose Records in Paris and someone from there saw us at Rock City in London and that's how the deal came about.
++ I think the B side, "Country Boy", is such an amazing song. I was wondering if you could tell me the story behind this song? And also what do you remember about the recording session for this single?
At the risk of sounding pretentious it's a song that explores and challenges the expected roles of men and women in relationships: hence the lines 'She wears a tie' and 'With his hands in the sink'. As with all the music I write and like I try to see things from a different angle. I also love washing machines which feature a lot in this song. The 'Country Boy' reference is based on a guy I knew who had just moved to Brum from a small village and the culture clash he experienced. It's also a reference to Country Music which at the time was very unfashionable but we loved it!! It's the only song I've ever come across with the word Swarfega in it: used in garages..thought by some as the domain of men: but not us.
I seem to remember the recording session was at Smitty's studio in Sheffield. It didn't take long to put down and we were all excited that it turned out so well. We went for a curry afterwards and I got food poisoning!!
++ Just afterwards you released the "Consumer EP" and the "Consumer Song" 7″. Why was this song, "Consumer Song", released in two different formats and versions, and even with two different sleeves?
? It was Sideline's idea to exploit two different markets: UK and Europe. I am very proud of both and Carolyn does a fab job singing. Somewhere there is a version of me singing Consumer Song too.
++ For this record there has been some changes in the lineup. What happened?
What happened was Terry and Gerry! I had co-founded the band with Terry Lilley, at first as a bit of fun but it took off in a small way and we were soon doing John Peel sessions, appearing on TV shows and playing all over the UK, Europe and America. I could not commit as much time to The Man Upstairs as I wanted to so I reluctantly left the band. It was a bit upsetting for everyone but the band continued and developed. Carolyn and Rupert re-jigged the band: Mick Vousden replaced Smitty and Chris Jones came in on bass. I think it was a fab line-up.
++ I like the artwork for all of your releases, I was wondering how much of control did you have over that?
Total control. That is the beauty of indie labels. The cover for Consumer Song 7' was s skit on the T.V advert at the time where a hunky guy shrinks his jeans in the bath: in keeping with the blind consumerism theme of the song.
++ On the website there are songs dating back to 1982, 1983. A bunch of these demos never got around to be released. But I was wondering, as it was the fashion of those times, were these released in demo tapes perhaps and sold at gigs?
We never thought of selling demos at gigs: I don't know why. There were some bootlegs knocking about but as with all bands like ours we didn't think commercially: we just wanted to play our music and have fun. In the last years we did sell the vinyl.
++ Also there is an unreleased album from 1988. It included 13 songs. What happened to it? Why was it never released?
It was a compilation of everything we had recorded and will be released next year. I am in the process of putting the wheels in motion.
++ Was there any major label interest in the band?
All the majors came to see us at some point and we did meet with several suits in big offices but it never happened. I think we were a risk, too indie and to be honest didn't care that much for corporate music. We were, and are, an indie band. The money would have been nice though!!
++ From this huge amount of songs you recorded, which were your favourite songs and why?
'Sad in My Heart' and 'Country Boy' are great because they cemented the new direction of the band after Graham and Rod left. My total fav though is 'Don't Be Afraid of the Dentist' because it was made into a short film which featured the band, myself and a potato!! I'm proud of all of the records and the musicians on them. 'I Bet They're Missing Me Downstairs' is another favourite because it's about my old flat and feeling lonely.
++ And just out of curiosity, are there even more recordings other than all the ones on the website?
Yes. They will be on the new CD.
++ I read that you were an opening band for The Smiths. I'm sure many would be very curious about that experience. Any anecdotes you could share?
We toured with the Smiths in 1984 or 85: I can't remember. They were so good to us and so helpful. It was a fabulous experience, from Johnny Marr coming up to me and Rupert to tell us a bunch of girls wanted our autographs, to Morrissey appearing on BBC Radio One and reviewing our single with the words 'I know these people , we have toured together and they are great.' Their audience at times wasn't the most appreciative but it was an unforgettable experience.
++ What about gigging in general? Did you like it better than going to the studio? What were your favourite gigs with The Man Upstairs and why?
I prefer live shows to studio sessions but the two go hand in hand. There were loads of memorable gigs with TMU but Durham springs to mind. We played at 4.00am at an all-night Festival and our rider was a crate of champagne. We got to the venue at 3.00pm so you can imagine what state we were in by the time we went on. Rupert went to the toilet halfway through a song!! We were so different to many bands at the time in that all the gigs were well received. The MAC Arts Centre in Brum was another great night: not boasting but the audience wouldn't let us leave the stage!!
++ Is there any gig you played that was so bad that you think is better to never remember?
No not really, but I've probably seared it from my memory. In the early days with Graham and Rodney we played with a couple of bands from Liverpool and ended up fighting with them in the dressing room. Not pleasant but we won.
++ David Travis commented on my blog post saying he was the band manager, taking photos and shooting the videos. How was that experience with him? And which videos are these he talks about? And where are those videos? Certainly not on Youtube!
Dave Travis is a fabulous photographer and promoter. He worked for Graduate Records at the time and shot a video for 'I Only Work Here'. It will hopefully appear on YouTube when the new CD comes out. Dave has just done a new session with Terry and Gerry and we are still mates. He was more than just our manager, he was like a member of the band. He has an exhibition in Birmingham at the moment called 'The History of Alternative Music' at The Parkside Gallery, Birmingham City University which features pics from the 1970 onwards of indie bands and venues.
++ What about the press and radio play? Did you feel there was good support for the band?
The companies we worked with did a good job and employed pluggers and press people but I think we could have got more coverage. It's never too late though? We got a lot of coverage in Japan but never went which is a real shame.
++ Were you involved at all with the fanzine culture that was very important in the UK during the mid eighties?
To a certain extent, but what's frustrating is that I have no copies anymore. Fanzines, in a pre-internet era, were the underground way people got to know new bands, and without them there would have been no new movement in music. Sites like yours are doing the same job for a new generation…Wonderful.
++ When and why did The Man Upstairs split? What did you all do afterwards?
After my departure in 1986 the band continued but the guys drifted apart and wanted to do other things. It seemed at the time to have run its course, as had the vibrant venue scene and bands in Birmingham. Raves and Dance Music were the new fad and a lot of the old venues closed or hired D.J's instead of bands. Carolyn went to live in France, Rupert now promotes bands in the Midlands, Tim Simpson still plays bass, Alan Smyth produces bands and writes fabulous songs, Graham Sharp is a top lawyer and still plays bass, Rodney Blake is teaching as well as playing trumpet and guitar, Mick Vousden is still playing and Chris Jones is involved in The Arts.
++ Are you all still in touch? What are you doing these days? Still making music?
I saw Rupert when my band supported Status Quo in Wolverhampton last year and I'm still in touch with all the guys although we haven't met up for ages. I have fond memories of The Man Upstairs and would love a reunion.
In the early 1990's I worked in Nashville as a professional songwriter and back in the UK collaborated with Alison Moyet, co-writing on an album project. I also penned numerous TV themes, three musicals, two film scores and wrote and presented for BBC Radio 2. My band at the time, 'Gerry Colvin's Inexperience', was a fusion of Soul, R and B and Folk-Country and we became a firm favourite on the College circuit.
In 1993 I formed the folk-pop band 'The Atlantics': we toured extensively including a slot at Glastonbury Festival, where I was also M.C, and appeared on BBC's 'Pebble Mill at One'. My other major project at this time was film music as vocalist with 'The National Screen Orchestra'; I also performed as a comedy double act with Hollywood superstar Mackenzie Crook.
In 1995 I co-founded the five piece folk band Colvinquarmby. We released six critically acclaimed albums and were voted best band at the prestigious Fairport Convention Cropredy Festival in 2009. In 2010 we won the Hancock Award for 'Best Live Folk Act'. In May 2013 I was invited by New York producer and Robert Plant song collaborator Dave Barratt to record 'Revolution' for the 'Beatles complete on ukulele' album and website.
In 2014 I released a self-penned solo album 'Jazz Tales of Country Folk' and have just put out my new CD 'Six of One half a Dozen of the Other' which features ten brand new original songs.
In 2015 I became President of The Knitted Character Folk Festival, an annual celebration of alternative Folk Music and Knitting in Warwickshire. UK. This year's event takes place on June 4th. www.knittedcharacterfolkfestival.co.uk it's a mad event where the audience listens to great music and knits!!!
In 2015 I reformed 'Terry and Gerry' and was invited to support Status Quo on a nationwide tour. Terry and Gerry also appeared at Glastonbury this year following the release of their new EP 'Dear John'.
As well as my new album I am working on a book 'The Rabbits of Zakynthos' due out later this year and a Man Upstairs compilation CD.
++ Then aside from music, what other hobbies do you have Nigel?
I love going to gigs, discussing The Prisoner, and drinking!!
++ Looking back, what would you say was the biggest highlight for The Man Upstairs?
Playing some great concerts, getting a record deal, touring with The Smiths and still being remembered by a select few all these years later. I'm hoping there will be new highlights in the future too!!
++ Let's wrap it here, though first I usually like asking this question. Are you still based in Birmingham, if so, and if you don't mind, I was wondering if you could suggest the sights, places, bars or restaurants that one shouldn't miss if you were to visit your town?
I now live in Stratford upon Avon which is not far from Brum. If you visit Birmingham don't miss the Canal Basin in Gas Street (The first street ever to be gas lit), Moseley Village for bohemian bars and shops, The Ikon Gallery in Broad Street and for music The Hare and Hounds or The Kitchen Garden Café, both in Kings Heath. Hope you visit soon and catch a gig.
www.gerrycolvin.com
++ Thanks again so much! Anything else you'd like to add?
You are an absolute STAR. Keep up the great work.
::::::::::::::::::::::::::::::::::::::::::::::::::::::::::::::::::::::::::::::::::::::::::::::
Listen
Man Upstairs – Country Boy