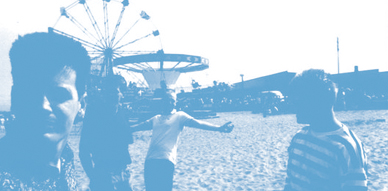 Not a bad week in Cloudberry-land. Boxes of every size and envelopes of all kind of colours have been arriving at home. Records, books, and especially Cloudberry release parts have been showing up.  Today I even met the UPS deliveryman at last. He joked about all these boxes he has always been leaving at my door, he wondered what kind of hoarder I was. Today he brought a box full of inserts for The Spook School. Three inserts for your price. The usual Cloudberry catalog insert, a lyrics sheet and a story written by our Scottish friends.
The fanzine is shaping up nicely. I received the song that Caucus will contribute for the CD compilation and it is great! Now just missing one song and we are done. For the printed zine, I'm still missing the editorial piece, which I've been struggling a bit as I really want to write something positive and not some tearjerker about what I've been through in the recent months. I'll come along I know. And also missing some interview answers from a couple of bands. The rest is done, and it feels great. After a little more than a year I'll have a new fanzine.
While I find myself listening to The Stone Roses, which is a bit odd, I get an email from Nixon. The mixes are ready and the 7″ is moving forward. I should receive them shortly, and well, send it to press at last! These coming months are going to be the busiest for Cloudberry! So many releases coming out! I feel quite refreshed about the indiepop scene these days I must say, like back in 2007! I've started socializing again, making new friends, expanding this network of indiepop fans, and meeting new people all over. I have noticed that there is actually many young people that like indiepop, new people, new blood. This used to worry me a bit, thinking there wasn't a new generation coming up, that will step up, but I think there will be.
On the Starke Adolf front, I've made some progress. Not as much I would have liked to, but I've got a couple of replies from bands, and some have already provided me songs. I'll have to keep pestering the rest. The Meta Band, The Happy Birthdays and Aerospace are in. There are some other bands that have confirmed that they'll be in, but until I haven't received their songs I won't announce it. But now I should start working on the artwork for this release!!
This past weekend my mum left New York too, and that means, that I'll miss her a bit sure, but it mostly means I'll have more time too to work on things.
Shamelessly though, I did buy the new Pro Evolution Soccer for the XBOX and that's keeping me away from working on indiepop stuff for the past few days. It's quite addictive. When I was a kid I wasn't supposed to play much videogames, but that was ok, I enjoyed playing footie or basketball. I wasn't supposed to stay late either. Though I did on Sundays watching the football highlights show. I do both things nowadays.
And after the Jesus and Mary Chain gig, I haven't really been out aside from getting some beers at the bar with friends. This Friday I'm considering going to the Raveonettes, just because I had a very nice experience when I saw them in Fort Lauderdale back in 2003 or 2004. I don't own any of their records or know their songs, but that time they put such a good show, and their fuzzy guitars sounded really good to me. And then Saturday perhaps Mondo? It's been months since I've been there. Should try to get early, that's when Maz plays the good songs. And then Monday Jens Lekman? Same with Raveonettes, I don't know his songs, or own his records, but everyone says he is really good live. So why not. Taken by Trees will be opening, and I don't really know them either, just know that Victoria from The Concretes fronts them, and she is always a nice sight. To be honest, Im just waiting for the Saint Etienne gig on the 26. But in the meantime, why not go out and enjoy what New York has to offer.
I don't know if I've mentioned this before on the blog, but also taking advantage of New York, me and some friends have a sort of food club on Saturday lunch hour. The idea is to try different foods from different countries all the time. Stuff we've never had before you know. We've visited so many restaurants, most of them real hole in the wall in all kind of neighborhoods here. This weekend we'll head out to Flushing for some Taiwanese cuisine. If any New Yorkers are reading this and want to join, please be my guest. Just get in touch!
Lastly, and I don't know if you agree, I feel one of those indiepop chronicles I like to write have been missing on the blog. I'll try to get one of those next week. Now let's move to the obscure band of the week!
—————————————————————————–
hoverchair: A chair that levitates.
Why did they name the band The Hoverchairs? Who knows, maybe only them. I do like the name even if the meaning is kind of dumb. But it's catchy. I believe I discovered them through Twee.net many years ago, and eventually found them on Myspace. I remember writing them if they'd be up for an interview but I believe I never heard back from them.  It's a shame, if you head to their Myspace you can listen to 10 songs!! 10 fantastic jangly pop tunes, classic and timeless. The songs being:
– Shut Your Dirty Mouth (their anthem song, repeating "hey hey we are The Hoverchairs")
– Saturday
– Hide and Seek
– Heaven She Said
– Blue Sunshine
– Another Angel
– Dangerman
– Atlanta
– Yellow Yellow
– Get Up Get Down
From these 10 songs only "Hide and Seek" was properly released. It was the A side of their one and only 7″ single released 1989 by Tempest Records (catalog TROY 7). The B side for this single was  "Two Pints And It Rains ".
About the sleeve, there's a little note on 45cat. Someone writes:
"The cover was deliberately 'Smithsian', as the band were fans. The 'cover star' wasn't a band member, but a friend named Shaun Niland – buy him a pint if you see him!"
The band has a little note too on their old Myspace, I assume written around the time they joined this dead social network in 2007. It reads:
"OK so it's not exactly current but Steve Lamacq having played 'Two Pints And It Rains' as his lost 45 on Radio 6 recently prompted me to re-evaluate my teenage / early 20s and you know what, it ain't all bad……. "
The only other valuable information to be found there is this:
Members: Stinky – Vocals and Guitar; Shaun – Guitar; Zico – Bass; Jaz – Drums, B.Vox
Influences: Wedding Present, Jethro Tull, Motown, INXS!!!!!
The question remains, where did the other songs came from. From demo tapes? I tracked one down, "Blue Sunshine". This one appeared on a tape compilation called "Just Another… Compilation" on  Flippin Ace Recording Co. On this compilation many great indiepop bands appear like The Ammonites, The Sainsburys, The Cudgels, The Sedgwicks, Strawberry Story and more!
On the Myspace pictures section, they have many tape covers, and even some designs that look like vinyl labels. On one of these, it shows a supposed single (or maybe it does exist?) where "Saturday" is the A side and there are two more songs on the flipside, "Why Don't You Like Me?" and "I Can't Sleep at Night".  These songs penned by C.P. Henry. Will that be Stinky?
The band remains mysterious to me. But their songs resonate. They are great I think, the kind of indiepop I like, jangly, earnest, and chiming. Whatever happened to them after the demise of The Hoverchairs? where were they from (Scunthorpe I think??!)? if they had more songs? if they had more releases? if they contributed to more tape compilations? what they are doing now? etc, and etc, so many questions I'd like to ask. If you know anything about them, if you want to help me fill in the blanks, please do!
::::::::::::::::::::::::::::::::::::::::::::::::::::::::::::::::::::::::::::::::::::::::::::::