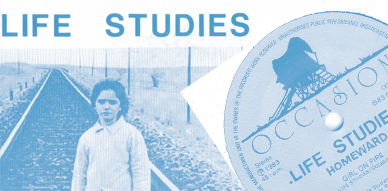 Thanks so much to Phil and Graham for the interview! I've written a bit about Life Studies before on the blog and then we've shared a great Practice Session as well if you want to check it up. Happily I was in touch at last with the original members from the band and the mystery of Life Studies is no mystery no more!
++ Hi! Thanks so much for being up for the interview. Whereabouts are you these days? Still based in Gloucester? Still making music?
Phil: No I moved up North to near Manchester in the 90's.
Gray. I still live near Gloucester, we keep in touch with Martyn, he now lives in Devon.
Phil: Gray and I have made more music together in the last five years that we had ever done before. I invested in a home studio (a spare bedroom and a Mac!) and we get together and record.
Gray: Anything from crooning covers like People are Strange and Scott Walker's After the Lights Go Out, to new Life Studies stuff harking back to the jangly 80's. We are just setting up to record remotely so we can put stuff together without having to travel!
++ There's so much mystery about your band, only one single and then you disappeared. What had happened? Why did you split? Why didn't you get to release more music?
Phil: Gray and I started the band in 1979 and we went through several incarnations until we got to the band that made the single. Things were changing so fast musically then that by the time we got to recording Homeward we already had our hearts set on new horizons. I suppose Martyn moving abroad left a creative gap and that seemed to be a natural place at which to rethink.
Gray: I had already started drumming with some other fiends who formed a group called the Erratic Strides which was a whole different sound to Life Studies. We didn't really 'split' and various bands grew out of Life Studies with Phil and I being the constant. At one gig we did a purely acoustic set of Cole Porter songs with female singer so I guess we were experimenting in real time.
Phil: We did go back into the studio a few times but in those days it was a big undertaking and cost money. We didn't make much from gigging and whilst we all had day jobs we didn't always have the funds for recording.
++ But I assume that you had many more songs than the ones included in the 7″, right? Are there any more recordings of yours lying around somewhere? Maybe on some dusty tapes forgotten in a box?
Gray: There are some surviving tapes but the quality, both musically and sound is variable. There are some tapes which we can't find that include some decent studio recordings.
Phil: I had thought it would be fun to see if any master tapes still exist. We could put them into Pro Tools and re do some of the overproduced stuff and clean it up.
Gray: It was great that Paul still had some copies there was stuff on there we hadn't heard for 30 years!
++ I read that the single was played and championed many times by John Peel! That must have been a highlight for the band? How was the first time you heard your songs being played on the radio? Where were you?
Gray: We didn't hear it! A friend of the band did and a few other fans confirmed it was played at least twice. Apparently John said '1983 seems to be the year of the acoustic guitar' I would like to have heard his tone of voice.
Phil: A lot of Peel fans used to record his shows, me included, so there might even be a recording of it somewhere. We did get to meet him briefly at a Fall gig in London but didn't think to ask him if he remembered it. I doubt he would have!
++ And then I have also read that two of you joined a band called The Trout Faced Few. I've never heard their songs, were there any releases? And how did they sound like? Similar to Life Studies?
Gray: TFF was a sort of combination of The Erratic Strides and Life Studies with some others thrown in. We sounded pretty much like the Fall. You could get away with it in the mid 80's in Gloucester as the Fall were not that well know or heard.
Phil: Julian the vocalist did a passable impression of Mark Smith, but there is an obvious Beefheart influence, hence the name.
Gray: We also had two drummers which the Fall had started doing around '82. That raised a few eyebrows when we played small pubs!
Phil: There is a video of us in the studio and a studio recording of a few tracks. They're pretty good. I had switched to playing bass and we used two guitarists and keyboards. After that three of us formed The Citizens and short lived venture that were closer to Life Studies but more electric. There is a video of one of those gigs too.
++ Let's go back in time now, was Life Studies your first band?
Gray: Not really. I had sang with a rock band but we didn't last long. Before that in my early teens, me and a friend had a pretend band called 'Marble Sky". We had a home made guitar and odd bits of furniture as a drum kit. I seem to remember playing for my sister and some of her friends.
Phil: I was in a band when I lived in Somerset in 1975 but we were all fairly basic musicians and never gigged. Our bass player was into Can and very early Kraftwerk so he influenced the sound but on reflection I don't think we were that inspired.
++ And how did Life Studies start as a band? Who were in the band and how did you all knew each other?
Phil: Gray and I first met at a Bowie gig in 1978 and I suppose that shared interest led us to get together. When we started there were four of us. Gray and I and a chap called Tony Wilson (no not the legendary Manchester impresario) and a chap who was a excellent guitarist although he was a Clapton/Hendrix aficionado and didn't really fit our indie sensibilities. It may be a myth but I am sure Gray asked him to leave because he insisted on wearing flared jeans!
Gray: We only did one gig with him. Our First, supporting a band called Primal Scream, no not that one! We went down to a three piece, I bought a synth-drum and we set off down the doom and gloom Joy Division route as pretty much every band in the country was doing.
Phil: That band was the one that did one of our best gigs. We played the local pub and packed it out. A good tape taken from the mixing desk exitis somewhere, that's the one thing I would still like to hear.
Gray: Martyn who became the other key member of the band once Tony had left was in the same year as Phil at school.
Phil: I remember making my own Stranglers T-Shirt and Martyn spotted this and we started talking, again the love of the same music brought us together.
++ Where does the name Life Studies comes from?
Phil: It's from the autobiographical book of poems by American Poet Robert Lowell. Not sure why we settled on it but it stuck.
++ You released one fantastic record that I feel was ahead of it's time. This jangly kind of pop was more 1986 than 1983! So I wonder, what were you listening at the time? Who were your influences?
Gray: We had moved from post punk doom laden stuff to lighter stuff although I can't recall the precise journey. For me there were two releases that influenced our listening and therefore our music. The first was the C81 NME cassette, this had tracks on by Orange Juice, Josef K and Aztec Camera which we were blown away by. There was a rough edged pop sensibility to the Postcard Label stuff which was a relief after the industrial sound of the late seventies. The second release was the Cherry Red LP Pillows and Prayers which came out a year later. This had bands on like The Monochrome Set and Felt. Felt are still one of our favourite bands.
Phil: There was definite move to wards more complex song writing and Tracy Thorn and Ben Watt were on that LP too and you can really hear the influence of them in Inside Out on the Homeward EP.
The Felt track, 'My Face is On Fire' had an acoustic guitar riff that we tried to emulate on Citizen of Love. We had to describe it to the studio engineer as Grand Canyon Guitar. I need to mention the Pale Fountains too who's 'Thank you' single was a big template for Girl on Fire, not that you could hear it!
++ The three songs on the record are really good. I wonder if in a few words you could tell me the story behind each one of the songs?
Phil: I got the title Girl on Fire from an article about Edie Sedgwick in a Sunday Paper. I don't think it was about anyone in particular, I suppose it is about the paradox of loving someone who is independent and passionate and allowing them to maintain those qualities whilst having a relationship. We've all been there. Inside Out started as a bit of a rant against my impending domesticity. The fear of moving towards a quieter, more traditional, and in my eyes boring life. I was only 22! Citizen of Love was Martyns song. I will ask him and let you know, he was probably struggling living with his girlfriend at the time and maintaining independence. You can see theme emerging here. Mart is not a good electronic communicator so it may take a while to get a contribution!
++ On this record you had some guest musicians helping you. How were the recording sessions for the single?
Gray: Not sure I can remember a lot. The studio was a converted barn where the control room was upstairs so the relationship with the engineer was a bit remote. I am not even sure how long it took. People would come and go and do their bit. It was always fascinating having a 'real' musicians turn up. Richard the violinist was particularly accomplished and when he played it suddenly transformed the sound.
Phil: My biggest regret was we overproduced things. It was our first time in the studio and we were a bit like kids in a sweetshop. The engineer, John, had just bought a keyboard with all sorts of samples on it hence the strings, vibraphones and other things we put in because we could. There is a demo version of Girl on Fire which, in my opinion, is much better, more stripped down and slower.
++ Tell me about the artwork of the record, were you all big fans of the "Spirit of the Beehive" movie?
Gray: I designed the cover, Phil found the photo. I also designed and drew the label and put all the artwork together.
Phil: I had seen the film in the 70's it was my first introduction to foreign cinema. I was a horror fan and knew the film had something to do with Frankenstein. It was shown on BBC2 as part of their World Cinema series. Probably around 1975. The fact it little to do with Frankenstein it blew me away. I notice that Criterion DVD reissue contains the same image! Obviously at the time very few people knew the film. Of course it has since become one of the most iconic images of Spanish cinema!
++ I assume Occasion Records was your own label name? Is that so?
Gray: Yes. I set it up and registered it and agreed the distribution arrangements with The Cartel who were a national distribution company for small independents. There was a record shop in Bristol, Revolver, and the guy who ran that helped with advice.
++ There's this practice session that Paul Hopkins shared with me, "Practice Session Spadger Sound Studios 1983". Three songs, one of them a cover of New Order. Those were the last days of the band, right? What do you remember from this session, and those last days?
Phil: Having listened to the version of Leave Me Alone you'd think it was the last days of civilisation not just the band. I don't remember doing that and it is obviously too slow. The rest of the stuff on the tape is a bit better we seemed to have reverted to just drums, bass and acoustic guitar.
Gray: It was a rehearsal for our last gig and The Flying Machine in the village where we hailed from. I recall the gig being a bit of a damp squib.
Phil: Yea, the Strides played too and they were great. They used to cover Take Me to the River but based on the Talking Heads cover rather than the Al Green one. It was a show stopper. I seemed to remember singing a song on my own at the end of the set while Paul and Gray quite rightly went to the bar!
Gray: I didn't think of us ever splitting up. Phil wasn't in the Erratic Strides so we just drifted into forming the Trout Faced Few
++ Tell me about gigs. Did you gig a lot? Any favourite venues or cities that you played? Which other bands did you like sharing the bill with?
Gray: We did gig quite a bit. There was a reasonably healthy live music scene in Gloucester. Because we knew a lot of people we would always draw a good crowd which the promoters liked. we didn't travel too far. The Trouts did get to play Dingwalls in London which is a legendary venue in the UK. Our most disastrous gig was an outdoor festival in Gloucester that a local entrepreneur had organised. We were ok but we were a four piece (with Paul Hopkins and George Weeks from the Strides) but there were more people on stage than in the audience. It was an embarrassment.
Phil: I do still dine out on the story that Bananarama's first gig was supporting us, I suspect they don't mention it much . We were asked to support a band called Department S, in Cheltenham. they had a top 40 single called 'Is Vic There?' and they bought along Bananarama who mimed to their first single Aie a Mwana. I think they were session backing vocalists before then.
++ How was Gloucestershire back then? Was there much space for your kind of music? Where there any bands that you liked?
Gray: We probably didn't realise it at the time but Gloucester was a pretty good place for bands and live music. We would often bump into other bands on the circuit and we did share ideas, there was little competition, everyone did their own thing. there was a local journalist who decide we were the best band in Gloucester if not the UK and used to write reviews that were a bit over the top, but it was fun at the time. I remember he tried to get us a manger who came round to Phil's house to listen to us but Ceremony by New Order had just been released so we insisted he listened to that several times instead! We did tend to sabotage any attempts to be taken too seriously.
Phil: Gloucester had a reputation fro Punk music. the most successful band were called Demob who were hardcore punk and they set the tone for Gloucester bands for a few years. We got to know some of them quite well and like us they would crop up in various groups from time to time. being a parochial sort of place meant you could build up a reputation quite quickly.
++ And what are your favourite spots, places, sights, in your area? I would love to visit some day!
Gray: It is a market town and like many places in England it looks like many other towns. The countryside is still green and pleasant. It has a successful Rugby team and a famous cathedral where some scenes from Harry Potter were filmed.
Phil: I like going back. I spent my formative years in Gloucester so I have soft spot for it. I always try and get Lardy Cakes (Sticky cakes made with currants, dough and lots of butter) whenever I go back.
Gray: If you do visit I guess the Docks and the Cathedral are the high spots.
++ What would you say was the biggest highlight of Life Studies?
Gray: Producing a physical record was a great achievement. Holding the artefact in you hand was a thrill. I also recall a friend who moved to Edinburgh and had met someone who had bought the single after hearing it on John Peel. That was impressive!
Phil: If I am honest the only rock star moment I ever had was when walking home with Martyn through the back streets of Gloucester, the pubs had shut and we were in search of chips when suddenly someone shouted from a top floor flat window. 'Aren't you from Life Studies? We're having a party come on up' It was a woman we had never met , and we knew no one at the party, that was cool!
++ And these days, what else do enjoy doing? Any hobbies that you have?
Gray: I play guitar a lot now and play with a covers band now and again.
Phil: I make music all the time. I do quite a bit of sync music, music I send to agencies in the hope that someone will pick it up for a radio or TV advert. I had my first royalty cheque last year, £52 for a Portuguese TV commercial so I can't retire yet!
++ Let's wrap it here, thanks again so much for the interview! Anything else you'd like to add?
Gray: Just thanks for the interest, it is good to know that someone still likes the record after 30 years! And thanks to Paul for putting us in touch.
Phil: It has inspired me to put some new Life Studies tracks together which can't be a bad thing. Three songs so far, but this time with Gray singing! watch this space.
::::::::::::::::::::::::::::::::::::::::::::::::::::::::::::::::::::::::::::::::::::::::::::::
Listen
Life Studies – Inside Out