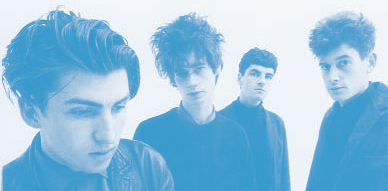 Thanks so much to Johnny Wood for the interview! East Village were one of the finest guitar pop bands from the late 80s, early 90s. Their legacy lives on on the classic records "Drop Out" and "Hot Rod Hotel" as well as in classic songs like Vibrato, Strawberry Window or Circles. If you haven't heard them yet, well, you better do it soon!  Johnny lives in China these days and in his spare time he paints, check out the inspiring stuff he is doing here. And now sit back, read and enjoy.
++ Hi Johnny! Thanks so much for being up for the interview. I hear nowadays you live in China? What are you doing there? Have you already learned Chinese?
I got tired of living in England, wanted something new. I always liked being on the move, so came out this way two years ago. It's interesting. I do a spot of English teaching to keep food on the table!
++ I've visited your artwork site and I must say you are really good Johnny! What inspired you to paint? And who are your favourite painters ever?
Thanks .. art was my subject at school. Suddenly developed a talent for drawing at 14. Don't know how or why. Painting was just a natural progression. And we study it at school. So it became just a thing that I do, like playing the guitar. A part of myself.
I guess Peter Blake was my first painter hero, the British POP artist. Then through him I got into Robyn Denny, a Situation artist. Edward Hopper, Van Gogh, and my all time rave Alberto Burri. There are so many … Tracey Emin I think has done some good things.
++ So I know that East Village evolved from Episode Four, who I'd love to do a feature about them in the near future, but how did this change between bands came about? Why not continue as Episode Four?
A lot of bands come to a point in their development where they feel the need to present themselves differently. We'd all moved away from our home town which E4 was synonymous with. We had gelled as a band and needed a name that represented where we were, who we were …
++ By the way, how did you knew the Kelly brothers?
I had a mate who played guitar in a band which the Kellys were in. I went along to see my mate and got to know them like that. I'd go to a lot of the gigs and started hanging out with them at other times. We liked a lot of the same music and became friends.
++ Where does the name East Village comes from?
I think Paul hit on the name. So his reason may differ but for me it comes from the place in New York where all the poets, artists, musicians etc lived and hung out. That's what we were as a band, a 'place' for poets, artists and musicians. We were a very creative lot …
++ As a guitarist, who would you say were your influences? What guitar did you play during the East Village years? And what is your favourite guitar ever?
So many influences; early on the Beatles etc. then Roddy Frame from Aztec Camera. Donovan, Blind Willie McTell, Tony Joe White, Byrds – a mix really.
I played an Epiphone Casino back then, these days a cheap Chinese acoustic. I love the sound of a Gibson J200, Paul's Rickenbacker on EV records.
++ You had already worked with Jeff Barrett with Episode Four when he was running Head, now when he was doing the Sub Aqua label you also worked with him. How important was him for your music career and what did he bring on the table?
He had so much enthusiasm and energy. He got things done. He helped us into a scene in London and through him we got our records made.
++ You gigged quite a bit, didn't you? There were tours with House of Love and McCarthy for example. How do you remember these tours and which was your favourite gig overall that you played?
They are remembered with affection! Actually it was very exciting to go on tour and a lot of fun, despite the frustrations and long hours hanging around.
We did a lot of gigs that were memorable. Personally I have two favorites from that time; One was with the House of Love tour, where the crowd loved us more than them. Their sound man had liked us and sorted our mix out. We went down better than they did. The crowd were shouting for us and it inspired us to play our socks off and put on a bit of a show. A great time and Chadwick never spoke to us after that!
The other was in London at the Camden Falcon. It was a hot, sweaty night and the place was full. We'd started getting a good reputation and there was a bit of an expectation. London crowds could be difficult – too cool for school kind of attitude – so we decided to not fuck about. We went on, turned the amps up and blasted our way through our set which we'd decided would only be 6 songs. We played really well, no breaks, no chit chat. Knocked the crowd out and left the stage. It felt like a victory.
++ And what about anecdotes playing alongside The House of Love who at the moment were causing quite a splash in the indie music scene?
Not much to say really. we'd meet up with them en route to gigs, have a cup of tea and chat. It was pleasant. Guy Chadwick seemed a bit distant but the others were always friendly. They'd give us beer from their rider, ha ha. But the guitarist Terry became a sort of mate on that tour – he would always encourage us, and hung out with me a few times. He borrowed my guitar for one show. Wow!
++ The story says that Bob Stanley financed your album "Drop Out". What do you remember of these recordings?
Yeah, he came to our rescue. Strange times. The music scene had changed a lot very quickly. We were kind of out on a limb. But we had some good songs that we had to get on tape. We scraped some money together somehow and booked a studio with some empty promises … thats when Bob stepped in. He'd heard some of the results.
Overall the sessions were good. We wrote Silver Train in the studio and had fun with that. My best memory of that was going back to Martin's place in west London after a late session and listening to what we'd just recorded as the sun rose. We'd smoked somthing to help us relax and suddenly there appeared hundreds of hot air balloons in the dawn sky, hanging there over the skyline. It was very beautiful actually.
++ I would assume because of this, that Bob Stanley was an important figure for East Village. I'm wondering how did you all knew him? He was a big fan of your music obviously 🙂
I think we met him through his fanzine … he asked to interview us. Then we went to the pub with him or something and realized he was a good guy and he liked us.
++ You made many great songs, indiepop classics, but I want to pick one so you tell me the story behind it. Care to tell me what is "Circles" about?
I'd love to but I don't know, ha ha! Martin wrote that one … but I connected with it because I could sense the feeling of wanting to hold onto someone when you can feel them slipping away. Its always in the morning? ha ha, I have no idea, maybe a case of too much information!!
++ And what about your favourite East Village song, which one would it be?
Actually I like a lot of them. What Kind of Friend Is This? has a good feel, I like Vibrato for personal reasons, Strawberry Window is a nice pop song, Kathleen …
++ So you split up on stage at the New Cross venue. Was this planned? Why did you split? And what did you all do after?
Well, I went to the pub for 5 years, ha ha … Martin became more involved with Heavenly, so did Spence. Paul formed Birdie and is now a film maker. I did a degree in Fine Art after I sobered up …
It wasn't planned … times had been difficult. You know we were getting older, had relationships, no money etc. Where was the band going? We had this sell out gig, went on stage and someone's guitars had gone out of tune. Just one of those things but it was a breaking point – literally. It just seemed to sum up our luck at that time. We all realised it in front of all those people … so we looked at each other and knew. Ok fuck it, here's a good a place as any to split, ha ha.
++ Talking about venues, which were your favourite venues in London back then? And was there any sort of scene/community then between the guitar pop bands? Which bands from the time did you enjoy going to their gigs?
Camden Falcon was always good to us .. the Phil Kaufman Club. Yeah we got friends with some of the bands. Wishing Stones were mates. Later the Rockingbirds.
++ Some years later Summershine Records put together the "Hot Rod Hotel" compilation. How did this came about? How did you have a connection with the Australian label?
That was through Martin and Heavenly. I didn't have anything to do with it other than say ok.
++ And then in the past decade both the album and this compilation were released again, in deluxe editions, in Japan thanks to Excellent Records. Also they released a 7″ with unreleased tracks. All of these, are already sold out of course. How do you feel about your music being sought after by collectors up to this day? And if there's any more plans to release your songs again?
Well it feels great. We were a good band, very creative and had a truth about us. People that like us really like us. And that's a hell of a lot better than looking back with embarrassment.
I don't think there's any plans to release any EV. Maybe do something of my own …
++ Because of this ongoing interest in East Village, I wonder how do you think your songs have aged?
Pretty well I think, especially the Drop Out ones. And that's because we helped, or were a link in the chain that inspires the guitar bands today.
++ Looking back in time, what were your highlights of being in East Village? Any regrets at all?
Yeah some regrets for sure. But mostly glad I was in it. The highlights; recording sessions, the tours, just the fact we got it together.
++ A couple of more questions. Is there any interesting guitar pop in China?
Difficult one that … you hear some nice guitar on some tracks. I haven't heard anything that really grabs me but you have to realise the culture here.
Sometimes bands play out on the street and they can have something about them but the equipment is crap. Maybe in the future something will happen, when the country opens a bit more.
++ And what is your favourite Chinese food? Is it much different to the one you find in every corner of every major city of the world?
Yes a lot different apart from fried rice. It's very spicy … Hunan food. Beijing Duck is always a good option.
::::::::::::::::::::::::::::::::::::::::::::::::::::::::::::::::::::::::::::::::::::::::::::::
Listen
East Village – Circles