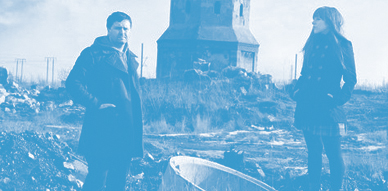 I'm writing these lines before my trip to Portugal as I would be returning on the Sunday and this post should be up today, on the Monday. So yeah, not much about my Portugal trip or my experiences there. Hopefully in the next post I'll tell you about my adventures in Lusitania.
There is of course the news of Madrid Popfest that was announced the week I was leaving, but I haven't had the time to digest it because I really want to go and I don't know if I'll be able. So I'll leave that for the next post, probably on Wednesday or Thursday. So today just a review of new sounds I've found on the web!
The Keep Left Signs: I recommended this band quite some time ago, I really liked their songs on SoundCloud and had no information about them whatsoever. Well, seems Shelflife and Kocliko Records are releasing their debut album on December 7th. What's cool about this band is that they are members of some very fine Swedish bands like The Electric Pop Group and Cloudberry friends The Mare. You can listen to the seven songs that form the album titled "Tomorrow" on the linked BandCamp page! Fantastic jangle pop and a must buy!!
Day Wave: I just found out this LA one-man, fronted by a Jackson Phillips, band on SoundCloud and it sounds pretty good. Of course I feel that there is a bit of a "let's push him" to be well-known attitude from the label and perhaps from the band which you know I don't like. Maybe targeting to the hipsters. I guess it is not a bad idea as the music is friendly and hard not to like, I'm actually liking it a lot! And of course that matters the most. So far they have released an album titled "The Days We Had" which has 11 songs. So try to ignore that hipster vibe and enjoy the music, check out too the video for "Something Here" which is a very fine jangly and dreamy track!
Plastic Picnic: another hipster band that sounds good. Based where else but in Brooklyn, Plastic Picnic has a bunch of songs on SoundCloud that are part of their first single "Nausea in Paradise". I check on Facebook their influences and I don't like any of them really. Shame. I do like their songs though, and again, I have mixed feelings. Liking the music, not liking what the band represents. Again, try to ignore the hipster-ism and listen to the music.
Black Sea: the good people from Melotron Recordings from Thessaloniki in Greece will be releasing on December 1st the album by Los Angeles lo-fi guitar pop band Black Sea. This CD will include the album that was available only on tape plus 3 unreleased tracks. It will also come with 2 inserts and a sticker. In total there are 14 songs that were performed, recorded and produced  by Cole Devine.
Marc Elston: lastly our friend Marc has put together a limited edition CD titled "I'll Build a Better Castle". What's in there? Well, 11 jangly pop songs by the ex-Bulldozer Crash and Liberty Ship! This is a very lovely release which I'm already enjoying streaming here. Now I need to order it. Classic indiepop sounds by Marc who got a little help from his brother Graeme (The Love Parade) on mixing and mastering these songs.
————————————————
Finally, the 40th band on our worldwide review. And still there are a few more to cover in the next coming days and weeks. I'm quite impressed to say the least!
On this feature I've been back to the Myspace many times. It was a good time, 2005-2008, for indiepop, to discover bands. Also for bands to get in touch with fans and labels. I can't recall exactly how I met Iowa Super Soccer, but it was definitely there, on Myspace, most probably around 2006. They sent a demo to the label I was running with my friend Jalito in Peru, Plastilina, and we liked it. But we couldn't release it for many reasons at that time. It wasn't the right time for us. Nevertheless we were quite impressed that for the first time we were listening to an indiepop band from Poland.
I remember reading on the indiepop-list about other "indiepop" bands from Poland, like Delons for example. I listened to them time after time, trying to find out where in the world they were compared to The Wedding Present. I couldn't see it. So in my book there hadn't been any indiepop bands in Poland up until Iowa Super Soccer appeared with their clear influences of Belle and Sebastian, Camera Obscura, and chamber pop in general.
The band may have been popular in Poland, I mean, they do have a Wikipedia entry in their language. On it I find out that the band formed in 2004 in the city of Myslowice.
Mysłowice is a city in Silesia in southern Poland, near Katowice. The population of the city as of 2008 is 74,912.  It is located in the south district of the Upper Silesian Metropolitan Union in the Silesian Highlands, on the Przemsza and Brynica rivers (tributaries of the Vistula). Mysłowice is one of the cities comprising the 2.7 million conurbation – Katowice urban area and within the greater Silesian metropolitan area with a population of about 5,294,000.
It says that the band was part of a scene that included bands like Negatyw, Gutierez, Twisterella and Peru. I should try to check them out. Especially Peru, right? We also know the band lineup:
Natalia Baranowska – vocals
Kasia Włosek – cello
Agnieszka Bednarz – violin
Michał Skrzydło – acoustic guitar , vocals
Wojtek Sawicki – guitar
Piotr Sawicki – bass guitar
Slawek Plotek – drums
Some former members also listed were Monika Mendak on vocals, Marcin Fluder on guitar and Alicja Herma on violin.
In 2006 they released two EPs, both of them don't appear on Discogs. The first one was the "Iowa Super Soccer CDr EP" that included 4 songs: "Letter to Nowhere", "Strange Planet", "My World" and "Morning". The second was the "Teenage Dreams So Hard to Beat" that also had 4 songs, "The River", "If You Die Die Tomorrow", "10,000 Miles" and "The Straight Story".  I start to wonder about the band's name. Where does it come from? I used to love as a kid the Super Nintendo game Super Soccer. But why the Iowa part?
Their first album was to come out in 2008 on Gusstaff Records. This was a small Polish indie label that was based in Zielona Góra. The album titled "Lullabies to Keep Your Eyes Closed" (catalog GRAM 0803), had eleven songs, some which had appeared on the previous EPs. The songs on the album were: "One in the Grass…", "She", "The River", "Screaming", "Cold", "Letter to Nowhere", "Robin Hood", "Naive Song", "Let Me Die", "Live as If You'll Die Tomorrow" and "Tony." There was a promo video for "The River".
On the credits for this first album we see that the artwork was created by Maciej Porczek, the photography was taken by Michał Skrzydło and Piotr Pisek while the record was produced and mixed by Błażej Nowicki, Grzegorz 'Kuba' Kubek, Michał Skrzydło and Zbyszek Olko. It was recorded at Cyberstudio in Katowice between 2007 and 2008.
Their second and last album came out two years after. In 2010, again on Gusstaff Records (catalog GRAM1001) they released"Stories Without Happy Ending". On this album they had 12 songs: "Someone Like You", "Wake Up", "When You Return", "My World", "Sunday Comes", "Little Joe", "Scary Book", "Oh, My Heart", "Suzanne", "Mr. Lonely", "The Story of Our Picture" and "Rolling Around". I remember a Cloudberry friend, John from Nottingham writing to me about this album. He was really loving it, especially the song "My World", which had a fun cartoon video.
Discogs lists two compilation appearances. The song "My World" being included in the 2010 compilation "Gusstaff Ina Pill Vol. 10" and "The River" on another label compilation, "Gusstaff Ina Pill Vol. 7". Both CDr promo samplers.
Wikipedia on the other hand has the track "10,000 Miles" appearing on a compilation titled "Alternative Trippin'", a compilation released in 2007 by the label Chaos Management. Another compilation appearance would be on the "Alternative Program – Agnieszka Sydlowska" compilation from 2008 with the song "One Day in the Grass".
Also in 2008 they had that same song, "One Day in the Grass", on the "Offsesje 1" comp, which I believe is a music program on Polish Radio #3 run by Peter Stelmach every Friday.  Lastly that same year they would appear with the song "The River" on the compilation "Pop Nation 02" released by the Spanish label Bonvivant Records.
The band played many gigs according to the Wiki. They played at the first Off Festival in Katowice. They appeared on TV and radio, like on Trójka, TVP 3, Radioactive, Radio Kampus and Gazeta Wyborcza. There were other gigs like supporting Myslovitz, Lonely Drifter Karen, Troy Von Balthazar and Chris & Carla. Also a concert at the Polish Radio Studio.
So I look for these gigs on the web. And I find a BalconyTV gig in Poznan where they play "My World". Also I stumble upon some acoustic presentations for the songs "One Day in the Grass" and "I Can't Live Without You". But more surprising is to see them playing in Lviv in Ukraine in 2010 or in China, in the city of Lijiang in 2010 at the Snow Mountain Festival. In general on Youtube, there are many live performances by the band, at festivals like Maj Music Festival or smaller gigs like the Art Festival Piotrków Trybunalski.
I look for more information about them on the web and there is not much, which is strange. As you saw on Youtube there were many videos. How strange. Also not much information about their albums. So why not check out the band members on Discogs, what else had they been involved with.
I see that Błażej Nowicki had played in the band Negatyw and also on Miss Polski. But what about the rest? Only Iowa Super Soccer seems to be listed for them.
There is not much more I could find. I look and look. Of course there's the difficulty of the language, but still, even Polish sites have very little details about them, just like discography or band lineup. I wonder if they are no more. What are they doing now? Still making music? Anyone out there remembers them? And how come they got to play China? That must have been an experience!
::::::::::::::::::::::::::::::::::::::::::::::::::::::::::::::::::::::::::::::::::::::::::::::
Listen
Iowa Super Soccer – My World