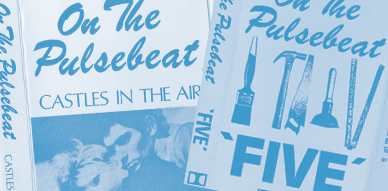 Just arrived to work from a busy morning working on some label stuff. Got my hair all messy after carrying 500 records from the first floor to the third floor of my building, which is the part I dislike the most when there's a new release coming. 500 records are really heavy to carry at once, you can get sweaty! Then back again to the first floor and pick up a box with 500 sleeves and another with the 500 inserts. Then go back upstairs. I wonder how come I don't look like Charles Atlas.
So yes, the new Oh! Custer 7″ is ready to ship even though the release date is on Monday the 15th. For that I set up a newsletter to be sent at 6:00 am eastern time, as it is also noon in Europe. Around lunch time, when people check their emails. Then, the emailing continued. Got some good orders from different international shops and hopefully I will be able to afford paying the sleeves' invoice that will be coming up soon. Press sheet is done, courtesy of the great writing of my friend Emelie, and I just ordered 100 more pins to be given away for free. My pulse beats fast, I hope I'm not forgetting anything. Then comes the part I like the most: opening the boxes. I'm considering on purchasing a box-cutter for Christmas.
Some nice records also arrived today for my collection, new 7″s, and new CDs. Happy times. But also I get an email from fellow obscure-indiepop enthusiast Matt Mastin asking me if I checked a band called "On the Pulsebeat" on the Harlow Bands jukebox. Yes, the same page were we discovered more songs from the great Some Other Day. My answer is no. I've never heard about this band, ever. He tells me: "that track "Living at the same address" is truly a long lost indie classic if I've ever heard one !!" So I run and check. And he is right. This is great stuff! Who are they?! And again, my pulse beat accelerates. I need to know. I need to find out who this band is. And I have to go to work, and there's not much time in between, but I know I won't be happy with myself until I exhaust every effort in trying to figure out who this fantastic Harlow band was.
Clearly, On The Pulsebeat's pulse beat stopped beating a long time ago, during the mid-80s. The small bio on the Harlow page says:
On The Pulsebeat were Kevin Wells on bass, Ewart Richardson on guitar, Jane Hawkins on synth, Barry Rice on guitar and Ray Davies on drums. In 1985 after recording "Castles In The Air" Jane left and Jo Maskell joined. They recorded "FIVE" together. They entered the Rock Competition in 1984 and 1985 but failed to reach finals on both occasions.
At first listen, especially on their upbeat tracks, they remind me to the obscure band Hearts on Fire, that released an album on Midnight Music and I believe should deserve a post here on the Lost Bands section! It seems they only recorded two tapes, the aforementioned  "Castles in the Air" and "Five". On "Castle in the Air" the tracks included were "The Price You Pay", "False Situation" and "Discovery". It was recorded in Stable Studio and it was produced by Gary Westcott. On their second demo tape, "Five", we find the tracks "Now", "Loneliness", "Inside Story", "Living at the Same Address" and "The Touch". This time the songs were produced and recorded by John Brown. But it seems there were more recordings, perhaps another tape, as we find on the Harlow page jukebox some more songs like "Lost and Found", "Running", "The Events" and "The Price You Pay".
A google search gives me no results. I check their previous bands listed in this page, "Blue Heaven" and "Foundation", and there's no information. This is it. There's no more. Time is running and I have to run to work. Seems there's nowhere else to look for more info about them. Thus, to keep my mind sane, I decided that my last resort is to write this blog post, calling out, asking if anyone can fill in the blanks. Whatever happened to On the Pulsebeat? When did it stop beating?
::::::::::::::::::::::::::::::::::::::::::::::::::::::::::::::::::::::::::::::::::::::::::::::