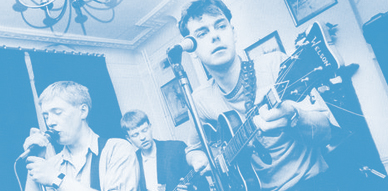 Thanks so much to Andy Ford for this great interview! Please don't forget to get their newest album "Luminous Crocodile" which is the great comeback from this Liverpool classic band.  Ah! And become a fan here. Now sit back and enjoy!
++ Hellfire Sermons forms from the ashes of The Decemberists. What were the similarities and differences between these two bands?
Well Colin sang and played guitar and I was on bass in both bands so there was a lot of similarity as we had our own favourite sounds, but in Decemberists we had Andy Deevey on guitar who was more a Smiths/REM style than Neal's Josef K/Velvet Underground style. Chris Harrison had a sort of jazz/light way of playing. In retrospect the fault of the Decemberists was that consciously or unconsciously we were looking for a record deal, and so we didn't totally follow our inclinations. We went through an interesting phase where we
worked with a female co-vocalist called Karen Jones in the style of Alison Moyet. We picked up Del Amitri's ex-manager who helped us to play a great support to James at the Pyramid
club in Liverpool.
The Decemberists hovered on the fringes of a major deal, but never quite got there! We had a residency at University of London, which was great exposure and we were promised a deal with WEA, which they reneged upon. This was quite a blow that let to us changing the name for the single. There are a lot of Decemberists songs which deserve a release – Simpler To Say, Just One Instant, There It Is, The Man Who Could see Through Everybody (all with Karen), then a more indie guitar sound when she left – James Is, Always Caught In The Rain, What Possessed You?, Gift Horse, Marble Room, and the original version of Rachel Clean.
++ I know about The Decemberists (which we should do an interview later!), but I really don't have any idea at all of Chris Harrison's previous bad, Jenny Lind. Can you tell me a
little bit about it?
Jenny Lind had Chris Harrison on drums (we stole him!), Neal Carr on guitar and vocals and Ken Nelson (later Coldplay's producer) on guitar and vocals. They gigged with us and The Jactars, once supported the House Martins at a gig in a Liverpool strip club. They had some great songs – Suicide's House, Spilt Milk and Christopher Columbus (which was about Ingrid Bergman in America). Ken would have to agree in order for them to be released.
Neal and I played before Decemberists and Jenny Lind in a band called 'Swim Naked' which was like sonic Youth before Sonic Youth, very raw and violent in places. In those days we
listened to Sister Ray by the Velvet Underground every day! That was about 1982-83
++ It was 1987 when you started as The Hellfire Sermons. How healthy was the scene in Liverpool? Years before I know there was a very interesting scene with The Lotus Eaters
and The Pale Fountains.
We were more part of a 'scene' from 1984 to 1987 when we practiced at Vulcan Studios down on the Dock Road with Jenny Lind. The Jactars, Half Man Half Biscuit, the DaVincis and others and we all helped each other with gigs and gear. We liked The Room, later Benny Profane but they rehearsed somewhere else. We used to go and see the Pale Fountains doing acoustic stuff in a bar on Mathew Street called the Left Bank, and they were really good. We continued playing with The Jactars over the years, then mainly with The Claim and Emily. Both were great.
++ First release was the Freakstorm 7″, one of my favourite Hellfire Sermons songs! It came out on a label called Hyme Records and received rave reviews especially from Bob Stanley. How did this single happened? How did you get the deal with this record label? What do you remember when recording your first ever single? Where you happy with the end result?
Freakstorm is really a Decemberists record released under a new name. Colin thought of the Hellfire name based on James Joyce that he was reading at the time. We had just been let down by WEA so we thought "Right, we'll do it ourselves!", it was really very difficult as we were all unemployed at the time, it was recorded in Rochdale with a lot of sacrifice at Barclay James Harvest's studio starting in summer 1986, but only got finished on Christmas Eve after Colin had lost and regained his voice. We pressed 1,000 and sent them out on the indie distribution and waited…and waited…nothing happened – no reviews, nothing…Andy Deeevey and Chris got discouraged and moved to London, Neal joined us from Jenny Lind and we had just changed the name again, to the "Know Nots" when in summer 1988 Bob Stanley gave it a great review and we got offered gigs at universities and colleges – on condition we kept the name Hellfire Sermons! So we did. First gig was at Manchester Uni, no drummer, so Dave from The Claim played drums for us with no rehearsal.
Now the single sounds good, the original version was terrible as the Rochdale engineer mixed it in mono, so we got it redone at Strawberry Studios in Stockport (a lot of Joy Division was recorded there). Freakstorm always was a great song, Rachel Clean is a bit sweet for me.
++ The second single is released by the legendary Esurient Communications!! At the time of releasing HONEYMOON did you ever thought the releases on this label could become such sought for items? How did you meet Kevin Pearce? Were you fans at all of his fanzine?
Unknown to us a couple of Liverpool people had been writing to Kevin Pearce singing the praises of Decemberists, then he got in touch with one guy called Ian Rogers (later our manager) asking where are The Decemberists? The answer was "They are now the Hellfire Sermons!" Us being with Esurient meant we played more in London than Liverpool, you got press reviews and were part of a national scene. Kevin put on shows of Emily, The Claim, us and the unsigned Manic Street Preachers. In fact Richey Edwards used to write to us! Strange how things turn out. We had jobs by then and were now determined to stay 'indie' while the Manic Street Preachers moved to London and put the effort in to break into the major label scene. Kevin is a great guy, his purist views of music chimed with our anti-capitalist agenda, so it worked well. We had all been reading his fanzine, 'Hungry Beat'. But we were still short of money – Honey/Moon and Quicksand and Penny-Pinching Cathy were recorded at Emily's studio in Chester for about £250! And we had to record Not Nailed Down and Best Laugh in the middle of the night using time other bands had booked and not used. We did those up at Amazon in Kirkby which was used by China Crisis and the Bunnymen.
++ Talking about fanzines, how did fanzine writers embraced Hellfire Sermons? Your music is POP, but the guitar playing is very different from the jangle of that time. In a way it reminds more of early 80s post punk, Josef K or The Fire Engines. Did fanzine writers enjoyed that fact?
We were nearly always misunderstood by the indie crowd and music journalists as we did not like twee jangle, also we were older, and worked rather than being students, but there was a group of people around Kevin who were on our wavelength who wanted a bit more grot in their music. Then the Pixies happened and that opened up a good space for us. It is quite funny now to see the records sold as C86 artefacts!
++ Third single is the superb The Best Laugh I Ever Had and includes that amazing B-Side that is Not Nailed Down. One of the best singles of the era for sure! Esurient does make a risky move by releasing it at the same time as The Claim's latest single. What repercussions did this bring to the band and the label?
It was a bold decision by Kevin, announcing a presence really – I don't think it harmed sales as they were small pressings of 1,000 I think, and Kevin had terrible problems with distribution and especially getting paid for records sold in the shops. It was really a matter of the personal honesty of the shop owners! Pre-internet – no downloads, no e-distribution – it seems archaic now! So the records got good reviews and sold well but Esurient got barely enough money returned to do another! We never got any money, because there was no surplus. But we were just glad to be with Kevin's label.
++ Next comes the Dishy label, with Guy Sirman running it. He offers to release a 500 run 7″ single. Covered in Love is the first reference on this label. The reviews were great! Was moving from label to label easy for you? What was the best moments of this period?
Well in a sense Guy reaped what Kevin had sown. He issued 'Covered In Love' and it got Single of the Week in Melody maker and instantly sold out. It really put Dishy on the map. But it was only a 500 pressing so not much money made again. We debated whether to re-press (which would have been the right decision) but it was down to money, so it was agreed to do another single which took about a year to record and release. That was Sarasine.
++ Why did Dishy didnt' keep supporting you? Why did he went into support some dance acts?!
I really don't know. After Sarasine we completed 'Uncle Oliver'/'Cock O'Th'Street' which were good songs but unexpectedly Guy said they weren't what he wanted. I think if we had been in London seeing him more regularly he would have seen what we were doing, but by that time he was more supporting a band called Delta. So we accepted the blow and recorded an album. But when we had the demos again Guy was lukewarm, and it was never finally finished.
++ During this session you recorded 7 songs, what happened to the other 5 that weren't released on the 7″?
The 7 were – Bill and Sarah, Two Faces, Callaghan, Covered With Love, Him Again, Sacred Skin, Real Life Seams. I think they all made it onto 'Hymns Ancient and Modern'. So we recorded 7 songs in a day – back to the ways of the early Beatles! Again the whole thing cost about £300. WE picked the best two. But the mix on the last few suffered because we were so tired on the day. So Real Life Seams was much better than what you hear. We do have a good version recorded ready for release some day maybe.
++ 1994 and Dishy releases Sarasine. From that moment on the band seems to fall into obscurity. What happened? It's quite surprising that a band with such quality songs kind of disappeared.
Yes indeed. We had issues in our lives – me, Neal and Colin had young children, my work was facing closure and I led a massive campaign in Liverpool to stop that happening. Colin was studying. But we did record the album for Dishy somehow, and between all the various versions we do have good recordings of Cock O'Th'Street, Uncle Oliver, I Won't tell A Soul, Arthur's Tongue, Beautiful World, Get Another Lover, Holy Joe, Nervous Girl, Pig, Headcase, Cod Fax, I'm Saved, Orderly Crocodile. Before we could finally mix it, Colin had to move away to get work and we had to change how we did the band.
++ Did you find that there was a big change in the guitar pop scene between those late eighties and early ninenties?
The whole indie scene was dying down and becoming more corporate – the music press, venues, radio, fanzines were all becoming corporate or just closing– and yet the internet – downloads, blogs – had not yet really happened. I would say it became much more difficult to find your audience without mass media access. Paradoxically, from about 2001 things improved as the internet came in – the bar to being allowed to put your music out is far lower now and we actually make more money back on the recordings now than we did in the 1990s! Not much though – it all goes back to fund releases like 'Luminous Crocodile'
++ What about gigging? Did you gig much at all? Is there any particular gig that you remember?
We giiged loads as Decemberists, and actually built a local following. As Hellfire sermons we gigged a lot in London and got those music paper reviews, but only occasionally played
in Liverpool, so HFS had more of a national profile, less so in our hometown! Now we don't play gigs much – not sure who they reach, but who knows – it is good for a band to play –
but we want the right audience, and let's face it – we are obscure!! Good, but still obscure. The gig I remember is the one in London for Kevin – we were on form – and as we played it was as if we had hypnotised the audience – they responded to each note and drum roll. Magical.
++ Hymns: Ancient and Modern was released in 2002. I don't remember seeing that much promotion of it, or anything, but nowadays it's not that easy to come by with a copy! How did Bus Stop approach you to release this retrospective LP? Why did you decided to put it out? Do you feel it was like closing a chapter?
It got a very good set of reviews on blogs etc. Of course we had no money to really promote it, and Bus Stop had slender resources but good contacts. We will be eternally grateful to Brian from Bus Stop for getting in touch for a retrospective CD. It pushed us into the internet age of music which is a better place for music than the 1990s. Without Brian the music would be basically inaccessible. You are right – it DID close a chapter – but it was a only retrospective of the vinyl – really we should release a CD of the songs up to Sarasine, then a CD of the "lost" Dishy album that never was. That lost CD should be out this year and we're going to call it 'Egg Banjo' from one of Colin's creative lyrics "Toffee torte, egg banjo, PIG!". Colin developed into a very fine lyricist in my opinion. If we did a CD of the earlier stuff there's some nice songs for that – "Mouth" (another in 5/4), "Albino Boy" (scorching live version), Down All The Days and some rawer recordings of the singles.
++ You are still going on, what can we expect from The Hellfire Sermons in the near future?
We have set up our label., Hidden Heartbeat and released 'Luminous Crocodile" which is doing OK on the downloads although another effect has been to increase interest in Hymns, and in fact in Decemberists of Liverpool. Next is 'Egg Banjo' then maybe the early HFS stuff, or maybe Decemberists of Liverpool. We are in touch with The Jactars and DaVincis so it would be possible to release a compilation of those hidden Liverpool bands – HFS, Decemberists of Liverpool, Jenny Lind, Jactars, Peanut, DaVincis, Swim Naked, maybe even The Lids. It will never sell many, but it could be to the taste of indie fans. I would like to hope that some of those bands could become cult collectors items – a bit like the US garage babds of the 1960s – like Mouse and The Traps or the Left Banke, Beau Brummels etc. The songs are good enough to be heard for sure.
++ To finish this interview. I've read that Hellfire Sermons music was "oblique agit-pop", "raw and bloody", "chopped-up and thrown into acid bath", "the voice of those who have no muscles", how would you describe your music?
At certain times we could have followed a trend – but not why we were in a band – so we would make a twist We liked using discords and off-beat time signatures to make it interesting for us. Colin's lyrics were quite personal and maybe disturbing…so I agree oblique, not overtly political, although were involved in fighting the poll tax (Gentleman Caller is about poll tax bailiffs), and supported Liverpool City Councils fight against Margaret Thatcher so maybe that came out. None of that helps you sell records! We are affable and pleasant guys, but maybe the music is fuelled by pent-up emotion. And we were all working with all those frustrations and problems so it is more of an adult music than some of the other indie bands who were in a student crowd – more gritty. I like a description someone used of urban folk music.
::::::::::::::::::::::::::::::::::::::::::::::::::::::::::::::::::::::::::::::::::::::::::::::