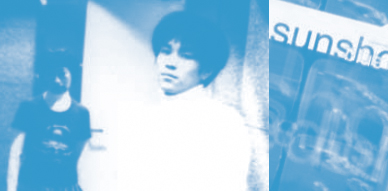 Quiet week now in indiepopworld. Please don't forget if in Stockholm to attend this Wednesday the Stephen's Shore 7″ release party. I wish I could be there. That same day I will be attending the Lush concert here in New York. Maybe I see some familiar faces there, though I doubt it, as I think most (cool) people will be going tomorrow Tuesday to their gig in Brooklyn.
Last week I recommended a mysterious band named The BVs. I actually learned some more stuff about them. I know they have already recorded 11 songs that they are working for an album. It is actually a duo formed by Fred and Josh. Fred from Augsburg in Germany and Josh from Falmouth in England. The songs were recorded in Penryn, and that is in Cornwall. They already have a label, the very good Kleine Untergrund Schallplatten, and the album should be out sometime early next year. Very exciting!
Red Sleeping Beauty, who released a very fine album after suuuuuuch a long time, have just premiered a new video for the song "Mi Amor". I'm glad they chose this song as it is my favourite, with its girl/boy vocals and Niklas' Spanish accent.
Also out later this month, on September 23rd on Firestation Records there are three albums to get: The Man Upstairs compilation that I hoped was going to be released in the Cake Kitchen series (I have a bittersweet feeling about this coming out on another label, can't help it), a Commotion Upstairs retrospective compilation and an Andy Pawlak LP. Not to be missed.
Another good late music discovery comes from Jatinangor in Indonesia thanks to the band Toy Tambourine. They have a new tape out on Shiny Happy Records and by the sound of the two tracks on their SoundCloud it must be very good!
———————————————-
This week I've been listening non-stop to Sunshower from Japan. They released the one album "Blue Dolphin" in 1995 on the fantastic Pushbike Label from Japan (catalog UFPB-010). This is a label that is worth discovering and checking out thoroughly. Lots of great indiepop releases from Japanese bands that for some reason have been under the radar for many of us Westerners. I remember a friend from Florida, Mike, sent me a burned CD of this fabulous album years ago. He even made photocopies of the booklet for me. I was amazed by it. I couldn't believe what I was hearing. Indiepop of this quality is usually well known you know?
So I uploaded my favourite song of the album to Youtube. "Glitter Future". I was hoping that the band would get in touch, comment, or maybe even a fan would do so. But I was unlucky. I never heard from any.
Years later my friend Vernon from Singapore was thrilled about this band as well. Suddenly I remember that I never got round getting an original copy of the CD. Well, time to get it. I asked Masami in Japan if he could help me get it from Amazon.jp. I think it was very cheap there, like 6 dollars used. It is just I can't understand and don't know how to purchase from that site! Some months passed. Then finally at home, a beautiful package by Masami, with lots of goodies, and this CD that I've been meaning to get for years!! Time to relisten. Time to get hooked again. And also time to rediscover and try to find out more about this enigmatic Japanese band!
Where in Japan where they from? I wonder… maybe I will find out. First I check that there are 20 songs on the CD! That's a lot of songs. But they are divided somehow. There are 12 songs that seem to be part of the album and then 8 songs divided in this manner: Ringo Trucks are from 13 to 15, so "Red Evening, Red Night", "Smile" and "I Want to Be…". Bathroom Trucks are from 16 to 18, "Underground Monster", "Olive", "Serch-Light-Girl". And Clock Work Orange Trucks are the last two, from 19 to 20, "Space Road" and "Little Hope". I think it is pretty obvious that "trucks" here should have been tracks. Just a spelling error.
Time to check on the booklet. We find that Sunshower is formed just by two members, Ayako Akashiba and Yasuhiro Kawase. We know they wrote and played all the songs but a handful. These are:
"Almaty" original by Donna Regina
"Where Have all the Flowers Gone" original by Pete Seeger (though on the booklet he is credited as Pete Sigger)
"S0 the Shall Reap" is co-produced by Kenzi Tanaka
"Serch-Light-Girl" and "Little Hope" original words by Seiko Ishiguro
"Blue Dolphin" and "Little Hope" programmed by Ryou Arai
We see that they had some A&R thanks to Kanetsugu Tanaka and Jun Yajima and that the sleeve artwork was created by Ootake Shunsuke. Photos on the CD booklet by Takayasu Tohno.
Now I look into the Japanese names that are credited. Ryou Arai seems to have released a bunch of records, but nothing really indiepop as far as I can see whereas Seiko Ishiguro seems to have composed for Jenka (we covered her previous band Groovy Metal Babies in the blog before) and also been part of the fantastic Tip Top Planets (another band I should try to rescue for the blog!). Seems there was some sort of scene then no?
There first appearance on a record, as far as I know, happened in 1992 with the song "Realize" in the compilation "Flower's Flower" that came out on Underflower Records (catalog FLOWER-001). Then that same year that beauty of a song that is "Glitter Future" appeared on a compilation titled "The Reality of Flowers" also on Underflower Records (catalog FLOWER-002). Bear in mind now that Underflower Records is the parent label of Pushbike.
In 1993 they will appear on a third compilation, always on Underflower Records. The song "Maybe the Sun Will Shine" appears on the comp "Flower Makes Sense!". This is of course the third compilation of this label and thus it has catalog FLOWER-003.
1993 they also contribute the songs "Never Ever Forget" and "Rose Sauce" to the compilation "Happy Day, Happy Time" on the Pushbike label. Sadly I don't know much about this compilation as it is not on Discogs.
That same year we know they contributed at least one song to the Pushbike compilation "See-See-You" on the Pushbike compilation. Couldn't find a tracklist though. Same story with the "Good Thing Goin" compilation on the same label.
On 1994 they will participate on a Pushbike compilation. The song "Sing Bird (demo)" appears on the compilation "Into Somethin'".
Then we won't hear about the band until 1998. The song "Vacation" appears on the compilation "Did He Tell You To Stop Winking at Girls?" released on the label Holytail Records (catalog HT-01). In 1999 they will appear for the first time in a vinyl record. On a 12″ EP called "Life Sampler" they contribute the song "Melody". This EP was released by the British label Lowlife and this was LOW 8. It is very interesting that the band they covered earlier, in 1995, Donna Regina, also appears in this record. I wonder who brought who into this project.
Discogs also lists a CDR compilation titled "1 Hour Doctor Rockit / Lifelike Label Mix" where the band also appears with "Melody".  I think this is just a promo CD so I wouldn't consider it part of their discography. Doctor Rockit is actually Matthew Herbert, the guy behind the Lowlife label that had released the 12″ where "Melody" also appeared.
Now, here comes the strange, mysterious part, for me. I don't know if by the time they released "Melody" they had changed their sound into something more electronic. I haven't heard many of their songs, just their album. But to learn, according to Discogs, that they had put out some new stuff this 2016 is really surprising. More than 15 years later since we last heard from them. But a little investigation, as I found Pedicure's bandcamp, we find that this Sunshower actually hails from the US. So nothing to do with our beloved Japanese band. Thank god! It was crazy electronic pop music!
Time to go thru the trail of the band members. Sadly googling Yasuhiro Kawase throws no interesting results. On the other hand Ayako Akashiba seems to have much more presence on the web. She has been part of many more bands aside from Sunshower. She has been in Guitar, Marigold Leaf and Strawberry-High-Soft. The last two with activity around the same years as Snshower, during the 90s, while Guitar seems to have been a collaboration with the German Michael Lückner during the 2000s. With Guitar they released a bunch of albums and it seems they had quite a following. I don't know much about electronic music but I was surprised that Clairerecords (label of Pia Fraus, Silver Screen and many other great guitar based bands) released one of the albums.
Marigold Leaf as far as I know only contributed a couple of songs to the compilation "Birth of the True II" released by Por Supuesto! Records (STAP 0314) in 1993. The songs being "I Wonder "Why"? But I Fall In Love" and "Drive". I still haven't gotten around getting this CD, shame on me, so can't say if the music sounds similar to Sunshower.
For Strawberry-High-Soft we know about 2 songs from the compilation "Into Somethin'" released in 1994. That's the third Pushbike compilation (UFPB-006). The songs that they contribute are "I Love "Love"" and "Secret Track (Outro)". Also on the same label, from the 1993 compilation "Happy Day, Happy Time" were Sunshower were also featured, they released the songs "Happy Day" and "Come Here Now". Now on Youtube I found some more Strawberry-High-Soft stuff, there's a song called "Unrequited Love" that seems to have been released as a single. Not sure which label but seems to have been out in 2003. There are also some live performances dating of 2006, that means 12 years after the compilation appearance I mentioned earlier. You can check the songs "Ano-Uta", "Star For You", "Moonlight Makes Me Transparent", "Soul Sister", "For the Day", "New Friend", "Be Joy" and a magnificent cover of JAMC's "Just Like Honey".
I also found out that she has collaborated with Riow Arai (especially doing choruses along other Japanese vocalists on the album "R+NAAAA" by the project of the same title) and even The 6ths )the song "Winter in July" from the album "Waspd' Nest") as a guest vocalist in some of their songs.
Ayako also released at least one song under her name on a compilation titled "14 Girls Life" released by Elegant Disc in Japan. The song she contributes is called "Slowly" and it opens the compilation that you can actually buy it from this site.
Don't know what she is up to today, maybe she is still making music with Guitar? What about Yasuhiro? He seems to have disappeared from the music scene after Sunshower? Would love to know what happened to the band? If there are more songs? Would love to listen to the songs from the compilations too. And definitely need to check Ayako's other bands. I'm sure some treasures will be found!
EDIT Sept 16th 2016: Came to my attention a tape released in Italy by the label Shiny Sunset (Sunset 12) that is a split between Sunshower and the French band Nothing else. Sunshower has the A side and includes the songs "Almaty", "Glitter Future", "Olive", "Shining Ocean Day", "Search-Light-Girl", "Space Road", "Where Have all the Flowers Gone?" and "Boyfriend Forever".
::::::::::::::::::::::::::::::::::::::::::::::::::::::::::::::::::::::::::::::::::::::::::::::
Listen
Sunshower – Glitter Future