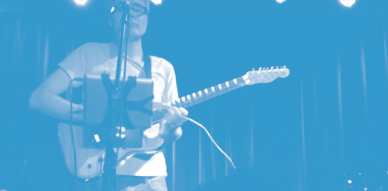 Here I am with the excitement of Copa America all around. Don't know if any of you is following it, as I assume half of the indiepop crowd is into football, and then I assume less than a third of this half is into South American football, but I am. Very much so, and looking forward to the quarterfinals. My team is performing much better than expected and we've got a good chance to pass to semifinals this Thursday. So let's see what happens.
I know the Podcast has been left on a side. And I'm very sorry about that. I guess it would have been wise to say that I was going to take a vacation for summer, even though I wasn't. Anyhow, Toni has promised the May Podcast to be available today. We'll see if that happens. If it does, I'll get to be a bit productive this weekend and record the June episode. Again, very sorry for not having being able to get this out earlier.
On Cloudberry news, well as you know the Fibi Frap compilation is out and I'm very proud of it. Many mailorders also have them now and if you prefer you can get the CD from them. I think Japan has been the most interested in the record so far!
On more Cloudberry news, today I'll be sharing the Color Waves A side, from their upcoming 7″. It's called Chirology and it's a beauty. So keep your eyes peeled. Pre-order button coming soon too.
And that's not all. I received a nice package with Parcel Post 7″s. There are still a few left. So if anyone happens to want one, please send me an email and we will figure out how to get one to you. Until supplies last of course.
Right, so then I'm supposed to go over the Saturday of NYC Popfest. On the previous posts I've covered Thursday and Friday. So alright, I think we can do a Saturday review.
It will be a bit short though, sadly I missed (skipped really) the afternoon shows. After the long party on Friday I was way too tired to get to Brooklyn that early. So I decided to just get to the Knitting Factory by the time of the first gig. And so I did. It was a real shame to miss The Chandler Estate, I think it was one of the bands I was looking forward the most.
Expert Alterations were playing first. Before they started I raided the merch table. I had seen them play before and I knew what to expect. A bit shambolic and very jangly, the Baltimore band won many new fans at their gig. It's no surprise that they have just released a new record on Slumberland, they are gaining a bigger following as every month goes on. Now, I want to listen to more new songs! They have told me on one of the podcasts were I interviewed them that they actually have a very busy year coming up, with lots of stuff to put out. Can't wait. If you haven't seen them, well you should. With them it feels a bit like 1987 again, even if neither them or me where around gigging at that time.
The shouts of "Saiko!" from Victoria and me announced that Wallflower were going to give one of the best gigs during Popfest. The Japanese band who were perhaps one of the least known for the American fans immediately convinced everyone that they were just fantastic. No surprise they sold out all their merch! They brought CDs, 7″s, tote bags, and even a tape that was at that point exclusive for Popfest. Everything was sold out. Their shoegazy-pop sound had everyone tapping their feet, and when Eri started singing the Wake's "Pale Spectre", everyone was in awe. At least that's how I felt it. I was in awe. If you understand Japanese Wallflower has written a diary of their time in NYC. You can also use Google Translate, and you'll get the gist of it. They seem very thankful for having being part of Popfest, I think we should all be grateful of them coming here.
Then happiness came to me. A band I always longed to see was finally making it to the stage. Brideshead. The German band with the countless of extremely catchy songs and wise lyrics. A band that had played NYC back in the late 90s. A band that I believe barely plays live these days. They started with the classic "Same Story Different Day", and finished with the super favourite song of mine "Shortsightedness". I admit I'm not that familiar with their newer songs, but I did get their album they just released on Shelflife. I hope then I can catch up! After the show I was happy to take a photo with Martin, the vocalist of Brideshead. That was really cool. I jumped and sang out loud, it was so much fun.
I think I went for dinner after Brideshead. I can't remember much where now, but I think I wasn't around for half of Veronica Lake's gig. I know Wallflower went for pizza. What did I go for? I can't recall! I was told Michael from My Favorite had joined Veronica Lake for a song. I missed that. I'm very sad I missed that. I caught some of their songs, and they were really nice of course, I always liked Veronica Lake. But at this time things seem blurry to me!
I do remember being at some point while Spook School were setting up that I was talking with Daniel from So Tough and his friend Sandra (I believe was her name) on the front room of the venue. Having a nice chat and catching up a bit since I haven't seen him in years. But everything is pretty blurry until the Darling Buds came on stage.
That was such a gig. They played all their classics and I was like a little kid having so much fun with a new toy. It was just wonderful to sing along their songs. Andrea threw flowers to the crowd, my friend Victoria still has one (looks pretty dead, but I guess it's a cool souvenir. Then I remember a pink balloon that was being passed from side to side, left to right, front and back, in the crowd. I was just so happy, until of course someone took all the setlists and I couldn't get one for myself! Well, I did take a photo with Andrea, and that was definitely one of the best moments of Popfest for me. I'm very happy that Maz booked them, The Darling Buds had been playing again for some years and no indiepop festival had booked them since. I was really surprised by this. So I'm very thankful! It was such a fun gig!
And then the dancing. Slow motion choreography with the Wallflower gang and more. Until very late. It wasn't packed, but there was a good dancing crowd. Pete, Amanda, Christen, Jackie, Alex, and more. It was a good end of the night. And even better when Maz offered a ride back to Queens.
—————————————————-
"Stayed up all night listening "Storyteller"" ….
I was today searching online for some 7″s I've been looking for. And I found out that The Moonlings' "Coming True" 7″ is not even listed on Discogs. Now, how do I go about finding a copy for me?
I thought about asking Jenny and Leonard who I once interviewed about Bella Vista, a band closely related to The Moonlings. But I saw that I was deleted from his Facebook friends. I felt a bit odd to go and ask. I know some people like "trimming" their friends list, deleting those who they don't actually talk to. I don't do that. I don't understand what difference it really makes. Or perhaps they just don't like the label or the blog, or me? Who knows… well, so who were The Moonlings?
They only did that one release as far as I know. It was released on the "Turn Up the Treble" label. The songs included were "Coming True", "Doesn't Matter If I Miss the Train" and "Half the Time".
But it was thanks to a song that appeared on a compilation that I fell in love with their music. The song is called "Let's Sell All Our Records and Move Somewhere Else".  This song appears on the A side, as the second song on a compilation 7″ on the Japanese label Motorway (MOTOR 010D). It was released in 1997 and the other songs included were #Poundsign#'s "Chicken Soup", Rizzo's "Apple Pancakes" and Juniper's "I Just Wanted You to Know".
From the interview to Bella Vista I was talking about there are some important details from The Moonlings, the pre-Pipas band that Mark Powell was involved with:
Jenny: The Moonlings were Mark Powell, Lara Cohen, Leonard, and me. Mark had a few songs that the Moonlings didn't do, for reasons I no longer remember. Our friend Josh Feldman invited him up to Connecticut to play them at a show with Josh's band, the Best Wishes, and our friend Ian Schlein's band, Musical Chairs. Mark was trying to avoid being onstage alone, so he invited us to play with him, even though this meant he'd have to teach me how to play guitar note by note. And so Bella Vista was born.
Leonard: It wasn't really a name change. Although the Moonlings and Bella Vista shared three members, they were different bands that existed at roughly the same time. The Moonlings began in the summer of 1996 for the purpose of playing Mark and Lara's songs. Jenny and I didn't write anything whatsoever in that band. Bella Vista began in the spring of 1997 for the purpose of playing that one show, at a sort of gallery/performance space/bookstore. But it continued because Lara was away at college, Mark had songs that didn't fit into the Moonlings repertoire, Jenny began to write her own songs, and we were offered a few other opportunities to play out, as well as some to make records. I got to write a bass part or two, even though I didn't even own a bass.
We know that the label "Turn Up the Treble" who put out the 7″ was run by Josh from The Best Wishes (who do deserve a post on the blog). It seems there were only 300 copies made.
This was perfect bedroom kind of jangly pop, could have fitted perfectly on labels like Pillarbox Red, Heaven, Woosh, with a sound not many American bands used to make. It also reminds me of Nixon, and that is always a really good thing!
I keep googling and find out that there was a short tour to the midwest and DC were The Moonlings went with the Musical Chairs, The Best Wishes and Bella Vista in 1997.
Don't know how long the band was around. Or if they recorded any other songs. This is more or less all I could find online. Would be cool if anyone can fill in the blanks. And if anyone has a spare copy please let me know!
::::::::::::::::::::::::::::::::::::::::::::::::::::::::::::::::::::::::::::::::::::::::::::::
Listen
The Moonlings – Let's Sell All Our Records and Move Somewhere Else