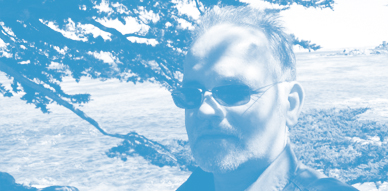 Thanks to Werner for this interview. If you've never heard about him, he is one of the most important activists of the indiepop scene at this moment by running his record labels Vollwert Records and Edition 59 as well as distributing many indiepop records from around the world on his store of the same name.
++ Hi Werner! I can't say long time as we are in touch quite often as you are a big supporter of my label, and I can't stop thanking you for that. How do you feel about this indiepop community that you help so much distributing records in Germany? What do you think makes it so special?
It is actually a great feeling to philosophize with nice people about the music you like. And often friendships develop on the basis of the predilection for a certain kind of music.
++ I know there is no money to be made by doing what you do, so what is the main reason to do what you do, Werner?
There are so many idealistic people in the indiepop community and I like to support them by providing interesting artists an opportunity to release their music and by giving the customers a bit of guidance in the world of indie music.
++ When and how did you get into indiepop? What was that first record that blew up your mind?
Since the mid-sixties, I have been into many kinds of music such as Beat, Glam-Rock, Punk, Wave, Post-Punk and particularly Britpop. Like probably for many of us, it was the SMITHS who got me enthusiastic about Indiepop and especially the C-86 sampler of NME.
++ What about German indiepop? Do you have any favourites?
Germany is more a rock and electronic than an Indiepop country. Much of what is called here Indiepop appears me somewhat petty. One of the great exceptions is Andre Daners. He has great ideas and is absolutely authentic in what he does. His project MY LAUNDRY LIFE is terrific!
++ Your first indiepop "project" was the Indieopa mailorder many years ago, care to tell me a bit about it? When did you start? when did you close the store? what were the best sellers? where in the world did you send more records?
It was about 2002 that I started Indieopa as a sales platform on eBay. But I realized soon, that it was only the mainstream Indie stuff that sold well, especially when it was new and cheap. And I found it more and more boring that my main task should be to satisfy those annoying Depeche Mode buyers. I definitely wanted more than that. Moreover, Indieopa first and foremost aimed at the German market which turned out to be too limited for the Indiepop community.
++ After that you started a new mailorder, Vollwert Records. How come after closing one mailorder you decided to start a new one? What made you excited about pop music again?
I wanted to be be more than a specialized local seller for mainstream Indiepop and thus decided to distribute interesting music on an new label that I called "Vollwert". Due to the internet and the enormous progress it made at the time, I came more in touch with Indie music worldwide and it was – and still is – exciting to see what splendid music is being made for instance in Indonesia, Mexico or South America.
++ And you didn't just stop there, you started a record label alongside the mailorder. It started with a compilation that had the Fernsehturm on the cover photo, which makes me wonder what are your other favourite landmarks in Berlin?
For me, like for many Berlin people, the Fernsehturm, the television tower, is more than just a landmark. Built by the eastern German government in the early seventies, it became a symbol of the division of Germany as well as of its unification in 1989. Its equivalent in West Berlin is the so-called Funkturm (radio tower) near where I live. As the Berlin wall was still existent, it was the first thing you saw when reaching Berlin from the free west. So for me, it is connected with many personal memories.
++ Continuing with Berlin, and as I will visit in September it seems, I wonder which restaurants would you recommend me?
Hard to say. Each quarter has its own excellent restaurants, many of them remarkably inexpensive. So there is no risk trying it on your own as long as you avoid the touristic quarters alongside the Kurfürstendamm in the City West and the Hackesche Markt in the center. I personally like to go to "Honigmond" in Borsigstraße in the center ("Mitte") and to Romagna, a good cheap pizzaria in Stresemannstraße in Kreuzberg, not far from Potsdamer Platz.
++ Let's get back on track. You then started a new label, Edition 59 which releases 3″ CDs in a limited edition of 59 copies. Why this odd number? Is there some meaning to it? Also what about the format of 3″ CD, why did you choose it? I also release in that format, but I'd love to know what do you think are it's pros and cons.
I love that number. It came into my mind when I was on an escalator in a department store in Berlin. As to the format of 3": I like it because it is quite uncommon and you don't need many resources to produce it. It thus allows you to be very flexible with your releases. In my view, these advantages far overweight the disadvantage of having too little space for printing information on the booklet.
++ So far you've put out more than 60 releases, is there some point, like reaching #100, where you will stop or will you just continue until you run out of energy? What is there in store for the future of both Vollwert Records and Edition59? I read there might be 7″ releases?
I will continue as long as people like to buy new releases. There is no 7" release project fixed yet.
++ How do you usually discover bands?
Some bands get in touch with me spontaneously. Additionally, I search networks as Myspace for interesting bands and then address them myself.
++ You've been doing a lot of Creation Records reissues now, how come? Is Creation Records your favourite label ever? What will you be your top five releases in Alan McGee's label?
I loved the energy of the first Creation releases. The music of Creation records was a part of my youth and thrilled me. Hard to say what the Top 5 singles are, maybe these:
The Loft – Why does the rain
Jesus and Mary Chain – Upside down
Meat Whiplash – Don't slip up
Bodines – Heard it all
Weather Prophets- Naked as the day you were born
The Top 5 albums:
Biff Bang Pow – Girl who runs the beat hotel
Bill Drummond – The Man
House of Love – s/t
Jamine Minks – 1,2.3,4,5,6,7
VA – Wow wild summer
++ By the way, for those of us who don't know German, what does Vollwert mean?
It has a double meaning: literally it means "full worth", but it also denotes wholefood.
++ Would you recommend to start a label these days where mp3 blogs offering free mp3s are the norm?
In my opinion, free mp3s can provide additional promotion for your label. So there is no real competition.
++ What has been the best thing of running a mailorder and a record label? And I'm wondering, how much time a day do you invest in them?
The best thing is that I can connect young gifted artists with an interested audience. That takes me some hours every day. And it is worth while.
++ In Germany, when you talked indiepop you would always think of Hamburg, never Berlin. Do you think that can change? Why do you think Hamburg had a bigger indiepop scene even though it's a smaller city?
Berlin is rather a rough ROCK city. But Berlin is sophomoric, too. So it boasts about his electronic and indiepop scene. The Hamburg scene, however, is cooler and more grounded, not running after every superficial trend.
++ I do have a tricky question, what do you prefer in a German pop band, to sing in German or to sing in English, or it doesn't matter?
There are only a few German bands that are able to convince in English . Therefore I mostly prefer them singing German.
++ One last question, roughly, how many records do you have in your collection?
At the beginning of the nineties, I had some thousand 7", some hundred albums and a few dozens CDs. But as music at the time began to bore me, I sold nearly all of them. I kept a fine collection of about fifty singles and a couple of dozen CDs and LPs that I really appreciate.
::::::::::::::::::::::::::::::::::::::::::::::::::::::::::::::::::::::::::::::::::::::::::::::
Listen
The Motifs – Just an Echo (From the Edition 59 3″CD)