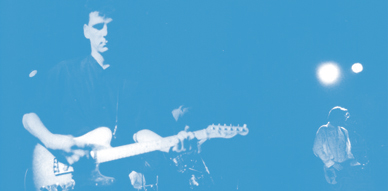 Many thanks to Pete Brickley for the interview! Please be sure to get the Singles CD from The Wallflowers site here: http://www.thewallflowers.co.uk/ or be a friend at their myspace. Oh! And look forward for 8 more upcoming CDs by this fantastic band!
++ Hi! Thanks for being up for the interview! The "Singles" CD should be out anytime soon! I wonder about that letter to Warner Chapell that is on your website… do they own the recordings? What's the story behind? I'm glad you are doing it anyway. These songs have to be heard by a wider audience!
Hello, well I did contact Warner Chapell about the release but they did nothing to help.So I just ignored them and went ahead!-Nobody owns my music except me
++ What sparked your intention to release all the singles as a collection on CD? I notice there will be more CDs released by The Wallflowers…
Nine albums are ready for release in chronological order. It seemed logical to start with the Singles compilation.
++ Let's get into the time machine now. When did The Wallflowers start? And who were the members?
I left The Telephone Boxes, shortly after our support slot on the first Smiths tour,to start a solo career but was persuaded by warner chapell to take a band name(from page 1 issue 1 of Spiderman).The line up changed around a bit until the third single 83.7 at which point we settled for a while with Patrick Hunt-drums John Strachan-bass Vic Doyle-guitar and PB-me
++ How did you meet each other? You were based in London, right?
Vic and me were at the same school.Patrick was the Telephone Boxes drummer,who met us just after he left Aztec camera,and through him I met John & we were based in west London
++ How did the Telephone Boxes sounded like? Were there any recordings?
Telephone Boxes were utterly amazing (the Smiths invited us on their first tour and paid our expenses and a modest wage)we sounded like a cross between The Fall & an ice cream van. We recorded four demo"s for various record companies,every Smiths gig,and lots of home tapes. maybe we can release some of it one day
++ Were any you involved in any other bands previously?
Vic was in proto-punksters Death Pop and Patrick had been in Haircut 100 as well as Aztec.
++ There was later, during the 90s, a very popular band in the US with the same name, with Bob Dylan's son. Not good at all! What do you think about them?
Sorry, I've heard of them obviously but I don't know what they're like.
++ I have such a soft spot, and I bet lots of many people as well, for the song "Blushing Girl, Nervous Smile", perhaps one of the best songs ever written. There's too much beauty on it! Was it written for some particular girl? Where did the inspiration come for it?
The song was written about my girlfriend when I was 16.But was also inspired by the birth of my god daughter.
++ What is the story behind that Johnny Marr was supposed to produce your records? Is this rumour true?
Johnny was (still is) a great friend of the Telephone Boxes,a great personal friend of mine, but no I never asked him to produce us.
++ I also always wondered what do the degrees of your last single "83.7 degrees" stand for? Care to tell me?
Sorry. It just means really hot!!
++ Your records were released by some not very well known labels: Idea and Mantre. Who were they? And how did they got in touch with you?
Mantre was my own label financed by Warner Chapell then stolen from me and renamed Idea.
++ What about gigging? Did you gig a lot around? What are the gigs you remember the most and why?
Not so much gigging lately but good memories of The Smiths, Stone Roses, Orange Juice, Bundhu Boys
Tom Verlaine, 10,000 Maniacs & more.
++ From those days which were your favourite bands? What were you listening to?
REM, The Dbs, Lets Active,J Cope.
++ When and why did you call it a day? Did you get involved with other bands later?
Sorry, we never did call it a day.
++ What are you doing nowadays? Are you all still in touch?
Natch.
++ Thanks again so much! Anything else you'd like to add?
Keep in touch. Only eight albums to collect after this one. The band is at present Kent Davies-drums since 1988, Stu Timmonds-bass since 1991, Vic Doyle-guitar back again.
::::::::::::::::::::::::::::::::::::::::::::::::::::::::::::::::::::::::::::::::::::::::::::::