24
Sep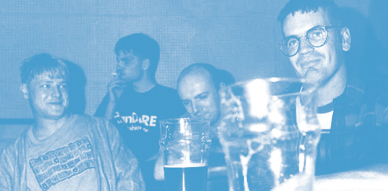 Wow! It's been like two weeks since the last update on the blog. I was on vacations and traveled to Germany for 10 days. Definitely one of the highlights was the Throw That Beat in the Garbagecan! gig, it was possibly the best gig for me this year. I never imagined I was going to see them.
But I don't feel yet like going over my vacations here YET, I need some more time to process the good times, all the experiences, of my trip. I still haven't gotten back to my regular schedule, I'm still jetlagged and waking way too early. I'm not used to it. In a way it's good, at least today it has given me time to sit down and try to at least come up with a small update here.
I got a bunch of records also during my trip, many of them unknown to me, Uwe Firestation's recommendations. I will go through them, maybe I find some interesting stuff that I'd like to recommend you here too. Bear with me. At the moment time is a bit precious for me as my daytime job is keeping me pretty busy. In the meantime, let's get back on the rollercoaster and let's dig some forgotten bands. This week, let's find out a bit about Dan Dare!
Dan Dare is a British science fiction comic hero, created by illustrator Frank Hampson who also wrote the first stories, that is, the Venus and Red Moon stories, and a complete storyline for Operation Saturn. Dare appeared in the Eagle comic story Dan Dare, Pilot of the Future in 1950, dramatised seven times a week on Radio Luxembourg.The stories were set in the late 1990s, but the dialogue and manner of the characters is reminiscent of British war films of the 1950s. Dan Dare has been described as "Biggles in Space" and as the British equivalent of Buck Rogers. Dan Dare was distinguished by its long, complex storylines, snappy dialogue and meticulously illustrated comic-strip artwork by Hampson and other artists.
They took the name from the comic hero. They released 2 7″s. And then disappeared from the face of the Earth? What happened to the members of this band? Where did they go? Did they keep making music afterwards?
Their first release was on Meller Welle Produkte from Germany. It was titled "Top Quality EP" and it included the songs: "Hammerhead", "Unfashionable", "Laura" and "Martin Maverick".
The back sleeve warns us "Dan Dare can seriously damage your baby's health!". The catalog number of the record is MEL 3 and came out in 1992. The record sounds like those days, pure guitar pop with influences from the C86 bands like The Wedding Present, and fitting along nicely with bands from their period like The Lovelies, Bulldozer Crash or the Gravy Train. All songs were credited to Henry/Barnes/Askew and they were recorded at Birdsong Studio in December 1991.
The second release came a year later, in 1993. I notice I need to buy this one! For some reason I thought I already owned it. Oh well… This time the then up and coming Elefant records put out their "Heavenmetal EP". This time around there were 3 songs included: "Faceache", "Yellow Yellow", "Hello Cruel World". On this release, catalog (ER-111) we get some credits: Cooper on guitars and vocals, Barnes on bass, Henry on guitars and vocals (and stylophone on Hello Cruel World) and lastly, Askew on drums and percussion. Sadly we don't get to find their full names, maybe it would be easier to track them down online if that was the case.
The songs follow the same route of their first record though and they were also recorded at Birdsong Studio. The photos for the sleeve came courtesy of Virginia Calvo. Luis' sister perhaps?
That same year, 1993, they participated in two compilations by Bliss Aquamarine. The first one was on the tape compilation "Peacock Blue" (BLISS 002). On it they collaborated with two songs: "Deceived" and "Mouth Almighty". The second one was the tape compilation "Cerulean Sky!" (BLISS 005 and Grapefruit 007). On this second tape they contributed "The Man from U.N.C.O.O.L.".
The next time we would see something from them would be 1997, on Meller Welle's compilation tape "Caught by the Warmth" (MEL 17).  On it they also appear with three songs, "Disco Dwarf", "Kill all Your Heroes" and "Another Cigarette". Making a fast count, we have a total of 13 songs released. Enough for an album.
Keep digging. We find their old Myspace site. We find out they were from Scunthorpe in the UK. This town appears in the Domesday Book (1086) as Escumetorp, which is Old Norse for "Skuma's homestead", a site which is believed to be in the town center close to where the present-day Market Hill is located. It is the third city, after Lincoln and Grimsby, in importance in Lincolnshire.
On the Myspace site we can stream many of their songs, even other ones that I'm not sure if they were actually released like: "Shameless", "Autumnfall" and "Old Four Eyes is Back". Now we have 16 songs total. On GEMM then I find a tape for sale that I would dare is a demo tape. On it we have included "Shameless" and "Old Four Eyes is Back" and also another two songs not found anywhere else, "Henry Fonda" and "With A Another Angel". 18 tracks now.
And this is where I hit a wall. Anyone know anything else about this great band? Had they been in bands before? Or after? Did they recorded (or released) any more songs? Would love to hear more from them!
Until next week popkids (with a longer post, promise)!
EDIT: Kim from Bliss Aquamarine has told me that at least one of the band members was also part of The Hoverchairs and that they also appeared on another tape compilation called "Burnt Sienna" (BLISS 004) with the songs 'Nothin Bout You Baby I Like' and '200 Miles'.
::::::::::::::::::::::::::::::::::::::::::::::::::::::::::::::::::::::::::::::::::::::::::::::
Listen
Dan Dare – Hide and Seek