28
Sep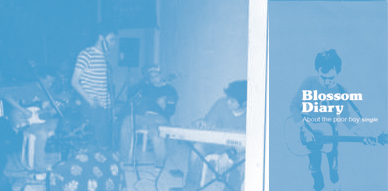 Well, tomorrow I move to a new apartment. Had to take the day off from work. Also the "moving sale" offers on the website are no more. Thanks to everyone that helped me move less boxes. Hopefully you liked the records. With the move I'll be able to buy records again. I've been missing that the past month. There have been a bunch of new releases I've wanted. Even better, now I can finally send to press My Light Shines For You 7″, which I feel terribly guilty for making them wait until I figured out where I would live. I needed an address to ship the records anyhow, so couldn't do much. So yes, they'll be a bit delayed, but next week they go to press for sure. I'll keep you updated!
It was just last week that I interviewed Patrick O'Sullivan from So She Said and now he has shared with me his new SoundCloud page where he has uploaded songs from different periods of his music journey. Definitely worth checking them out, there are a few unreleased treats in there, like "Kids Can Crawl" and "At Home in June", as well as the classic So She Said's "So Happy", and more!
Through the Facebook page Latin American Twee I discovered a few new bands. The first one was Contenti from Buenos Aires, Argentina. The page has shared the promo video for the song "Largos Caminos" and I really enjoyed it. So I went to look for more on Bandcamp and found out that the band has a 5 song EP available so far only to stream. The songs are "Largos Caminos", "Algo Está Llegando", "Sustancias", "Las Cosas en Cualquier Lugar" and "Adentro & Afuera". There is not much information about the band but it seems that it is actually a one man band driven by a young guy called Lucas. This is very very nice.
The other band I discovered was Rubor Cassata and their song "Marbella Club Festiva". So I went looking for more and I couldn't find a Bandcamp. There was a Soundcloud with just one demo song. But then I did find on Youtube a 2017 "complete album" uploaded by the band. There are 6 songs that one has to listen like a cassette, song after song, no skipping. The songs are "Manda Fruta", "Marbella Club Festiva", "Noba Sintua", "Divagando", "Rubor" and "Alexis". The band hails from Santiago, Chile, and from I've gathered it has Claudio Zaguán on vocals and guitars, who has been part of another band we've raved here, Patio Solar. The rest of the band is composed by Pablo on bass, Almendra on vocals and Simón on drums.
Our Madrid friends from Alborotador Gomasio are releasing a new album in November. It will be published by the label Limbo Starr and has been titled "Luz y Resistencia". To promote it the band has just unveiled a promo video for the song "La Reacción Impotente" and it is what you'd expect from this pop band with a punk attitude, an upbeat corker with catchy lyrics. Long are the days of the band being a ramshackle delight, when they were running fanzines and spearheading a DIY scene in Spain, now they are way tighter, a more serious band bus still, very much enjoyable.
I had no clue there was such a beautiful band in Houston, Texas, called Rose Ette. I only found them on Bandcamp and I see that they have had two tapes released in the past few years. The latest one is from February 2017 and is a cassingle, a cassette single, with 2 songs: "Skin" and "Predator". The previous one is a 6 song EP and is now sold out and was titled "Jungle" and dates from 2015. The band is formed by Teresa Vicinanza on vocals and guitar, Daniela Hernandez on vocals and lead guitar, Jessica Baldauf on bass and John Baldwin on drums. The band is delightfully indiepop, sweet, sugary with an edge, and the guitars chime as I like them to chime. Will have to keep an eye on them!
Well, I also found a jangly guitar pop band from Japan called The Clovers. This thanks to the great David from Spain who is always posting new discoveries on Facebook. I heard a beauty of a song on Youtube called "ララバイ" I think, which is available in some format on the band's website. I don't know if it is CD or 7″, but I think it is a CD! I've written to the band on Facebook and hopefully will get to know more about them because their sound is superb!
And that wraps it for this week!!
—————————————————-
Time to finally visit Indonesia in this indiepop world tour and it is a well deserved visit. It must be true that Indonesia is the Asian country, after Japan, that has been more involved in indiepop. There are many, many, bands that we all love, that we follow and that are already indiepop classics like Astrolab, Sunny Summer Day, Sharesprings, and more. On Cloudberry we even did a series of three 3″ CDs that were called The Sound of Young Java were we showcased what was happening in the South East Asia country in the mid, late 2000s. Lately the scene seems to be growing and we discover new bands every week as you might have noticed on the blog when now and then I'm recommending new music from that country. So definitely it was time to check out perhaps one of the bands that spearheaded the movement, a band that I believe is well known in Indonesia, but didn't get the attention of the rest of popkids in the world: Blossom Diary.
It seems pretty obvious that the band took their name from Blossom Dearie, an American jazz singer and pianist. She had a recognizably light[vague] and girlish[weasel words] voice.One of the last supper club/cabaret performers, she performed regular engagements in London and New York City over many years. She collaborated with many musicians, including Johnny Mercer, Miles Davis, Jack Segal, Johnny Mandel, Duncan Lamont, and Dave Frishberg, among others.
I first heard about them when Joz from Maritime Records sent me a couple of Mp3s for me to listen. I had no clue who were they, I hadn't even seen them on Myspace. I was already head over hills with Indonesian bands like the aforementioned Astrolab or Sunny Summer Day and other up and coming bands like Funny Little Dream, Arch of Cinema or Leach Me Lemonade among others, who were already appearing on Cloudberry releases. So at the time I heard the beautiful jangle sounds of Blossom Diary I knew this was an important band. The problem was, with many Indonesian bands from that time, there was going to be impossible to find their releases.
And then, of course, did I know they had any releases? There was no Discogs then. And so how would I find that information? Maybe that's why I kind of forgot about them through the years. It is only now that I'm doing this recap of indiepop bands from all around the world that their name popped up again on my mind and decided it was time to find out any details about them, maybe their whole story if possible. I was going to find almost immediately two important details, where they come from and who formed the band. The band was from Bandung Pop City and they formed in the year 2000 with Dias on vocals and guitars, Angga on guitar, Donny on drums and Denny and bass.
I look for them on Discogs and to my surprise there is one release listed and it seems as it is a compilation of all of their songs! Wow, that's fantastic news. I need to order this. Definitely next week when I'm already in my new apartment. So please, leave me a copy available. The CD album titled "…Is Dead" was released last year, 2016, on the label Anoa Records (catalog ANOA-009) and includes 17 songs! They are: "About the Poor Boy", "Four of Us", "The Rain Always Had an Answer", "Cool Friend", "9 O'clock at the Train Station", "Something Like Your Smile", "Perfect Dream There", "Sweetest Smile", "You Never Want Me", "Something Should I Regret", "She Never Come Home", "Candy Kiss" "Highway Cross Your Mind", "Redam", "I've Taste the Sky", "Ambrose (Demo)", "Something Should I Regret (Ripple Magazine #7 Bonus Cassette)".
My next finding was an article dating from March of 2017 on the Jakarta Post. Here I find many more important details about the band. Firstly here it says the band was formed in 1999 and not in 2000. So which date is correct? Then I find that the band split in 2005. The article is actually a review of the anthology CD we found on Discogs, but here we find information about an album the band released in 2003, a self-titled debut album on Marmalade Records. We'll have to investigate.
The first hit when looking for Blossom Diary and Marmalade Records is actually a CD compilation titled "Pop Shower: Marmalade Records Compilation" that was released by the Japanese label Quince Records (catalog QRCP 14) in 2003. It is a sampler of what was happening in Indonesia at the time and Blossom Diary appears with "Something Should I Regret" and "You Never Want Me". Other bands on the compilation were Sweaters, Showbiz, Santa Monica and Montecarlo.
I keep looking and I find an Indonesian blog called Wasted Records. I could understand that the band actually had a couple more releaseses. There was of course their appearance on the Ripple Magazine #7 tape in 2001 with "Something I Should Regret" (that song is in the compilation album), an appearance on the compilation "Delicatessen" on Poptastic Records from 2002, a CD single for "About the Poor Boy" in 2004 and another compilation appearance on the "Do Re Mi" comp by Paviliun Records in 2006.
Then to Youtube, here I find a promo video for their song "She'll Never Come Home" and what of course, this is jangly brilliance!
I continue the search and stop at RateYourMusic. Here I find more band members. Hmm. Maybe there were lineup changes during their time? Ardiyasa "Dias" S. (vocals, guitar), Angga A. (guitar, vocals), Donny (drums), Denny (bass), Andi S. (guitar, vocals), Iyus (bass), Ade K. (drums). And then on Twee.net they have an entry where their 2003 is listed. It seems then that it was released as a cassette and included the songs: "The Rain Always Had an Answer", "9 O'Clock at the Train Station", "Candy Kiss", "Cool Friend", "Perfect Dream There", "She Will Never Come Home", "Something Like Your Smile", "Something I Should Regret", "Sweetest Smile" and "You Never Want Me".
Their influences are also listed, Ride, Mojave 3, Orange Juice, Field Mice, Blueboy, Belle and Sebastian, The Smiths, Sarah Records and more.
I try to translate with Google Translate a 2015 interview on the Indonesian blog How Does it Feel to Feel. Here the blogger interviews Angga Adiyatama from the band. Here I learn that Dias and Angga were both from Jakarta and moved to Bandung for college and there it is when the band formed. It also seems the band split because they returned to Jakarta, leaving Bandung.
There is not much more information about the band, like what other bands were they were involved with (I did find that the drummer Ade K. was playing in a band called NICK) or whereabouts did they play gigs. Maybe in some Indonesian blogs there is that information but it is very hard to come by for me. Definitely Indonesian is not an easy language aside from some words I could guess. I do find that their legacy is very much alive, like for example the band Piccadilly has a video on Youtube covering the song "About the Poor Boy".
I know my Indonesian friends will fill in the blanks and let me know what happened to this fantastic Bandung band. How important were they for the scene that was starting to make some noise after their demise, and what are the Blossom Diary boys up to now. Would also love to know which songs did they contribute to the Popstatic compilation and to the Paviliun one. I couldn't find that information. And also, I need to order their anthology CD, which I hope, as the band deserves, comes with proper liner notes and a story, a story that I'm missing.
::::::::::::::::::::::::::::::::::::::::::::::::::::::::::::::::::::::::::::::::::::::::::::::